You may call me finicky. But buying a skin care product for my eight-month-old girl is a task that I don't take lightly. I read reviews, talk to the other mothers, and I research the ingredients thoroughly. I leave no stone unturned because my baby's well-being is what matters the most to me. So, when I bought the Rich Moisture Baby Nourishing Lotion by Baby Dove, I did what I always do. And here is what I found out.
Safe for Babies
Baby Dove has used ingredientsthat are suited for delicate baby skin. The milky white lotion contains glycerin and petroleum jelly. Also, the tapioca starch in it helps in keeping the baby's skin soft and supple. After reading the label, I did a patch test (I like to be extra careful to avoid any allergic reactions).
I applied a drop of the lotion to the side of my baby's neck and the back of the hand. The lotion was absorbed quickly, leaving the skin moist but not greasy. So, I didn't have to worry about the baby licking it off her hand! After a couple of hours and no allergic reaction, I was completely assured that this product is indeed safe for my girl.
Moisturiser that works
I've been using this lotion for over two weeks now. I usually apply the lotion soon after a bath. A drop or two of the lotion is enough for the face, while a little more than that is needed for the body. I may be using lesser because I apply the lotion on a slightly damp skin. Even then, it works for us as it leaves her skin nourished and moisturised all day long.
Because I live in a place with a rather dry climate, I reapply the lotion at bedtime. Considering that I had to use the previous lotion every five to six hours, I'd say Baby Dove is a lot better, and I like it's moisturising quality.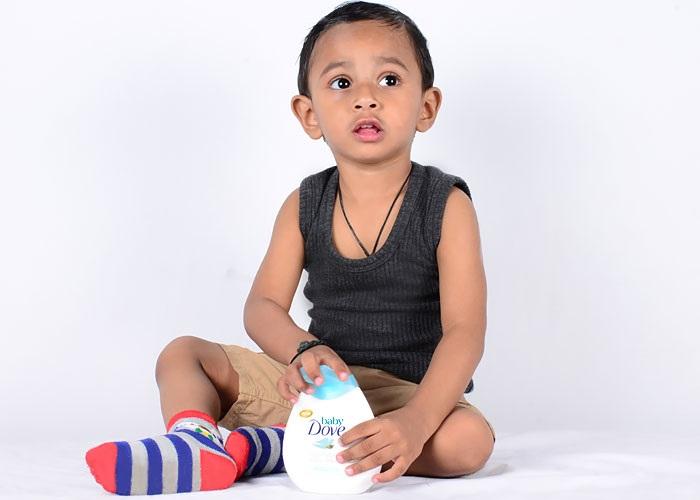 The good part is that I can use this to moisturize my little girl's body and the face without worrying if it will have any side-effect on her skin.
Fragrance
Dove is usually known for its mildly scented products. And this attribute can be seen in the Baby Dove nourishing lotion as well. The mild scent leaves my baby's skin with a delicate fragrance.
Packaging
When I take my baby out with me, I usually take her wipes, lotion and rash cream. And I would like the lotion not to leak and leave a mess in the baby bag. Baby Dove has done a pretty good job with the packaging of this baby lotion. The bottle is not only cute but also comes with an airtight cap that keeps the liquid secure and prevents leaks. It is also small enough to fit in the palm of your hand and also your purse.
Price
The Baby Dove moisturizing lotion is priced at Rs. 180 for a 200ml bottle. I believe the price is totally worth it as it keeps my little one's skin moisturised and protected during the harsh winter colds.
Baby Dove suits well for a mother like me, who is obsessed about the safety of any baby product. I know I can continue with this lotion to look after my baby's skincare needs. Would definitely repurchase the Baby Dove baby lotion once am done with my bottle.
You can buy Baby Dove products here.
To know more about Baby Dove, click here.
Comments are moderated by MomJunction editorial team to remove any personal, abusive, promotional, provocative or irrelevant observations. We may also remove the hyperlinks within comments.