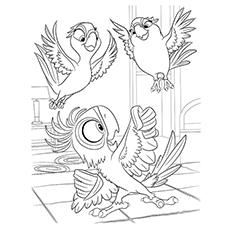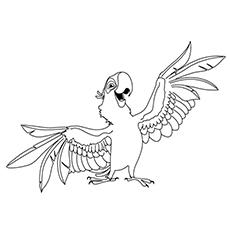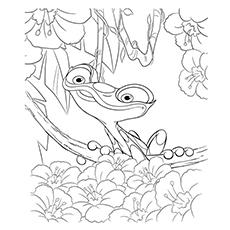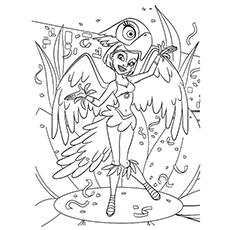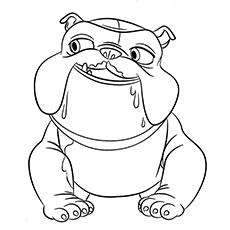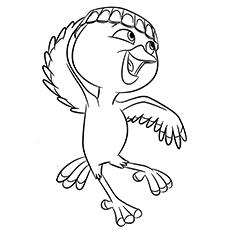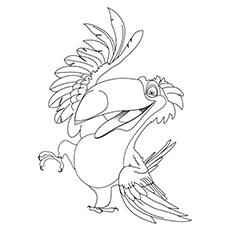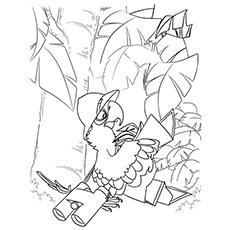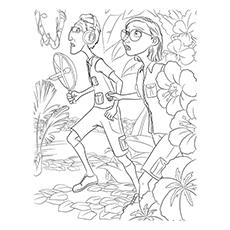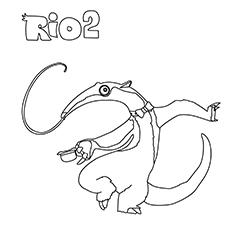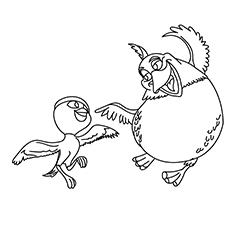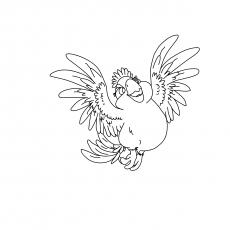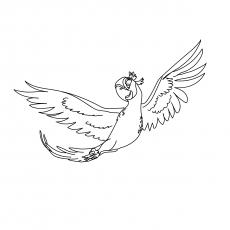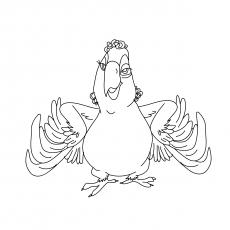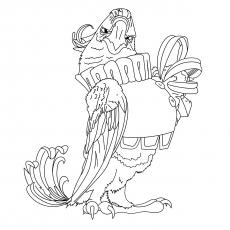 Recommended Articles:
Is your child crazy about the animated film 'Rio'? Are you looking for "Rio" coloring sheets to present him on his birthday? Well, then you've landed at the right place!
"Rio" is an animated, musical adventure film about Blu, a domesticated Macaw, who cannot fly. He lives comfortably with his owner and best friend Linda in a small town in Minnesota. Both Linda and Blu think that he is the last of his kind. But when they learn about another female Macaw, Jewel living in Rio de Janeiro, they head to the distant land to find her. Unfortunately, a group of animal smugglers kidnap Jewel and Blu. With the help of Jewel and some smooth talking birds, Blu escapes. With his friends by his side, Blu learns to fly and returns to Linda, his best friend.
Here are 15 Rio coloring pages of some of the famous characters from the same film. Bring these characters to life by having your kid paint them in beautiful tropical colors.
Top 15 Rio Coloring Pages For Your Little One
1. Blu:
Blu is the protagonist of "Rio" and other films from the franchise. He is a shy and socially awkward Macaw, entirely opposite to his mate, Jewel.
Rio stays with Linda, in her apartment. He can open the bird cages, log on to a computer and use a telephone. But he cannot fly. He never learned to fly. But when he found Jewel, the girl of his dreams, he put his fears aside and took flight.
Blu is close to Linda. In fact, they are best of friends. Linda throws birthday parties for him, takes him to spelling bees and even to the high school prom. Blu also has some incredible skills and abilities. He is great at mimicking. He can mimic an alarm clock, a car alarm and even a ringtone.
2. Jewel:
The cute Macaw you see here is Jewel, the deuteragonist of the "Rio" series. "The Gem of the Forest" is her pseudonym. Jewel looks cute and innocent, but do not let those long eyelashes and light blue feathers fool you. She is a sassy and fiercely independent bird with a funky attitude.
Jewel loves to fly, and total cherishes her freedom. Staying in the cage is something she hates to the core. But when she finds herself trapped with a domesticated Macaw, she learns that being trapped is not as bad as she thought.
Unlike Blu, Jewel has light blue, silky, smooth and shiny feathers. Her wings and tails are darker than the rest of her body. She has big, turquoise eyes with dark blue eyelids. Her white facial marks extend from around the eyes to the bottom of the beak. One of the must Rio jewel coloring pages you can give to your little one to color.
[ Read: Cute Pooh Bear Coloring Pages ]
3. Nigel:
Nigel is the primary antagonist of the "Rio" series. He is not a good-looking bird but used to be a dashing during his heydays. Nigel was once a popular television stay, but a young parakeet from Paraguay replaced him. Since then, Nigel hates all beautiful birds.
Nigel first appears as a patient at Tulio's aviary. But he is not sick. He tricks the guard into picking him by pretending to be sick and then knocks him out with a chloroform soaked rag. Leaving the guard unconscious, Nigel lets his friend Fernando in and steals Blu and Jewel.
Being the primary antagonist, Nigel exhibits anti-social behavior. He is a violent bird and always uses his physical force to harm and terrorize the other birds. Nigel is also a sadist and takes immense joy in people's suffering. He shows absolutely no mercy to his enemies and victims.
4. Linda:
Linda is Blu's owner and best friend. In the coloring sheet, Linda appears as a Brazilian samba dancer. She disguises herself as one of the dancers to get into the carnival.
Linda lives and works in her bookstore, Blue Macaw Books in Minnesota. Linda is the secondary antagonist of the film "Rio". Linda was a little girl when she discovered a crate containing Blu. She took the frightened little bird in her hands and promised to take care of him. Over the 15 years, Linda treats Blu just like a family member. She includes him in every milestone of her life.
Linda is a 25-year-old slender woman with red hair. She always wears her glasses, tan pants, light blue shirt and black shoes.
5. Bia With Carla And Tiago:
Here is a Rio 2 coloring pages of Bia, along with her siblings Tiago and Carla. She is the middle child of Blu and Jewel.
Bia appears briefly at the end of "Rio" flying, dancing and singing with her siblings and parents. But she has a prominent role in "Rio 2".
Bia is the most intelligent and smartest of all the siblings. She is a well-mannered, polite, kind hearted bird. She is closer to her father than mother. Bia is a bit of know-it-all. She likes saying out facts randomly like telling the nutrition profile while examining a larva in the jungle or seeing a recipe book.
Bia resembles both Blu and Jewel. She has Jewel's hair and Blu's feather. Her tails and wings are darker than the rest of the body.
6. Gabi:
Gabi is one of the antagonists of the film "Rio 2". She is the sidekick of Nigel and is incredibly loyal to him. She is a poison dart frog who is crazily in love with Nigel. She may appear sensitive, but she is as villainous as Nigel.
Gabi is a cute and tiny dart frog who was stuck in a jar when she first saw. She soon realizes that it is useless to fall in love with a bird when even touching him would kill him. So to stay near to Nigel, she joins him on his quest for revenge. The primary goal of Gabi is to make Nigel proud of her. She would always be by his side, hoping that he notices her in the way she wants to. But that never happens.
Gabi does whatever possible to keep Nigel safe and happy. She also helps him take revenge on Jewel and Blu.
Gabi is a pink colored poisonous frog with a shiny and dotted skin. Her knees and feet are purple-black, and the underside is light pink. She has turquoise blue eyes and blue irises.
[ Read: Mickey Mouse Coloring Pages ]
7. Carla:
Carla is the eldest daughter of Blu and Jewel. She is a larger than life; happy go lucky and precocious character. Carla is close to her mother. She shares her mother's persona and attitude. She is a beautiful and confident chick who tries to make herself look attractive by dancing elegantly and winking her eyes.
Carla is fond of music. She prefers listening to her iPod rather than hanging out with family and friends. She enjoys the stage and hates when someone interrupts her during her performance.
Carla is the fluffiest of all the chicks. She is slightly on the plump sides, with curvaceous shapes and a long tail. Just like Bia, even Carla has Jewel's makings.
8. Charlie:
Charlie is one of the antagonists of Rio 2. This non-speaking anteater is one of Nigel's henchmen. His earlier job was to dance for the tourists until Nigel frees him.
Charlie always appears in a bowler hat and bow tie. The dark patch of his fur resembles a vest.
[ Read: Donald Duck Coloring Pages ]
9. Rafael:
Rafael is a suave and spirited Toco toucan from the Rio series. He was once the life of parties. His friends fondly called 'The King of the Carnival.' But now he has 21 kids and a wife who keep him close to the nest. In fact, he enjoys his family bliss a lot. He would never leave his family except to help birds who are in need.
Rafael is loyal to his friends and family. He is more of a peacemaker and tries to get along and make things run smoothly.
Rafael is a toucan with black feathers, white underside, neck, cheeks, orange facial markings and brown eyes. His beak is yellow with a red stripe on the top, feet blue and light blue talons.
10. Luiz:
Luiz is a fruit hat-wearing bulldog who stays in a garage in the Santa Teresa Neighborhood.
Luiz is the perfect example that you must not judge a book by its cover. While you may think it's going to bite you, in reality, he will just smother you with drool. But he still has a personality of biting and chasing a ferocious bulldog, which often brings difficulties to other characters.
Luiz is also sensitive. He responds to Jewel's jibe about his drool by calling her mean. He is also a little naïve.
[ Read: Snow White Coloring Pages ]
11. Nico:
Nico is one of Blu's friends. The little ball of energy lives for music. Nico is a social, friendly and outgoing bird. He owns the Samba Club with Pedro, his best friend within the marketplace of Rio. When Nico hears that Blu has come to meet a girl, he starts giving him advice on how to attract her.
Nico is a tiny and slender canary bird with yellow feathers; brown tipped tail and wings, white chest and white under wings. He has brown colored eyes and bright orange legs and beak. He wears a bottle cap as a hat that he also uses as a tambourine and a weapon.
[ Read: Beautiful Rapunzel Coloring Pages ]
12. Pedro:
Pedro is the obese, red-crested cardinal, who serves as the tritagonist in the film. Pedro befriends Blu when he first arrives in Rio de Janeiro. Pedro is a handsome and outgoing type of bird. He has plenty of spunk and an excellent sense of adventure. Just like most of the birds in Rio, even Pedro loves to party and do the samba.
Pedro shares brotherly affection with Nico. He always looks out for him whenever he ventures out on a new adventure.
Pedro has dark gray feathers, with white nape and underside. He has a silver-gray bill and dark legs.
13. Mimi:
Mimi is the female Spix's Macaw in the film. She is Jewel's aunt and Blu's aunt in law. She is the official adviser of the Spix's Macaw Clan. She lovingly welcomes both Blu and Jewel in her clan and always tries to resolve the conflict between Eduardo and Blu.
Mimi is a funny, cheerful and brassy bird and does not think twice before speaking her mind against Eduardo, her brother.
Mimi is a plump and short macaw. She is similar to her niece in coloration. Mimi also has a cluster of long and curly feathers on her head, just like most of the macaws. Her eyes are pale blue, and talons and beaks are light gray in color.
[ Read: The Incredibles Coloring Pages ]
14. Tulio:
Tulio is an ornithologist from Rio de Janeiro. He has a great love for the avian species, his favorite being the spotted owl. He acts like a mother to many of his bird patients. Tulio takes the conservation of aviary life very seriously.
He is a slender man with short black hair pulled back. He wears black rimmed glasses just like Linda. He appears in blue jeans, green shirt, and a white lab coat.
15. Tiago:
Tiago is the only son and the youngest child of Jewel and Blu. He is a freedom loving, brave, mysterious, and agile chick. He shares most of his mother traits, Jewel. He loves going out on adventures, as you can decipher from this coloring sheet. He especially enjoys exploring the wilds. Tiago is not as well-mannered as his sister Bia, as seen when he takes Bia's book or burps after drinking soda.
Tiago is also quite mischievous. He scares his father with creepy crawlies and irritates his elder sister.
Tiago is a skinny chick who looks just like Blu. But unlike his sisters, his hair stands up. He has dark blue feathers, light gray talons, dark gray beak, and bright blue facial markings.
Ask your kid to mix different colors to make these stunning Rio movie coloring pages stand out. Or make him watch the movie before decorating the pages. It will help him color it better. Besides unleashing his creativity, our "Rio" coloring pages will also help build fine motor skills of your kid.
[ Read: Peter Pan Coloring Pages ]
Does your child like the film "Rio"? Who is his favorite character from the movie? And which diagram did he enjoy coloring the most? Tell us by commenting below.
DISCLAIMER: All images found here are believed to be in the "public domain". We do not intend to infringe any legitimate intellectual right, artistic rights or copyright. All of the images displayed are of unknown origin. If you are the rightful owner of any of the pictures/wallpapers posted here, and you do not want it to be displayed or if you require a suitable credit, then please contact us and we will immediately do whatever is needed either for the image to be removed or provide credit where it is due. All the content of this site are free of charge and therefore we do not gain any financial benefit from the display or downloads of any images/wallpaper.
The following two tabs change content below.