It can be frustrating for tea lovers to find the perfect decaf tea that satisfies their taste buds during pregnancy. In such cases, you may consider honeybush and rooibos tea in pregnancy. This mixture of South African herbs in your tea is one of the safest options offering great health benefits. The herbal tea is packed with nutritional goodness that you can try to curb your tea cravings during pregnancy.
This post will tell you more about rooibos and honeybush tea, including its safety and health benefits during pregnancy.
What Is Rooibos And Honeybush Tea?
Rooibos and honeybush are indigenous herbs to the South Africa. The herbs are crammed with essential nutrients that are vital to good health, particularly during pregnancy. You can prepare the herbal tea from the fine, needle-like leaves of Rooibos plant and honey-scented, bright yellow flowers of honeybush plant. You will enjoy the sweet and earthy taste of the reddish-brown herbal tea while you are expecting (1).
Is It Safe To Drink Honeybush And Rooibos Tea In Pregnancy?
Yes! It is safe to enjoy drinking rooibos and honeybush tea while you are expecting. In fact, the mineral and antioxidant content of the tea makes it a brilliant option for pregnant women. The herbal tea is one of the safest and healthiest alternatives to regular tea (2).
7 Health Benefits Of Honeybush And Rooibos Tea During Pregnancy
Drinking rooibos and honeybush tea is not only a pleasant alternative to the black tea, but it also ensures a safe and healthy pregnancy. Here, we list some incredible health benefits of Honeybush and rooibos tea in pregnancy..
1. A rich source of antioxidants
Rooibos and honeybush tea is full of antioxidants, such as Aspalathin and Nothofagin, which help neutralize free radicals and prevent cell damage during pregnancy. Also, high concentrations of antioxidants boost your immunity and protect you from the risk of development of cancer (3).
2. Caffeine-free healthy drink
The herbal tea is free of caffeine, so it serves as a safe alternative to black tea while you are expecting. The tea provides your nervous and central system soothing effects and alleviates health troubles, such as nervous tension, irritability, insomnia, mild depression, headaches, and hypertension when you are pregnant (4).
3. Prevents anemia
Low levels of tannin in the rooibos and honeybush tea do not inhibit mineral absorption, such as iron. Also, tea is a good source of iron and vitamin C, which boost your hemoglobin count. Drinking rooibos and honeybush tea prevents symptoms of anemia, such as fatigue and dizziness, when you are expecting (5).
4. Prevents the formation of kidney stones
Rooibos and honeybush tea is free of oxalic acid. Drinking the tea prevents the formation of kidney stones and protects you from the health hazards of kidney problems during pregnancy (6).
5. Treats skin disorders
Phenylpyruvic acid content in the rooibos and honeybush tea aids in treating several skin disorders, such as eczema, acne, and psoriasis, when you are expecting. Drinking the healthy tea offers you a soothing effect on your affected skin and alleviates skin allergies.
6. Relieves digestive disorders
Drinking the herbal tea relieves constipation, heartburn, nausea, and heartburn, naturally during pregnancy. Also, the antispasmodic effects of the tea minimize stomach cramps and offer a calming effect to your digestive system.
7. Promotes Bone Health:
High amounts of calcium and manganese content in the rooibos and honeybush tea help strengthen your bones and prevent the risk of osteoporosis, acute joint pain, and arthritis during pregnancy (7).
It is safe to drink honeybush and rooibos tea in pregnancy as it includes minerals such as manganese, iron, calcium, and some antioxidants. It is one of the healthiest alternatives to regular caffeinated teas. These South African herbal teas have low levels of tannin that do not interfere with iron absorption in the intestines. They may improve digestive, bone, and skin health and prevent or reduce kidney stone formation. You may ensure to purchase from trusted sources to avoid contamination and read labels before buying.
The following two tabs change content below.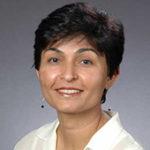 Jyoti Benjamin
(MS, RD, CSO, FAND, CD)

Jyoti Benjamin has 25 years of experience as a clinical dietitian and currently works in Seattle. She focuses on teaching people the value of good nutrition and helping them lead healthy lives by natural means. Benjamin has a masters in Foods and Nutrition, and has been a longtime member and Fellow of AND (Academy of Nutrition and Dietetics) and the...

more

Ria Saha
Ria is a techie-turned-writer and writes articles on health, with special emphasis on nutrition. She did her B.Tech from West Bengal University of Technology and was previously associated with IBM as SAP ABAP technical consultant. She moved into freelance content writing in 2013 and worked for various websites including MomJunction, Brainpulse Technologies, and Emarketz India.