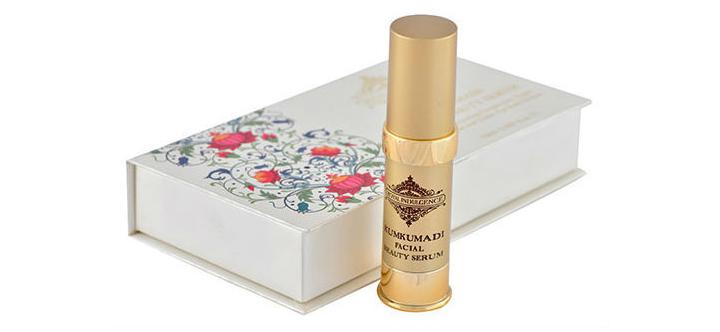 Post pregnancy, skin issues hit you like a thunderstorm. Every new mom has new skin problems that crop up out of the blue, taking her by surprise; problems she never thought she'd have to deal with ever! (adult acne on someone who has had dry skin all their lives? C'mon!). Acne, unwanted facial hair, pigmentation, dark spots..the list is unnerving and endless. Thankfully, there's help.
MomJunction.com takes great pride in knowing the stories of thousands of mothers; their problems, their needs and ultimately their happiness. So every now and then when our blogger moms get to work and discover products that truly are pregnancy hack gems, you can be sure, you'll be the first to know. One such amazing product for skin care during and after pregnancy is Royal Indulgence Kumkumadi Beauty Serum.
Royal Indulgence Kumkumadi is one of the highest rated beauty solutions that was reviewed by our blogger moms this year. It is an Ayurvedic beauty serum, with Saffron, Goat Milk and 12 other complexion enhancing drugs. Saffron and Goat milk are the main skin lighteners that inhibit melanin and help lighten complexion. The blend of 12 other herbs have different skin healing, cleansing and nourishing properties that help build skin quality and health overall.
Packaging: You get 15 ml of product in each bottle. With the consistency of the serum, a little is enough to apply all over the face in every application. The bottle has a pump that makes the product easy to use and wastes less, which is a plus as well.
It works for:
Skin Lightening
Reducing Tan and Uneven Skin Tone
Dark Circles
Pigmentation
Anti Ageing- Reducing fine lines and wrinkles
Here's The Verdict: Moms Have The Final Say.
"I used continuously every night for about 3 weeks, it's really light and your skin feels very soft every morning. I had severe dark circles and darkness on my cheeks, it really helped fade the darkness"
– Vaishali Singh
" I highly recommend this for pigmentation. But you have to be patient, it's not an overnight miracle worker. I used it continuously for over a month and a half and saw a clear difference. I am currently using the second bottle, it's a very good product!"
– Swetha Reddy. N
"Very, Very Good for skin. I have used kumkumadi tailam by other brands too, since I was a kid. But this one is clearly better quality. There is no strong artificial flavor or color, that's what I like the most. Great product!"
-Naina Raju
Final Call: What We Love About Royal Indulgence Kumkumadi And What We Don't:
The Good Bits:
It's 100% natural and safe with no side effects.
It's packaging is fuss free and hygienic, also it's a convenient night time skin care routine, moisturizer, skin lightener and anti ageing properties blended into one.
It works great for tan, pigmentation, dark circles and dullness or any uneven skin tone problem
It's also a great anti ageing product
Clearly of better quality, no artificial fragrance or color added.
Works as advertised!
The Bad Bits:
Takes time to show visible difference
Skin can get greasy if used during the day
Is this worth buying again?
Yes, it's is effective and easy to use.
Rating:
4.5 /5
The following two tabs change content below.
Latest posts by MomJunction (see all)