In today's world, where every person is in the grip of technology, messaging apps for kids are indispensable. The internet is important in our lives, but it comes with safety challenges.
Parents cannot ask children to stay away from the internet, but they must ensure their safety while using it. Messaging apps also protect children from online threats. Although it is impossible to protect them completely, children's messaging apps help parents monitor their text and exercise some control over the usage.
Read the post to learn about the best messaging apps for children and their safety measures.
Why Should Parents Help Kids Choose A Texting App?
Parents should be aware of what their children are doing on their mobile phones as they learn to figure out the difference between good and bad. Here are a few points to keep in mind when selecting a messaging app for kids.
Contact from strangers: Pick platforms that offer parental control over messages from unknown numbers as connecting with strangers might not be safe.
Sexting: Teens may end up sending or receiving inappropriate content, which could cause mental and emotional harm.
Grooming: With no supervision on their connections through messaging, children could become susceptible to grooming.
Cyberbullying: There are high chances for children to get involved in cyberbullying or getting harassed by others if they are not properly supervised through the right application.
Why You May Want Your Child To Use Kids' Messaging Apps
Compared to regular texting apps, chat apps for children come with various benefits.
Independence: Chatting apps for kids give them the freedom to connect with their friends and express themselves without their parent's direct involvement.
Safety: There are various safety features available to protect children from being contacted by strangers or becoming involved in threatening situations.
Parental controls: Based on the children's needs, parents can control the app to protect them from harassment and cyberbullying.
Peace of mind: These apps provide peace of mind for parents as their children are protected from online threats.
Safety Measures To Take While Using A Messaging App
While using any messaging app, it is essential to keep safety measures in mind.
Don't share real names on social media apps or sync the device's address book with the app as it could jeopardize privacy and lead to online threats.
Always set the secure privacy settings and instruct children not to accept messages or calls from unknown people or people who are not on their contact list.
Disable the location feature in the privacy settings.
Instruct your children to seek permission before making or receiving a voice or video call to ensure privacy.
Supervise children closely in the initial stage of using a messaging app.
Ask your child to use their device in common areas of the home and not in the bedroom or study room for better monitoring.
Have an open conversation with children about using the texting app responsibly and safely.
Encourage your child to share anything they experience while using the app.
15 Kid-Friendly Texting Apps
1. Facebook Messenger Kids
It works like the regular Facebook Messenger app but includes features specifically for children, such as child-friendly stickers, frames, emojis, and GIFs. They can also make video calls using fun masks. It is a safe messaging app that allows taking photos and videos with filters and features parental control settings for approving and removing contacts.
2. Google Hangouts
Though it is not designed specifically for children, you can set up an account using Google Family Link for children under 13 years old to make it a secure kids' texting app. It allows children to chat only with approved family members and friends. Also, it does not allow deleting individual messages and requires adding contacts manually.
3. Zoom
Zoom is one of the most popular video conferencing apps that lets you invite up to 100 people. Though it is designed for conducting meetings, conferences, and classes, it makes a safe app for children to chat with their friends and enjoy online classes. The free version of the app offers sufficient features for chatting. You can add a password to prevent unknown people from joining your meeting.
4. Skype
Skype is a video chatting app with various features to protect your child. Only people on the contact list can contact your child. You can hide the profile details such as gender, age, and birth date. Moreover, your child's profile will not show up on the search results unless the name matches the search.
5. FaceTime
FaceTime is a pre-installed video call and chat app on iPads, Mac laptops, and iPhones. It allows hassle-free, no cost chatting with family and friends over the internet. Children can still receive calls on the device even when FaceTime is not running, making it an excellent app for emergencies. It works only on Apple devices.
6. Houseparty
Houseparty is a fun app for video communication that allows children to simultaneously chat and play games with their friends. Young children and teens can enjoy a wide range of games. The app is free to use, but you might have to pay to use the additional features. It lets you invite up to eight people to have a video party or chat session.
7. Waze
Waze is a mapping app that helps you know where your children are. It includes some privacy settings that allow you to be invisible. You can even turn off the private and public chats separately. It has a voice command mode for hands-free interaction.
8. GoTalk
This video chat tool is designed for desktops and mobiles. Share the chat link with your family members or friends to enjoy a conference call. It is also an easy-to-use app for grandparents and younger children who are unfamiliar with technology. Designed to work on Mac, Android, and Windows, it makes a convenient and safe option for children to have a video chat.
9. Animal Jam
You do not need parent approval to create an account on Animal Jam, but you can access free parental controls by registering your email address. It uses human monitors and filters to keep track of iffy conversations. You can also select from three different chat levels that include pre-approved phrases and open chats. The app does not allow limiting chatting to only friends.
10. Booyah
Booyah is an extension of WhatsApp designed for Android users. The app allows chatting with up to 12 people without any need for the guests to sign up. You can import the contacts from other apps with ease and share the link with friends to start chatting.
11. Airtime
Designed for Android and iOS, the Airtime kids' app allows sharing photos, listening to music, and watching TV shows with friends. It lets children chat and watch videos at the same time. It even allows parents to create a private room for chatting. Customizing screens using animated stickers makes it a fun app for kids.
12. Roblox
Roblox is a popular app with over 90 million monthly users. It has stronger filters for players younger than 12 years of age. To limit conversation, messaging and friending options can be turned off. The app also allows parents to create a pin code that must be entered in order to change the settings.
13. LinkedIn
Though LinkedIn is a popular app for making connections in the professional world, it also offers privacy settings that can be selected based on your child's needs and maturity levels. It is a safe messaging app for kids as it allows hiding the last name and email address of your child.
14. Instagram
If your child is spending too much time on Instagram, you can use the restrictive privacy settings to limit the number of people who can contact your child. Select 'Settings' and 'Privacy and Security,' and you can make the account private. It will prevent people from posting comments and replying to stories.
15. Whereby
Whereby is an easy-to-setup and use app for desktops and makes a convenient communication app for families. The free version comes with limited features and makes an ideal choice for daily video calls and chats. YouTube integration and fun emojis make the interaction more engaging for children. Parents canlock the room to keep strangers from joining your children.
Messaging apps can expose your children to inappropriate content or cyberbullying. An ideal messaging app for kids provides safety from online threats while giving children the freedom to connect with their friends. While selecting such an app, parents should ensure that it has some parental control features to help them monitor the content. Nevertheless, avoid sharing real names, permission to access the phone address book, or location, for security reasons. Encourage your child to share any untoward experience with you immediately. Using secure apps will keep your child safe from online predators.
Key Pointers
Parents should help children pick the right texting mobile apps to keep them safe on the internet.
Share the dos and don'ts to remember when texting through apps.
Instagram, Facebook Messenger, and Google Hangouts are some popular and safe apps for children.
The following two tabs change content below.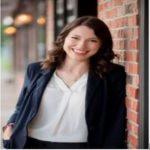 Dana Sciullo is a licensed and registered occupational therapist in the US, specializing in pediatrics. She received her undergraduate degree in Psychology and Masters degree in Occupational Therapy from the University of Pittsburgh.  Dana has been working as an occupational therapist since 2015 in multiple settings including schools, outpatient clinics, and telehealth. Having completed extensive continuing education in the areas...
more

Bharathi is a content developer and writer with over 20 years of experience in creating original content for e-books, articles, websites, blogs, ads, brochures, company profiles, speeches, business presentations, instructional design and more. She has also edited financial papers and books. She writes kids' education-based articles for MomJunction. Bharathi is associated with The Hindu group of publications in their STEP program,...
more