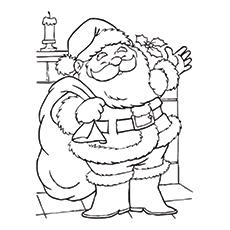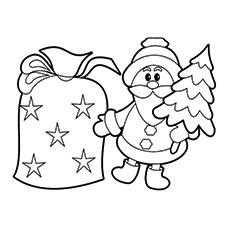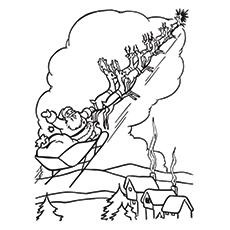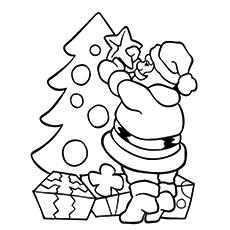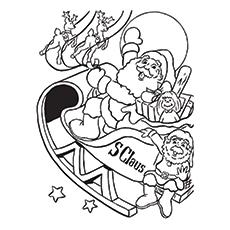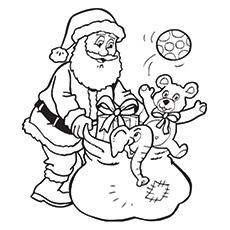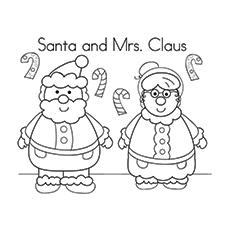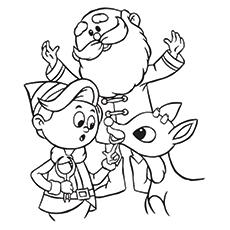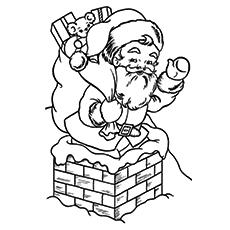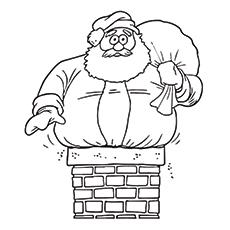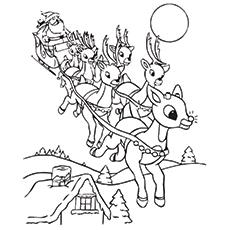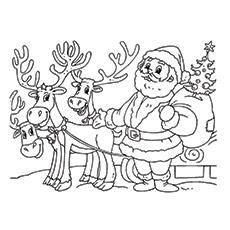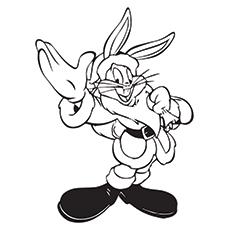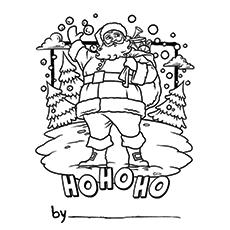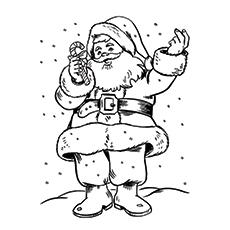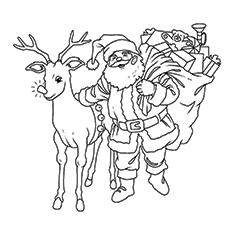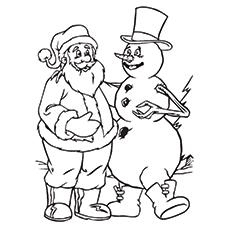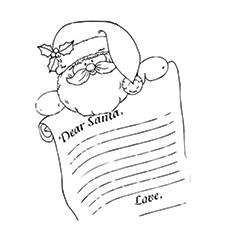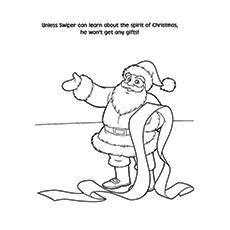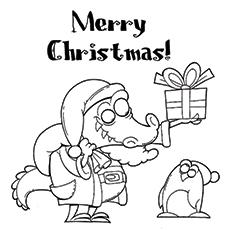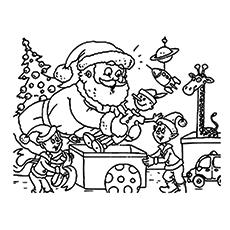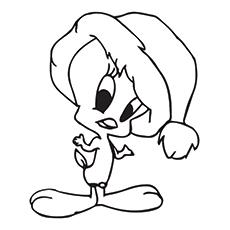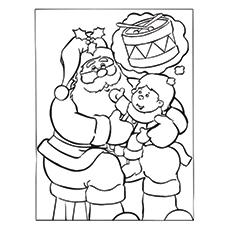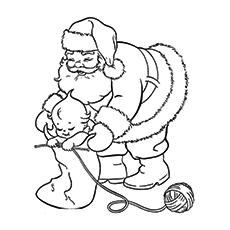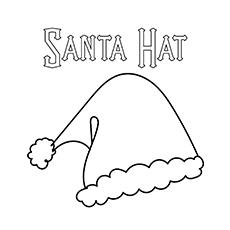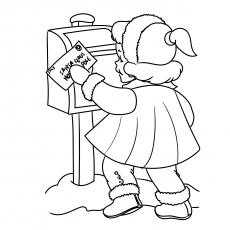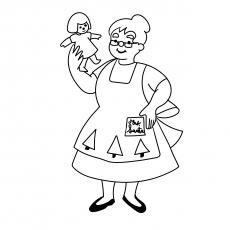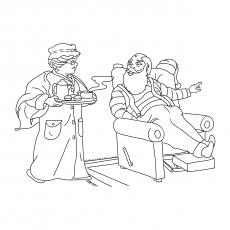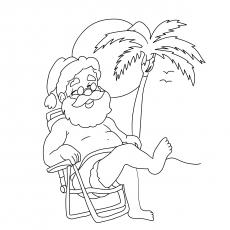 A rotund and cheerful man with a long, white beard, holding a sack laden with toys; isn't that a familiar sight at
Recommended Articles:
Christmas parades, on advertising posters and in department stores. As Christmas approaches, kids all around the world only have Santa Claus on their mind. And on Christmas Eve, millions of children sleep light and lie uneasily in bed, anxiously wondering whether they have been nice and obedient or overly naughty this year.
The man we know as Santa Claus has his history. He is believed to be a jolly man in red, but his story stretches back to the third century. In fact, he did not originally look as he is portrayed today, having evolved from a generous Catholic saint called St. Nicholas. So, teach your little one more about the history of Santa Claus through our collection of Santa Claus coloring pages below.
Popular Santa Claus Coloring Pages
1. Jolly Santa:
Here's a coloring image of a jolly Santa Claus grinning ear to ear. Santa Claus is a merry, old and obese man who appears in red and white clothes. He is known all over the world for delivering gifts to little girls and boys on the Christmas Eve. Santa Claus is the American version of St. Nicholas, the Bishop of Myra, which is now Turkey. Dutch settlers in the New Amsterdam brought this lively and fun tradition, (which is now a cult), to America. In the 19th and 20th century, Santa traveled from house to house, delivering treats to kids on the 5th of December.
[ Read: Humpty Dumpty Coloring Pages ]
2. Santa At The North Pole:
This Santa coloring page shows the majestic Santa Claus in his home, the North Pole. Mr. Santa has been keeping busy in the North Pole, preparing for the big night on the Christmas Eve. Tell your kid to help Santa a bit by adding some holiday cheer to the coloring page. The background of this coloring page is rather intricate, so ensure that your kid colors it meticulously. Do you think Santa will visit your house this year? Ask your kid this question to learn what he wants from Santa this year.
3. Mini Santa:
Here's a coloring image of little Santa Claus carrying a tiny Christmas tree in his hand. He has even readied the gift sack for the children. But don't you think that the gift bag is too huge for Santa? How will he carry it? Coloring it may help him a bit! Did you know the 19th century Santa was depicted in different colored outfits like purple, green, red and blue? This typically began to fade towards the beginning of the 20th century when beverage giant Coca-Cola cemented the image of Santa wearing a suit in red and white through a series of advertisements. Which color would your kid choose for tiny Santa?
4. Santa On His Sleigh:
Here's a beautiful coloring page showing Santa Claus and his reindeers soaring across the sky. They are one the way to the west. On the Christmas Eve, most of the kids try to stay up all night just to see Santa land on their roof with his sleigh. Do you know who the engine behind Santa's sleigh is? It's his nine reindeers: Dancer, Prancer, Dasher, Comet, Cupid, Donner, Vixen, Blixem, and Rudolf. Ask your kid what name he would like to give to this sleigh. Make sure he selects a girl's name because Santa likes the idea of giving a girl's name to his sleigh. Isn't that cute?
5. Santa Decorating The Christmas Tree:
Here's a perfect Santa Claus coloring page to keep your kid engaged as he counts down the days to the merriest festival of the year. Santa Claus had dropped in the house of a little child to give him gifts but stops to decorate the Christmas tree. After putting on the ornaments, he is fixing the star on the tree. What do you think are in those big boxes? Tell your kid to come up with a story as he colors this wonderful picture of Santa.
6. Santa With His Buddies:
Here's a coloring page of Santa and his gang all set to surprise the nice and obedient kids. Mr. Santa travels in his custom made sled carried by his fleet of reindeers. Clement Moore first introduced the eight reindeer in his poem 'Twas the Night Before Christmas'. Santa's sled has his initials inscribed on it. And look at the naughty little elf! The sled is full of toys for kids, so the elf has to accommodate himself outside. A charming little daredevil, isn't he?
7. Santa Collecting The Toys:
This coloring page shows Santa collecting toys for children. He has filled the sack with a stuffed elephant and teddy bear and a wrapped gift box. The ball will go in too! Giving each other gifts has been an important part of the Christmas celebration since the early 19th century. It's said that Saint Nicholas used to donate gold coins to people in need. He would leave the coins in their shoes. The cult spread in America and Europe and presents were distributed on the 6th of December when the celebration of St. Nicholas took place.
8. Mr. And Mrs. Santa Claus:
This coloring page features Santa Claus with his wife, Mrs. Claus. Mrs. Claus, also known as Mother Christmas, is a counterpart to Father Christmas. She helps her husband by baking cookies, taking care of the reindeer and preparing toys with her husband. Mrs. Claus was first mentioned in "A Christmas Legend," a short story.
[ Read: Frosty The Snowman Coloring Pages ]
9. Santa With Reindeer And Jultomten:
Here's a printable Santa coloring page featuring Santa with his pet reindeer and Jultomten. Jultomten is looking at the reindeer with amazement. It seems that it's the first time he has seen a reindeer. That's because Jultomten is the newest employee at Santa's gift making factory. Jultomten is a jolly elf who delivers gifts in a sleigh drawn by goats. Don't you think Santa looks a bit weird without his signature cap? Can your little one recognize Santa here?
10. Santa Entering The House:
This coloring page featuring Santa trying to enter the house through the chimney is sure to get your kid all excited. But, do you think Santa will get through the chimney? Remind your son that he has to be a well-behaved child if he wants Santa to deliver toys to his house. We guarantee you that your kid will be on his best behavior as he awaits Santa's visit.
11. Santa Stuck In The Chimney:
What's that sound on the rooftop? Uh oh! Looks like Santa got stuck in the chimney while trying to enter the house. Now, who will help Santa? Maybe your kid can help him out by lending some color to the image. Encourage your child to give a different look to Santa on this coloring page. He can make his suit purple and bag green.
[ Read: Pegasus Coloring Pages ]
12. Santa Hat:
Enjoy the magic of holidays with this fun Santa hat coloring page. Tell your kid to choose unusual color combinations to make this Santa cap pop. Your kid can even design a new outfit for Santa Claus to wear for this Christmas. After all, for how long can one wear the same, old and outdated uniform?
13. Santa With Rudolf:
This coloring page shows Rudolf and his pal with Santa. Rudolf, the most famous reindeer, was born over a hundred years later, after his eight flying friends. Rudolf was initially teased by other reindeer because of the large, glowing red nose. When Christmas Eve turned foggy, Santa was worried that he would not be able to deliver gifts to the children. Rudolf, the former outcast saved Christmas for the kids by leading the sleigh by the light of his red nose.
14. Santa With His Reindeer Friends:
Here's another image of Santa with his reindeer pals. The reindeers always feel great around Santa. Their happiness is beautifully captured in the coloring image. But Santa's uniform is looking a bit drab in the coloring page, so are his presents and the reindeers. Can your kid color them for some fun? Tell him to use sable brown to accentuate his fur and vibrant yellow for the jingling bells.
[ Read: Joker Coloring Pages ]
15. Bugs Dressed As Santa:
This coloring page shows Bugs Bunny dressed as Santa Claus. Bugs Bunny is a character best known for his roles in "Merrie Melodies" and "Looney Tunes." This cool and relaxed rabbit was once a corporate mascot of the Warner Bros. Company. Bugs Bunny is a cunning, smart and charismatic rabbit and that's what sets him apart from other annoying characters in the "Looney Tunes". He is popular for his catchphrase "Eh, what's up, doc?" This smart rabbit can outsmart almost anyone who tries to antagonize him. Ask your kid to decorate the bank space around Bugs Bunny to make it look like his house.
16. Mrs. Santa Making A Doll:
Here's a coloring image of the adorable Mrs. Santa holding a doll. Mrs. Santa Claus is the woman behind the scenes in the Christmas giving. While Santa runs the show in the North Pole, Mrs. Claus assists her husband in the background, boosting the morale of her husband and his team of elves. She has made a doll today and wanted Santa's approval on it. We're sure Santa would love this doll as much as we love it.
[ Read: Cartoon Coloring Pages For Toddlers ]
17. Santa Greeting Card:
If you are looking for a Santa Claus template for your kid, then this coloring page will surely help you. It features a stunning image of Santa Claus with Ho, ho, ho written below. Ho, ho, ho is said to be Santa's style of laughter. The laughter has been an essential attribute of Santa's character. It represents an attempt to write the belly-laugh of Santa as opposed to the high pitched ha ha associated with the villains of melodrama. H0H 0H0 is also the postal code Canada Post uses for sending letters to Santa Claus at the North Pole. That's interesting! You can let your kid use glitters and stickers for making the card stand out. Make sure your child writes his name at the bottom of the coloring page.
18. St. Nicholas:
Here's another image of St. Nicholas or Santa Claus. Santa has never looked as happy as he's looking now holding a candy cane. Legends say that St. Nicholas or Santa Claus was born in Patara and traveled to Egypt and Palestine when he was young. He was imprisoned during the persecutions of Emperor Diocletian, but Emperor Constantine released him on humanitarian grounds. St. Nicholas may have died in 350 AD, but is still alive amongst us as Santa Claus.
[ Read: Little Red Riding Hood Coloring Pages ]
19. All Set To Deliver Gifts:
Here is a cute Santa Claus coloring page to print out for indoors holiday fun. This coloring page featuring Santa Claus with his reindeer and sac filled with gifts will surely put your kid in the holiday spirit. Before delivering the gifts, Santa and his reindeer need a bit of color. Can your child help him? Make sure your toddler has his green, red and brown crayon handy to spread cheer to this hilarious scene.
20. Santa With Frosty:
Bring some Christmas cheer to your house with this lovely coloring page featuring Santa with Frosty, the snowman. Frosty is the titular character of the Christmas song and the movie "Frosty, the Snowman". Karen, a cute little girl, built a snowman while playing in the snow with her friends. He comes to life when one of Karen's friends places the magical hat of Professor Hinkle on it. But not everything is perfect with Frosty. He becomes an inanimate snowman without the hat and can melt in the warm weather.
21. Dear Santa:
Writing letters to Santa Claus is one of the most long-standing traditions. Every year, kids write letters to Santa Claus that contains a wish list of toys. Has your kid written his letter to Santa? If no, then make him write on our coloring page. He can then color the image of Santa any way he likes. It is said that boys and girls write different types of letters to Santa Claus. Girls typically write a long list requesting more gifts. Some kids even wrap and tie the letter to a small helium balloon and release in the air so that Santa magically receives them. The coloring page will help your kid practice the handwriting while reflecting on the year that has passed. When your kid has finished, help him seal the envelope and send it to the North Pole.
22. Mailing The Letter To Santa:
After writing the letter, the little girl has come to the post office to mail the letter to Santa Claus. Postal service typically allows kids to send letters to Santa Claus. It is said that Santa Claus receives millions of letters every year from children. These letters are answered by the postal workers and volunteers. That's a rather sweet and heartwarming gesture on the part of the postal workers, isn't it.
[ Read: Snow White Coloring Pages ]
23. Swiper And Gifts:
The coloring page states that unless Swiper learns about the spirit of the Christmas, he won't get any gifts. Swiper, the sneaky orange fox, is the primary antagonist of the series "Dora, the Explorer". As his name implies, Swipe tries to steal all the essential items that can help Dora in her adventure. In an episode, Swiper's love for stealing lands him on Santa's naughty list, despite repeated warnings. But after Dora's request, Santa decides to give Swiper a last chance to get off the naughty list. He sends Swiper and Dora on an epic quest, which they complete, and Swiper is happy at last.
24. Alpine Crocodile As Santa:
This coloring page shows Alpine Crocodile dressed as Santa and presenting a gift box to the little penguin. Alpine is not an ordinary crocodile that you see in the zoo. He is a helpful and friendly crocodile living in the Alps of Austria. Everyone in the Alps adores him, including the giraffes, rabbits, hippos and fish. No wonder the penguin here is not scared of Alpine.
25. Santa Chilling At The Beach:
Whoa! We've never seen Santa this way before. After spending months in the North Pole, Santa has decided to take a break by hitting the beach. Now that's what we call 'swag.' As your kid colors, tell him to come up with adjectives to describe the cool Santa in the picture. You can even this coloring page to decorate your house if you are going for a coastal or beach theme for the Christmas party.
26. Elves Working:
The hardworking elves are making toys for the kids, and Santa is inspecting each of them. Santa's house includes a residence and a workshop where he creates the gifts for children with the aid of his elves. Some legends also include a village inhabited by his helpers and surrounding his shop and home. The wooden Pinocchio has delighted Santa big time. We think that it will go to the special child. While your kid is coloring, ask him what he would want these elves to make for him this Christmas.
[ Read: Ninjago Coloring Pages For Toddlers ]
27. Tweety In Santa Cap:
Ring in the holiday season with this cute coloring page of Tweety dressed as Santa. Tweety is a yellow canary bird from the wacky and popular "Looney Tunes". She appears to be an innocent bird but is clever enough to outsmart the cat, Sylvester and many other characters in the show. When Tweety was first introduced in the cartoon, she had a short temper. But as the series advanced, Tweety became calmer. The feature we like the most in Tweety is her habit of mispronouncing the words. It's a great coloring page to sneak some motor skills practice during the Christmas season.
28. Mr. And Mrs. Santa Enjoying Coffee And Muffins:
The beloved Aunt Claus has prepared muffins and coffee for her husband. But what is wrong with Mr. Santa? Why is he looking so furious? The scene is from the film from the movie "Mr. Santa Claus". Neglected by his husband during the Christmas season, Mrs. Claus takes the sleigh and reindeer for a drive, only to end up stranded in the neighborhood of Manhattan. What will happen now? Will Santa be able to find her? Ask your kid this question and see what he answers. You can even watch the movie with your kid after coloring the page.
29. Santa With A Kid:
This little boy has finally met Santa. He is expecting a drum gift from Santa, and we are sure Santa got the same for him. We hope this kid serves Santa cookies and milk, his favorite food. In Canada and the United States, kids leave Santa a glass of milk and a plate of cookies and in Australia and Britain; he is given mince pies and sherry instead. In Norway, Sweden, and Denmark, Santa receives rice porridge with cinnamon sugar and in Ireland; he gets milk with mince pies and Christmas pudding. Some kids even leave carrots for Santa's reindeer. Isn't that cute?
30. Baby New Year Knitting Santa's Hat:
Here's an adorable coloring image of baby new year is knitting the sack, as Santa watches in amazement. If your kid cannot stop dreaming about Santa coming with all sorts of gifts, then this quiet activity will keep him engaged. Baby New Year is the personification of the beginning of the new year. He symbolizes the passing of the previous year and the birth of the next year. Father Time hands over his duties to Baby New Year at the start of the year and retires. Your kid can even draw a few candy canes and jingle bells to make the coloring page look merry.
We hope your kid enjoys decorating our Santa coloring pages. He does not need to stick to the usual red and white for coloring the images of Santa Claus. Encourage him to mix colors for making the pictures of Santa stand out. Share your kid's work with us by commenting below!
DISCLAIMER: All images found here are believed to be in the "public domain". We do not intend to infringe any legitimate intellectual right, artistic rights or copyright. All of the images displayed are of unknown origin. If you are the rightful owner of any of the pictures/wallpapers posted here, and you do not want it to be displayed or if you require a suitable credit, then please contact us and we will immediately do whatever is needed either for the image to be removed or provide credit where it is due. All the content of this site are free of charge and therefore we do not gain any financial benefit from the display or downloads of any images/wallpaper.
The following two tabs change content below.