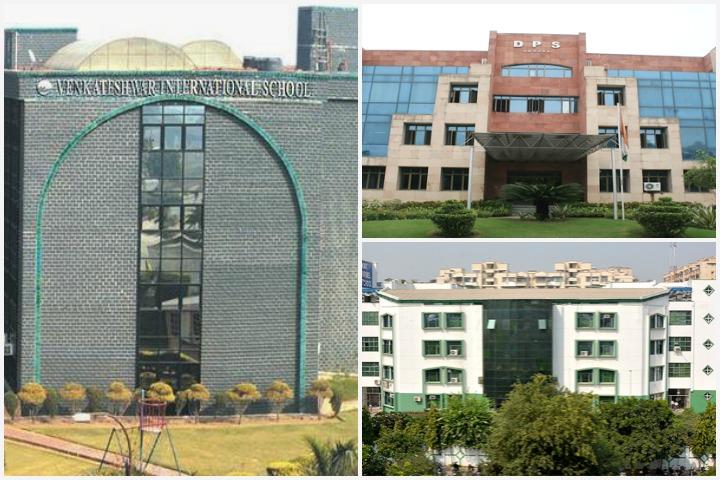 If there is one thing that has given a boost to the education sector on the western side of Delhi, then it is the establishment of Dwarka, the sub city. Young professionals flock here in herds, lured by the lines of apartment blocks and excellent infrastructure.
No wonder, scores of schools providing quality education are burgeoning here at a fast pace. In fact, most of the top schools in Delhi are located in Dwarka. Even the presence of esteemed educational institutions is bolstering Dwarka's reputation as an education hub.
So if you too are looking for some top schools in Dwarka, then you must consider going through our list. We have compiled a list of the top 10 schools in Dwarka to help you with your selection. Have a look!
1. Mount Carmel School:
Mount Carmel School, established in 1972, is the second school by the Mount Carmel Society. It is renowned for its academics and discipline.
It has a well-designed campus clubbed with some of the best amenities your kid can ever get. The school also teaches foreign languages like French and Spanish to its student.
The Shiksha Kendra of Mount Carmel provides education after the school hours to people who have never been to school. It is widely considered one of the best schools in Dwarka New Delhi.
Address:
Sector – 22 Phase I, DWARKA, Delhi
Phone Number: 011 28052001, 28052002
Email Id: info@mcsdwarka.org
Website: www.mountcarmeldelhi.com
[ Read: CBSE Schools In Delhi ]
2. Delhi Public School:
Delhi Public School, Dwarka topped in five categories, including ECA, academic rigor, infrastructure, and facilities. Along with academics, Delhi Public School also provides avenues for personal growth and development.
It encourages its students to develop interests in quizzing, public speaking, dramatics and other extra-curricular activities. It featured in the prominent list of schools in Dwarka.
Delhi Public School even has an enormous area for playing cricket, football, badminton, basketball and tennis.
Address:
Sector 3, Phase-I, DWARKA, Delhi
Phone Number: 011 25074472/75
Email Id: mail@dpsdwarka.com
Website: www.dpsdwarka.com
3. Bal Bharti Public School:
Bal Bharti Public School came into existence in the year 1944, during the pre-independence era to preserve and foster the Indian heritage, culture, and tradition. It is one of the oldest schools in Dwarka Delhi.
In the primary and pre-primary stage, the school follows the Montessori Method of teaching. The kids are gradually exposed to formal education in the primary department. And in the middle and secondary department, the school uses latest electronic and scientific methods to sustain the interest of the pupils.
To foster the qualities of selfless service, charity, and compassion, the school organizes visits to old age homes and orphanages.
Address:
Sector – 12, DWARKA, Delhi
Phone Number: 011-28031970, 28031955
Email Id: bbpsdw@publicschool.co.in
Website: www.bbpsdwarka.org
4. Venkateshwar International School:
Established by Shri Venkateshwar Education Society, VenkateshwarInternational School is reputed for providing quality education to its pupils. Widely mooted as the best school in Dwarka, It aims to transform the ordinary lives into extraordinary by building the values, character and leadership traits.
Venkateshwar International School is renowned for its architectural magnificence and academic standards. The excellent infrastructure is accentuated with the well-maintained sports field, and beautiful, well-manicured lawn.
Venkateshwar International School offers a broad range of facilities like digitally equipped classrooms and virtual science labs.
Address:
Sector-10, DWARKA, Delhi
Phone Number: 011 43180800
Email Id: principal_vis10@rediffmail.com
Website: www.vis10dwarka.com
[ Read: 10 Best Government Schools In Delhi ]
5. St. Francis De Sales School:
St. Francis De Sales School, founded by Fr. Thomas Thoomkuzhy is a private institution affiliated to CBSE curriculum.
The school library has a massive collection of 23,300 books. It even has a well-equipped engineering lab to meet the syllabus of computer-aided designing by CBSE. It is probably the most advanced of all Dwarka schools.
The well-trained teachers of the school try to give undivided attention to every student.
Address:
A-4C, SS Mota Singh Marg, Opp Budget Bazar,
Janakpuri, New Delhi, Delhi 110058
Phone Number: 011-25551113
Website: www.sfsdelhi.com
6. Nirmal Bhartia School:
Nirmal Bhartia is a co-educational English medium school promoted by the Nirmal Society of Education and India Glycols Limited. It was credited with the British Council International Award for the years 2013-2016.
Nirmal Bhartia School is the best school for science stream. It provides a state-of-art facilities for physic, biology, and chemistry.
It has spacious and welcoming classrooms equipped with a computer and internet. Besides, it also has specialized laboratories for mathematics and language.
The additional facilities include a theater room, a gymnasium, amphitheater, splash pool, sports field and so on.
Address:
Sector 14, Dwarka, Delhi – 110075
Phone Number: 011 45609702/6
Email Id: contact@nirmalbhartia.org
Website: www.nirmalbhartia.com
7. Hansraj Model School:
Hansraj Model School is an English medium, CBSE affiliated school having eminent bureaucrats, educationists, intellectuals and prominent professional as members of its Advisory Board and Management Committee.
It provides classes from kindergarten to senior secondary under the umbrella of value based education.
The school was awarded the Science Intellect Trophy by the Science Olympiad Foundation in 2010.
Address:
Road No. 73, Punjabi Bagh, New Delhi, Delhi 110026
Phone Number: 011-45911500
Website: www.hansrajmodelschool.org
[ Read: Best ICSE Schools In Delhi ]
8. Indraprastha International School:
"Education is not just the acquisition of knowledge. It should teach the young minds to draw a line of the demarcation between the wisdom gained and the knowledge acquired". This is what Indraprastha International School aim to teach its pupils.
Indraprastha International School has fully air-conditioned classrooms, each coming equipped with computer facilities.
The indoor and outdoor games and sports facilities include a basketball and table tennis court, a swimming pool and special aerobics classes.
Address:
Sector-10, DWARKA, Delhi
Phone Number: 25073111,25073222, 55458502
Email Id: indraprasthaschool@yahoo.com
Website: www.indraprasthaschool.com
9. Modern Convent School:
Modern Convent School, established in 1999 is a co-educational, CBSE affiliated school managed by the Modern Charitable Foundation.
It is one of those schools where the latest technology and modern infrastructure join hands with the heritage and richness of the Indian culture.
This 4-acre plot of this ultra-modern school has well-maintained laws and a vast playground.
Address:
Sector-4, DWARKA, Delhi 110075
Phone Number: 011-25080767 / 25080768
Email Id: modernconventschool@rediffmail.com
Website: www.modernconventschool.com
10. St. Mark's Senior Secondary Public School:
Another one of the top schools in Dwarka, St. Mark's Senior Secondary Public School is a coeducational school established in 2000. The motto "Loyalty, Truth and Honor' conveys the school's expectations of its students.
As for the facilities, the schools have well-equipped laboratories, a playfield for all the major games and hobby clubs. The school also boasts of activities like Eco Saviors Club, Inquisitive Club, and Wellness Club and so on.
ST Mark's Senior Secondary Public School lays immense importance on sports. It wants to make its pupils physically capable of facing any challenge that comes in their way. It even encourages its students to join NCC.
Address:
A-Block, Meera Bagh New Delhi – 41
Phone Number: 011-25262056
Email Id: stmarksmb@saintmarksschool.com
Website: www.saintmarksschool.com
So these were our top 10 schools in Dwarka. If you want us to include your favorite school to this list, then leave us a comment below!
Recommended Articles:
The following two tabs change content below.