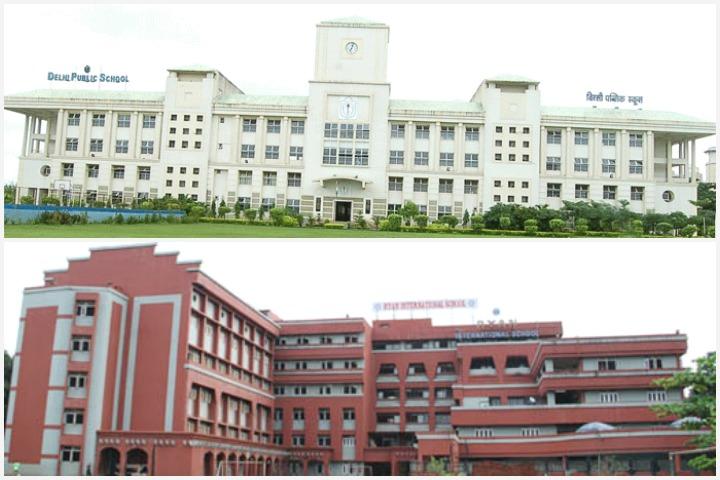 Nowadays, the new age parents give a lot of time and thought when it comes to selecting a school for their children. Teaching standards, infrastructure, location, fees, curriculum, and safety are some of the few factors that parents look while making a choice.
But with an upsurge in the number of schools equipped with world-class amenities, the task of selecting the best school for your little one is getting tougher than ever. But you don't have to worry anymore as Momjunction has come to your assistance. So, end your search here and peruse our list of top 10 schools in Navi Mumbai.
1. Delhi Public School:
The Delhi Public School was established by the Delhi Public School Society in 1999 in the heart of Navi Mumbai. It is one of the recently established schools in Navi Mumbai.
With a sprawling campus area of 2.5 acres, the school houses and caters to the needs of over 3000 students.
It has been the topper among all the Delhi Public School in India and even abroad consistently for the last three years.
Address:
Sector 52, Nerul (West)
Phone Number: 022 27526632, 022 27526928
Email Id: dpsnm@yahoo.com
Website: www.dpsnavimumbai.edu.in
[ Read: ICSE Schools In Mumbai ]
2. Apeejay School:
The Apeejay School, Nerul was one of the first schools in Navi Mumbai to offer the CBSE curriculum. It is promoted under the tutelage of Apeejay Education Society, Delhi.
The Apeejay School is renowned for its unique teaching method. It provides Moodle, a web-based e-learning module for all the students and teachers. Every class is equipped with a large screen television and a computer to make Moodle interactive and effective.
The Apeejay School in Navi Mumbai is also the recipient of the International School Award by the Rotary Inter-School Competition and British Council. It also holds activities like Swachh Bharat Abhiyan, MUN, and even a youth parliament.
Address:
Sector 15, Nerul, Maharashtra 400 706
Phone Number: 91 (22) 2770 36 35
Website: www.apeejay.edu/nerul
3. Sanjivani International School:
Sanjivani International School in Kharghar is affiliated to the ICSE and ISC board. It is a multi-disciplinary school in Navi Mumbai Khargar.
In the school, the teachers give vocational guidance to the kids and ensure that they grow in a healthy educational environment.
The school uses unique teaching methods like group activities and projects to help pupils understand the curriculum well.
Besides academics, the school also emphasizes on the development of good values and life skills in children.
Address:
Sector 18, Kharghar, Navi Mumbai, Maharashtra 410210
Phone Number: 022-32584406 / 22918170
Website: www.sanjivaniis.org.in
4. Ramsheth Thakur Public School
The co-educational school offers classes from pre-primary to class XII.
The school has well-equipped science, math, computer, and 3D laboratories.
The library has more than 3000 books, and a furnished reading room.
Smart multimedia classrooms.
The school's infrastructure includes a ramp for kids with special needs.
For the pre-primary section, the school has colorful kid-friendly classrooms, toy rooms, et al.
They also have a medical room, lift facility, secure drinking water, solar lamp, and CCTV cameras for a safe environment.
Address:
Janardan Bhagat Shikshan Prasarak Sanstha's
Ramsheth Thakur Public School, Kharghar
Plot no- 11, 11 A, Sec- 19, Kharghar, Navi Mumbai
Phone number: 022-27744410/ 27744577
Website: rtpsk.in/web/index.html
[ Read: Top IB Schools In Mumbai ]
5. DAV Public School:
Just like the other DAV Public Schools, even DAV Public School Navi Mumbai has been set up with the mission of providing best educational opportunities for the pupils. Its objective is to help the students optimize their competencies and caliber.
The school focuses on practical and activity based learning, involving theme-based displays and audio-visual presentation and is considered as one of the best schools in Navi Mumbai.
The school also gives importance to sports and physical education as much as academics. It has a huge playground and even a basketball court.
Address:
Plot No. 267-268, Sector 10, New Panvel,
Navi Mumbai, Maharashtra 410206
Phone Number: 022 2745 1793
Email Id: davschoolnp@vsnl.net, davnewpanvel@gmail.com
Website: www.davnewpanvel.com
6. D. Y. Patil International School:
The D. Y. Patil International School, a part of D.Y. Patil Group Institutions, is one of the most famous Navi Mumbai schools, and is quite well known all over India. The school offers study programs from the University of Cambridge to their students.
The school is divided into five different areas- The Early Years, Elementary, Middle, Secondary and High School.
It encourages its students to use podcasts and Ipads to enhance their creativity.
Address:
Dr. D Y Patil Vidhyanagar, Sector 7,
Nerul, Navi Mumbai – 400706
Phone Number: 022 27700840 022 27710840
Website: www.dypisnerul.in
7. Avalon Heights International School:
The Avalon Heights International School provides classes from Nursery to 10th standard.
The school works on the child-centric education through creative teaching and learning methods. It focuses on giving a hands-on experience of the concepts to children, which have given credence to its claim of being one of the top schools in Mumbai.
The school also carries a silent teaching session once a week. In the silent teaching session, the teachers and students converse only through PowerPoint presentations and sign language. It's their contribution towards controlling noise pollution.
Address:
Plot No.: 7, Sector 19 B, Vashi, Navi Mumbai 400 703.
Phone Number: 91- 22- 65159977 / 65159988 / 65120339
Email Id: info@avalonheights.org
Website: www.avalonheights.org
[ Read: Boarding Schools In Mumbai ]
8. Father Agnel Multipurpose School & Jr. College Sector:
Father Agnel Multipurpose School & Jr. College Sector was established in 1982 with the objective of providing comprehensive education to pupils up to Higher Secondary Certificate Examination.
Ten students from Father Agnel Multipurpose School won the gold medallion on astrophysics and astronomy at the ninth International Olympiad.
Father Agnel Multipurpose School is also the only school in Navi Mumbai that has a Gavel's club, a junior version of the International Toastmasters Club.
Address:
Sector No. 9A, Vashi, Navi Mumbai 400703
Phone Number: 022 41612000
Email Id: office@agnelhamara.net
Website: www.agnelhamara.net
9. Bal Bharti Public School:
Bal Bharti Public School was set up on 1 September 2000 by the Child Education Society with the aim of imparting quality education to kids.
All the classes of the school have plasma television to teach the kids through smart class modules.
There's also a full time, counselor, nurse and doctor within the premises of the school.
Address:
Sector 4, Plot No. 5, Kharghar,
Navi Mumbai, Maharashtra- 410210
Phone Number: 022 27741641, 022 27742773
Email Id: bbpskhrnm@yahoo.com
Website: www.bbpskharghar.com
10. Podar International School:
Podar International School started with the ICSE curriculum in 2007, but adopted the Cambridge curriculum in 2009.
All the classrooms of Podar International School are equipped with computers, projectors, and smart boards.
The school also deploys international trainers to train its teachers. Even the students of the school actively participate in national level competitions.
Address:
Plot No.30, Sector No.36, Sea Woods West,
Nerul – 400706, Navi Mumbai.
Phone Number: 022 65252151
Email Id: admin.cbsenerul@podar.org
Website: www.podareducation.org/school/nerulcie
We hope our compilation of top schools in Navi Mumbai help you take a sound and wise decision. After all, it will shape the career, and even the life of your child. Let us know which of these schools you are considering by leaving us a comment below!
Recommended Articles:
The following two tabs change content below.