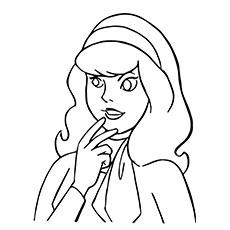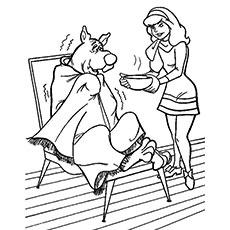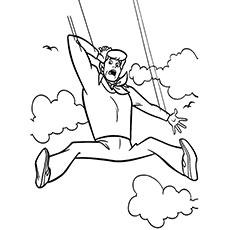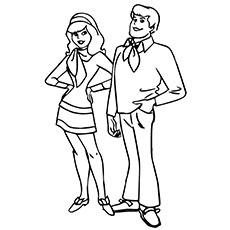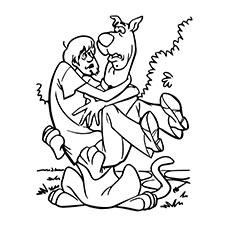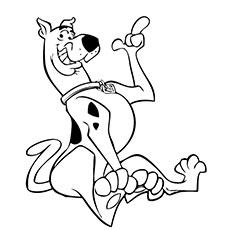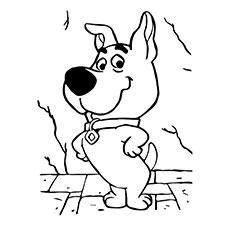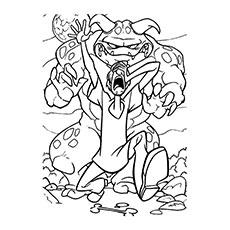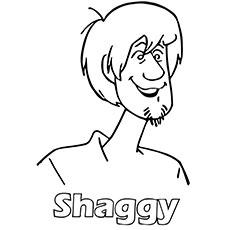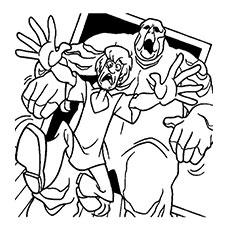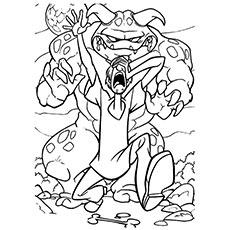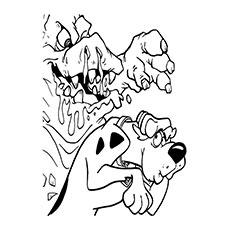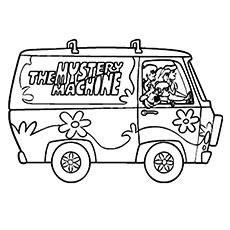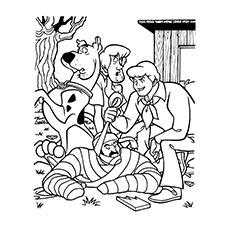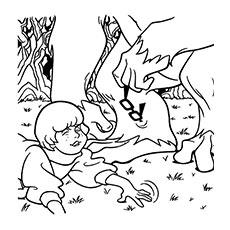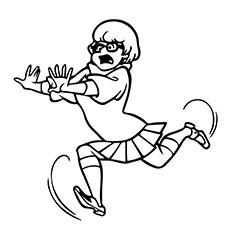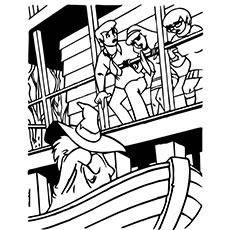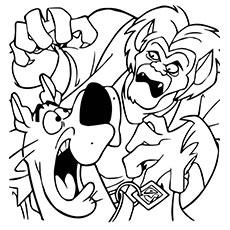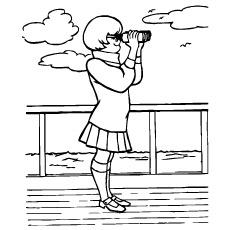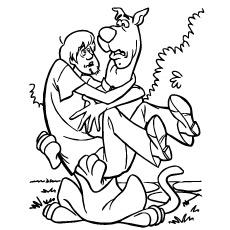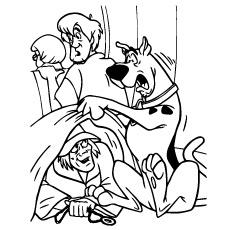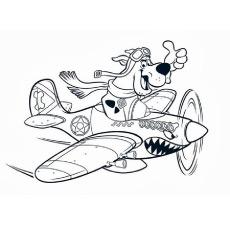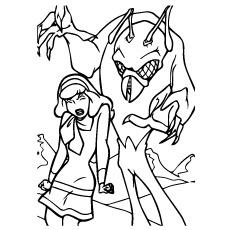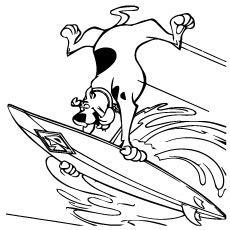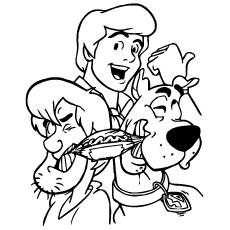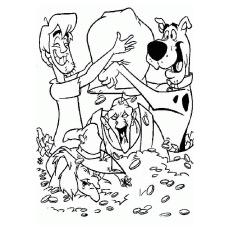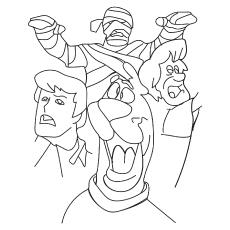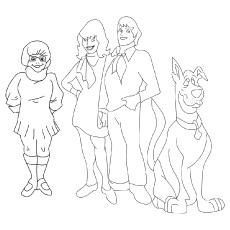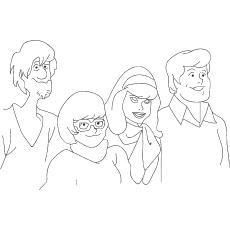 Classic cartoons like Scooby Doo can never get old. Scooby Doo is an animated cartoon series created by Hanna-Barbara Productions. The cartoon series features four teenagers Shaggy, Fred Jones, Daphne Blake and their talking brown dog, Scooby-Doo. Together they solve mysteries that revolve around supposedly supernatural creatures through a series of missteps.
Following the success of the original series, Hanna Barbara produced numerous follow-up and animated series. The show still airs on several kids' channels in various countries. Even after years, kids still love to follow the antics of Shaggy, Fred, Daphne, Velma, and Doo. Not just the television series, Scooby Doo coloring sheets are also very popular with the kids.
Help Scooby Doo and his friends solve the mysteries through these 20 amazing free scooby doo coloring pages for kids. These Scooby Doo coloring sheets will take your child on a creative adventure while learning about drawing and coloring.
Best Scooby Doo Coloring Sheets For Preschoolers
1. Scooby Do Gang:

This coloring sheet features the Scooby Doo Gang- Shaggy, Daphne, Fred, Velma, and Scooby Doo.
Fred, the brave one, always takes the initiative for solving mysteries and Daphne follows him. Finally, Velma, the most intelligent of the lot, solves them all.
Take your child to watch the Scooby Doo film this weekend. He will surely enjoy it.
[ Read: Diego Coloring Pages ]
2. Scooby-Doo:

Meet Scooby Doo, the protagonist of the Scooby Doo animated series. He is a Great Dane dog who accompanies his lifelong companion Shaggy Rogers in solving mysteries.
Even though Scooby is big, he is not a very brave dog. He loves hanging around with his friends in the Mystery Machine.
Scooby is a brown dog with distinctive brown spots on the upper part of his body. He has a black nose and wears a diamond shaped-tagged blue collar with his initials 'SD'.
3. Shaggy:

Shaggy is one of the four crime solving teenagers of the "Scooby Doo series. He is a coward boy who is more interesting in munching food than solving mysteries.
Shaggy is a lanky teenager with a thin physique. He is usually seen in green T-shirt, bell-bottom pants, and black platforms. Your child can use these colors for creating a poster for his room.
Did you know that Shaggy is the only who has appeared in all the iterations of the franchise?
4. Shaggy Being Chased By A Monster:

This funny coloring sheet shows Shaggy being chased by a monster. Shaggy is a coward, and most of the time hesitates from participating in the mysteries.
Even though Shaggy is a coward, he proves useful in ferreting out the words "monsters" and "ghosts" that provide a necessary distraction for their capture.
In addition, Shaggy is a great athlete and is capable of doing certain vocal impressions that help the gang solve the mysteries.
5. Daphne Blake:

Daphne Blake is a fashionable and stylish member of the Mystery Inc. She is fondly called the "Danger-prone Daphne" because of her tendency to get the gang into danger.
She is a young and attractive woman with a shoulder length hair and an hourglass figure. She is mostly seen wearing a purple dress, pink leggings and purple shoes accessorized with a green scarf.
Daphne initially had a low self-esteem, but later became more confident and started playing an active role having learned self-defense.
[ Read: Nickelodeon Coloring Pages ]
6. Fred Jones:

Fred is the leader of the Mystery Inc. gang. He is also the driver of the Mystery Machine. Fred sets the complicated trap to capture the villain.
Fred serves as the alter ego of Shaggy. He is statuesque, intelligent and courageous, everything that Shaggy is not.
Fred is a teenaged Caucasian, who wears a white sweater over a blue shirt, paired with a blue pant.
7. Mystery Solved:

This coloring sheet shows the ecstatic Mystery Inc. gang with the captured villain. It looks like the gang has finally solved the mystery of a mummy in disguise villain.
The gang, with their clever sleuthing and luck always manages to solve a new mystery in every episode.
In addition, the villain is always someone who you never expect to do those naughty deeds in that particular costume.
8. Velma:

Velma is a highly intelligent young woman who loves to keep herself informed about everything. She is described as being "born with a mystery book in her hand".
Velma is usually the one who figures out the mystery and deciphers the clues along with the help of Daphne and Fred.
She is a slender woman with a slightly wider waist. She wears an orange colored top and skirt with brown boots.
9. Scooby And Shaggy:

Scooby and Shaggy are best of friends. They share several personality traits. Both get scared easily and goof off, and both have an enormous appetite. It is due to these similarities that Shaggy treats Scooby as a normal person than a dog.
They spend a lot of time hiding from ghouls and ghosts, and grab onto each other when things get extremely scary.
This inseparable duo gets scared easily, but their friends lure them to go after the villains by offering them snacks. Also, their inherent loyalty encourages them to take a heroic stance.
10. Daphne:

This coloring sheet shows Daphne serving soup to the ailing Scooby Doo.
Another trait of Daphne is that even though she is fashion sensitive, she is always very brave and curious when the gang comes across a mystery to solve.
This Fashionista helps the gang capture the villain using some random accessories in her purse or backpack.
[ Read: Star Wars Coloring pages ]
11. Fred:

Here is a coloring sheet of lovebirds Daphne and Fred.
Daphne, the damsel in distress, would get kidnaped, tied up and imprisoned, but would always be saved by Fred.
The Mystery Machine, the gang's main mode of transportation, originally belongs to Daphne, but she lets Fred due to her crush on him.
12. Velma Loses Her Glass Again:

Velma's near sightedness and her trouble keeping her glasses on her face often land her into trouble as you can see in this coloring sheet.
She often loses her glasses after which she crawls on the floor looking for them. Even her catchphrase is "Jinkies!" and "My glasses! I can't see without my glasses!"
Despite her eyesight problem, Velma is the genius of the gang. She knows the Morse Code, which she claims to have learned in Girl Scouts.
13. Scrappy:

Scrappy is exuberant and cute character included in the show to improve the show's rating. He later became an integral part of the show.
He initially played the role of an antagonist, waiting to take revenge on the Mystery Inc.
Scrappy is a Great Dane puppy with brown fur and a black nose. Just like Scooby, Scrappy also wears a blue collar and a diamond shaped tag.
14. Mystery Machine:

The Mystery Machine is the main mode of transportation of the teen detective. The green van takes the member of the Mystery Inc. on their adventures all across the world.
The van has an ability to adapt to any given situation. It packs the items that can be needed in any given situation.
The back of the car can fit in table, chairs, computer, ladder, lanterns and ropes.
15. Mummy:

The monster you see here is Mummy. It was the part of an elaborate initiation hoax by the Mystery Club.
The Mummy disguise was worn by Sidney Gaspar.
The main motive of Sidney Gaspar was to kidnap Scooby Doo.
[ Read: Alvin And The Chipmunks Coloring Pages ]
16. Creature From Chem Lamb:

This coloring sheet shows a giant monster chasing Shaggy. The monster in this coloring sheet is the Creature from Chem Lab.
It is a disguise of Toby Wallace, a student at the Hillside High School. Toby had dressed up as the Creature From Chem Lamb to pirate computer games.
Creature From Chem Lamb is a green and slimy monster, with the powerful crab like claws.
17. Mud Monster:

Here is a coloring sheet of ugly Mud Monster trying to scare the adorable Scooby Doo.
The monster in disguise in Quanto, a Native American that the Scooby Doo had encountered in a museum.
The main motive of quanta was to steal Indian gold by scaring people with an earthquake.
18. Minotaur:
This coloring sheet shows the Minotaur monster chasing the clumsy Shaggy. Minotaur monster was the disguise of Mr. Kronos.
Kronos was the innkeeper and a member of the Treasure Hunters Club.
He disguised himself as Minotaur monster to scare off the other members of the Treasure Hunters Club so that he could find the Golden Fleece himself.
19. Wolfman:

This coloring sheet shows Wolfman trying to scare Scooby Doo. Wolfman was one of the disguises adopted by Big Bob Oakley.
He usually haunts the Mystic Manor and the Haunted Grounds.
Wolfman is usually found hiding in a hedge.
[ Read: Super Mario Coloring Pages ]
20. Witch:

This coloring sheet shows Fred, Daphne and Velma trying to chase the witch.
The witch is the disguise of Zeb Perkins. The witch is capable of flight and can even cast spell at Scooby Doo.
Zeb dressed up as a witch so that he could find an armored car sunk in the swamp.
Download these free printable scooby doo coloring pages online and have a blast with your child. We are sure he will have a hearty laugh coloring the scary faces of Scooby Doo and Shaggy.
Print out all of these scooby doo coloring pages free to print to create a Scooby Doo special coloring sheet.
Recommended Articles:
DISCLAIMER: All images found here are believed to be in the "public domain". We do not intend to infringe any legitimate intellectual right, artistic rights or copyright. All of the images displayed are of unknown origin. If you are the rightful owner of any of the pictures/wallpapers posted here, and you do not want it to be displayed or if you require a suitable credit, then please contact us and we will immediately do whatever is needed either for the image to be removed or provide credit where it is due. All the content of this site are free of charge and therefore we do not gain any financial benefit from the display or downloads of any images/wallpaper.
The following two tabs change content below.