September is when most kids go back to school. The summer is over, and the weather begins to cool down, and the trees take on that divine autumnal shade of gold. Your weekends are no longer about heading to the beach, but more about snuggling by the fire with a good book.
If you are due in September, and haven't yet decided on a name for your little bundle of joy, take a minute to browse through MomJunction's collection of some marvelous September baby names.
September Baby Names For Boys:
1. Murray:
The September child, Bill Murray, who acted in "Wes Anderson," is probably a good namesake, and so is Scottish tennis star Andy Murray. You can also use Bill, but Murray is better in our opinion.
[ Read: October Baby Names ]
2. Asher:
Meaning 'jubilant' in Hebrew, this old English name would make a great fall or autumn name. You can use Ash for the nickname.
3. Aziz:
This upbeat and modern moniker belongs to September born Olympian athlete Aziz Zakari. Considering the popularity of names like Aviva and Ava, Aziz could be an ideal choice for parents who want a unique name for your child. This Arabic name represents one of the 99 attributes of Allah.
4. Harry:
If you want your child's name to be inspired by royalty, go with Harry. Prince Harry was born on the 15th September.
5. Hugo:
Hugo is a stately name that Gen-ex would associate with Hugo Weasley from the Harry Potter series. But, it has other modern associations as well. Hugo Montenegro, a composer who created some film soundtrack, was born on 2nd September, the same day Ayn Rand was born. The name Hugo is the Latin form of Hugh but has more energy and heft than the original.
6. Truman:
The name may remind people of the Cold War-era president, but its September bearer is Truman Capote, the American screenwriter, playwright, and novelist, whose works are recognized as literary classics. The name Truman radiates an aura of moral truth and integrity, values that any parent would want for her child.
[ Read: July Baby Names ]
7. Walter:
This old-fashioned name has been attracting parents for ages now. There are many namesakes for this name, including the September baby Walter Reed, who is credited with discovering the origin of Yellow Fever. Wally or Walt would make playful nicknames for this one.
8. Indigo:
Many people are unaware that September is heavily associated with the color blue. It is the color of sapphire, the birthstone of this month and forget-me-not, one of the three-month flowers. Indigo, the name of an Indian blue dye would make a nice moniker for your September child. It's a flexible name and can be used for both girls and boys, but we believe that it will suit boys more.
9. Phil:
Dr. Phil McGraw, born on 1st September, is an American psychologist, and talk show host. Phil is a short form of the name Philip, which means 'lover of horses.' It was the name of one of the 12 apostles and even today; it is favored by parents looking for a classic baby boy name.
10. Mark:
Born on 2nd September 1951, Mark Harmon is an American television and film actor who has been playing a variety of roles since the 1970s. The name started climbing the popularity charts in the 1950s, reaching the 6th spot in 1960.
[ Read: August Baby Names ]
September Baby Girl Names:
11. Autumn:
September is related to the beautiful season of autumn. So, why not name your child after this season? It's a unique and beautiful name and would pair well with a floral middle name like Dahlia or Rose. Did you know that the season was originally called Harvest? The term autumn began being used from the 15th century onwards.
12. Sapphire:
Sapphire is both classy and elegant and means 'beautiful' in Hebrew. It also happens to be the September month's birthstone. Sapphie, the short for Sapphire will also make a fresh pick. The word Sapphie comes from the Greek word 'sappheiros', which means blue stone.
13. Aster:
Aster is the birth flower for September. The name derives from the Greek work, which means star. You can also go for its variation like Asteris, Astra, Asterope or Asteria. Fun fact- people in Budapest started wearing Aster flower in 1918 to symbolize the Hungarian revolution.
14. Virgo:
Virgo, meaning 'maiden,' is the astrological sign running from 23rd August to 22nd September. If you want a true-blue September name for your child, go for Virgo.
[ Read: Sweet And Cute Baby Names ]
15. Medi:
The name of the month in different languages can also provide attractive baby naming options for girls. Medi is a Welsh origin female name meaning September. You can use it a middle or first name. And it's easy to pronounce too!
16. September:
September is the leader in the category of September-inspired baby names. The month brings in mind the Greenday hit "Wake me up when September ends". Armstrong, the vocalist, sings about his father who passed away in 1982. Armstrong was just ten years old when he lost his father, so it had a huge impact on his life. It's up to you whom you want to name September- baby boy or girl.
17. Agatha:
Agatha Christie, one of the most prominent mystery writers of all time, was born on 15th September. Her name, meaning 'pious woman' has a distinctly Victorian feel. This gentle name has experienced a revival in the recent times, along with other Victorian names like Hattie and Matilda. Go for an upbeat nickname like Aggie to balance it.
18. Septima:
The word September comes from the Latin word 'septima', which means seven. That's because September was the 7th month of the early Roman calendar.
[ Read: Unique Nicknames For Babies ]
19. Gwyneth:
Wondering why we included Gwyneth in the list? It's because the famous Hollywood actress Gwyneth Paltrow was born on 27th September. Gwyneth is an Anglicized form of Gwynedd, the name of an ancient Welsh kingdom.
20. Avril:
Avril Lavigne is also a September baby. And it wouldn't be wrong to say that this pop star brought this name to the mainstream.
21. Azure:
This beautiful september baby girl name, meaning 'blue,' sounds a little less adventurous that Bluebell, or Blue, but is still connected firmly to this cool color. This charming and elegant name is sure to parents who appreciate lyrical beauty.
We hope you find the post helpful. Which September name would you select for your child? Let us know by commenting below!
Recommended Articles:
The following two tabs change content below.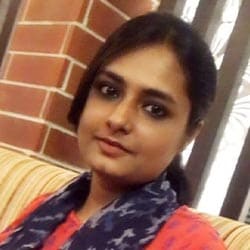 Arshi Ahmed
Arshi Ahmed did her graduation from Shri Shikshayatan College, Kolkata, and post graduation in English from Lovely Professional University. She specializes in writing baby names articles as she loves to help new parents find a name for their child. Arshi understands how important it is for a parent to find the right name because the name gives the baby an...
more