A sequential screening test is a combination of blood tests and an ultrasound generally performed during the first trimester. It is performed to gather more information about the growth and development of the fetus inside the womb.
These tests can provide information about the baby's genetic health and point out the possibilities of Down syndrome or neural tube defects, if any. Read on to know more about sequential screening test, including its advantages and other related information.
What Is Sequential Screening?
Sequential screening is a series of prenatal tests (involving blood tests and ultrasound) to check for neural tube defects and genetic abnormalities. It is a two-stage test to evaluate the possibilities of a baby having Down syndrome, Trisomy 18, spina bifida, or anencephaly (1). The screening procedure integrates the results of the two blood tests and ultrasound of the first trimester with the details about you and your developing baby.
This is an optional test, left to your discretion. A health care provider or a genetic counselor can help you decide if you should give the test.
Screening tests give you information on whether further investigations may or may not be required for diagnosing anomalies in the baby.
How Does Sequential Screening Test Work?
Sequential screening is a two-step process. The first stage involves an ultrasound and a blood test done between ten and 14 weeks. The second stage, involving one blood test, is done between 15 and 21 weeks.
1. Sequential Screening Stage One:
The ultrasound measures the nuchal translucency (NT) in the baby. The blood test is carried out to measure the two proteins – pregnancy-associated plasma protein A (PAPP-A) and human chorionic gonadotropin (hCG).
Ultrasound:
NT refers to the collection of fluid at the back of the baby's neck. Ultrasound helps to measure the fluid. Babies with Down syndrome, trisomy 18, and other congenital disabilities tend to show a larger NT and extra fluid (2).
Other than the NT measurement, the ultrasound in the first trimester is also used to determine the gestation age of the baby.
Blood testing:
During pregnancy, the placenta produces certain proteins which pass into the mother's bloodstream. Babies with Down syndrome and trisomy 18 show higher levels of these proteins. The blood test measures the proteins and detects for patterns of lower or higher levels. Using an algorithms that includes your age, gestational age, fetal number, weight, diabetes status, smoking status, and race. helping the labs calculate the risk factors (3).
The two proteins measured at this stage are:
PAPP-A: Low levels of this protein will increase the risk of Down syndrome and trisomy 18. It is also associated with pregnancy risks including miscarriage, high blood pressure, and low birth weight babies. But not all of them lead to an unhealthy pregnancy.
hCG: Higher levels of hCG are linked to Down's syndrome and lower levels to trisomy 18. Various forms of hCG are screened to detect the proteins.
2. Sequential Screening Stage Two:
Also referred to as Quad screen, this includes a blood test, which measures Alpha-fetoprotein (AFP), hCG, unconjugated estriol (uE3), and dimeric inhibin A (DIA).
In the second trimester, the placenta produces more proteins that pass into the mother's bloodstream. Babies with Down syndrome, trisomy 18 or any congenital disability will show either higher or lower level of these proteins. Again, it uses a computer algorithm that includes all the above-mentioned parameters (3).
The standard proteins measured in the stage two blood testing are:
AFP: The baby's liver produces this protein during the second trimester and the levels increase with progressing pregnancy. The AFP levels are higher if the baby is at the risk of spina bifida.
As with open neural tube defect (ONTD), an opening in the baby's skin helps the AFP escape into the amniotic fluid, and then into the mother's bloodstream. It, therefore, increases the level of AFP in the blood. On the other side, AFP is lower when babies are at a risk of Down syndrome or trisomy 18.
hCG: The placenta produces hCG protein, but the levels start to decline in the second trimester. Higher levels are associated with Down syndrome and lower levels with trisomy 18.
Unconjugated estriol (UE3): Both the fetal liver and placenta produce this protein, and it remains higher throughout the pregnancy. Lower levels of this protein show that the baby is at the risk of trisomy 18.
Dimeric inhibin A (DIA): DIA is produced by the placenta, and the level of this protein is constant between the 15th and 18th weeks. Higher levels of this protein are associated with Down syndrome and lower levels with trisomy 18.
How Accurate Is The Sequential Screening Test?
The test cannot always detect genetic abnormality. The conclusiveness depends on results and skills of the person who performs the tests.
Sequential screening successfully helps find:
9 out of 10 babies with Down syndrome (4)
8 out of 10 babies with spina bifida
Down syndrome, also known as trisomy 21, is caused by an extra chromosome. About one in 600 to 900 babies are born with this condition. It causes heart defects and mental retardation among others. The chances of having a baby with Down syndrome increase with maternal age (5).
Trisomy 18 is also caused by an extra chromosome in the developing fetus. About one in 6,000 to 8,000 babies are born with this condition. It causes heart defects, mental retardation, poor growth, and more. Just like in Down syndrome, the chances of trisomy 18 increase with maternal age (6).
Open neural tube defects develop when the spine cannot close properly, thus exposing the spinal cord and damaging it. About one in 1,000 babies is likely to develop these defects (7).
The results are a way to signal that the baby can have a genetic abnormality. However, you will be recommended other diagnostic tests.
How Long Do The Results Take?
You can expect your screening results within a week or less from the day of collecting the blood samples.
Sequential Screening Test Results:
If the screening tests are abnormal your health care provider will conduct more invasive tests like chorionic villus sampling (CVS) and cell-free DNA (cfDNA). If the triple tests come back abnormal, there is a higher chance of your baby having chromosomal abnormalities (8).
Sequential screening gives a risk assessment,
Risk figures may be confusing. Only a practitioner can help you know if you are falling under the risk. So, you must check with your doctor or genetic counselor.
What to do if sequential screening shows high risk or abnormal results?
In this case, you may be referred to a high-risk pregnancy specialist such as a maternal-fetal medicine specialist. They will suggest more tests to confirm the diagnosis and later refer you to a genetic counselor. Genetic counselors can explain the results in detail, answer all your queries and help you make the best decision.
Further testing include second level ultrasound, chorionic villus sampling, noninvasive prenatal screening, amniocentesis, and cell-free DNA.
What to do if sequential screening shows low risk or normal results?
If the stage one sequential screening results are normal, your health care provider will ask you to come back in the 15 to 22 weeks of gestation for stage two screening. The results from stage two will give the actual risk assessment for Down syndrome, trisomy 18, and other neural tube defects. If the results are normal, it means your baby is at a lower risk of genetic disorders. Your practitioner will, however, continue to monitor your baby throughout the prenatal checkups (9).
Are Sequential Screening Procedures Standard For All Pregnant Women?
Yes, they are recommended for all pregnant women, but more strongly for those falling under high-risk pregnancies. The risk is higher for women above 35 years of age, with a family history of birth defects, diabetes, or high exposure to medications and radiation treatments (10).
Does Sequential Screening Also Work Accurately For Twins?
Sequential screening is also available for twins but the assessment is a bit tricky, and accuracy is lower. Different laboratories have a different approach to screening. Your doctor can help you with more details about the screening.
The sequential screening test involves blood tests and ultrasound that help detect the risk of chromosomal abnormalities such as Trisomy 18 and Down syndrome in your baby. The test is recommended for all pregnant women; however, it is more important for high-risk pregnancies. Sequential screening is done in two stages but is not entirely accurate in detecting genetic abnormalities. The accuracy depends on the person performing the test. The test result usually comes within a week of sample collection, and if it is abnormal, other tests are conducted to confirm the result. You should always check with a doctor or a genetic counselor to get clarity on the result.
References:
MomJunction's articles are written after analyzing the research works of expert authors and institutions. Our references consist of resources established by authorities in their respective fields. You can learn more about the authenticity of the information we present in our
editorial policy
.
The following two tabs change content below.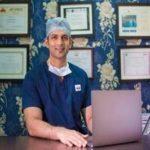 Dr. Surakshith Battina
(MD)

Dr Surakshith Battina is a reproductive medicine specialist, an endoscopic surgeon and a cosmetic gynecologist practicing at Indigo Womens Center, Chennai. He completed his MBBS from Sri Ramachandra University and his MD in Obstetrics and Gynecology from Annamalai University. After woking at Y.R.G. Care, Chennai for a year under Dr. Sunita Solomon, an icon in the treatment for HIV in...

more

Rebecca Malachi
Rebecca is a pregnancy writer and editor with a passion for delivering research-based and engaging content in areas of fertility, pregnancy, birth, and post-pregnancy. She has been into health and wellness writing since 2010. She received her graduate degree in Biotechnology and Genetics from Loyola Academy, Osmania University and obtained a certification in 'Nutrition and Lifestyle in Pregnancy' from Ludwig...
more