Looking to name your little one? Have you considered a Serbian name? Do you wish to honor your Serbian heritage, or are you simply looking for a name that sounds new? If you said yes to either question or you know someone who did, read our post.
Serbian names are extremely popular today. Serbia is a small country located in north-eastern Europe. It is a diverse country with many tribes and a rich tradition. Serbian names exhibit the diversity of Serbia. They sound unique. Here is our list of some of the most meaningful and exotic Serbian baby names for your little bundle of joy. Just sift through to make a perfect choice.
Serbian Boy Names With Meanings:
1. David:
David is a universal name. It is as popular in Serbia as it is in United Kingdom, United States, and Russia. The name David comes from the Hebrew word, which means 'beloved'. David was the greatest king of Israel. And who can forget his legendary victory over the giant Goliath.
2. Matija:
Matija is the Serbian form of the name Matthias. In the Bible, Matija was the Apostle, who replaces Judas, the traitor. The pronunciation of the name is as "Ma-ti-ha".
[ Read: Mayan Names For Baby ]
3. Miloje:
Miloje is the Serbian name coming from the Slavic element 'milu', which means 'gracious'. It is a diminutive of the name Milojica. Miloje is one of our favorite Serbian boy names.
4. Miroslav:
German footballer Miroslav Klose is the most popular name-bearer for the Serbian name Miroslav. The name originates from Slavic elements 'miru', which means 'peace' and 'slava', which means 'glory'. Miroslav was also the name of the 10th-century king of Croatia. So it will make a perfect name for your little prince.
5. Spiridon:
Spiridon is the Serbian form of the Greek name Spyridon. Many Serbian parents like this name. It means 'spirit'.
6. Rodavan:
Rodavan is another great name you can consider for your baby. It comes from the Slavic element 'rad', which means 'happy' and van, which means 'soul'. Hence, the name Roda van means 'happy soul'.
[ Read: Algerian Baby Names ]
7. Vlado:
If you are looking for a fresh and trendy name for your son, then Vlado should be your choice. Vlado is a short form of the Serbian name Vladimir. It has a musical kind of vibe to it. The name means 'born to rule'.
8. Zivko:
Names starting with the letter 'Z' sound glamorous, don't you think so? We like the kind of ring or zing a 'Z' sound has. Zivko sounds perfect. It means 'living'. What do you think?
9. Bogdan:
The name Bogdan will surely make your kid stand out of the crowd. It comes from the Slavic word 'bogu, which means 'god' and dan, which means 'given'. Therefore, the name means 'given by God'.
10. Andrej:
Andrej is a form of the name Andrew. It is one of the most appealing Serbian boy names. The ending 'Drej' adds to its overall sophistication. Andrej means 'manly and strong'.
Serbian Girl Names With Meanings:
11. Aleksandra:
Aleksandra is the Serbian variant of the ever-popular name Alexandra. It is the feminine form of the Alexander and has been in the Top 100 names for over 200 years now. And we see no signs of its fading. So you can safely consider for your baby without thinking that it will sound old-fashioned. This elegant name has a chic aura despite its popularity. If you want a shorter version, then you can go for Alexa or Xandra.
[ Read: Russian Origin Baby Names ]
12. Teodora:
Teodora is an attractive Serbian name. And it has an equally attractive nickname. We feel the Teodora has more phonic appeal than its English form Theodora. The nicknames you can consider for Teodora include Dory, Dora, and Teo. The name Teodora means 'gift of God'.
13. Jana:
Jana is a feminine version of the name Jan. This cross-cultural name is famous not just in Serbia, but also in Holland, Ireland, and Scandinavia. You have to pronounce Jana as Yah-nah or Jan-ah.
14. Katarina:
Katarina is the Serbian version of Katherine. It sounds extremely pleasing to the ears. If Katarina is too ordinary for you, then you can consider the unusual Ekaterina. The name means 'pure'.
15. Petra:
Petra is an impressive Serbian name with a Slavic feel to it. It is a feminine form of the name Peter. This is one of the best serbian girl names, that relates to the ancient city in the Jordan. Supermodel and international disaster relief activist Petra Nemcova is the most popular Petra in the world. Petra means 'rock formation'.
[ Read: Greek Origin Baby Names ]
16. Malina:
Malina is a sweet sounding name for your little sweetheart. It means 'raspberries', the fruit. The name is a feminization of Malcolm or a variation of the Greek name Melina. Malina is popular in Serbia.
17. Milena:
Milena sounds a lot like Malina but has a different meaning. The meaning of Milena is 'love, warmth, grace'. The name has a continental appeal to it. Did you know that Milena is the short form of the famous actor Mila Kunis? Another famous bearer of the name is Milena Govitch of the film 'Law and Order'. Mila will make the best nickname for this name.
18. Maja:
Maja is undoubtedly an intriguing Serbian name for your angel. You have to pronounce it as "mah-yuh" or "mah ih ah". The name relates to the Goya's painting "The Naked Maja". The meaning of Maja is 'splendid'.
19. Hana:
Hana is a variation of the name Hannah. Honestly, we feel Hana is a more striking and different. Hana means many things to many people. This flower meaning name spells as Hanae in Japanese and Hannah in American. Some consider Hana as the short form of Johanna.
[ Read: Maltese Baby Names ]
20. Anja:
Anja is one of the most alluring variations of the name Ann/Anna. It means 'grace'. The name Anja is common is several European countries, not just Serbia.
These are our exclusive top Serbian baby names. What about you? Which one did you like the most? Tell us your choice in the comment section.

Recommended Articles:
The following two tabs change content below.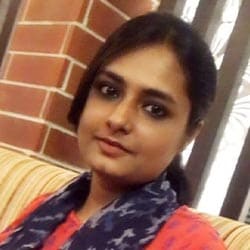 Arshi Ahmed
Arshi Ahmed did her graduation from Shri Shikshayatan College, Kolkata, and post graduation in English from Lovely Professional University. She specializes in writing baby names articles as she loves to help new parents find a name for their child. Arshi understands how important it is for a parent to find the right name because the name gives the baby an...
more