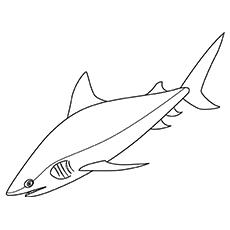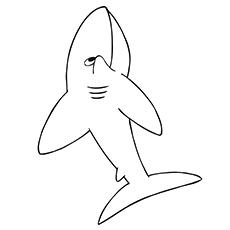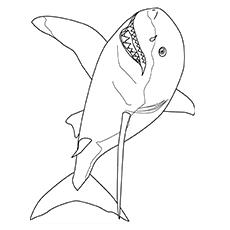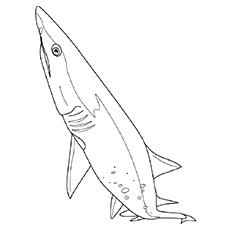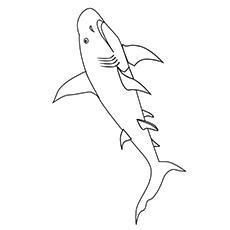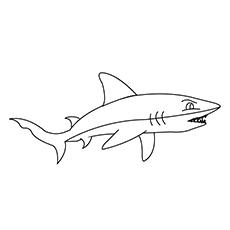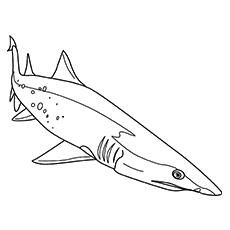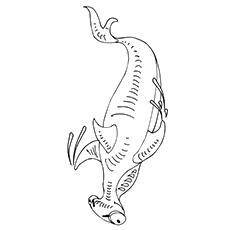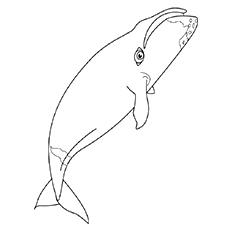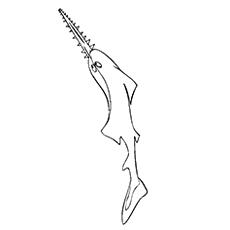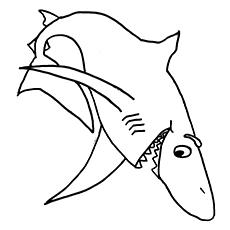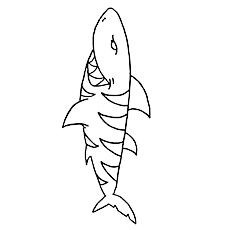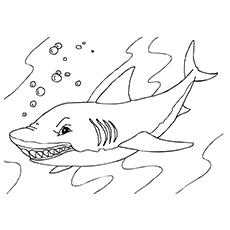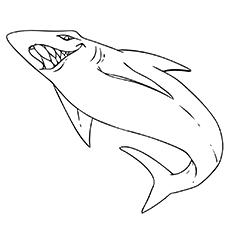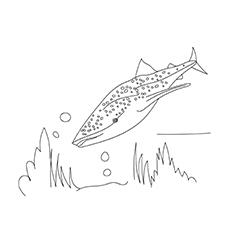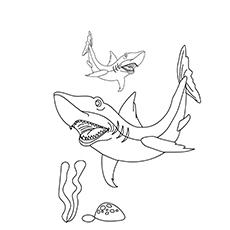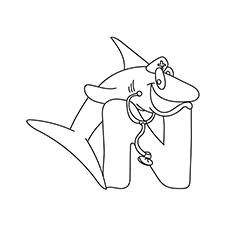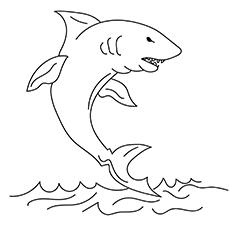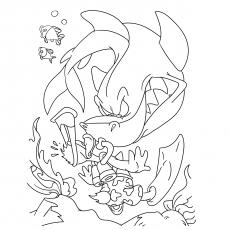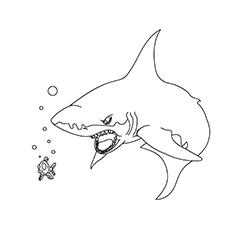 Recommended Articles:
Sharks are one of the most feared marine creatures. Perhaps this is why they are considered 'cool'! These predators are found in all the oceans of the world. This fierce and aggressive fish is known for its agility, strength and sharp teeth. Sharks are recognized by their dorsal fins that protrude above the water surface. They are portrayed in several movies as 'evil creatures' causing mayhem among people.
Top 20 Shark Coloring Pages For Kids
Even the children have developed a liking for these creatures! They love reading stories and watching movies involving sharks. Here is a small collection of shark coloring sheets for your children to fill attractive colors. These shark coloring pages printable will develop your child's creative skills.
1. Fierce Shark:

Ignite your child's interest in marine life with this coloring sheet featuring a fierce shark. It looks like this shark is on a hunt and is prowling the ocean for a bite.
Sharks are a group of fish characterized by a cartilaginous skeleton, gill slits on the sides and pectoral fins that are not fused to the head.
Sharks are white or gray in color that makes it difficult to see them in the water.
[ Read: Octopus Coloring Pages ]
2. Hammerhead Shark:

Here is a coloring sheet featuring a hammerhead shark. The unique appearance of this shark will surely intrigue your first grader. Let them color in while you read the fun facts below.
Do you know how the hammerhead sharks got their name? It is because of the distinctive head shape that looks like a hammer.
The hammerhead sharks use their oddly shaped heads to find their prey. Their wide eyes give them a better visual range than most of the other marine animals.
3. Whale Shark:

This is a coloring sheet of a whale shark, the largest fish in the sea. Tell your child to help this carnivorous fish by giving him some color.
This specie of shark is said to have originated 60 million years ago. Whale shark reaches the length of 40 meters and weighs more than 1000 pounds.
Plankton is their favorite meal. They scoop out the tiny plants and animals along with the other small fish that happen to be around.
4. Bull Shark:

Does your kid have a fascination for sharks? Then hand him this coloring sheet. This coloring sheet features a bull shark.
Bull sharks get their name from their blunt snout and the tendency to head butt their prey before attacking. It is distinguished by high ridges above its eyes.
Bull sharks are extremely aggressive and are considered the most dangerous shark in the world. They are usually found in high population areas like tropical shorelines and tributaries.
5. Great White Shark:

This coloring sheet features a mighty great white shark with rows of razor-sharp teeth.The great white shark is the largest of the all the white sharks.
This shark can as big as 20 feet long and can weigh more than 5000 pounds. It is said to have attacked more humans than any other shark.
Unlike the name, great white sharks are not white in color. They have a gray topside and blue or brown underside.
6. Mako Shark:

Here is one of the simple coloring shark pictures to color to introduce your child to this powerful sea animal. Mako shark is a large mackerel shark of the ocean world. It is believed to be around since the 18th century.
The Mako shark can swim as quickly as 46 miles per hour and can jump as high as 30 feet. They are the least aggressive of all the sharks.
This specie of shark is found all over the world. Some live close to the shores while some prefer the depths of the ocean.
[ Read: Seahorse Coloring Pages ]
7. Tiger Shark:

Here is a fun and informative coloring sheet for your shark fanatic. It features a tiger shark, one of the rare species of sharks.
The tiger sharks are named for the dark, vertical stripes on their body. The stripes are usually found in juveniles. As they mature, the stripes begin to fade and then gradually disappear.
This large shark is second to great white shark in attacking people. They have an excellent sense of sight and smell that allows them to catch the prey.
8. Dwarf Lantern Shark:

The dwarf lantern shark is the smallest shark in the world. It is only 20 centimeters long.This little shark is usually found on the coasts of Columbia and Venezuela.
The dwarf lantern shark is identified by its long, flattened head, mid-dorsal line and black ventral markings.
It has light emitting organs that allow them to camouflage when they feed in the shallow water.
9. Cladoselache:

Cladoselache shark can only live in coloring sheet now. This specie of shark has been extinct for over 300 million years. Its fossil was discovered in Lake Erie.
Cladoselache was a four-foot long shark that inhabited the Devonian seas.
Like many ancient sharks, Cladoselache had a short, round snout at the front of the head. Its long jaws were attached to the cranium under the snout.
10. Sawshark:

Sawshark is an odd-looking species of shark. Tell your child to use brown for the top and light brown for the undersides.
The saw the shark's nose is a toothy blade that he uses as a sword to hunt for the food.
There are around eight species of sawshark found in Japan, Australia and South Africa. They are often killed because for their delicious meat.
[ Read: Starfish Coloring Pages ]
11. Gray Reef Shark:

The gray reef shark is one of the most common types of shark found in Pacific and Indian Ocean.
It is a smaller species of shark with adults reaching around 2 meters in length.
This beautiful, medium shark is distinguished by plain white dorsal fins and a round snout.
12. Donald Duck And Shark:

Have an undersea adventure with this fun coloring sheet featuring Donald Duck in front of a huge shark.
Teach your child about different underwater creatures like shark, clown fish and puffer fish with this coloring sheet.
Ask your child to write a creative and interesting story to go with this coloring sheet. This will give their imagination skills a boost.
13. Smiling Shark:

This shark is all smiles. What do you think is making him smile? Has he found a new prey?
This coloring sheet is perfect to introduce your little kids to this fierce animal. They will not feel scared of this smiling shark at least.
Tell your child to practice coloring within the lines to produce a neat picture.
14. Cartoon Shark:

This cute shark is anything but fearsome. Tell your child to add some bright and vibrant colors to make this shark look more cheerful.
He can also make a nice background to go with the picture. He can make sea waves, tiny fishes and jellyfish.
Share some fun facts about sharks as your child colors this sheet.
[ Read: Mermaid Coloring Pages ]
15. Lemon Shark:

Have you heard about lemon shark? We think not! A lemon shark is a deep yellow and white shark, hence the name.
This species of shark is used extensively in scientific research since it does well in captivity.
They are usually found in the southeastern coast of the United States.
16. Megalodon:

Megalodon is an extinct species of shark that lived around 1.5 million years ago.
Megalodon is the biggest prehistoric shark that ever lived. It is said to be the largest marine creature in the history of the planet.
Fossils suggest that this giant shark reached a length of 60 feet.
17. Scary Shark:

Sharpen your child's motor skills with this scary shark-coloring sheet. This is one of the scariest shark coloring pictures showing sharks ravaging a sunken ship.
This coloring sheet is perfect for kids who are a fan of undersea adventures.
The diagram is ideal for kids aged above 10.
18. N For Nurse Shark:

Here is a fun alphabet-coloring sheet for your little ones. It features a nurse shark dressed in nurse attire.
The nurse shark is commonly found in Central America and Caribbean Islands. They are slow moving dwellers.
The nurse shark got its name from the sucking sound it makes while hunting for prey. The sound resembles that of the nursing baby.
[ Read: Tropical Fish Coloring Pages ]
19. Horn Shark:

Here is a cool spotted shark for your children to colors. Your little shark enthusiast will have a fun time coloring this sheet.
Horn sharks are endemic to the coastal waters of North America. They are generally harmless to humans.
This small sized shark is identified by a short, blunt head with ridges over its eyes.
20. White Tip Reef Shark:

Here is a fun coloring sheet to keep your child entertained and educated.
This species of shark has white tips on its dorsal and fins, which give it a matchstick like appearance.
The short and slender body of this shark allows easy access into small holes and crevices.
We're sure you will like our collection of free printable shark coloring pages online. You can also print out these shark coloring sheets for your child's school projects. All you have to do is download these free shark coloring pages to print by clicking on the picture. This will allow you to download pictures of sharks to color in the right resolution. You can also create your own shark coloring book.
Parents, help us do better by leaving suggestions in the comment section!
DISCLAIMER: All images found here are believed to be in the "public domain". We do not intend to infringe any legitimate intellectual right, artistic rights or copyright. All of the images displayed are of unknown origin. If you are the rightful owner of any of the pictures/wallpapers posted here, and you do not want it to be displayed or if you require a suitable credit, then please contact us and we will immediately do whatever is needed either for the image to be removed or provide credit where it is due. All the content of this site are free of charge and therefore we do not gain any financial benefit from the display or downloads of any images/wallpaper.
The following two tabs change content below.