Has your baby started taking his first steps? Are you looking for a pair of smart shoes that will make his gait more comfortable and confident? Are the innumerable options leaving you baffled? Then fret not, as we are here to help you!
Watching your baby take his first steps is one of the happiest moments for new parents. Yes, things do get hectic once your baby is mobile, but it is worth it. As your baby starts walking, it is your duty to get a pair of good shoes for his delicate feet. To help you choose the perfect pair of baby shoes, we have come with some tips and suggestions. Read on to know more about it!
Making your baby try the shoes will not be easy. You will be hard-pressed convincing him to try a new pair without fuss. Even if you get them on his feet without much fuss, it will be tricky for you to figure out whether they are of the right size or not. A baby cannot tell you if he does not like the way the new shoes feels. It is important to find best shoes for baby that fit properly, otherwise he could take longer to develop the skill of walking. But you don't worry, just follow these tips to find the perfect pair of babies shoes.
Tips To Buy The Perfect Baby Shoes:
1. Material:
Choose shoes that are of a soft, lightweight and breathable material. Cloth or soft leather shoes are the best options for babies. Never buy stiff leather shoes for babies as it can hinder their foot development. A non-skid rubber role will give your baby the best traction. Do not buy plastic shoes for babies.
2. Check The Fit:
Check the fit of the shoes. Make your baby try the shoes and let him walk. The shoes should be comfortable but not too big. Baby's feet grow quickly, so it would be wise to check every month to make sure that his shoes still fit well. If your baby suddenly, starts taking the shoes off or starts rubbing his feet, then it is time for you to get him a new pair.
[ Read: Humidifiers For Babies ]
3. Choose A Good Brand:
Find a brand that makes shoes specifically for babies. To check the fit of the shoes, insert your pinkie finger into the heel and the point where the shoe meets the ankle. It will help you check for stitching that may cause blisters. Check the shoe tip while your baby is standing to make sure that there is half an inch space between his toe thumb and the shoe tip.
4. Go For Velcro:
Velcro fasteners make it easier to get the shoes on and off so you wouldn't have to worry about tying the laces all day long. If you choose shoes with laces, make sure they are long enough to tie a double knot.
5. Avoid Used Shoes:
Yes, baby shoes can burn a hole in your pocket as you may have to replace them every few months. But that does not mean you should make your baby wear the used shoes of his elder sibling. A new shoe will adapt to your baby's growing and developing foot.
[ Read: Best Blankets For Babies ]
6. Ordering Online:
Before you order the baby shoes online, make sure you know the right size. Make a trip to a baby shoe store and have his feet measured by a specialist. Remember to try the shoes with socks. Also, pay considerable attention to the width of your baby's feet.
Top 12 Best Baby Shoes:
Now that you have noted down all the tips, it is time to take your baby for shoe shopping! Here are our favorite pick of 12 cute baby shoes in no particular order. Go ahead and check them out!
1. Converse Chuck Taylor All Star: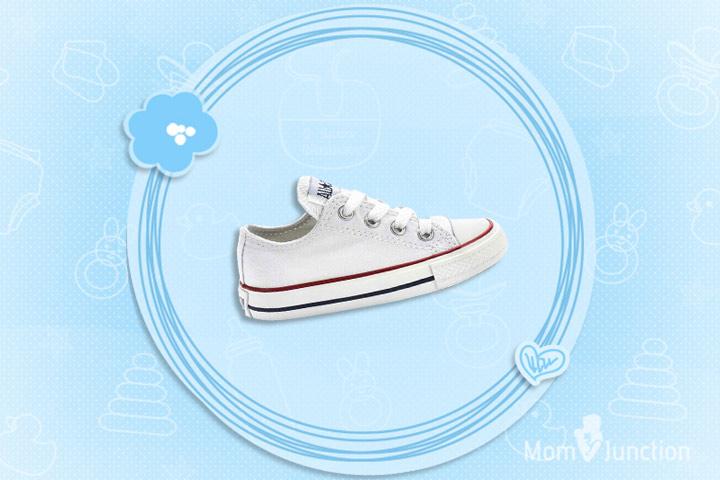 Here is a pair of Converse shoes for your playful baby. It is the most popular sneaker in the world. The stylish pair of shoes is also durable. The rubber sole and the star centered ankle patch will remain intact. These shoes come in a variety of colors, but we love the classic one.
Available At: converse.com

2. Pediped Originals Adrian: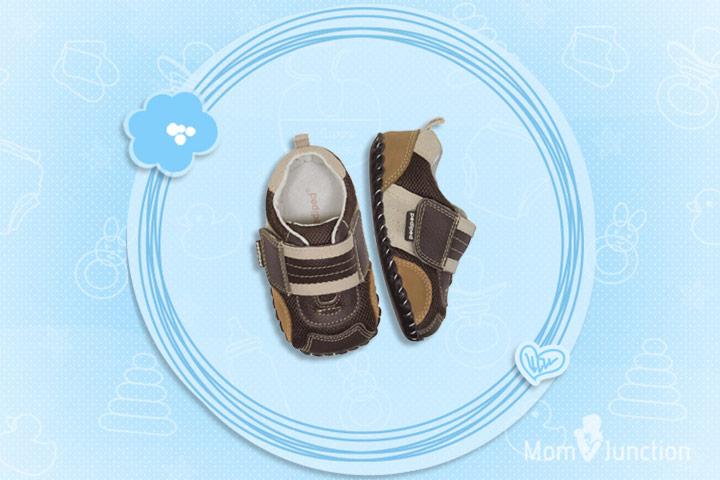 Here is an athletic inspired Pediped sneaker for your on-the-go little guy. Pediped is the go-to brand for stylish and simple baby shoes, and Originals Adrian is our favorite of the lot. The Velcro fastener opens nice and wide, making it easy to wear. Its cushioned insoles will provide your baby's feet comfort while he is playing outdoors or indoors. The mesh upper and the breathable leather will keep your baby's feet comfortable. It is also perfect for daily runs in the park.
Available At: pediped.com
[ Read: Baby Changing Tables ]
3. Umi Infant Scuttles Pre-Walker: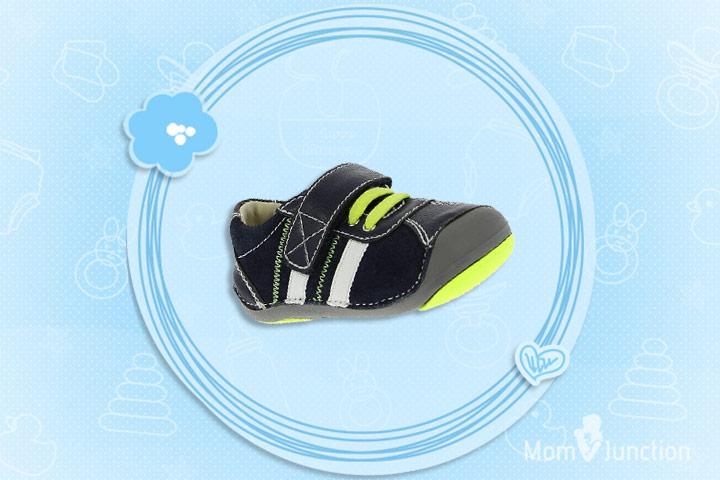 Does your little boy fall while walking? Then you must get him a pair of Umi Infant Scuttles Pre-Walker. Umi shoes are for little ones who are just learning to walk. The buttery soft leather upper and lining comfort cradle your little one's feet, while the padded heel collar protects it against nasty bruises. The fisherman-style design allows air to flow and little feet to breathe while the hook-and-loop closure give a secure and snug fit.
Available At: amazon.com
4. See Kai Run Cody Smaller: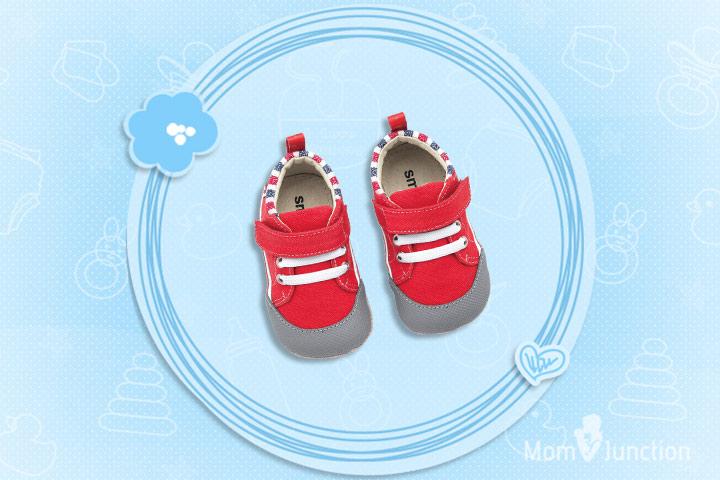 See Kai Run Smaller shoes are a complete package. They look classy, feel soft and have breathable linings. See Kai Run has a terrific range of shoes for babies. These canvas trainers look extremely stylish as they have white accented sidewalls, scuff-resistant toecap and faux elastic laces that will go great with your handsome boy's jacket. Cody is available in two colors – red and blue.
Available At: seekairun.com
5. Robeez Fancy Pants Mini Shoez, Jelly: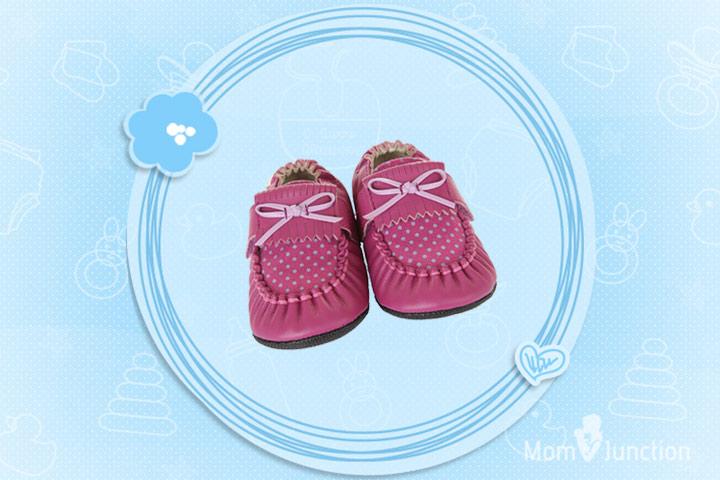 These pretty leather shoes are perfect for your precious princess. The pair of leather shoes with a faux patent bow and polka dots will give your little fashionista her daily dose of style. The non-skid, rubber outsole and elasticized ankle will prevent your baby from slipping or skidding. The adjustable loop and hook closure will ensure a perfect fit. Robeez also offers a wide range of shoes for boys too, do check them out.
Available At: www.amazon.com
[ Read: Best Potty Seats For Babies ]
6. Stride Rite SRT Juno Sandal: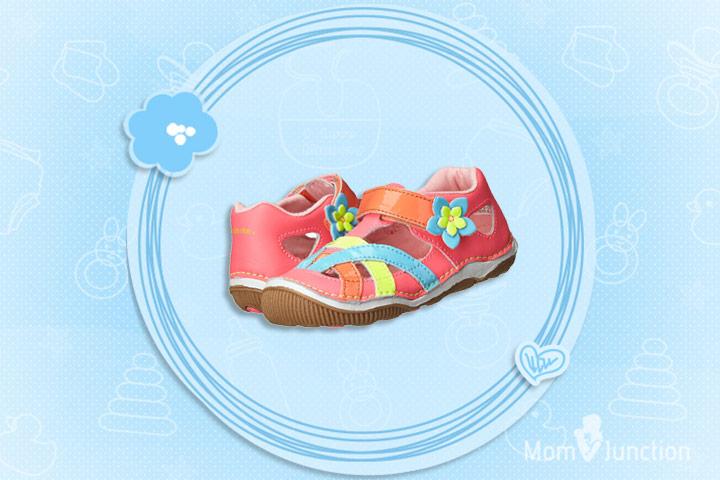 The pair of bright and colorful footwear is perfect for your pretty doll. These adorable sandals are ideal for warm weather. It will give your baby's little feet closed-toe protection with airy cutouts for cool comfort. The rounded edges will protect your angel from stumbles and falls. It has a leather lining for breathability. The sandal also features an alternative closure for easy and convenient wear. It also contains a super comfortable memory foam insole.
Available At: www.amazon.com
7. Bobux Ahoy-Matey Dress Shoe Brown: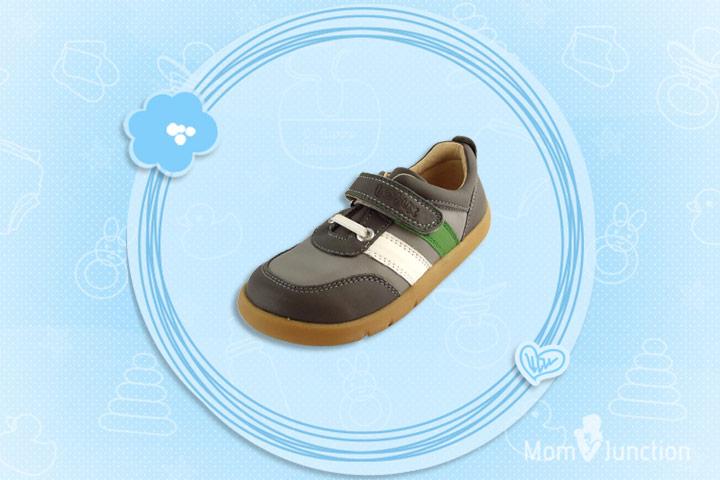 The Bobux Ahoy-Matey Dress Shoe will get your youngest member scooting around in style. The flexible soles of the shoes will encourage correct foot development. The brand strives hard to make shoes with non-toxic dyes and materials. So it is completely safe for your baby. As this pair of shoes is durable, it is a value for money and cute too!
Available At: bobux.com
8. Toddlers' Puddle Stompers Rain Boots: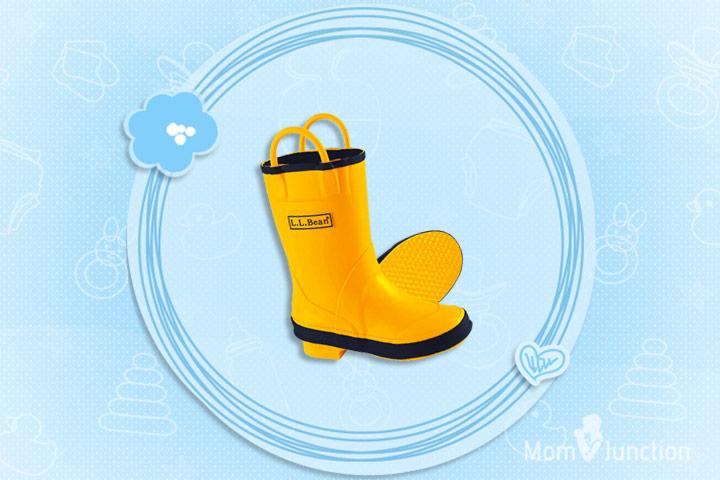 Does your baby love stomping through the puddles? Then we have found the perfect shoes for your baby. Protect your baby's feet from water and mud with these Toddlers' Puddle Stompers Rain Boots. The durable finish of the boots will ensure that it does stiffen or crack over time. The boots also have firefighter- boot inspired handles, which gives it a very cool look. The boots have a removable jersey knit insole with cotton lining that ensure optimum comfort. The shoe comes in bright colors and printed versions, so choose the one that you think your baby will like the most.
Available At: llbean.com
[ Read: Baby Powder For Babies ]
9. Robeez Maverick Mini Shoez, Grey – Improved Sole: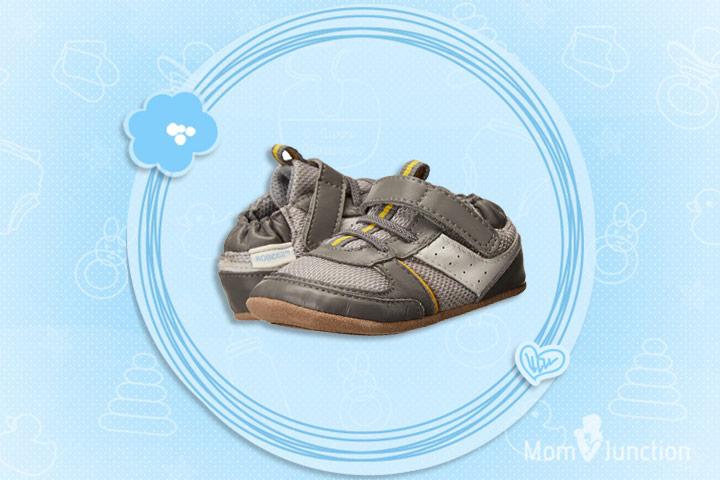 These comfortable shoes are similar to Pediped Originals but are a bit more lightweight. The athletic shoes have gray leather and silver mesh upper with a yellow racing stripe. The adjustable loop and hook closure make it easy to put on and take off the shoes. The elasticized ankle ensures an optimal fit for your baby's feet. The shoes now come with an improved split rubber outsole that gives extra protection while providing comfort and flexibility.
Available At: myrobeez.com
10. Bobux Bounce Boot- Pompei: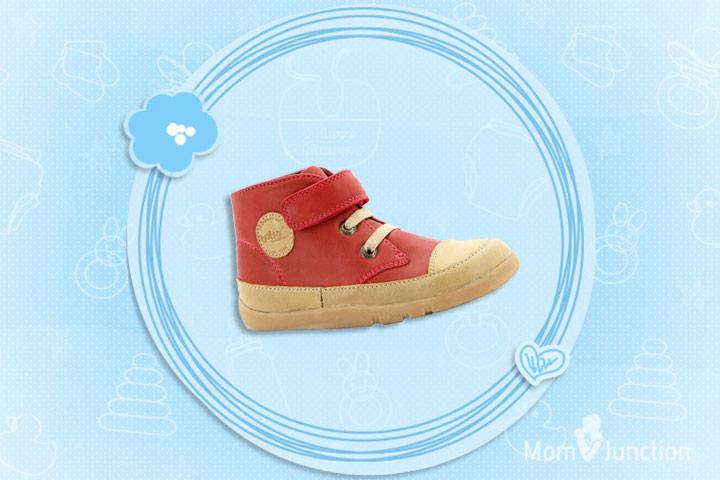 Babies have a strange liking for adult shoes. They love to roam around wearing shoes, whether those of their mom or dad. If your baby also does the same, then Bobux Bounce Boot- Pompei would be an excellent option. The style of Bounce Boot- Pompei mimics that of adult shoes while providing a fit suitable for infants. Your little one will be bouncing with happiness in these trendy sneakers. The flexible rubber sole and the lace free design will prevent tripping and slipping.
Available At: bobuxusa.com
[ Read: Beautiful Cribs For Babies ]
11. Baby Sperry Top-Sider Authentic Original 2- Eye Boat Shoes: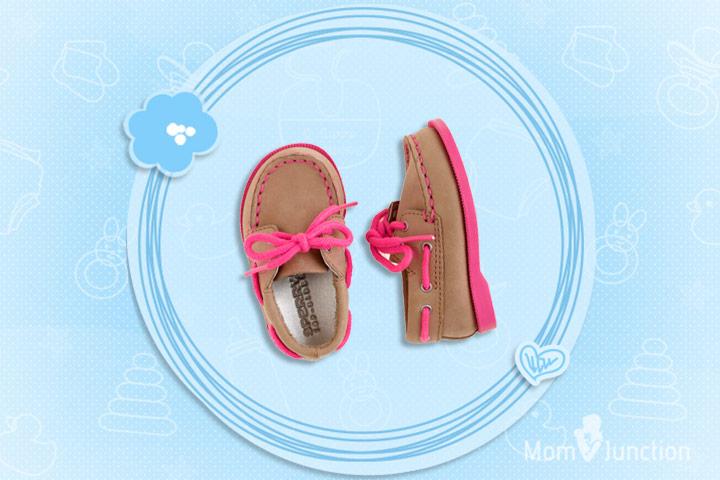 Sperry Top-Sider's boat shoes are popular all over the world. The Authentic Original 2- Eye Boat Shoes are their best selling baby shoes. These shoes have a no-fuss leather design with a non-slippery rubber sole. These shoes are multipurpose and they look utterly adorable.
Available At: JCrew.com
12. Sorel Toddler's Snow Commander Boot: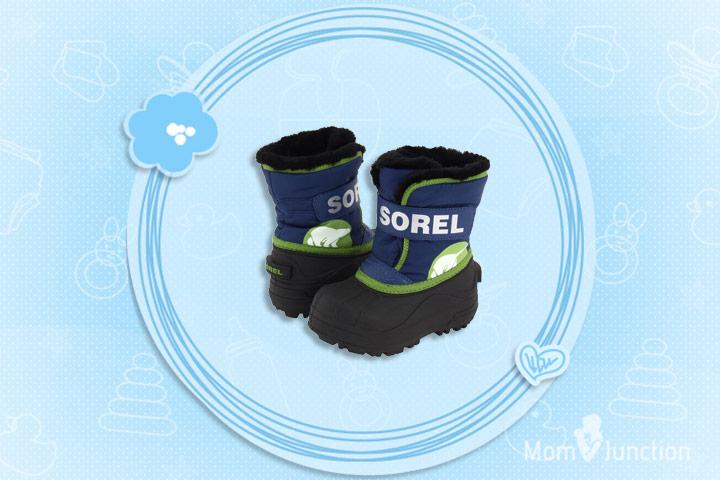 Here is a boot to keep your baby's tiny feet warm during winters. The Snow Commander Boot has a waterproof rubber shell, a pull closure at the top of the shaft and 200 grams of insulation to lock out the elements. Do not deprive your tot of this style essential during the cold months.
Available At: www.amazon.com
[ Read: Best Designer Diaper Bags ]
Things To Remember:
Do not let your baby share his shoes with anyone, even his siblings.
Shop for your baby's shoes later in the day. Baby's feet are often bigger at the end of the day. If you purchase the shoes in the morning, then it might feel tight in the evening.
Ensure that your baby likes the shoes for their fit and comfort, not looks. Make him run around wearing the new shoes and observe whether he is experiencing any discomfort or not.
As tempting as it may sound, never buy bigger shoes for your baby. Too big shoes can make it hard for babies to walk.
While it is a good idea to dress your baby in these stylish shoes and boots, we recommend you to let him walk around barefoot occasionally. Walking around barefoot will help your baby build strength and coordination.
We hope this article on best shoes for babies helps you find the right pair of shoes for your little darling.
Do tell us which one is your most preferred brand for comfortable baby shoes? Share with us your tips to buy the perfect pair of baby walking shoes to pamper your baby's tiny feet.
Recommended Articles:
The following two tabs change content below.