Most babies begin walking as early as 12 months of age. However, some may be late bloomers. So, if your child has taken their first steps, we have compiled a list of the best shoes for your baby to help you choose the right one. It is important to help your child have a comfortable walking experience. The right pair of shoes for babies care and protect their soft feet from harsh surfaces and objects. Besides, it supports their natural movement and aid in foot development.
Since finding the right pair can be daunting, our list includes adorable and comfortable baby shoes that will help you make the right choice. Consider your baby's age, foot size, and intended use to find a pair that suits your child's requirements. So, read on to learn more.
13 Best Baby Shoes
Made of premium canvas with rubber anti-slip sole, RVRovic Baby Shoes are soft, lightweight, and breathable.They are easy to put on and off and have an elastic band around the ankle to make comfortable wear for babies aged six to 18 months. The unisex classic style shoes suit any occasion and are perfect for getting your baby started on the right foot.
Pros
Rubber sole
Durable
Available in many colors
Cute and flexible
Cons
May not be suitable for outdoors
May not withstand running
The Debaijiaslip-on shoes for kids between one and four years of age make an excellent pair. Made of durable, premium canvas and TPR material, the shoes offer flexibility and elasticity. The non-slip outsoles make the lightweight shoes perfect for indoor and outdoor wear, while their classic design makes them ideal for different occasions.
Pros
Easy to put on and take off
Fit perfectly
Attractive colors
Breathable mesh
Cons
Some may experience sizing issue
Kids can pull off the shoes easily
These baby moccasins are made of soft and flexible leather for easy movement and walking and are available in various fun designs. The comfortable construction allows your baby's feet to grow well. Their suede, non-slip soles are light and soft, giving your child a barefoot feel to help them grip the floor while walking. The shoes are available in a wide range of sizes for newborns and toddlers.
Pros
Pediatrician-recommended
Elasticated ankles
Helps develop balance
Lightweight
Protects the feet
Cons
May run large
May not be suitable for rough use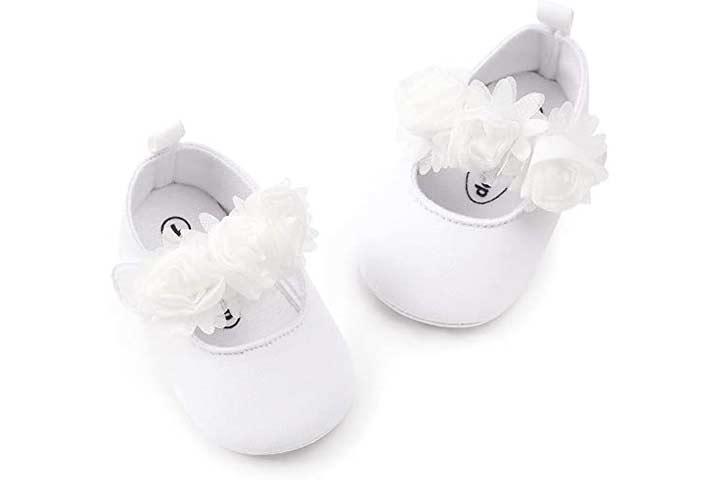 The fashionable pair is made of breathable and soft upper and comfortable soles for easy wearing and movement. These shoes are available in various cute designs suitable for formal and casual wear. The delicate flower detailing on the top can complement your child's party attire and be easily paired with dresses and skirts.
Pros
Lightweight
Flexible
Easy to put on and take off
Durable
Cons
May run large
May not offer sufficient grip
Babies with chubby feet will enjoy wearing HsdsBebesturdy and soft leather baby shoes. Designed with PU leather, the party wear shoes come with a polyester lining for sweat absorption. The firm rubber sole offers great support and prevents your little one from falling. The shoes come with a hook and loop closure system, making them easy to wear. The colorful cartoons of animals on the shoes make them delightful.
Pros
Comfortable
Flexible
Breathable
Available in many colors and patterns
Cons
The designer baby shoes are made of premium artificial leather. Stylish and comfortable, lightweight, and soft shoes are designed to promote the growth of the baby's feet and offer flexibility while they walk. The elastic band around the ankle makes them easy to wear. The classic moccasins are designed to make playdates and family gatherings fashionable for your little one.
Pros
Easy to put on and take off
Unique design
Baby-friendly material
Available in various colors
Cons
Might feel a bit stiff
Tip might be a bit thin
The suede leather shoes make your baby walk in comfort and grace. The lightweight and soft sole help your child walk with ease, both at home and outside. The elastic band promises better fit around the feet and makes it easy to wear and take off the shoes. The Mejale infant toddler shoes sport a classy look and can be a perfect choice for your tiny tot.
Pros
100% suede leather construction
Durable
Arch-support
Ideal for newborns as well
Cons
The sneakers come with a unique coral grip design, which helps your child walk with perfect balance.  Rubber soles provide lightweight cushioning, while the foot bed is cushioned with memory foam for enhanced comfort. The helmet-type toe caps guarantee extra protection against injuries, and the mesh design offers high breathability. The shoes come with hook and loop closure for easy wearing and removal.
Pros
Adjustable strap
Stretchable fabric
Long-lasting
Round-toe design
More wiggle room
Cons
The lightweight Thee Bron infant toddler shoes are made of authentic soft leather. The memory foam on the footbed lends solid support to the tiny feet of toddlers and pre-walkers. The fashionable and smart design makes the shoes perfect for casual and formal dressing.
Pros
Leather upper
High-quality
Offer great support
Available in various colors
Cons
Not suitable for narrow feet
Might look bulky
The moccasins, made of genuine leather with a rubber sole, can be irresistibly cute on your child. The elastic gathering on the rear side promises a better fit. The handmade shoes are fashionable and can be a perfect choice for babies between zero and24 months. You can dress your toddler in formal clothing with the cool pair of Hongteya leather moccasins for parties or outings.
Pros
100% leather
Ideal for new walkers
Available in several colors
Durable
Cons
May not provide enough support
Material may wear off over time
A fusion of comfort and style, the Dukars moccasins are the best baby shoes made of breathable and soft upper material with lace-up closure, which is adjustable for a comfortable fit. The non-slip design makes the classic sneakers the best buy for baby boys and girls. Soft and lightweight soles make walking feel completely natural.
Pros
Elastic laces
Easy slip on and off
Offers snug fit
Available in various colors
Cons
May not offer a good grip for walking
May run small
Designed for babies between zero and 18 months, the Timatego non-slip baby walking shoes for toddlers can keep their feet in grip and offer complete comfort. The soft cotton lining makes these shoes a socks-free design. The hook and loop closure ensures ease of wearing, and the non-slip sole makes the booties ideal for pre-walkers and toddlers.
Pros
Easy to wear
Stays in place
Ideal as a gift
Available in various colors
Cons
Velcro loosens up quickly
Designed for kids between zero and 24 months, the fashionable shoes are made in genuine leather with suede sole. The convenient slip-on design offers comfort and is comfortable to wear and take off. Convenient to clean, the shoes come with different cartoon style patterns on top, making them appealing to both boys and girls.
Pros
Soft and cute
Handmade
Easy to put on and take off
Breathable
Cons
May have a distinct leather-like smell
Sizing might be a bit off
How To Choose The Right Baby Shoes?
While buying your baby's first pair of shoes, picking the best one is essential to ensure safety and comfort. Here is what you need to know to buythe right pair of shoes for your baby boy or girl.
  Size: A shoe too tight will be uncomfortable, and a shoe too loose will be slippery. You should measure the baby's feet before buying the shoes. Also, remember that babies grow fast and may grow out of their shoes too soon. So pick a size depending on how long you want the baby to use them.
  Weight: Big and heavy shoes will make walking difficult for tiny feet. You should choose shoes that are lightweight so that your baby can walk with ease.
  Flexibility: Baby shoes should have flexible outsoles that fit according to the movement and take the shape of the baby'sfeet for a comfortable walk.
  Easy to put on: The best baby shoes are quick and convenient to put on and take off.
  Anti-skid soles: Look for baby shoes with anti-slip soles so that your baby can walk with confidence and no fear of falling or slipping.
  Wearability: Shoes that can be worn with different kinds of outfits for different occasions and seasons arethe intelligent pick.
Why Trust MomJunction?
We understand the importance of choosing high-quality products for your child. A baby's first shoes should provide comfort and grip to help them feel secure and balance their legs properly. We have carefully scoured multiple websites and user reviews before shortlisting the best baby shoes for your child. These shoes are best suited for your baby's tiny feet and stance and are sure to provide the right support and comfort for their first steps.
Recommended Articles