Regular use of activated charcoal during pregnancy to ease morning sickness and other pregnancy symptoms may interfere with nutrient absorption. Activated charcoal has more pores or internal spaces than normal charcoal to trap chemicals and toxins. It is made by heating normal charcoal in a specific gas to create pores. Activated charcoal is not recommended to use without medical reasons in pregnant women since this may interfere with the absorption of prenatal vitamin and mineral supplements.
You may seek doctors' advice before using activated charcoal or other alternative products in pregnancy. Read on to know the safety, effectiveness, and uses of activated charcoal in pregnancy.
Is Activated Charcoal Safe During Pregnancy?
Activated charcoal is not toxic; a doctor can conduct a risk-to-benefit assessment and administer activated charcoal (1). However, activated charcoal may prevent the absorption of certain pregnancy or lactation supplements and may interact with some medications.
Activated charcoal is not recommended for pregnant women with intestinal obstruction or slow bowel movement. While its consumption may not harm expectant mothers, her unborn children, or breastfed infants, its use should be with caution.
The effectiveness of activated charcoal at treating certain types of toxicities and poisoning may vary depending on the time of exposure and the kind of substance (toxin or poison) ingested. Therefore, activated charcoal during pregnancy should only be consumed under the guidance of a healthcare professional.
Note: The effectiveness of charcoal in poisoning or drug overdose does not mean that it is effective in detoxing or cleansing the body. Pregnant women should observe caution while consuming detoxifying charcoal juices and other products. Activated charcoal is known by several other names, such as charbon actif, activated carbon, lamp black, vegetable carbon, animal carbon, etc. Therefore, do check the ingredients of health supplements and juices before you take them.
Uses Of Activated Charcoal During Pregnancy
Activated charcoal is used to treat some conditions. However, there is a lack of scientific evidence from randomized controlled trials and other studies to support its use, other than the treatment of ingestion of certain toxins or oral drug overdose.
Although there is not enough data to assess the actual effectiveness of activated charcoal, the oral ingestion of activated charcoal could be beneficial in the following ways (2).
Lowers cholesterol
Reduces morning sickness
Treats diarrhea and upset stomach
Reduces abdominal gases or flatulence
Relieves indigestion symptoms
Treats obstetric cholestasis or intrahepatic cholestasis of pregnancy (reduced bile flow in pregnancy causing accumulation of bile salts)
Reduce phosphate levels in dialysis patients
Topical uses:
Wound healing bandage
Teeth whitening
These natural remedies are not approved or regulated by the US Food and Drug Administration (FDA). More studies are required to determine the effectiveness of the above-listed uses of activated charcoal in pregnancy.
Side Effects Of Using Activated Charcoal In Pregnancy
The use of activated charcoal regularly and in high amounts can be associated with certain side effects, such as the following (3).
Constipation
Nausea
Vomiting
May interfere with nutrients and the dietary supplements absorption process
Interaction with certain drugs, such as syrup of Ipecac
May harm gut bacteria
The compounds found in charcoal may also cause unpleasant effects. Therefore, seek expert advice to know the safety and effectiveness of activated charcoal and other ingredients in activated charcoal products.
Activated Charcoal Dosage During Pregnancy
The prescribed dosage of activated charcoal in poisoning or overdose can be 50-100 grams for the initial dose, followed by 12.5 grams per hour (4). These are given at the poison centers or hospitals under medical supervision, and the exact dosage may vary. Do not self-medicate with activated charcoal. If there is a case of poisoning or drug overdose, then seek emergency care.
Activated charcoal is not useful in acid or caustic ingestions, and many other chemicals. Do note that the FDA or other drug-regulating authorities do not regulate the dosage level of activated charcoal for natural remedies and other conditions.
Activated Charcoal Interactions
Peroral activated charcoal may reduce the effectiveness of orally ingested prescribed medications. The charcoal may bind with medicine and prevent their absorption. It is advisable to seek medical advice before using activated charcoal in pregnancy, since you may have to take essential vitamin and mineral supplements for the pregnancy (5).
Activated charcoal may also reduce the absorption of micronutrients from food sources. Taking activated charcoal for unproven benefits may reduce the absorption of prenatal vitamins and mineral supplements. Also, drug interactions of activated charcoal should be adequately discussed with your health providers.
Can You Use Activated Charcoal To Whiten Teeth While Pregnant?
Activated charcoal is often used for teeth whitening. It is said to absorb plaque and other teeth-damaging chemicals from the oral cavity. However, this anecdotal remedy lacks scientific evidence.
The American Dental Association (ADA) does not recommend using charcoal-based tooth whitening products (6) (7). Also, charcoal may damage dental enamel due to abrasion. If you wish to whiten your teeth during pregnancy, then visit a dentist who can recommend a safe toothpaste with low relative dentin abrasivity (RDA) rating (8).
The use of activated charcoal during pregnancy is debatable and hence needs to be carried out with caution. Pregnancy is the period when you need to be extremely careful and aware of the things you ingest or use as they can directly affect your baby and, in turn, complicate your pregnancy. Although your doctor may administer activated charcoal during pregnancy for detoxification purposes, it also is likely to induce certain side effects. Hence you must not use it without your doctor's permission and check the detoxification agents for any warning signs to avoid harmful effects.
References:
MomJunction's articles are written after analyzing the research works of expert authors and institutions. Our references consist of resources established by authorities in their respective fields. You can learn more about the authenticity of the information we present in our
editorial policy
.
The following two tabs change content below.

Dr. Bisny T. Joseph is a Georgian Board-certified physician. She has completed her professional graduate degree as a medical doctor from Tbilisi State Medical University, Georgia. She has 3+ years of experience in various sectors of medical affairs as a physician, medical reviewer, medical writer, health coach, and Q&A expert. Her interest in digital medical education and patient education made...
more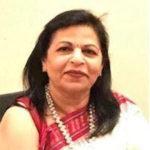 Dr Anita Gupta is currently working in University College of Medical Sciences (Medical School) & Guru Teg Bahadur Hospital, Delhi. She has been practicing as a gynecologist & obstetrician for the past 31 years and as a lactation consultant for 18 years. Dr. Gupta is a fellow of Indian College of Obstetricians and Gynaecologists, and a master trainer and course...
more