Marijuana or cannabis is a psychoactive drug extracted from the cannabis plant. It is also popular among youngsters for recreational use to cause a sense of euphoria and relaxation. Some pregnant women might want to use it to relieve the symptoms of intensive nausea and vomiting. However, longitudinal cohort studies suggest that marijuana consumption in pregnancy can impact fetal neurological development and fetal growth (1).
Read this post to learn more about the effects of cannabis during pregnancy and how it can impact child growth.
Prevalence Of Marijuana Use In Pregnancy
Marijuana is a banned drug in some states of the US; however, it is still used by a few pregnant women (2). According to the Centers for Disease Control and Prevention (CDC), 4.2% of women reported marijuana use during pregnancy (2). This percentage is self-declared, and the statistics might vary across geographical areas.
Adverse Effects Of Marijuana In Pregnancy
There is limited research and systematic reviews on the consumption of marijuana and prenatal risks. However, we may consider research and guidelines of trusted bodies regarding the usage and implications of marijuana use during pregnancy. According to the American College of Obstetricians and Gynecologists (ACOG), prenatal marijuana exposure can adversely affect the mother and the fetus (3).
As per the scientific evidence from individual studies and trusted sources, the consumption of marijuana during pregnancy can have the following perinatal outcomes on the mother and the fetus (3) (4).
Effects on the mother:
Lung damage
Dizziness, which might put you at risk of falls
Impaired judgment capability
Increased risk of anemia.
Low oxygen levels in the blood
Effects on the fetus and infant:
Impairment of fetal brain development
Increases the placental permeability to medications and drugs
Increase in placental resistance that results in increased blood pressure and reduced blood flow to the fetus
Low birth weight
Higher risk of stillbirth
Higher risk of premature birth
Behavioral issues in childhood
Lower scores in verbal reasoning and memory tasks
Cannabis has not been linked to birth defects however, the effects on the developing brain may be lasting, and remain as the bay grows to an adolescent.
Effects Of Marijuana Consumption On The General Health
The active components of marijuana are tetrahydrocannabinol (THC), cannabinoids, and cannabidiol (CBD) (5). Smoking the weed causes these active components to percolate into the bloodstream, rapidly delivering into the vital organs (6). They also reach the brain, therefore changing the way neurons function and causing the following effects:
A sense of euphoria
Altered perception of time
Increased appetite
Increased laughter
Increased perception of senses
Also considering it's usually used with tobacco, all the risks associated with smoking will have an impact at the same time.
It also affects the following brain regions (7):
Hypothalamus (regulates appetite, hormonal levels, and sexual behavior)
Basal ganglia (resposnsible for motor control)
Ventral striatum (regulates the reward system)
Amygdala (controls anxiety, emotion, and fear)
Neocortex (controls cognitive functions)
Hippocampus (important for learning and memory)
Cerebellum (responsible for motor control and coordination)
Spinal cord (important for reflex and pain)
Heavy marijuana consumption can cause the following health effects (8):
Breathing problem
Altered fetal development
Nausea and vomiting
Hallucinations
Paranoia
Death (if taken along with other drugs)
Misconceptions About Weed Use And Pregnancy
Several folk tales talk about the benefits of prenatal cannabis; however, these are not backed by scientific research. Some of the popular misconceptions on the consumption of marijuana during pregnancy (3):
Can improve morning sickness
Not addictive
Will not cause withdrawal symptoms
Safe to consume
Use Of Marijuana As A Medicine
Recent studies revealed the medical usages of marijuana as follows (9) (10):
Improves the neurogenic pain
Treats cancer-related nausea and vomiting during chemotherapy
Controls nausea and vomiting in pregnancy-associated hyperemesis
Marijuana or cannabis is a flowering plant, and several cultures use the fiber (hemp) for medicinal and recreational purposes. However, the drug's lipid-soluble active components can pass the placental barrier during pregnancy, leading to adverse fetal outcomes.
Newborn Care
After the childbirth, your baby should be seen by a pediatrician to ensure they are well. Some babies may be irritable, unsettled and have difficulty in feeding.
Breast feeding
A chemical called TCH (tetrahydrocannabinol) passes to the baby through maternal breast milk. Some studies suggest that infants exposed to this have impacts on their motor development (movement and response) However, more studies are needed to establish the true effect of cannabis on breastfeeding
Marijuana during pregnancy may severely affect the health of the mother and the baby. Longitudinal studies also suggest that pregnant and lactating mothers should abstain from consuming illicit drugs.
References:
MomJunction's articles are written after analyzing the research works of expert authors and institutions. Our references consist of resources established by authorities in their respective fields. You can learn more about the authenticity of the information we present in our
editorial policy
.
The following two tabs change content below.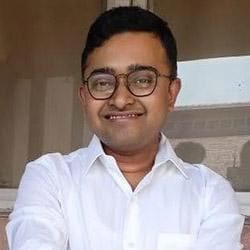 Anshuman Mohapatra
Anshuman Mohapatra is a biotechnology scientist with more than six years of research experience in analytical chemistry and biotechnology. He has submitted his Ph.D thesis at the Indian Institute of Technology Guwahati (IIT Guwahati) and served as a research fellow (JRF/SRF) during his Ph.D tenure. His research interest includes analytical chemistry, neurobiology and lipid disorder diseases. Three of his research...
more