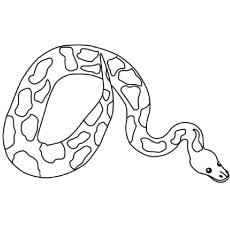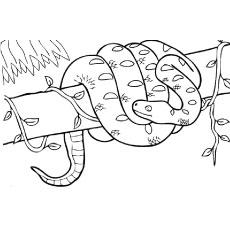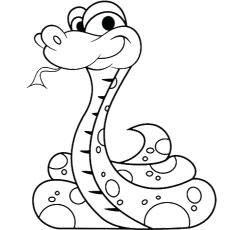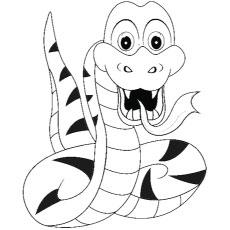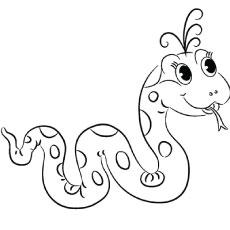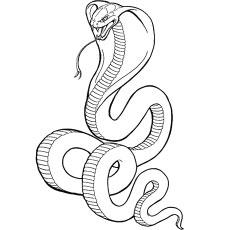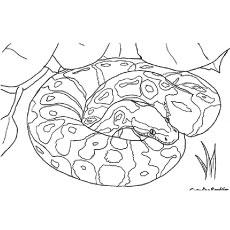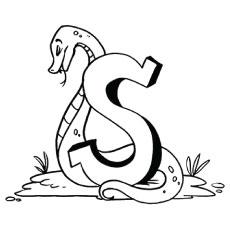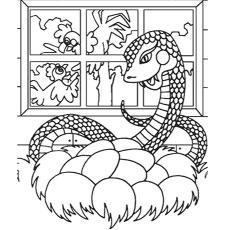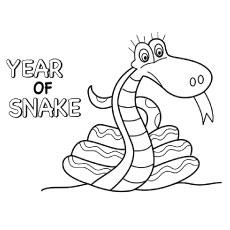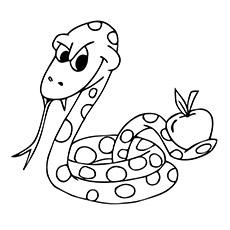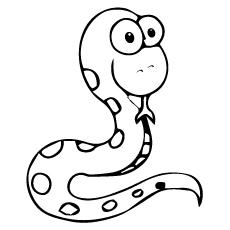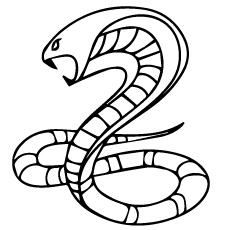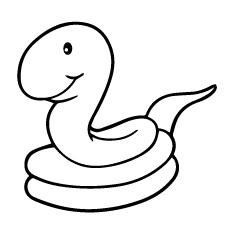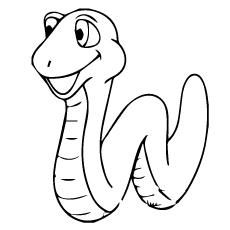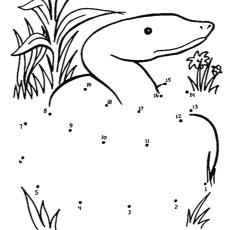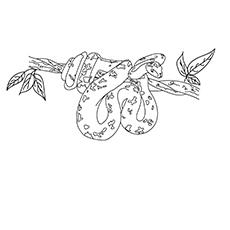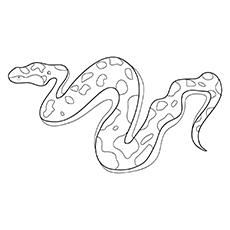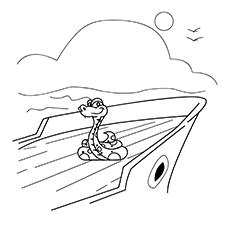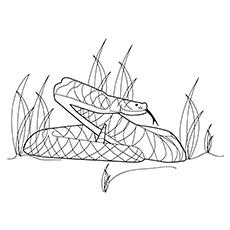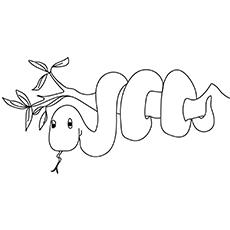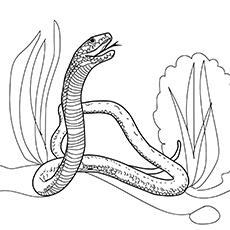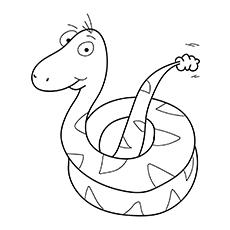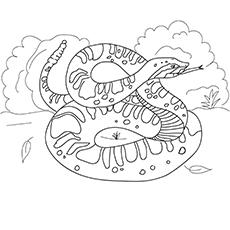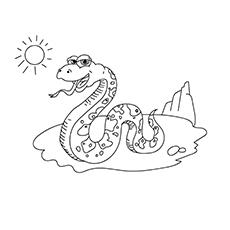 Recommended Articles:
Let's admit it, most of us terrified of snakes! Their slimy bodies and cold gaze create a chilling sensation on the observer's mind. Yet, they never fail to fascinate the minds of both kids and adult.
There are about 2700 species of snakes, out of which 375 are venomous. They come in various colors and have unusual body marks. It is said that the brightly colored snakes are usually venomous. Their color serves as a warning to the predators while the dull colored snakes use their coloration for camouflage.
Top 20 Snake Coloring Pages For Preschoolers:

These legless, carnivorous reptiles are found across the globe. Today we will unveil the fascinating world of snakes through our snake coloring sheets. The article includes coloring sheets of different types of snake in their realistic and cartoon forms.
1. Anaconda:
This coloring sheet features anaconda, one of the world's longest snakes. Ask your child to use his favorite colors to bring life to this awesome jungle creature.
The anaconda, also known as Water Boa, is a semi-aquatic meat-eater snake found in the swampy areas of South America. They spend most of their time in shallow water, hidden from unsuspecting prey.
Anacondas are greenish brown in color with black oval spots on the back and white markings on the sides.
2. 'S' For Snake:
Looks like this slithering snake has sneaked in to do some alphabet practice. This coloring sheet is suitable for toddlers, preschoolers and kindergarteners.
Ask your child to trace the upper case letter and color in whatever shade he wants. This will help him with letter recognition while learning how to write the letter S.
You can also ask him some words starting with the letter S.
[ Read: Wild Animals Coloring Pages ]
3. King Cobra:
This coloring sheet is of King Cobra, the world's longest venomous snake. It is found predominantly in Southeast Asia and India.
Cobra is considered culturally significant and has many superstitions around it. Some cultures worship it as a god.
Cobra is usually olive green or black in color. It has pale yellow cross bands down the length of his body. Its belly is cream or pale yellow in color. Ask your child to use these shades for coloring King Cobra.
4. American Copperhead:
Introduce your child to American Copperhead with this coloring sheet.
American Copperhead, scientifically known as Agkistrodon contortrix is a specie of venomous snake native to North America.
It has a stout body with a broad head. It is pale to pinkish tan in color that becomes darker towards the forehead.
[ Read: Jungle Animals Coloring Pages ]
5. Black Mamba:
This coloring sheet features Black Mamba, the longest and deadliest venomous snake in Africa. Their venom is highly toxic.
Black Mamba is a thin snake with an overall weight of about three and a half pounds.
Unlike their name, Black Mamba is not black in color. It is gray, brown or olive, depending on the natural habitat of the species.
6. Corn Snake:
Here is a coloring sheet of the Corn snake, also called the Red Rat in some regions. Corn Snake is a constrictor snake. It wraps its body around when it sees a threat as you can see in the coloring image.
Corn snake is often found around the corn, hence the name. They are timid and are rarely known to bite humans.
Corn snake is orange in color with red lines. Their patterns and color help them blend with the surroundings.
[ Read: Zoo Animals Coloring Pages ]
7. Ridge-Nosed Rattlesnake:
The coloring sheet features rattlesnake, the most common variety of snake found in the world. The coloring sheet also provides information about this specie of snake. Tell your child to read the words loud. This will improve his reading skills.
The rattlesnake starts making noise after the first shedding of the skin.
Rattlesnake does not bite unless provoked or threatened.
8. Boa Constrictor:
This coloring sheet features Boa Constrictor, a large snake with a thick body. This non-venomous snake is waiting for someone to fill in the colors. Can your child add some color to his scale?
The main colors of Boa constrictor are brown and cream, although some species in black, green and brown are also found. They also have distinctive markings from the eyes to the jaw line.
The Boa constrictor loves water and will be mostly found swimming.
9. Eastern Coral Snake:
Eastern Coral Snake is related to both Cobra and Mamba. It is considered very dangerous due to the potency of the venom it releases.
The Eastern Coral is a red and black snake with yellow rings. Its head is black in color and has a small head.
It is a nocturnal creature and spends most of his time in the trees when it is young.
[ Read: Monkey Coloring Pages ]
10. The Burmese Python:
The Burmese python is one of the five largest snakes in the world. It is native to the tropical and Subtropical areas of Southern Asia.
The Burmese Python is usually found near water and tree branches.
It is a dark colored snake with brown blotches down the back. This makes Burmese pythons very popular in the leather industry.
11. Royal Python:
Here is a coloring sheet of Royal Python resting in a cave. Ask your child to color this fierce reptile in black or brown. They can also make golden lines on its body to make it appear more lifelike.
The royal python is believed to be more timid when compared to other types of pythons.
The royal python has a unique defense mechanism. It wraps its body and rolls away whenever it faces a threat.
[ Read: Squirrel Coloring Pages ]
12. Reticulated Python:
The reticulated python is a large and non-venomous python. They wrap around a person and suffocate them to death.
Reticulated python is one of the longest snakes in the world.
They come in green, white, gold and black colors. Their complex color pattern allows them to fit in their surrounding undetected.
13. Green Tree Python:
It looks like this green tree python has his eyes on his prey. Who do you think will be his next target? Ask your child this question and see what answer he comes up with.
The Green tree python attracts a lot of attention due to its coloration. It is a lime green colored python with cream or white on its belly.
As you can see on the coloring sheet, green tree python usually lives in trees, tall grasses and forest regions. They become docile in captivity.
[ Read: Wildlife Hunting Coloring Pages ]
14. Connect The Dot:
Here is a connect-the-dot coloring sheet for your preschooler. Connect-the-dot activities are a great way to teach your kid about numbers and number order.
Ask your child to color the sheet after he is done connecting the dots.
These coloring sheets will also improve their number recognition skills and hand and eye co-ordination, thereby laying the foundation of early learning success.
15. Year Of Snake:
Here is a Chinese New Year coloring sheet for your kids to color. This coloring sheet will make a good activity for your preschoolers and kindergarteners.
This Chinese New Year coloring sheet is perfect to supplement a Chinese New Year lesson plan at home or in the classroom.
You can also read some books to children about the Chinese New Year after they finish coloring the sheet.
16. Female Cartoon Snake:
This is a cute coloring sheet of a female snake with huge eyelashes.
Ask your child to use yellow for the body and pink for the dots to create a beautiful picture.
This colorful sheet is perfect for hanging on the wall.
17. Snake In The Desert:
Color this snake as he takes a sunbath in the desert.
Ask your child which color he would like to use for this coloring sheet.
Make sure they color within the lines to make it look beautiful.
18. Snake With Eggs:
This coloring sheet features a mother snake taking care of her eggs in her home.
Mama snakes, just like the all the mothers, are very protective of her eggs. She can kill anyone who tries to take her eggs from her.
The diagram also has an intricate border. The coloring sheet is ideal for kids above 10 years.
19. Baby Snake On The Branch:
Some kids like furry and fluffy animals while some like scaly and slimy pets. If your kid is fascinated by reptiles then he will surely love filling colors in this black and white diagram of snake. This coloring sheet shows a baby snake at rest, showing off its distinctive angular snout.
This coloring sheet has a simple outline, making it ideal for younger children.
Ask your older kids to draw some patterns of their choice on the snake's body.
20. Cartoon Snake:
The coloring sheet will surely please your little animal lover. It features a cartoon snake with his tongue out.
The only thing this coloring sheet is lacking is some color. Why don't you ask your child to fill in some colors in this cheerful snake?
Green and yellow will make this coloring sheet stand out. You can also try shades like blue and red for this coloring sheet.
These free printable snake coloring pages online will help your child learn about the different types of snake while having fun coloring.
We are sure your kids will love filling colors in these snake coloring pictures printable. The diverse physical characteristics of snakes will allow your kids to experiment greatly with colors. If you have any comments on this article, please share them with us in the section below!
DISCLAIMER: All images found here are believed to be in the "public domain". We do not intend to infringe any legitimate intellectual right, artistic rights or copyright. All of the images displayed are of unknown origin. If you are the rightful owner of any of the pictures/wallpapers posted here, and you do not want it to be displayed or if you require a suitable credit, then please contact us and we will immediately do whatever is needed either for the image to be removed or provide credit where it is due. All the content of this site are free of charge and therefore we do not gain any financial benefit from the display or downloads of any images/wallpaper.
The following two tabs change content below.