Is your littlest member home already? Are you looking for a baby soap, but don't know which one to pick? Are you concerned about which soap is best for baby skin and its effect? If these questions bother you, then you might want to read our post.
Skin of infants is extremely sensitive and requires the utmost care. Cleaning babies with plain water will suffice, but using mild baby soaps will not harm her either. With the huge variety of baby soaps to choose from, it becomes hard to decide which one to pick. And these days, almost all the soaps have the terms "organic" and "natural" stamped on them. But, are these so-called organic baby soaps safe? What is the best of the best? To find out, you need to read our post!
How To Choose The Best Soap For Babies With Sensitive Skin?
Before purchasing, you need to understand how to choose the best soap for baby. The following tips will help you comprehend. Read on!
1. Gentle Baby Soaps:
Opt for baby soaps that are non-toxic, gentle and free of potentially harmful chemicals. A harsh soap can irritate a baby's skin and can even cause rashes. Even regular mild soaps work as well as a baby soap.
2. Avoid Buying Extra Lather Soaps:
There is a significant difference between cleaning a baby's skin and cleaning an adult's skin. Do not go for extra lather soaps as soaps lather because of additional chemicals in it.
3. Fragrance:
It is advisable to use fragrance-free baby soap for children. If children dislike the scent of a particular soap, they will start crying, as there is no other way to express their displeasure. Also, fragrant soaps contain harsh chemicals that can cause adverse reactions on the baby's skin. And why do you need fragrant soaps? Babies smell heavenly anyway!
4. Hypoallergenic Soaps:
If your baby has hypersensitive skin or suffers from dry skin or eczema, then you must look for hypoallergenic soaps.
5. Analyze The Ingredients:
To ensure that the baby soap is hypoallergenic and non-toxic, you must analyze the ingredients of the soap. Check the ingredients on the internet to see if they are capable of causing any allergic reactions. Steer clear of soaps that contain alcohol, glycol, propylene and other chemicals. Soaps made using natural ingredients are best for baby's sensitive skin. Look for ingredients like almond, milk, cocoa butter, honey and olive oil.
Top 15 Best Baby Soaps:
Now that you have a fair idea of what would be suitable for your baby, it is time to check out the best soaps for babies in the market. Here are 15 natural baby soaps that you will not worry about using on your baby's skin. Check them out!
1. Weleda Calendula Soap: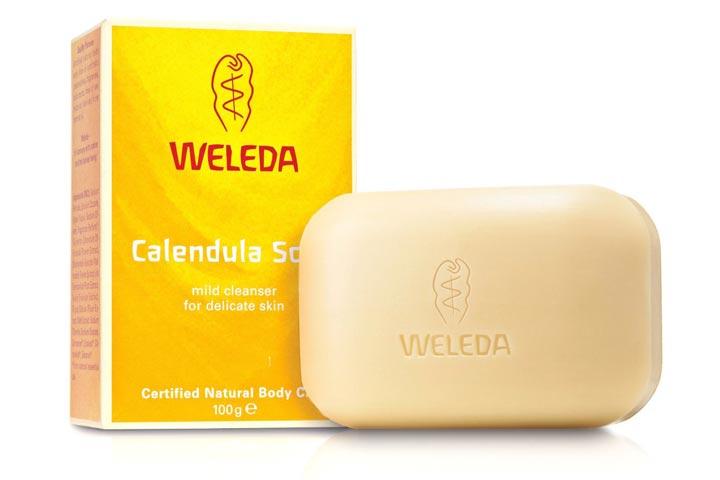 Buy @ www.amazon.com/-weleda-calendula-soap
We know that you worry about the harsh chemicals present in the baby soaps. But Weleda Calendula Soap contains only the organic ingredients and essential oils. It has calendula and chamomile flower extracts that will moisturize baby's skin gently and will render is supple and soft. And the brand is hit with the many moms too. You will need just a bit of this organic soap at a time, so it will last you a long time.
[ Read: Best Shampoos For Babies ]
2. Badger Chamomile & Calendula Baby Soap: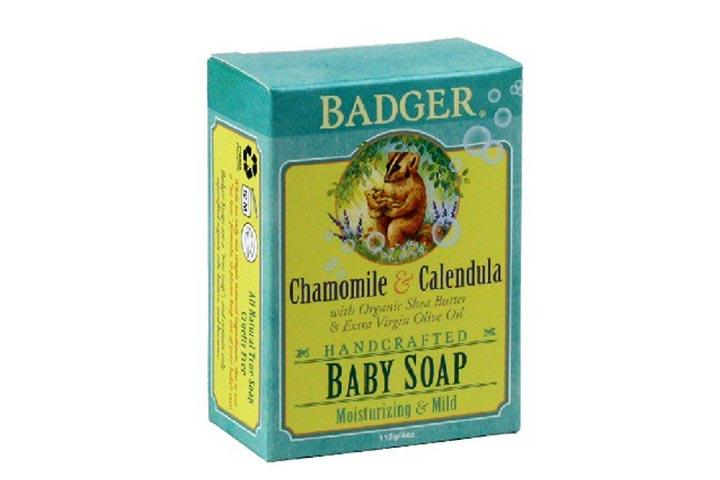 Here is a soap that you can safely use on your baby's skin. The soap is very moisturizing, non-irritating and contains essential oil fragrance. The gentle soap contains certified organic plant oils. The calendula, chamomile oil in this soap will calm and relax your baby, and the coconut and Shea butter will moisturize and soothe his delicate skin. This soap is especially great for babies with sensitive skin. Badger never adds any foaming agent, synthetic or harsh ingredient or any artificial fragrance. It is just a good, clean soap.
3. Nurture My Body Baby Bar Soap: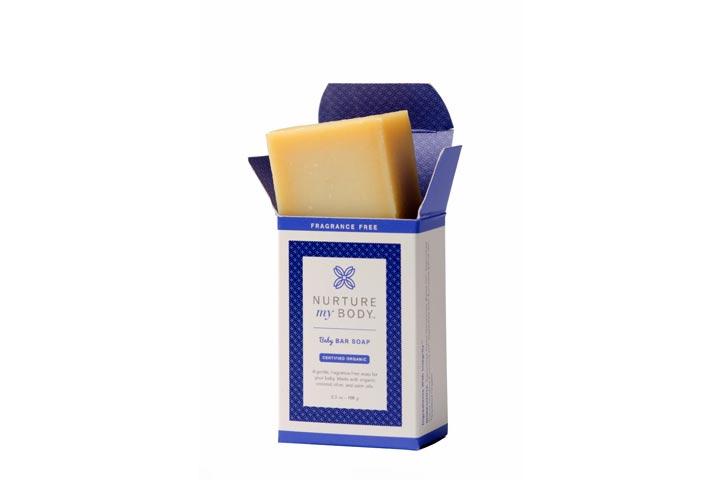 Buy @ www.amazon.com/-nurture-my-body-baby-bar-soap
Nurture, My Body Baby Bar Soap, is a gentle, moisturizing soap for your baby's sensitive skin. It has a pleasant scent and isn't harsh on the baby's skin. The soap gently cleans the skin, leaving it soft and fresh. The gentle soap is free of artificial ingredients like sodium lauryl, Paraben and phthalates and contains only certified organic ingredients. So now, you can rest easy.
[ Read: Bathtubs For Babies ]
4. Dr. Bronner's Baby Mild Bar Soap: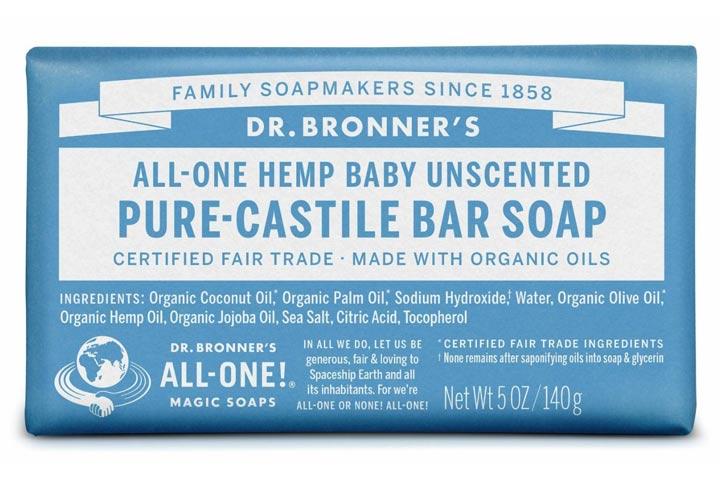 Buy @ www.amazon.com/-dr.-bronner's-baby-mild-bar-soap
Bath time will be a lot of fun with Dr. Bronner's baby soap. The soap contains no fragrance at all, making it ideal for kids with allergies. The natural ingredients will calm your baby like no other thing. We also feel it is less drying than other soaps for newborn babies in the market. It comes wrapped in 10% hemp-flax, and 90% consumer recycled paper from the Living Tree Paper Co.
5. Johnson's Baby Bar: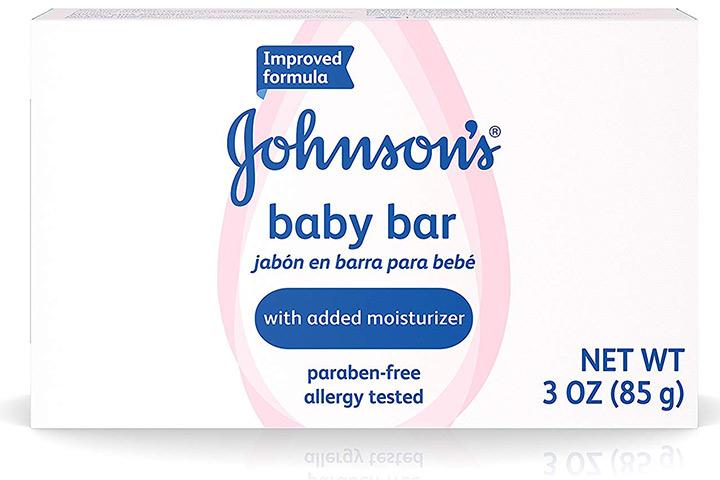 Buy @ www.amazon.com/-johnson's-baby-bar
Johnson and Johnson is a longtime favorite of mommies. Even your mother must have used it product when you were a kid. Johnson's Baby Bar is one of the oldest and most reliable baby soaps in the market. It contains ¼-baby lotion, which cleanses and moisturizes the skin gently. It contains no coloring agent or harmful chemical, making it safe for babies with any skin type. And the blend of scents will soothe and calm your baby.
6. Burt's Bees Baby Bee Buttermilk Soap: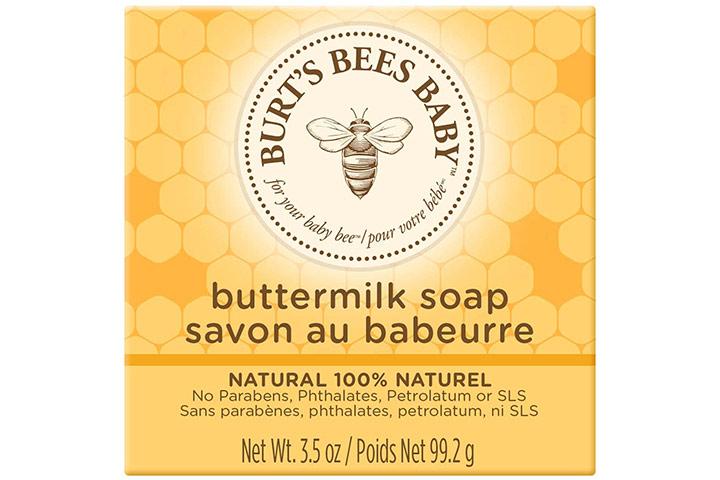 Buy @ www.amazon.com/-burt's-bees-baby-bee-buttermilk-soap
If you are a fan of Burt's Bees other products, you will love their gentle baby line too. Burt's Bees Baby Bee Buttermilk Soap is a 99.9% natural soap. It contains no sulfate, SLS, petrochemicals or phthalates. This 3.5 ounce of the bar contains 100% natural ingredients like oat flour and rich buttermilk. The oat flour will soothe the irritated skin while buttermilk will soften It. Just wet, lather and rinse for a silky smooth surface. You can also follow it with Burt's Bees Baby Bee moisturizer to keep your baby's skin extra soft.
[ Read: Best Baby Wipes ]
7. Wild Natural Baby Happy Baby Organic Soap: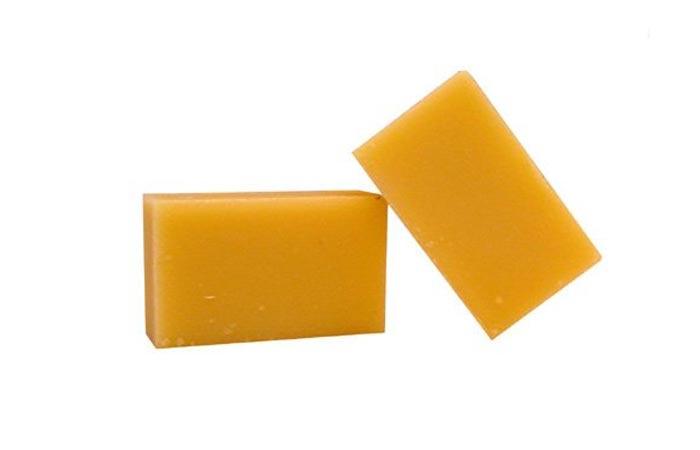 Here is a rich antioxidant soap for your baby. It contains ingredients like omega-3 and omega-6 fatty acids, vitamin C and hibiscus natural facial serum that will benefit your baby's skin significantly. It also helps restore the lost moisture from the baby's skin. Wild Natural Baby Happy Baby Organic Soap will remove the skin roughness, dryness and will keep it smooth and soft. And it smells oh-so-yummy!
8. Druide Calming Baby Soap: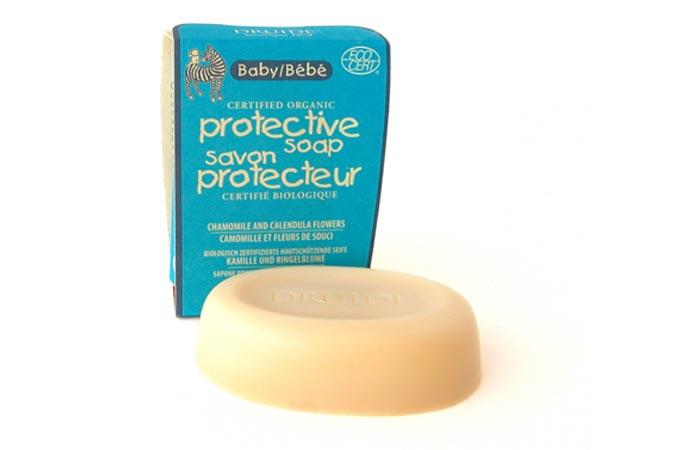 Druide Calming Baby Soap is softer and calmer than the other soaps available in the market. The brand chose each of the ingredients meticulously for this soap. Druide Calming Baby Soap has a rich content of calcium, vitamins, and amino acids, which soothes and protects the delicate skin of infants for hours. The brand also claims to make the soaps one by one, which explains the unique shape of each bar. Now that's pretty amazing.
[ Read: Best Lotions For Babies ]
9. Baby Hugo Naturals Chamomile & Vanilla Baby Soap: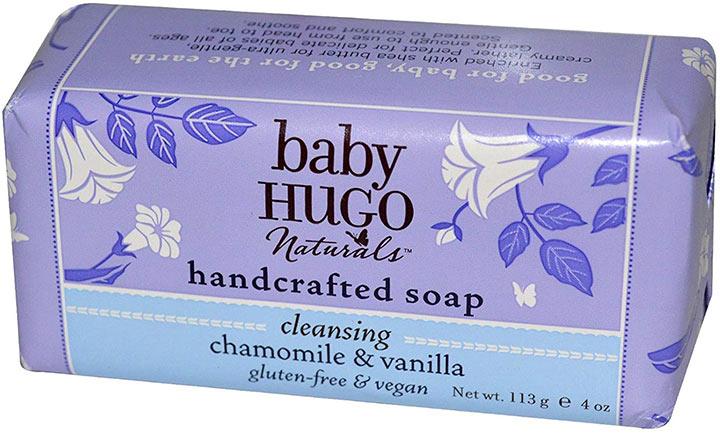 Buy @ www.amazon.com/-baby-hugo-naturals-chamomile-&-vanilla-baby-soap
Make bath time fun and relaxing for your kid with Baby Hugo Naturals Chamomile & Vanilla Baby Soap. The all natural, tear-free soap is crafted to cater the needs of the sensitive skin of the babies without using any artificial fragrance, alcohol, petroleum, and colors. It contains ingredients like Shea butter, pure vegetable glycerin, purified water and jojoba oil. The glycerin creates a rich and creamy lather that will soften your baby's skin from head to the toes. The warm vanilla will nourish your darling's delicate skin, leaving it deliciously smelling. Plus, the soap is cruelty-free and vegan, so you will be confident that it is good for you.
[ Read: Top 20 Johnson's & Johnson's Baby Care Products ]
10. Noodle & Boo – French Milled Baby Soap: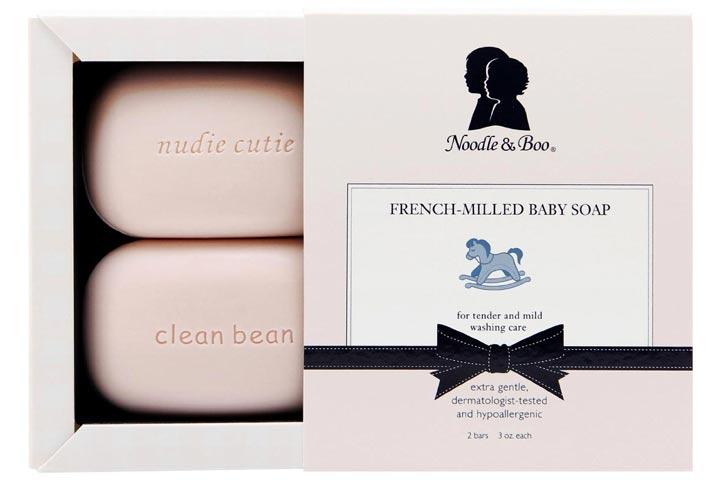 Noodle and Boo Baby Skincare range will treat your baby's skin luxuriously. It refreshes and soothes the baby's delicate skin without stripping away the natural moisture. The milk protein, sweet almond oil, aloe and oatmeal with gently moisturize your tot's skin. This cute pink bar has a soft powdery scent, which we believe, will appeal to your baby. It comes engraved with "clean bean" on one side and "nudie cutie on the other. The soap lathers well and makes the skin squeaky clean. Another great thing is that it doesn't contain any questionable ingredients like Sulfates, dyes, PPG's or formaldehyde. We love its packaging too. It looks very luxe and regal. What more! Celebrity mommies like Brooke Shields, Liv Tyler, and Jennifer use Noodle and Boo French Milled Baby Soap for their munchkins.
11. Sebamed Baby Cleansing Bar: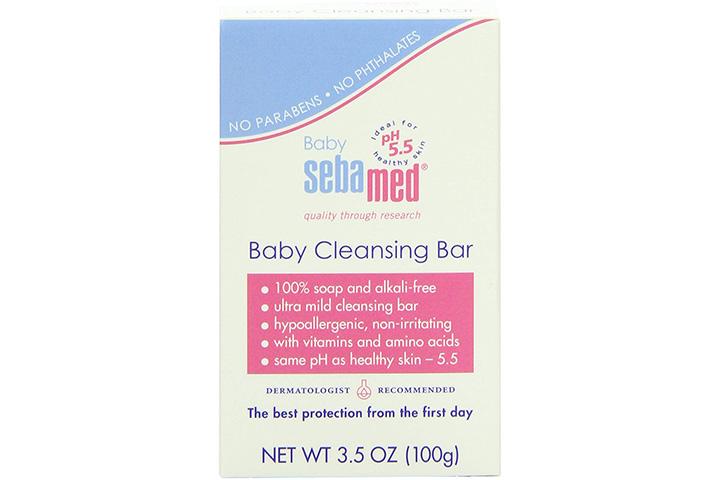 Buy @ www.amazon.com/-sebamed-baby-cleansing-bar
If your tot has an extremely sensitive skin, then Sebamed Baby Cleansing Bar would be ideal or him. The soap is surprisingly soap free. Heinz Maurer introduced this soap in the year 1957 to cleanse the infant's tender skin. The soap has a pH balance of 5.5, which protects the texture of the baby's skin. It has wheat germ oil along with the goodness of amino acid and vitamin. It also contains chamomile and Panthenol, which will aid in the regeneration of the skin. Sebamed Baby Cleansing Bar is also very kind to the environment. It is 100% biodegradable.
[ Read: Baby Powder For Babies ]
12. Pigeon Transparent Baby Soap Hypoallergenic: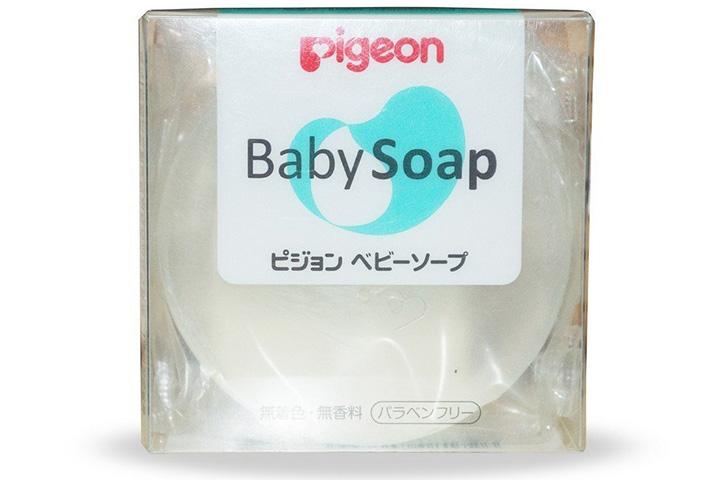 Buy @ www.amazon.com/-pigeon-transparent-baby-soap-hypoallergenic
Pigeon is another trusted brand for baby products. It has some of the best baby products in its line. Pigeon Transparent Baby Soap contains squalane, ceramide and other natural ingredients that will clean the baby's skin thoroughly. It contains jojoba oil, which calms and softens the skin. It also helps to treat rashes and other skin irritations. Even the doctors recommend this soap for eliminating rashes and redness in babies.
13. Chicco Baby Moments Soap: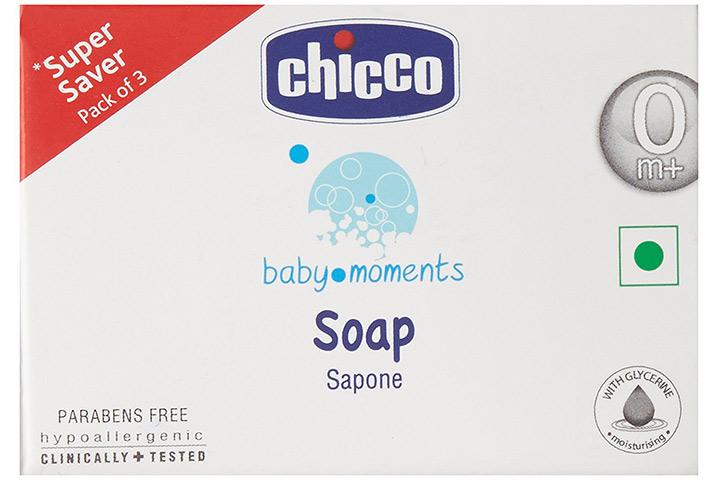 Buy @ www.amazon.com/-Chicco-Baby-Moments-Soap
Chicco is a multinational company renowned for its range of baby care products. Chicco Baby Moments Soap is an excellent product from this brand. The soap gently cleanses and moisturizes the baby's skin, all thanks to the glycerin present it. This creamy soap does not form much lather. It is easily washed off. And neither does it cause any allergic reaction. The light tangerine fragrance will give your baby a calm bath time.
[ Read: Best Oils For Baby Skin ]
14. Erbaviva Baby Soap: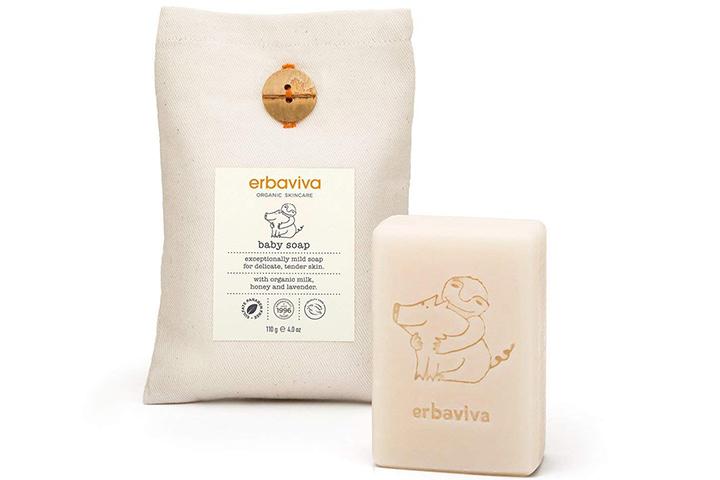 Buy @ www.amazon.com/-erbaviva-baby-soap
Handcrafted with honey, pure milk, and nutrient rich oils, Erbaviva Baby Soap will make a good choice for your baby. It comes infused with organic lavender essential oil and is free of all the chemical additives, dyes, and fragrances. It creates a rich lather without drying your baby's delicate skin. So you can make lots of soapy fun while cleaning behind the ears and all her folds of baby chub. And we totally loved the packaging. It looks so different! Erbaviva Baby Soap will nourish all the skin types.
15. Johnson's Kids E-Z Grip Soap Berry Breeze: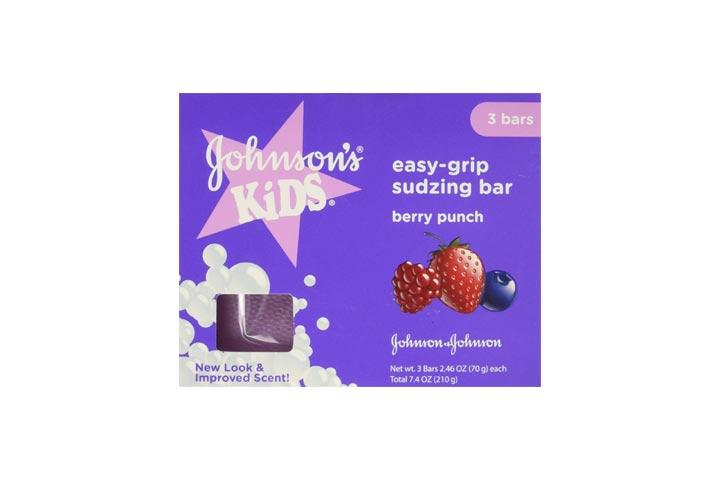 If your baby suffers from super-dry skin because of eczema, then Johnson's Kids E-Z Grip Soap Berry Breeze will surely ease his irritation. The essential oils in the soap will replenish the lipids on the skin and will reduce itching and dryness. The soap creates many bubbles while being hypoallergenic and free of Paraben, sulfates, and phthalates. It also washes off easily and leaves no slippery residue behind. And it comes with a cute loofah too.
[ Read: Sunscreens For Babies ]
All these soaps are tear-free, organic, mildly scented and contain no harmful chemicals. So pamper your baby with any of these baby soap.
Remember, infants have very sensitive skin, so frequent bathing is not necessary for your little one. Also, you need to be cautious while applying the baby soap. Make sure that it does not enter his eyes and ensure that he has a calm and enjoyable bath. And always keep an eye on your baby while bathing her. Keep the towel and soap within your reach so that you don't have to leave your baby alone in the bathtub.
Which soap do you use for your baby? Is your favorite soap included in the list? If not, then please leave us a comment, and we will try to add it to our list.
Recommended Articles:
The following two tabs change content below.