Are you pregnant and worried about the impending weight gain? Do you feel that becoming pregnant only means resting and getting bored? We list out simple ways for staying active during pregnancy.
While you are pregnant, it is normal to put on extra pounds and take it easy. But do you want to know how you can stay fit and active while you are pregnant? Read on to know some smart ideas on how to be active during pregnancy.
Some Ways for Staying Active During Pregnancy:

When you are pregnant, you can feel lethargic and less active than you normally do. But that does not mean you should completely give up all forms of physical activity or interests during this time. Being pregnant does not mean you cannot stay active. It just means you need to be a bit more cautious about it.
Here are a few easy and practical activities you can incorporate to stay fit and happy while you are pregnant:
1. Breathe In And Breathe Out:

It may not be your favorite exercise, but regularly doing it will keep you feeling fresh and alert. You can do this very easily before having your morning cup of tea. Just stand on your balcony and take a deep breath. Once your lungs are full, breathe out deeply. Do this in such a way that it causes no discomfort.
[ Read: Breathing Exercises During Pregnancy ]
2. Stand Up And Stretch:

Being active while you are pregnant is important.You don't need heavy tools and machines to stay active when you are pregnant. You can easily stretch those muscles even if you are at home. Stand up at regular intervals and just stretch your body. Stretch your arms pull them behind. Stretch your calves by standing on your toes. Stretch your neck muscles and do a quick exercise by turning your head from one side to the other.
[ Read: Swimming During Pregnancy ]
3. Walk Down The Aisle:

Take your time at the grocery store. The best place to walk without feeling bored or tired is inside your very own supermarket! Instead of rushing to get your groceries, take some extra time and walk around. Choose a time when you know the place will be relatively empty. Take your shopping cart and start walking down the aisles. Doing this while looking at things will entertain you, and the air conditioning will ensure you do not feel the strain. You can do this for as long as you are comfortable.
[ Read: Walking During Pregnancy ]
4. Do Some Balcony Gardening:

Gardening is not something we recommend you do while you are pregnant. But window or balcony gardening is something you can do during your pregnancy. It will not require you to bend down and dig, which is something you should avoid when you are pregnant. Instead, a window or balcony garden will keep you busy while giving you those beautiful fresh blooms.
5. Join A Prenatal Class:

It is a great way to stay active and alert. A prenatal class will have other women who are also expecting babies. Here you will learn various forms of safe exercises. You will also gain knowledge about pregnancy and other post-delivery topics while taking the class.
6. Walk While Doing Your Chores:
You may not always want to step out of the house and take a walk. That is understandable. Instead of going out and walking, why not incorporate walking in your home routine? There are many instances when you can safely walk around in the house. You can walk while cooking in the kitchen or listening to music. Instead of staying put take a few steps here and there.
There are many ways for being active during pregnancy, and these are just a few simple ones. Remember that each pregnancy is unique, so what is alright for others may not be perfect for you. Speak to your doctor and begin any activity only after she gives you the go-ahead. Walking at a normal pace is safe during pregnancy. If you were into sports earlier, check with your doctor about sports that are safe for you to continue while you are pregnant. You can also check out a few dance classes for pregnant ladies.
If you had a baby recently, tell us how you stayed active and cheerful during your pregnancy. Leave a comment below.
How did you manage to stay active during your pregnancy? Did you join a class or did you go for regular walks? Do share your experiences here.
Recommended Articles:
The following two tabs change content below.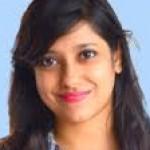 Latest posts by Debolina Raja (see all)