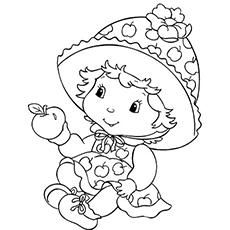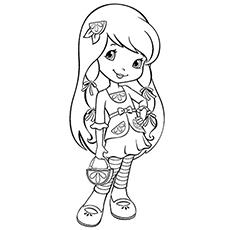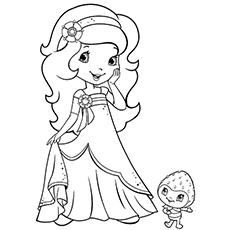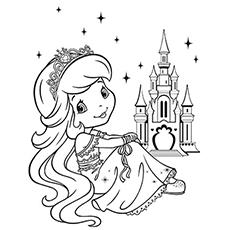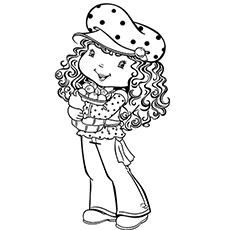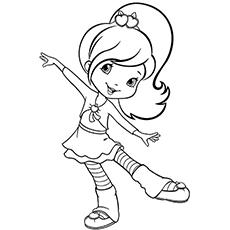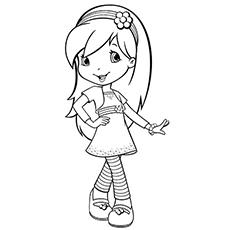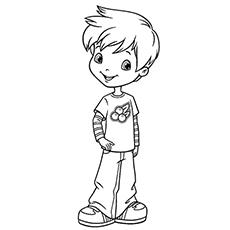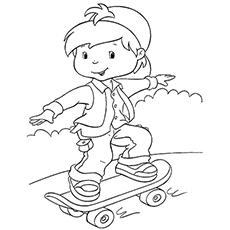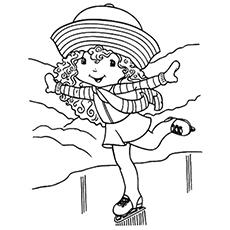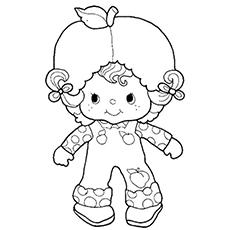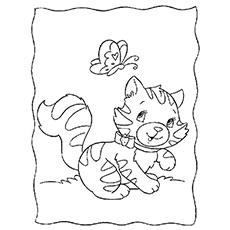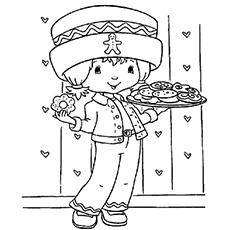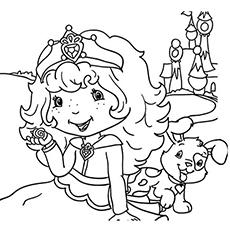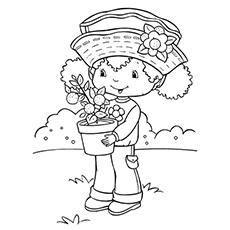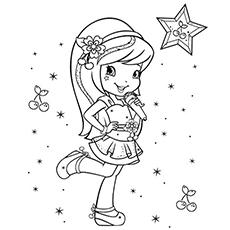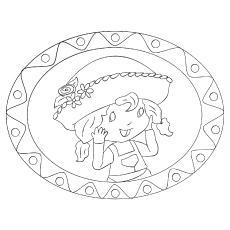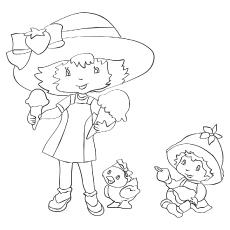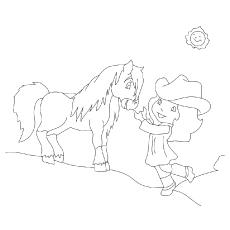 Recommended Articles:
Strawberry Shortcake is a character that has earned her way inside children's heart. The character was originally used in greeting cards and was later expanded to include dolls, posters and other products. It also includes a toy line comprising all the characters of the series.
The character was first designed by American Illustrator Muriel Fahrion in the year 1977. The popularity of the character later inspired the makers to make a full-length feature film named "Strawberry Shortcake: The Sweet Dreams Movie"
Top 20 Strawberry Shortcake Coloring Pages For Kids:

Bring home the colorful world of Strawberry Land with our collection of coloring sheets. The article includes black and white images of Strawberry Shortcake and all the major characters of this series. Check out here 20 amazing strawberry shortcake coloring pages to print for free for your kids:
1. Strawberry Shortcake:
Here is a beautiful coloring sheet of Strawberry Shortcake, the titular character of "The World of Strawberry Shortcake" franchise. This coloring sheet shows her in her teenage form.
Strawberry Shortcake is a bright and energetic girl with pink hair and an adorable smile. She runs Berry Bitty Café, where she bakes and sells delicious cakes and smoothies. She loves to write stories, poems and songs.
Strawberry is usually shown wearing a pink tunic, green and white leggings and her trademark strawberry shaped hat.
2. Young Strawberry Shortcake:
Here is a coloring sheet of young Strawberry Shortcake wearing a shirt with a pair of jeans and a sun hat. Ask your child to use white for the dress, blue for the jeans and red for the hat. Ensure your child also colors the tiny strawberries.
Strawberry shortcake is a kind girl who is always ready to help a friend in need. She also loves her cat Custard.
Her best friends are Blueberry Muffin, Raspberry Tart, Plum Pudding, Lemon Meringue and Huckleberry Pie.
[ Read: Cupcake Coloring Pages ]
3. Strawberry Shortcake With Honey Pie Pony:
This coloring sheet features Strawberry Shortcake with her beloved pet, Honey Pie Pony.
Honey Pie Pony is a blonde colored pony with a pink flower on her head. She wears a white mask all the time.
Honey Pie Pony is a talking palomino horse who was introduced with the franchise revival.
This talkative pony likes to chat about anything and has the habit of exaggerating the truth.
Honey Pie is very picky about who can ride on her back. Strawberry Shortcake is definitely the rider of her choice.
4. Custard:
The adorable cat you see here is Custard, Strawberry Shortcake's furry and sweet pink cat.
Custard is one of the two pets introduced at the start of the franchise and is one of the few animals that can talk to humans.
He also acts as a translator of Pupcake.
Custard can be snobby and sarcastic in temperament, but is very kind hearted.
5. Strawberry With Pupcake:
This coloring sheet features Strawberry Shortcake with Pupcake, one of her pets.
Pupcake was originally owned by Huckleberry Pie, but was later given to Strawberry Shortcake.
Pupcake is a white dog with blue ear, blue tail and blue spots. He wears a blue strawberry patch over one eye.
Pupcake is extremely energetic and gets excited easily. Unlike Custard, Pupcake cannot speak to humans.
[ Read: Cherry Coloring Pages ]
6. Huckleberry Pie:
Huckleberry Pie is a friend of Strawberry Shortcake who lives in a large Huckleberry Pie-shaped cabin.
He sports a green, white sleeved tee with blue huckleberry imprinted on it and tan khakis.
Huck is a nice, cool and gentle boy who loves playing with his friends in the Strawberry Land.
He is a terrible driver and always gets his van stuck or lost.
7. Kid Huckleberry Pie:
Here is a coloring sheet of Huck as a kid. Huck is the only boy in this cartoon series.
He is great friends with everyone in the Strawberry Land and likes no one better than the other.
Huck as a kid wore a green, striped short sleeved shirt, brown jeans and red shoes. He always wore his red cap forwards.
8. Blueberry Muffin:
Here is a coloring sheet of the beautiful Blueberry Muffin.
She has been Strawberry Shortcake's friend since the beginning of the series.
Blueberry Muffin has beautiful blue hair that is held back with a blue purple stitched headband.
Blueberry Muffin loves reading books and runs Berry Bitty City's Bookstore called "Blueberry's Bookstore". She is totally obsessed with Patty Persimmon mystery novels.
Blueberry is a very intelligent girl and has a broad range of knowledge. She knows something about everything.
[ Read: Banana Coloring Pages ]
9. Baby Apple Dumplin:
This coloring sheet features baby Apple Dumplin, one of the many baby characters introduced in the vast world of Strawberry Land.
Strawberry Shortcake is very fond of Apple Dumplin and takes care of her just like her own sister.
Apple Dumplin is a smart child and is capable of taking care of herself when the situation warrants.
10. Apple Dumplin' With Strawberry:
Here is a coloring sheet of Strawberry Shortcake with Apple Dumplin.
This diagram has very fine details, which will help to improve your child's fine motor skills.
Apple Dumplin lives in a house shaped like an apple that she calls "Apple Valley".
She has bright orange hair that she ties in pigtails with white and red bows.
She wears Capri pants lined with white and yellow and a jeans jacket. She pairs the look with a yellow apple decorated hat and red shoes.
11. Raspberry Torte:
Meet Raspberry Torte, one of Strawberry Shortcake's earliest friends. She keeps a pet named Rhubarb.
In the new animation series, Raspberry Torte is introduced as a fashion designer.
She runs the Fresh Fashions Boutique, where she designs, makes and sells the merchandise.
Her pink hair is held by a green hair band.
She looks extremely chic in her green sleeved and green belted baby doll dress. Underneath this, she wears pink and white leggings and pink shoes.
[ Read: Happy Birthday Coloring Pages ]
12. Plum Puddin:
This is Plum, one of the major characters of this series.
She often wears her plum hair in ponytail that she secures with a plum clip. She wears a lilac and blue layered dress with a blue belt.
Plum Puddin is very fond of dancing. She is a great dancer and excels at teaching a variety of dance forms, especially ballet.
Plum Puddin owns Berry Bitty City's dance studio named Sweet Beats Studio.
Plum can, at times, be extremely bossy, rebellious and self-centered, but has a heart of gold. She is very competitive and always speaks of fame and glory.
13. Orange Blossom:
This is a coloring sheet of Orange Blossom dressed in her signature dress and orange boots.
This African American character has chocolate brown hair that is pinned with an orange blossom.
Orange runs a General Store in the Strawberry Land, where anyone can get everything they need.
She is an independent girl and does not like anyone's help with her work. She is very organized and is a fantastic planner.
[ Read: Cookie Monster Coloring Pages ]
14. Teenage Orange Blossom:
This coloring sheet features Orange Blossom as a kid. Orange Blossom is one of Strawberry Shortcake's friends.
As a kid, Orange was shy, kind and a caring human being who would always think of others before herself.
The coloring sheet shows Orange Blossom wearing a summer shirt, jeans and schoolchild shoes. Her long hair is braided in locks.
15. Lemon Meringue:
Lemon Meringue is one of Strawberry Shortcake's new friends whom she met on her trip to the Big Apple City. This primping beauty is a famous model in the city.
She decorates her sunshine like blonde hair with green bows and lemon shaped barrette.
She wears a yellow tunic with yellow striped leggings and yellow shoes.
Lemon owns a salon where all her friends come to get their hair done.
16. Apricot:
The cute girl you see here is Apricot, a character first introduced in 1980s franchise. She is a white haired baby with an unusual vocabulary.
Apricot lives in Big Apple City along with her pet rabbit.
She has orange wavy hair and a pink stitched cap.
She wears a pink sleeveless dress with pink dotted shirt.
[ Read: Ice Cream Coloring Pages ]
17. Cherry Jam:
Cherry Jam is one of the new characters of this series.
She is a pop star in the Berry Big City. Even Strawberry Shortcake is her big fan.
Cherry is an excellent performer, songwriter, dancer and singer. She is mostly fond of singing and playing guitar.
Cherry has dark purple hair with highlights. She wears a pink dress with purple and pink leggings.
18. Angel Cake:
Angel Cake has taken the Angel of her name a bit too seriously!
She is an over-polite girl who never misses an opportunity of saying "thank you" and "please".
Angel Cake has blonde hair, which she decorates with purple and pink bow.
She wears purple and white striped shirt with a purple vest.
Angel has a tremendous talent for cake decoration.
She is very moody and can get upset at the littlest of things.
19. Ginger Snap:
Ginger Snap was first introduced in the 2000s franchise. She keeps a chipmunk as her pet.
Ginger Snap is a 16-year old girl who has the habit of talking very fast.
She owns a massive gingerbread factory in Cookie Corners.
Ginger Snap is an expert inventor and knows every kind of cookie.
20. Rainbow Sherbet:
This is a coloring sheet of Rainbow Sherbet, one of the closest friends of Strawberry Shortcake.
She owns a pet toucan named Triple Treat.
Rainbow Sherbet wears a magenta pink and blue outfit, that she pairs with a wide brimmed hat.
It goes without saying that your little princess will enjoy filling colors in these cute characters. These coloring sheets will surely inspire creativity in small children.
These free printable strawberry shortcake coloring pages online are ideal for kids of all ages and can be used both at home and in the classroom. You can also print out these strawberry shortcake coloring sheets to make your own strawberry shortcake coloring book.
DISCLAIMER: All images found here are believed to be in the "public domain". We do not intend to infringe any legitimate intellectual right, artistic rights or copyright. All of the images displayed are of unknown origin. If you are the rightful owner of any of the pictures/wallpapers posted here, and you do not want it to be displayed or if you require a suitable credit, then please contact us and we will immediately do whatever is needed either for the image to be removed or provide credit where it is due. All the content of this site are free of charge and therefore we do not gain any financial benefit from the display or downloads of any images/wallpaper.
The following two tabs change content below.