As the mercury level is set to reach newer heights, how do you and your little one plan to beat the heat? Kids should get some respite from the heat and have fun at the same time. What better way to do that than splashing in a pool. But travelling to the club, or the community pool can be a little tiresome, especially during the summers. So, why not bring the fun home by buying the kids some inflatable pools?
Kiddie pools have come a long way since we were kids. They are no longer the buttock-bruising molded plastics in drab colors. Today, inflatable pools come in virtually all shapes and sizes and make an excellent substitute for the expensive indoor and yard pools. These pools have a cushy flooring and feature some popular pop culture designs. Moreover, some of the picks here also feature sprinklers and slides to add to the fun. Here is our list of some of the best swimming pools for kids. Check out our top choices below!
Safety Information About Kiddie Pools:
Before we proceed, here are some factors to consider while buying a safe pool:
Kiddie pools are inflatable or soft or made of hard plastic. Hard plastic pools last longer, and are manufactured using type 2 or type 4 plastics. If the pool has an arrow on the bottom side, you can safely use it for your children.
Pick a shallow pool if you have a toddler at hands. Never leave the kid unattended even in the shallowest of pools.
The pool must have a water depth of not more than three feet and a width of less than 15 feet.
The kiddie pool must lack the infiltration system, and the design must be specifically suited for children.
[ Read: Water Safety Rules For Kids ]
15 Best Kids Swimming Pools To Buy In 2019
1. INTEX Inflatable Kids Rainbow Ring Water Play Center: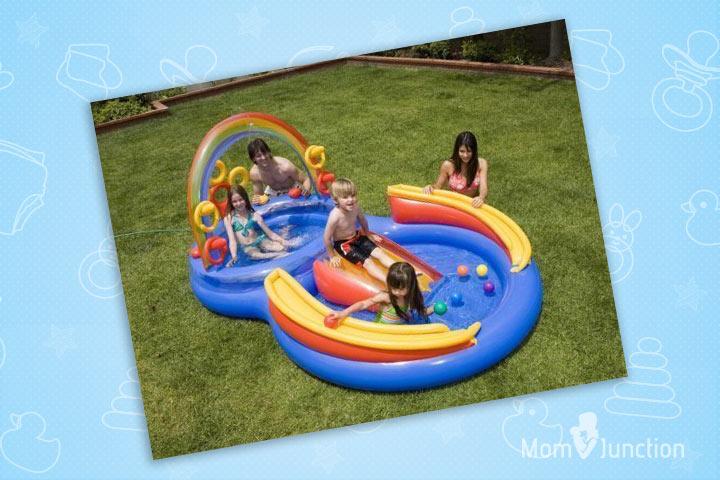 Why He Will Love It:
Intex Inflatable Pool will give 117"x76"x53" of fun to your child. The pool has loads of the activities for your kids to enjoy. He can play ring toss with any of the four inflatable rings, get sprayed by the water sprayer, play roller and ball toss game with the six plastic balls included in the pool and slid down the water slide into the pool area.
Why The Experts Love It:
The Intex Inflatable pool is rated as one of the best kids swimming pools by experts. It is designed for kids who are not ready for deeper water in the pool area. A word of caution- the pool is more than 4 inches deep and can pose a threat to toddlers who are slightly unstable.
Why We Recommend It:
To use the pool, you just have to attach a hose to the water sprayer. But before that, you need to put a little water into the pool. This inflatable swim pool for kids weighs just 15 pounds, so you can move it around anywhere you like with ease. But you have to ensure that the area you want to place the pool is free of anything that can puncture the vinyl. And in the off seasons, you can turn the pool into a ball pit for your child.


2. Manley Banzai Kids Splash Lagoon Pool: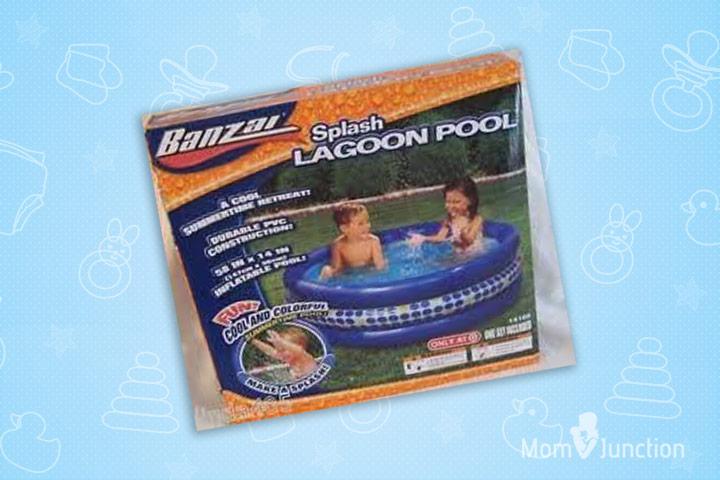 Why He Will Love It:
Transform your backyard into a lagoon paradise with Manley Banzai Kids Splash Lagoon Pool. Children can relax in the pool or slide all their way down to it to get the much-needed relief from the summer sun.
Why The Experts Love It:
The pool is constructed using durable PVC with a three-ring design. The pool has more than one air chamber, so even if it get a hole in one compartment, the rest of the pool will hold up.
Why We Recommend It:
Manley Banzai Kids Splash Lagoon Pool is a durable and spacious inflatable pool with bright and lively ocean-themed graphics. It is easy to install and will provide hours of outdoor fun to your children.


3. Intex Swim Center Pinwheel Inflatable Wading Pool: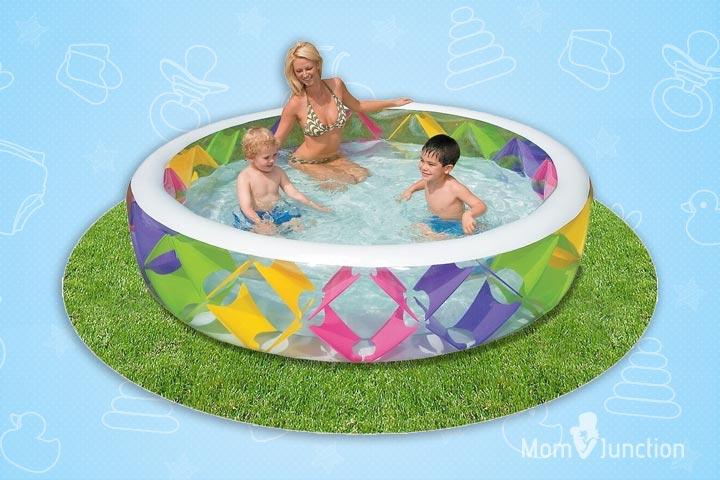 Why He Will Love It:
The Intex Swim Center Pinwheel Inflatable Wading Pool will give your kid a great place to cool off. The pool has clear edges and pinwheel patterns, making it look even more colorful and playful. And the floor is inflatable, making the pool extremely comfortable.
Why The Experts Love It:
Intex Swim Center Pinwheel Inflatable Wading Pool has a 14-gauge vinyl wall and a water capacity of 204 gallons. There's also a convenient plug for you to drain the water.
Why We Recommend It:
Made by one of the leading brands Intex, Swim Center Pinwheel Inflatable Wading Pool is great for use not just by the kids, but for the whole family. With a 90 inches diameter, even you can get into the pool, with your kids.


[ Read: Water Games Ideas For Kids ]
4. Banzai Baby Sprinkles Splish Splash Water Park Sprinkling Activity Center: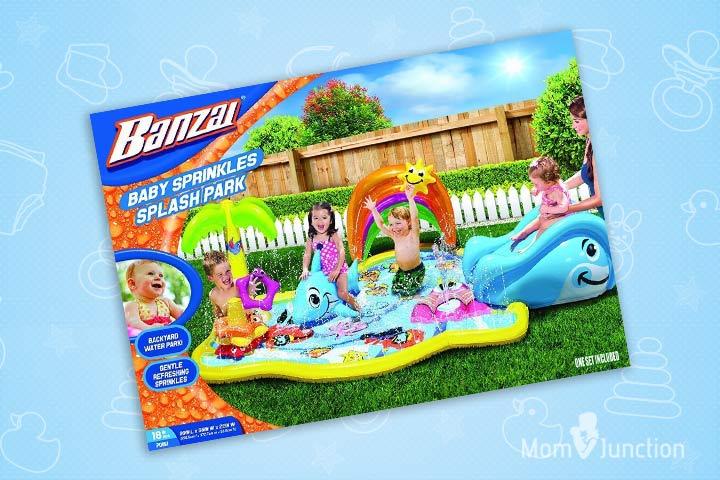 Why He Will Love It:
Bring the excitement of a water park home with Banzai Baby Sprinkles Splish Splash pool. This ocean-themed water slide for kids has everything that your child looks for in a water park- a clamshell that sprays water, a whale slide, dolphin rider activities and a starfish stacker. Besides, there's also a rainbow canopy to offer shade and relief from the sun to your child.
Why The Experts Love It:
This toddler pool is made using PVC, which makes it extremely durable. There's also a repair patch for the unplanned mishap.
Why We Recommend It:
Banzai Baby Sprinkles Splish Splash pool is an ideal product to introduce water play to toddlers. It's quick and easy set up ensures that you can set it up in 2 minutes flat. We loved the ease of use with this pool. You can easily attach it to any garden hose and begin the fun.


5. Intex Play Center Ocean 2 Swimming Pool: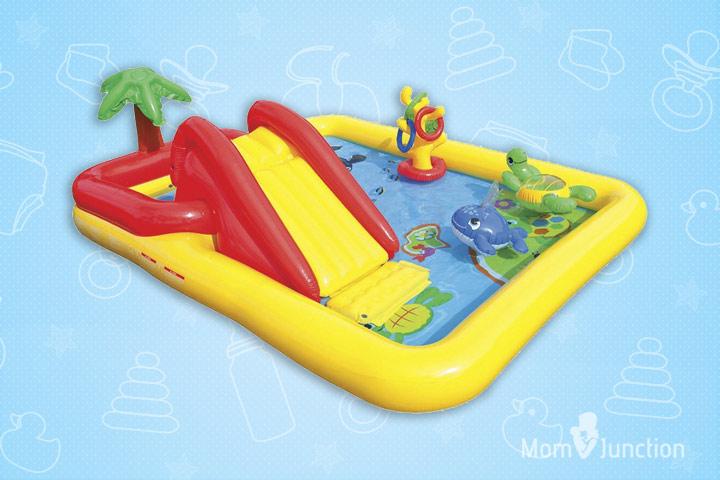 Why He Will Love It:
Bring the fun of ocean to your house with Intex Play Center Ocean 2 Swimming Pool. It's a two in one swimming pool. One is a small pool, and the other is a larger wading pool with a water slide and inflatable palm tree. So it's sure to give hours of fun and enjoyment to your child.
Why The Experts Love It:
The landing mat in this swimming pool has extra padding for both comfort and safety. And there's also a control valve that will allow the parents to adjust the water flow easily.
Why We Recommend It:
The setup of this pool is extremely easy. You just need to follow the instructions to blow up the pool, fill it with water and let the fun begin. It will make a great addition to kids' get together and summer parties.


6. Intex Pinwheel Pool: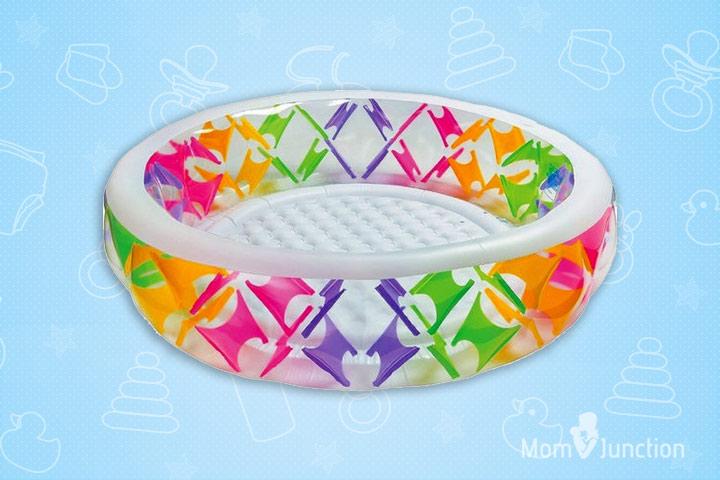 Why He Will Love It:
This 22 inches high pool, sporting a colorful pinwheel is a great product for the kids to lounge in the backyard. It's way deeper than it looks, so your kid can float, snorkel and swim in it.
Why The Experts Love It:
Its generous diameter is one of the reasons for it being a hit with the experts. And it's made from sturdy vinyl, making it highly resistance to abrasion and sunlight damage. You just need a hand or foot pump to inflate the pool to its full diameter. And it also comes with a repair patch. Could it get any better?
Why We Recommend It:
This humungous pool can hold up 311 gallons of water that you can drain by pulling the plug located at the base of the pool. Its size allows both kids and adults plenty of room to maneuver. It is deep enough to have your kid put more than just the feet. And the colorful inserts look stunning.


7. Intex Sun Shade Inflatable Pool: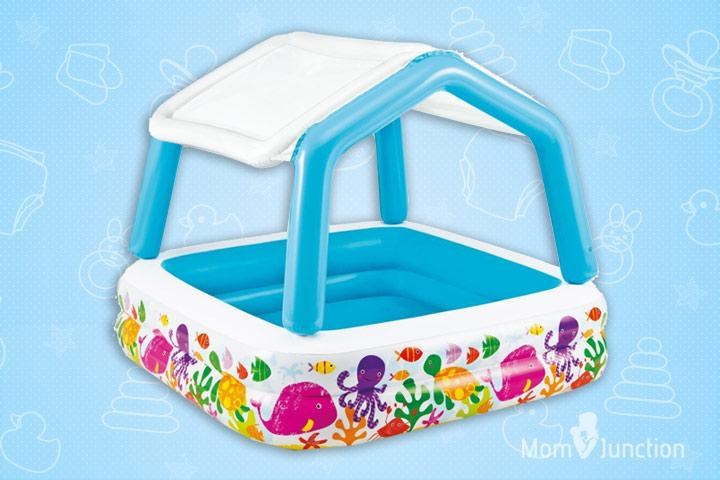 Why He Will Love It:
Another beauty from Intex! This pool with a sun canopy will give shade to your child while he splashes in the pool. The fish motifs on the sides will appeal greatly to the kids. And the tent-like effect will also kick them out.
Why The Experts Love It:
Intex has given a paramount importance to comfort while making this pool. The extra sidewalls add to the convenience. The is one of the most durable kiddie pool too! This kids' inflatable pool made of heavy duty ten gauge vinyl. This pool cum play center features a built-in sprayer that you can plug into a standard garden hose. And just like most of the Intex pools, even this one has a repair patch included.
Why We Recommend It:
The design of this pool makes it very popular with the parents, and we're quite confident that you'll like it too! This colorful pool appears more like a canoe filled with water and covered with shade. If you don't like the shade, you can easily remove it with the Velcro attachments. Plus, the pool itself is deep and won't take your the entire backyard. This pool is best suited for kids aged 3 to 4.
[ Read: Summer Water Activities For Kids ]

8. Swim Ways 60" Spring Pool: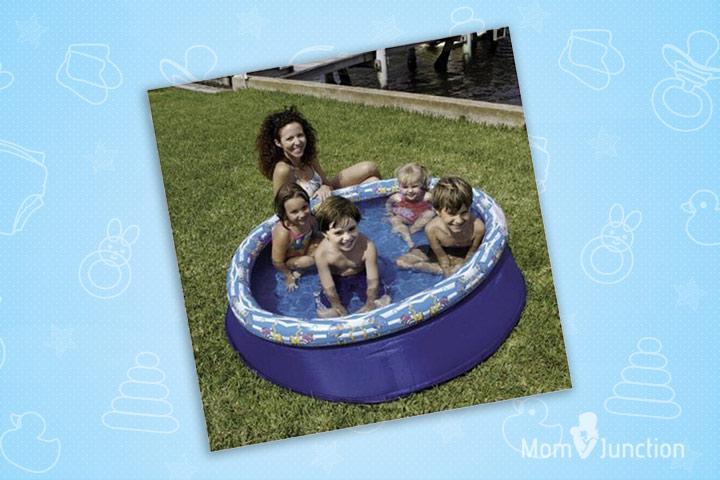 Why He Will Love It:
Swim Ways 60" Spring Pool is perfect for kids who want to enjoy summer to its fullest. They will love the Flood Force Triton water blaster that shoots up to 15 feet. It's small yet powerful enough to give your child a real swimming pool kind of experience. The pool can accommodate minimum five kids, so your child can get into the pool with his friends too!
Why The Experts Love It:
Experts love the hydrodynamic design of this pool. The pool can be folded up handily into a slim bundle that you can tuck into a mesh carrying bag. Another noteworthy feature is that just the top ring requires inflation, and you don't even need a pump for it. Just 2 minutes of mouth-to-valve blowing will make it ready for the water. But the users need to inflate the pool nearly full before venturing in as the soft sides won't support the inflated rim.
Why We Recommend It:
If you want value for money kiddie pool, and don't mind if it's a little less flashy, you can go for the Swim Way Spring Pool. But make sure your child does not sit on the sides as it can collapse.


9. Intex Easy Set Pool Set: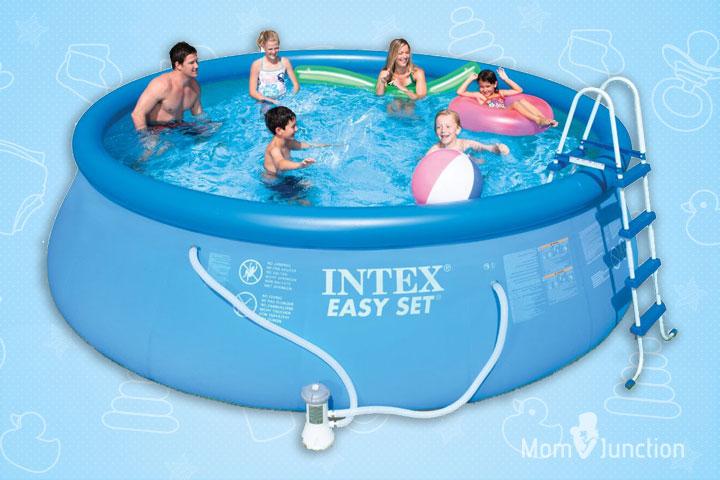 Why He Will Love It:
It's a huge pool. Isn't this reason enough for your child to like it? The pool is big enough for two large floats, and there's still room for the third person to swim a bit. So you and your kids will get hours of good and clean fun all summer long.
Why The Experts Love It:
This is one heck of a sturdy pool. It has tough, 30 gauge sidewalls made with three separate layers of material for extra durability and strength. The additional two layers of the heavy-gauge PVC are also laminated to a layer of polyester mesh, which gives it an extra reinforcement. There is also a drain plug that accepts a hose to drain water from the pool area.
Why We Recommend It:
Want a pool in a tight location? Then buy Intex Easy Pool Set without a second thought. It's the best investment for family fun! The pool includes a set-up DVD, which will help you install the pool. And you don't need any extra tool for the setup. Everything is included in the pool, along with the filtration pump. Ladder, ground cloth, and water filter cartridge.


10. Intex Snorkel Buddies Snapset Pool: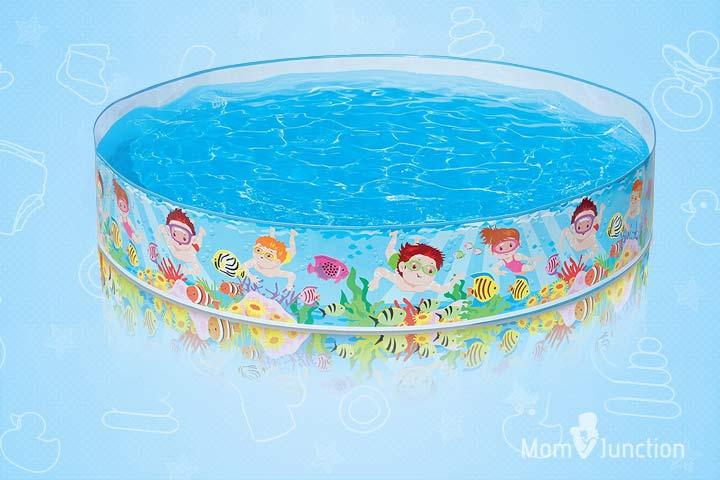 Why He Will Love It:
The pool is of the right depth for young children to sit and play for a long time without the water getting too high while splashing. The blue color of the bottom gives it a cool appeal.
Why The Experts Love It:
The pool has soft edges and bottom, both of which provide insulation if the child trips and falls. The soft bottom also makes it more comfortable for a kid to stomp in water.
Why We Recommend It:
A comfortable pool for your kids to sit longer during the hot months. It comes with a spare repair patch to fix any damage that may occur over the course of usage.


11. Intex Swim Center Summer Colors Pool: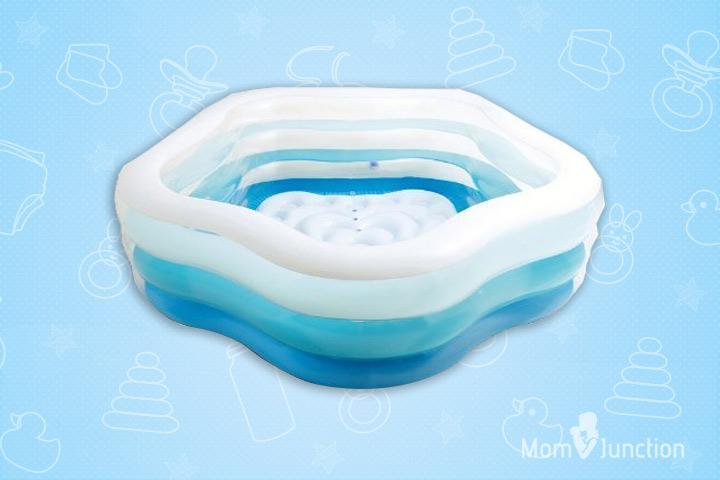 Why He Will Love It:
The bright and vibrant colors of this pool make it look very inviting. Your kiddos can jump, land and splash around without hurting themselves. And even the sides are robust enough for them to lean against. It has a cushioned bottom, so kids can spend hours just sitting in there. Yes, it's THAT comfortable.
Why The Experts Love It:
This pool will be the sleeper hit of the summer. It has padded floor and stacked rings, which will make swimming enjoyable and fun for kids. The separate layers make the pool extremely sturdy, which for long, has been a weak spot in most of the inflatable pool. But it's Intex, and you know that you can never go wrong with it, at least with this one.
Why We Recommend It:
Intex Swim Center Summer Colors Pool is deep enough for a 4-year-old boy to float and splash. Adults or larger people might feel the squeeze. The pool can handle three kids or one kid and one adult. And the soft, pentagonal flower shape and bright colors of this pool will add a dash of color to your backyard


12. Banzai Spray and Splash Giraffe Pool: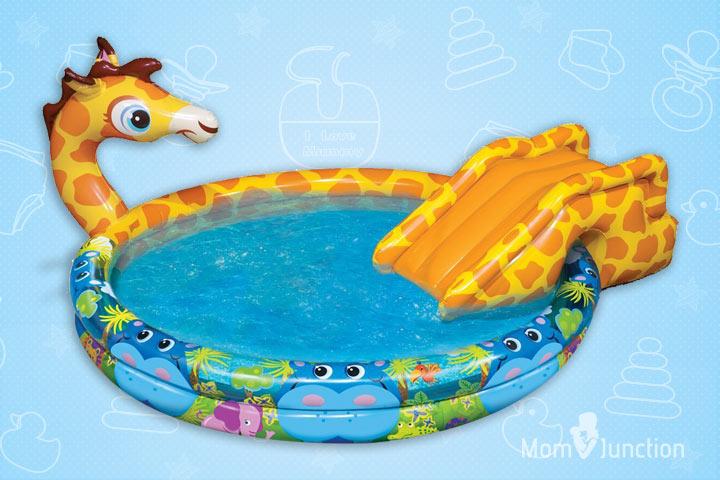 Why He Will Love It:
Kids are sure to be captivated by the design of this pool. It looks like a giraffe cooling itself in the pool. The giraffe squirts water from its mouth, making swimming, even more, fun and refreshing for toddlers.
Why The Experts Love It:
Designed for younger children, Banzai Spray, and Splash Giraffe Pool is a durable, two ring construction style pool, complete with a slide. This water slide is 10-inches deep and 60 inches in diameter and is ideal for kids aged three and above. The refreshing, continuous sprinkling action is another plus point.
Why We Recommend It:
Banzai Spray and Splash Giraffe Pool has a pool, slide, and sprinkler for a 3-in-1 fun. But if you want, you can even remove the slide for an uninterrupted fun. Besides, the pool is quite easy to blow up and holds the water and air well.


[ Read: Water Facts For Kids ]
13. Intex Sea Turtle Shade Inflatable Baby Pool: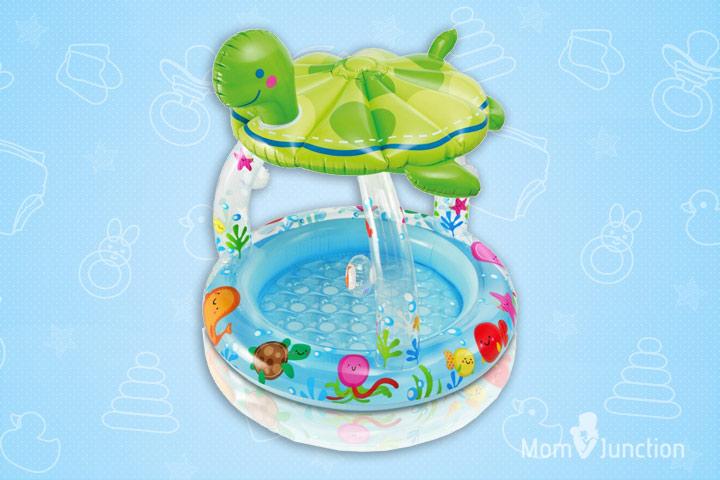 Why He Will Love It:
Your toddler will have a great pool time with the Sea Turtle Shade Inflatable baby pool. It has a built-in sunshade, which will provide partial protection from the sunlight. And it has a soft and inflatable floor, which will give him extra comfort and safety while playing.
Why The Experts Love It:
Sea Turtle Shade Inflatable baby pool is designed to bring the affordable fun home. This adorable pool with an inflated size of 40"X42" can hold a water capacity of 12 gallons. Set up is easy too! You just have to unroll the pool, hold it with a blower, inflate it and attach to a garden house.
Why We Recommend It:
We recommend it for its lightweight, compact and durable design. You can fill it with water toys and balls for them to play while swimming. And the sides are not very high, so your tot can move in and out of the pool with ease. And the soft, inflatable sides will cushion your child if he happens to slip. Note- dry the pool thoroughly before storing it.


14. Balance Living Inflatable Frog Animal Pool Toy/Tub: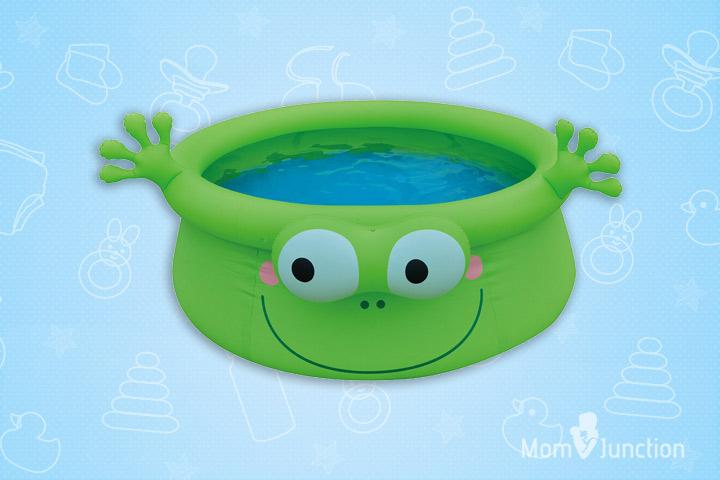 Why He Will Love It:
Keep your toddler cool all summer long with this Balance Living Inflatable Frog Animal Pool Toy cum Tub, your little one will enjoy splashing water in this bright and friendly frog shaped tub.
Why The Experts Love It:
This 69" diameter pool has a capacity of 302-gallon water. The best part is that it contains no harmful phthalates and other dangerous substance. And even the built of this tub is superb. It will easily last through the summers and even beyond.
Why We Recommend It:
The compact design of this tub makes this pool a huge hit with mommies. You can inflate or deflate the pool using any ordinary pump and store it away until the season arrives. It will also make a nice gift for your friends' children.


15. Intex Sandy Shark Spray Pool:
Why He Will Love It:
This action-packed and cool looking pool has a refreshing sprinkler spout that sprays water as the children play thus making the pool time a lot more fun.
Why The Experts Love It:
The design is appealing to kids and the functionality is good too. The spray nozzle attaches to any standard garden hose, which means you will have a constant spray of water.
Why We Recommend It:
If you are looking for the right combination of good design, functionality, and fun appeal, then you may consider this portable swimming pool.
We've covered a few accessories as well:
1. Intex Easy Set 10-Foot Round Pool Cover: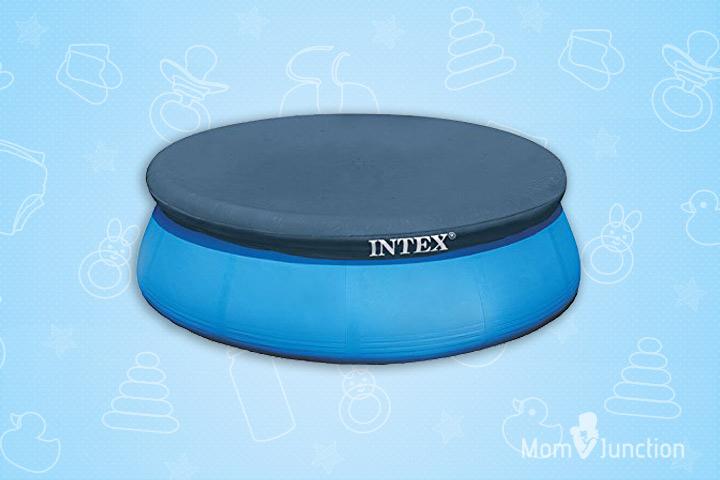 Here's an easy to use, durable, compact and round, pool cover. Made with lightweight material, this cover will fit snugly over the edge of your kiddo pool. The drain holes in the cover will prevent water accumulation. This cover would fit pools with 10 feet diameter.


2. Classic Guard Swimming Pool Fence Child Safety Pool Safety Mesh Fence: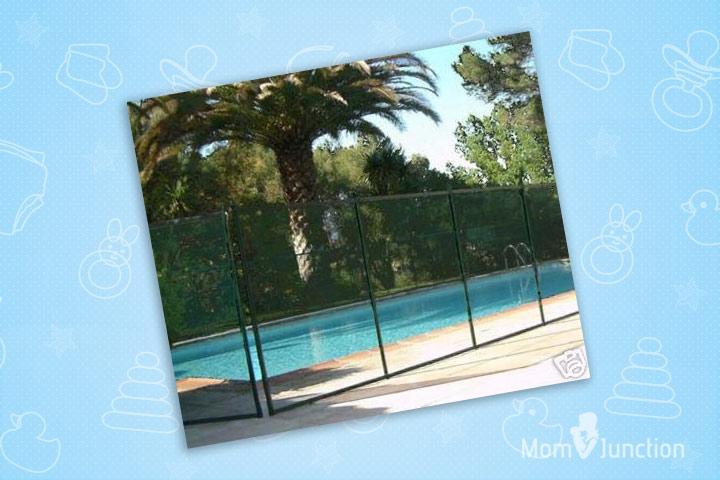 Made with durable material, this tear resistant fence, bordered on all sides by a lining will prevent fraying. Constructed of aluminum poles coated with black power, this child proof fence for pool is sure to hold up against all the elements. Installation can be a bit of work as all the poles are one inch thick in diameter, so you'll to drill the holes for proper installation.


3. Poolguard PGRM-2 In-Ground Pool Alarm: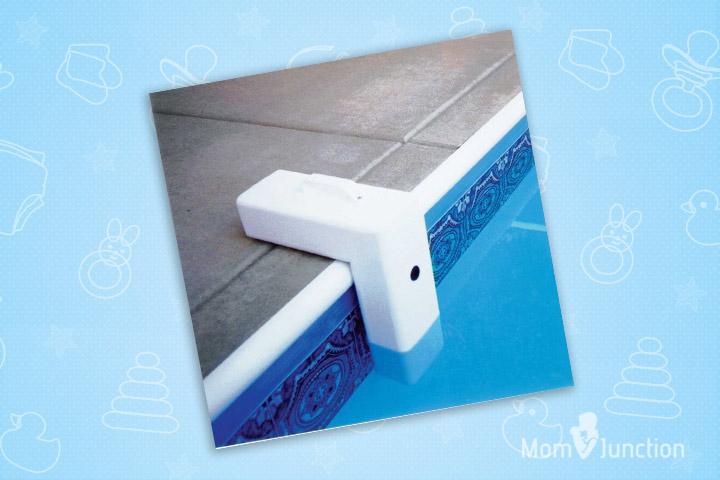 Poolguard PGRM-2 In-Ground Pool Alarm comes with an in-house remote receiver with a range of 200 feet. The sensing technology of this pool guard gives less chance of false alarm, due to the wind, rain or small toys or objects entering the pool. Once you install this pool guard alarm, it cannot be activated. Just remove the pool guard from the pool and it's ready for use again.


We'd suggest you to invest in a high quality motorized pump if you don't own one. And empty the water after each use. You wouldn't want your kids pool to be the breeding ground for mosquitoes. So which of these kiddie pools would you buy for your children? Share your choice with us by commenting below!
Recommended Articles:
Disclaimer: MomJunction may earn a commission when products are purchased through affiliate links given in the article. However, this partnership does not influence the editorial content featuring in our list.
The following two tabs change content below.