Are you in your third trimester? Is your big day just a few weeks away?
Once your baby arrives, you will barely find time for yourself. You may spend the precious little free time you have catching up on sleep. So why not plan and be clear with few essential things to do before you give birth? Read on to find out the things you can do to prepare for the grand arrival of the little bundle of joy in your life.
You can never do enough when it comes to listing out baby things to buy before birth. It will be difficult for you to do much later with the baby in your arms. Therefore, try and do as much as you can before the big day.
Take a look at the 10 essential things to do before giving birth below to make a handy plan of action for yourself:
1. Spring-Clean Your House:

You would want to welcome your baby in a clean and beautiful home. However, it may be a little difficult for you to clean the house yourself. You can do small tasks like sorting your wardrobe, tidying the nursery and washing the toys for your baby and cleaning the kitchen. Ask your partner to help you by arranging his wardrobe and tending to the garden or yard. Remember to get the carpet cleaned as well. Go for a professional cleaner if you want to give your home a neat makeover.
2. Baby Proof The House:

Baby proofing the house is a big task. You need to cover all electrical points and fit staircases with gates. You may choose to redo the carpeting or bedding. Make sure the dangerous things in the house are not accessible to your baby.
[ Read: What To Include In A Birth Plan ]
3. Shop For Essentials:

You may feel you will have enough time later, but it is always a good idea to begin shopping for your baby once you hit the third trimester. Select things like baby cot, baby bottles and breast pumps, baby bottle sterilizer, baby clothes, baby bedding, toys, bath accessories and the like. You may not buy everything right away, but having a look will ensure your partner can pick them up later in case you can't go again. You may also want to shop for some comfortable maternity wear for yourself.
4. Find A Good Pediatrician:

If you have an older child, you already have a pediatrician. For a first baby, ask your friends and family if they can recommend any good pediatrician. Ask your gynecologist, as she may also be able to refer someone. Ideally, your baby's pediatrician should be easily available.
5. Clean Those Baby Clothes:

Newborns have very sensitive skin. It is always a good idea to pre-wash newborn clothes as it rules out skin issues. Wash the clothes in baby detergent and then rinse them with water, adding a few drops of antiseptic liquid. Dry them out in the sun.
[ Read: Things I Wish I Knew Before I Had A Baby ]
6. Pack Your Bags:

Pack up for yourself and your baby too! Once you hit the third trimester, your baby can arrive anytime. Pack your hospital clothes, undergarments, nursing bras, nursing cloak, toothbrush and toothpaste, comb, a pair of socks, hair tie and any other things you may need at the hospital. Pack a few sets of baby clothes, infant diapers, baby wipes, baby wraps and other items your baby may need in the hospital.
7. Get An Infant Car Seat:

It is extremely important that you place your newborn in the infant car seat when coming home. Most hospitals do not discharge the newborn unless there is one in your car. Visit a good store and see which seat will work best in your car. Remember, the safest seat for your infant is the middle seat at the back. Place the infant seat facing the rear.
8. Make A Baby Info Folder:
Make a folder that can hold all your baby's birth information records and important contact numbers of doctors. Store your baby's vaccination records and schedules in the folder along with any other prescriptions or records.
9. Pamper Yourself:

Go all out and get a nice foot spa or pedicure. Indulge in some nice beauty treatments that will relax and rejuvenate you for your big day! Shop around for little goodies that you can keep with you once the baby arrives.
[ Read: Things To Do Before Baby Arrives ]
10. Spend Some Couple-Time:

Once your baby arrives, you will hardly get any couple-time. Invest in some uninterrupted cozy moments with your partner. Watch a movie, eat breakfast in bed, indulge in some warm bathtub time, have a candlelight dinner or take a relaxing stroll at the beach.
Hope you will practice these 10 things to do before giving birth. Waiting for your baby can be quite stressful, especially when the due date is around the corner. Distract yourself by preparing your home for the joyful arrival! Catching up on much-needed slumber is also a great idea!
If you are expecting a baby soon, tell us what is your list of things to prepare before giving birth.
Recommended Articles:
The following two tabs change content below.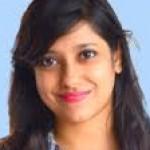 Latest posts by Debolina Raja (see all)