You may often wonder if you should introduce ice cream for babies. Ice cream can be as tempting for babies as they are for adults. Everyone loves ice creams, and it is difficult to stop ourselves from having them. However, considering the ingredients that go into store-bought ice cream, parents are often apprehensive about introducing them to their babies.
Read this post as we discuss the right age to start eating ice cream, the ingredients you should avoid, tips to follow when introducing ice creams to babies, and some simple recipes to make delicious ice creams at home for your babies.
When Can Babies Have Ice Cream?
Babies can have ice cream after the age of 12 months, as it is a dairy product. Though it is made from whole milk and cream, pasteurized to remove bacteria, babies can still be sensitive to milk proteins, minerals, and other ingredients in it (1).
According to the Australian Guide to Healthy Eating, discretionary foods and drinks such as ice cream and other ice confections should be avoided for babies as they are poor sources of nutrients (2). However, you can introduce ice-creams in moderation after consulting with a pediatrician and give them occasionally to the baby.
3 Reasons To Avoid Ice Cream For Babies Below One Year
The first 12 months are crucial for your baby as you introduce nutritious food, and build a taste for healthy foods. Therefore, the first 12-month period is too early to feed your baby ice cream. Here are a few reasons why you should avoid ice cream during this time:
1. Preservatives
Almost all the ice creams in the market contain preservatives, fat, sugar, artificial ingredients, and food coloring (3). So, it is worth a wait until your baby's first birthday.
2. Whole milk
Ice cream is made using milk. Your baby could have sensitivity to whole milk and cream (4). If the baby is exclusively breastfed, he or she is not exposed to cow milk. The baby may have lactose intolerance too.
3. Digestion issues
The whole milk and other ingredients in the ice cream may be hard for a baby to digest. The ice cream can lead to gas buildup and chronic pain in the stomach, or colic issues.
Next, we tell you how to introduce ice cream to your baby.
4 Tips To Introduce Ice Cream For Babies
Talk to your pediatrician before giving your baby an ice cream for the first time. Here are a few points to remember:
1. Say 'no' to street vendors
Most commercial ice creams are heat pasteurized to kill the bacteria but be careful from where you are buying it. Never buy ice cream from a street vendor because you can never be sure about the sanitary and storage conditions at such places.
Bacteria might build up in improper storage conditions. The water used by the local ice cream vendors may not be of the best quality. Poor water quality and contaminated milk could lead to gastrointestinal infections in the little one.
2. Be sure about the ingredients
Read the ingredient list carefully before offering ice cream to your little one. Certain ingredients could cause allergic reactions. Some common ingredients in ice cream, which could be allergic, are nuts, peanuts, strawberries, and coloring agents. Avoid ice creams made of raw milk as it can carry bacteria (5).
Choose a simpler ice cream without too many additional ingredients.
3. Do not overdo
Start with small bites. After introducing an ice cream, do not overfeed just because your little one is enjoying it. The sugar content can be harmful to your baby as too much of it could lead to potential tooth decay, and overweight in the long run.
Offer just a spoon or two at a time and not more than once in a week or two.
4. Offer alternatives
If your baby loves ice cream, you can feed them desserts such as homemade fruit smoothies, flavored yogurt, fruit custard, fresh fruit slices, chilled fruit purees, natural fruit sorbets, and sweets. Chill them just before serving to give them the feel of ice cream. Exposure to the cold ice cream can damage the pharynx mucosa and abrasions in the pharynx can lead to pharyngitis.
Avoid giving ice cream in the cold weather or if the baby is sneezing or has a runny nose. Sweet flavored ice creams and those without nuts are better.
Simple Baby Ice Cream Recipes
Homemade ice creams for babies are safer than the commercial ones. You can be sure of the ingredients used in it so that the little one doesn't have any allergies.
1. Homemade baby vanilla ice cream recipe (12+ months)
Preparation time: 5 minutes + freezing time
You will need:
1 ripe banana (peeled)
5 strawberries (hulled, cut)
1 hass avocado (pitted)
1/3 cup coconut milk (unsweetened)
1tsp coconut oil
1tsp vanilla extract (optional)
How to:
Add all the ingredients to a blender and puree.
Transfer it to a container and freeze for an hour. After removing from the freezer, stir well.
Place it back into the freezer. Continue the process until it reaches the desired consistency.
Note: Substitute strawberries with some other fruit like mango, if your baby has not tried it earlier or is allergic to the fruit. You can make a straight banana version too.
You may even use other ingredients to make the ice cream nutritious. Try some veggies, which have a sweet flavor and texture when cooked, like mashed sweet potato, boiled carrots, and sweet corn.
2. Banana ice cream
Preparation time: 5 minutes+ freezing time
You will need:
1 ripe, frozen banana
1tsp cocoa powder
How to:
Throw the frozen banana in a blender, add cocoa powder and run.
Adding a scoop of almond butter or peanut butter would make it a healthy snack.
Note: Frozen banana is perfect for soothing a teething baby's sore or tender gums.
3. Vanilla frozen yogurt ice cream
Preparation time: 5 hours 5 minutes
You will need:
3 cup Greek yogurt
2/3 cup brown sugar
1tsp vanilla extract
How to:
Mix sugar, yogurt, and vanilla extract in a bowl. Cover it with a lid and refrigerate.
Pour the chilled mix into an ice cream maker and freeze again until it reaches the soft-serve consistency.
Transfer to a plastic container, cover with plastic wrap.
4. Chocolate ice cream
Preparation time: 20 minutes
You will need:
½ cup unsweetened cocoa powder
¼ cup brown sugar
½ cup sugar
¾ cup cream milk
1 ½ cup cream
1 ½ tsp vanilla extract
a pinch of salt
How to:
Mix cocoa and sugars in a bowl. Gently add milk and continue mixing for five minutes.
Add cream, vanilla extract and salt to the mix and stir well.
Transfer the mixture into ice cream maker and churn for 20 minutes.
Freeze until hard.
On a hot sunny day, you may be tempted to feed ice cream to your baby. But ice cream for babies may not be as harmless as they are for adults. Babies' immune system is still in the developing stage, and hence they may be sensitive to different ingredients present in the ice creams. Before introducing them to your baby, wait until they are 12 months old and consult your child's doctor about feeding the right quantity. Furthermore, instead of buying store-bought ice cream, you can try a variety of nutritious homemade ice cream recipes for your baby.
References:
MomJunction's articles are written after analyzing the research works of expert authors and institutions. Our references consist of resources established by authorities in their respective fields. You can learn more about the authenticity of the information we present in our
editorial policy
.
The following two tabs change content below.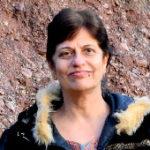 Dr. Mubina Agboatwalla
(MBBS, DCH, MCPS)
Dr. Mubina Agboatwalla is a well-known pediatrician, practicing paediatrics since the last 20 years in Karachi Pakistan. She is the head of the department of Pediatrics in Karachi Liaquat Hospital, as well as her private practice in three specialist clinics in Pediatrics. She is also a Public Health Specialist specializing in preventive health including nutrition, breastfeeding and infectious diseases especially...
more

Dr. Ritika Shah is a dental surgeon with more than seven years of clinical experience across various cities in India. During her clinical practice, pediatric dentistry was her particular area of interest, and she constantly thrived to inculcate the latest advancements in the field of dentistry into her practice. She also holds a certificate in lactation counselling from iNational Health...
more