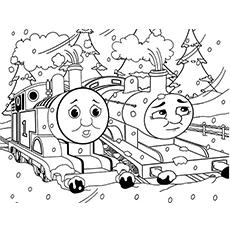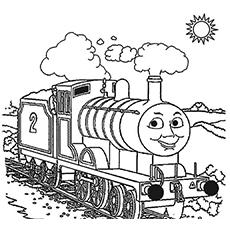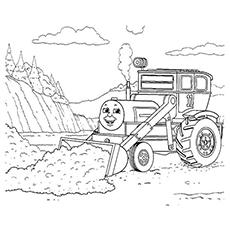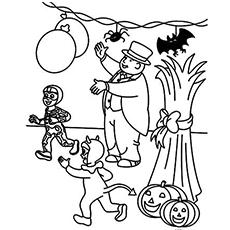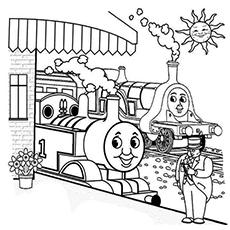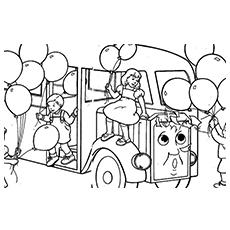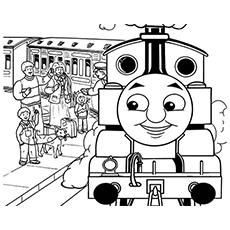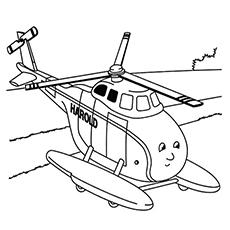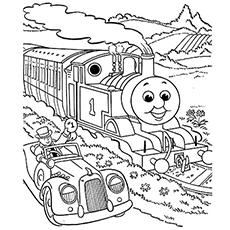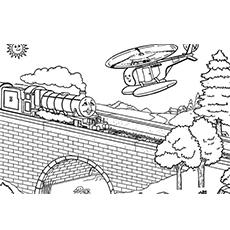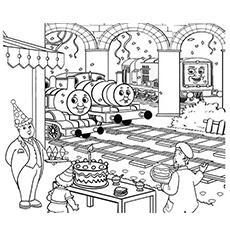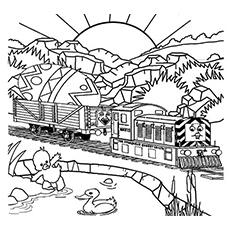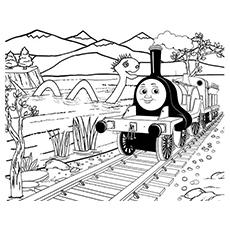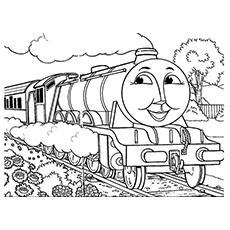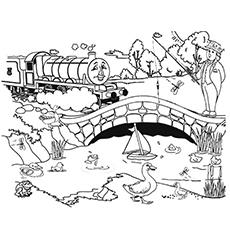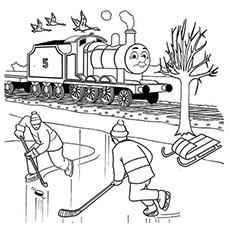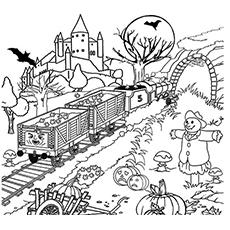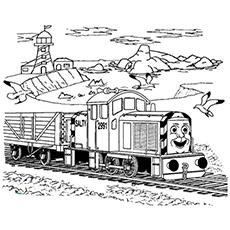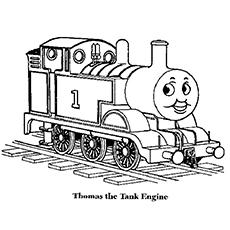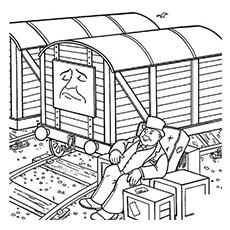 Recommended Articles:
Thomas the Train is an award-winning and much beloved children's television cartoon series based on a book named "The Railway Series". The book is written by Reverend Wilbert Awdry, who was extremely passionate about trains and wanted to share his love with his son.
Top 20 Thomas The Train Coloring Pages For Kids
Thomas the train engine and his friends have successfully chugged their way into the hearts of millions of kids. Their coloring pages are very popular with kids of all ages. Here are 20 Thomas the train coloring sheets for your kids.
1. Thomas:
Thomas is the most popular and the titular character of the series. He works on the main line with Henry, Gordon and Bear.
It is a cheeky and fussy engine who often gets into scraps for his eagerness to do things done best by bigger and more sensible engines.
Thomas is a hard working engine who is extremely proud to run his own branch line of steam engines.
Thomas is a blue and red engine with number 1 painted on his tank sides. He is also seen sometimes carrying the two builder plates on the sides of his cab.
2. Gordon:
Gordon is the fastest and most powerful engine on the Island of Sodor.
He is a member of Steam team that includes Henry, Toby, Edwards, Thomas, James and Percy.
Gordon is a good-hearted engine that uses his superior strength to help the other engines come out of trouble.
Gordon is a blue and red colored locomotive with number "4" painted on his each side.
[ Read: Hot Wheels Coloring Pages ]
3. Percy:
Percy is the saddle tank engine and a junior member of Sir Topham Hatt's railway line.
He is a cheeky engine who is always looking to trick and tease the other engines, especially Gordon and James. This often gets him into trouble.
Percy is a green engine with number "6" painted on his bunker sides.
4. Arthur:
Arthur is an LMS Ivatt tank engine designed for use on the London Midland & Scottish Railway.
It is a kind and helpful engine who is famous for his spotless record. The other engines look up to him as a role model.
This huge tank has the responsibility of pulling the freight.
Arthur is a burgundy colored tank engine with golden stripes.
[ Read: Cars Coloring Pages ]
5. Toby:
Toby is an old-fashioned looking tram engine who works on the Quarry line with Henrietta, his faithful coach. His main job is to take stone wagons to and from the Quarry.
He usually works on the Farquhar branch with Thomas, James and Edward.
This old and wise engine is always willing to share his experience and knowledge with other engines.
He is a square, brown and gray engine with cowcatcher and side plates. He has number "7" painted on his sides.
6. Emily:
Emily is the newest member of the Steam Team. She is modeled after the Stirling. This huge tank is famous for her spotless record.
Emily is a beautiful emerald green engine with gleaming brass fittings and shiny paintwork.
She is a kindhearted engine and acts as an elderly sister to smaller engines like Percy and Thomas.
She is also a little bossy by nature and thinks that whatever she knows is the best.
[ Read: Muscle Car Coloring Pages ]
7. Sir Topham Hatt:
Sir Topham Hatt, also known as the Fat Controller, is the director of the North Western Railway.
It is his duty to make sure that the engines are always on time.
He also restores order on the railways when the other engines misbehave.
8. Edward:
Edward is the mixed traffic engine who works on his own branch with BoCo and Douglas. He has his own set of bogies that are used for passenger services.
Edward is the oldest and wisest engine of the lot and is good friends with everyone.
Most of the engines find themselves indebted to Edward's knowledge and sharp skills.
Edward is a blue colored engine with red stripes and number "2" painted on his tender.
He also carries two builder plates on the sides of his cab in the Railway Series.
[ Read: Clown Coloring Pages ]
9. James:
James is a mixed traffic engine who pulls coaches and trucks.
He is a powerful engine and pulls the Express when Gordon is not around.
He often brags about his splendid looks to the other engines.
James is a medium sized red engine with fine scarlet coat and brass dome.
He has number "5' painted on his tender sides in bright yellow.
10. Henry:
Henry is one of the first engines to appear in "The Railway Series" books.
He is a long and fast engine modeled on the Stainer 4-6-0 Class 5 engine.
Henry is a green engine with red stripes. He was briefly painted orange and red before his standard green coat.
He works on the main line and pulls trucks and coaches. He is the number 3 engine on the Island of Sodor.
[ Read: Family Coloring Pages ]
11. Salty:
Salty is the battered old diesel working at the Brendam docks with other truck engines.
He is a hard working engine who enjoys telling stories and roaming around the sea.
He is one of the few engines who have never had any quarrels with the other steam engines.
Salty is in painted crimson red with light red stripes and carries the number 2991.
12. Duck:
Duck is a Great Western pannier tank engine that runs his own branch line with Oliver.
He has also two coaches called Alice and Mirabel.
Duck is painted green in color with yellow lining and black wheels. It also has letters GWR on his pannier tanks.
Duck is usually cheerful and jolly, but cannot tolerate when the larger engines try to order him.
[ Read: Sports Car Coloring Pages ]
13. Bertie:
Bertie is a small red bus who works near the Thomas' Branch Line.
She is a friendly bus who is always ready to help the other engines.
Bertie lives at a bus depot along with the other buses.
She is best known for his famous race with Thomas.
Bertie is one of the closest friends of Thomas the engine.
She also came to rescue Thomas' passenger when they were stuck in a snowdrift.
Bertie is a red painted bus with black wheel arches.
14. Spencer:
Spencer is a sleek and fast, private engine of the wealthy Duke and Duchess of Boxford.
He lives on the Mainland, but keeps visiting Sodor Island for private purposes.
Spencer is disliked by the other engines for his arrogance. He considers himself too important to move freight.
Spencer is the sleekest engine on Sodor Island.
He was originally painted light gray and black, but was later changed to metallic silver.
[ Read: House Coloring Pages ]
15. Donald and Douglas:
Donald and Douglas are twin Scottish tender engine in this cartoon series.
They came together from Scotland when the Sir Topham Hatt had ordered for only one goods engine, as they hate being parted.
The engines are painted black and have their nameplates written in gold. Donald is number 9 and Douglas number 10.
Donald and Douglas love making practical jokes on each other, but get very serious when it comes to the topic of scrapping.
16. Oliver the Excavator:
Olive the Excavator is the kind hearted member of the Sodor Construction Company.
Oliver totally loves digging and demolishing.
He is capable of switching between different tools including a chisel, scissor, wreaking balls and bucket.
He is a well-mannered and hardworking machine, who never complains about his work.
Oliver is a brown colored excavator with a green panel on his back.
[ Read: Music Coloring Pages ]
17. Bill and Ben:
Bill and Ben are the twin tank engines working for the Sodor China Clay Company.
They are modeled after two 0-4-0 Saddle Tank Engines built by Bagnall's of Stafford.
These twin engines are identical in several ways, including their appearance and nature.
Bill and Ben are amber colored engines with four black wheels. Both the engines have their names written to their sides over brown nameplates.
18. Fergus:
Fergus is a traction engine used for shunting trucks at the Cement Works.
He is known as "The Pride of the Cement Works".
He is a serious engine who is always mindful of the rules and regulation and makes sure that the other engines obey also them.
Fergus is a royal blue engine with red wheels. He is easily identified by his flywheel that is used to provide power to saw, drills and pumps.
[ Read: Seashell Coloring Pages ]
19. Harold:
Harold is the only helicopter on the Island of Sodor.
He is based on a Sikorsky S-55 helicopter.
He is a member of Sodor Search and Rescue Team.
He hovers above the roadways and rails of Sodor, keeping a watchful eye in case of trouble and emergency.
Harold is a white helicopter with red lining and black rotors. His name Harold appears on the side of his body in red.
20. S.C. Ruffey:
S.C. Ruffey is an old and experienced ballast wagon and the ringleader of the Troublesome Trucks.
He is a mischievous truck engine who enjoys leading other trucks in singing rude songs.
S.C. Ruffey is a gray colored vehicle with "S. C. RUFFEY and Co. Ballast Contractors-Tidmouth-Sodor" painted on both sides of the tank.
[ Read: Four Leaf Clover Coloring Pages ]
We hope your child enjoys coloring these "Thomas the Train" characters. These free printable Thomas the train coloring pages will inspire the imagination of your kids while teaching them a lesson of cooperation, friendship and exploration.
If your child loves this endearing show, do share with us his favorite thomas train coloring pages online! Take print out and download these pages and surprise your kid by gifting them own Thomas the train coloring book today!
DISCLAIMER: All images found here are believed to be in the "public domain". We do not intend to infringe any legitimate intellectual right, artistic rights or copyright. All of the images displayed are of unknown origin. If you are the rightful owner of any of the pictures/wallpapers posted here, and you do not want it to be displayed or if you require a suitable credit, then please contact us and we will immediately do whatever is needed either for the image to be removed or provide credit where it is due. All the content of this site are free of charge and therefore we do not gain any financial benefit from the display or downloads of any images/wallpaper.
The following two tabs change content below.