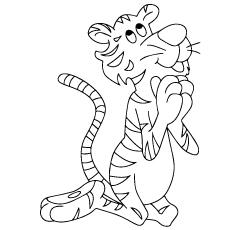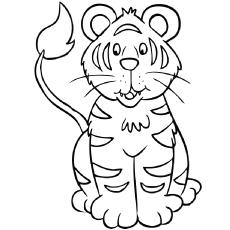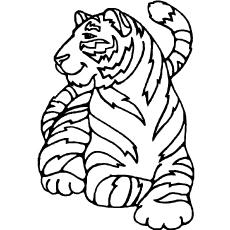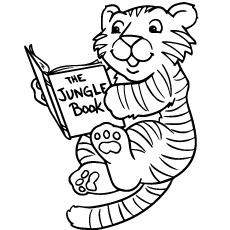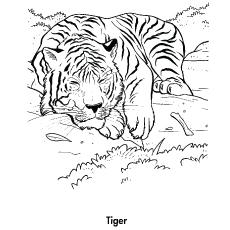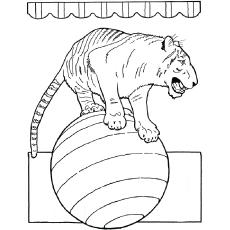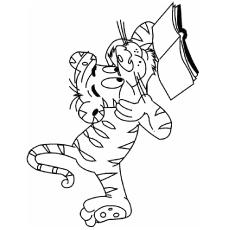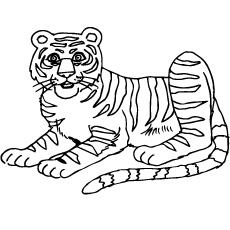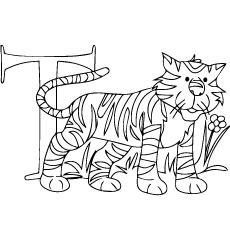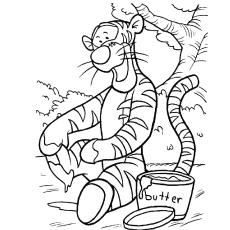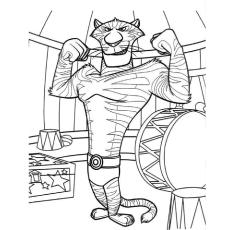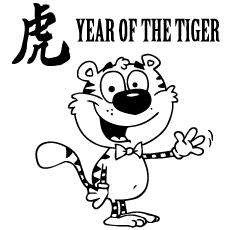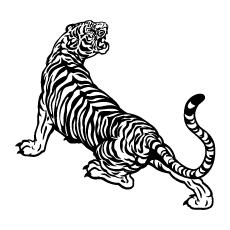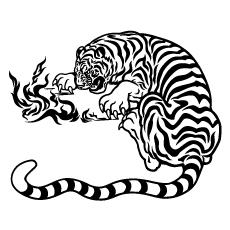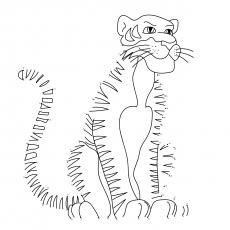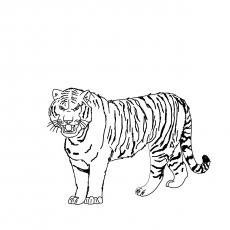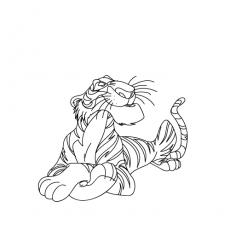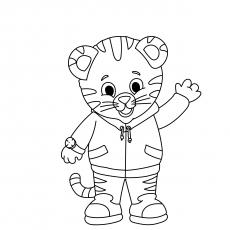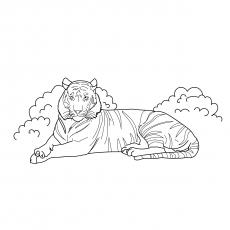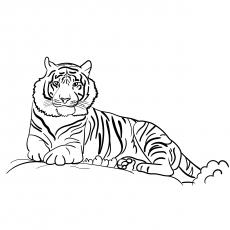 Recommended Articles:
Tiger, tiger burning bright – the magnificent tiger is immortalised in Wordsworth's poems!
Tigers are animals belonging to the cat family. These beautiful creatures have a reddish brown rusty coat, a white mane that surrounds the face and stripes that vary from gray to pure black. There are several subspecies of tiger, the popular ones include Bengal, Amur, Malayan, Sumatran, South China and Indo-Chinese.
Tigers are respected and revered in many cultures around the world. They are also featured widely in cartoons and animated movies. They are a major attraction in the zoos for their beauty, strength and size. Their slow stride and loud growls never fail to mesmerize the kids.
Top 20 Tiger Coloring Pages
Tiger coloring sheets are popular with kids of all ages. Here is a beautiful collection of tiger coloring sheets in their realistic and humorous form. These cute  tiger coloring pages for preschoolers will allow them to experiment with various shades of brown and yellow while learning about different species of tiger.
1. T For Tiger:
Here is a fun alphabet-coloring sheet for the little ones. Your child will have fun filling colors in this tiger's stripes while learning about the sight and sound of T.
Tell your child to trace the uppercase letter and then color the sheet anyway he likes.
This coloring sheet will help your child develop fine motor skills, the basis of clear writing.
[ Read: Jungle Animals Coloring Pages ]
2. Year Of Tiger:
Here is a coloring sheet depicting the Year of Tiger. In Chinese astrology, it is called the year of metal tiger.
Tiger, in Chinese mythology, symbolizes the traits of people born in the year. The metal element gives the tiger born people sharpness.
A metal tiger born is also known for their mood swings and temper.
3. Tasmanian Tiger:
Here is a coloring sheet of a Tasmanian tiger without stripes. Tell your child to make the stripes before coloring the tiger.
Tasmanian tiger, also known as thylacine, is an extinct species of tiger. It is renowned as the largest known marsupial of modern times. It is known.
The Tasmanian tiger is believed to have become extinct in the 20th century. This nocturnal creature looked more like a dog than a tiger.
4. Sumatran Tiger:
Here is a coloring sheet of a Sumatran tiger. Sumatran Tiger is the smallest surviving tiger subspecies.
Did you know that tigers rely on sight and sound rather than smell? Share this and other facts with your children as he colors this fascinating animal.
Sumatran tigers are protected by law in Indonesia. It is distinguished by dark stripes on its orange coat.
5. Amur Tiger:
Spice up your child's coloring time with this Amur tiger-coloring sheet. We are sure your children will have a blast sprucing up the narrow stripes of this tiger.
Amur tigers are found throughout Russia, Northern China and Korea. They represent the largest tiger popular in the world.
They have the largest home range of any tiger subspecies.
[ Read: Crocodile Coloring Pages ]
6. Baby Tiger:
Tigers may not be good pets, but your child can have one in your room with this coloring sheet. This coloring sheet features an adorable baby tiger ready to bounce around in the grass.
The only thing that is coloring sheet is missing is a bit of color.
This coloring sheet will keep your child entertained as he keeps a track of these stripes.
7. Bengal Tiger:
Bring social studies lessons into coloring time with this coloring sheet. This coloring sheet shows a majestic Bengal tiger relaxing after taking a stroll in the forest.
The Bengal tiger is the national animal of India. Its power, grace and agility makes it a perfect national symbol.
As the name suggests, the Bengal tiger is found primarily in India. Some species of this tiger are also found in Bangladesh, Bhutan, Nepal, Myanmar and China.
8. Indo Chinese:
This coloring sheet depicts an angry Indo-Chinese tiger showing off his sharp teeth.
The Indo-Chinese region is the largest combined area of tiger habitat in the world.
The coloring sheet will give your child a break from coloring all the cutesy animal.
9. South China Tiger:
Here is a black and white diagram of a South China Tiger waiting to be colored.
What do you think this tiger is doing? Is he taking a break or stalking his prey? Ask your child these questions as he gives this fierce predator some color.
The South China tigers are considered functionally extinct, as they have not been sighted in the jungle for more than 25 years. They are only found in zoos in South Africa.
10. Circus Tiger:
This coloring sheet shows a tiger showing some stunts to the onlookers. How well would this tiger fare in this stunt?
Print out this coloring sheet to let your child add some silly color to this picture. It will surely brighten your child's evening.
Take your child for a circus show during the weekends or vacation. He will love you for it.
[ Read: Alligator Coloring Pages ]
11. Dot To Dot:
This simple dot-to dot-coloring sheet features a jungle tiger.
Tell your child to join the dots from 1 to 54 to reveal the picture.
Then, he is free to make this tiger orange, brown or even multicolored.
12. Shere Khan:
Here is a coloring sheet of Shere Khan, the main antagonist of the series "Jungle Book". He is a powerful, Bengal tiger who has nothing but disdain for his victims.
Shere Khan is a large and powerful tiger known for his viscous and cruel attitude. His only fears are fire and man's gun.
He is very sophisticated and suave tiger that turns incredibly dangerous when angered. He speaks with a British accent and thinks highly of himself.
13. Tigger:
Here is a coloring sheet of Tigger enjoying in the 100-Acre Wood. Tigger is an energetic tiger appearing in the cartoon series "Winnie the Pooh".
Tigger has bold orange and black stripes, a long chin, a springy tail and beady eyes. He has a tendency to bounce people as a way of introduction.
Tigger is a friendly tiger and holds a high opinion of himself.
[ Read: Zoo Animals Coloring Pages ]
14. Tiger Cub:
Don't you think this adorable cub looks a lot like a playful kitty? Tell your child to pull out his crayons and give him his trademark orange and black color.
Did you know that tigers use their mouth to carry their babies by their necks? This trait is seen across all animals in the Cat family.
This coloring sheet will give you child a chance to learn about tigers and the different things that they do.
15. Rajah:
The handsome tiger you see here is Rajah, Princess Jasmine's pet.
He is extremely protective about Jasmine and loves her very much. He has also attacked several of Jasmine's suitors.
Unlike other cartoon characters, Rajah's appearance is more lifelike.
16. Daniel:
The adorable tiger you see here is Daniel, the protagonist of the show titled Daniel Tiger's Neighborhood.
He is a four-year-old shy tiger who hides behind his mother when meeting new people.
Daniel is a brown tiger with dark brown stripes on the body. He is always shown wearing a red sweater, red and white sneakers and a wristwatch.
17. Malayan Tiger:
Here is a coloring sheet of the Malayan tiger resting in the forest. This subspecies of tiger inhabit the southern and central parts of the Malay Peninsula. '
This tiger is classified as an endangered species. The small size of the Malayan tiger helps him to remain unseen in the clearer parts of the Malaysian jungle.
It inhabits the less-dense forests that have a higher supply of food. This carnivorous predator hunts its prey by stalking it and catching it off guard.
18. Snagglepuss:
Meet Snagglepuss, a character created by Hanna Barbara. He is best known for his catchphrase "Heavens to Murgatroyd!"
This pink, anthropomorphic tiger is very kind and helpful to his friends and relatives.
He lives in a cavern that he always tries to make more habitable for himself.
[ Read: Lion Coloring Pages ]
19. Reading Tiger:
Here is one of the cute tiger pictures to color reading a book. He looks totally engrossed in his reading.
What is it that he is reading? A storybook or a textbook? Leave that to your child to decide.
Tell your child to write a creative story to go with this fun coloring sheet. This will improve his imagination skills while giving him some quality handwriting practice.
20. Vitaly:
Here is a coloring sheet of Vitaly, a fearless and strong tiger who loves to take risks. This macho Russian tiger is the star performer of Circus Zaragoza, a place where he was born and raised. He jumps through the hoops with utmost grace and speed.
Vitaly is a friendly tiger that once cared a lot about his circus friends.
After an incident in the circus, he lost his dignity and passion and became bitter with everyone.
An aura of awe and wonderment surrounds this majestic animal and we are sure your kid would enjoy colouring the tiger at home! Allow your kids to color these sheets any way they like. It will enhance their creativity and develop their imaginative skills.
You can also use these free printable tiger coloring pages online in your child's school projects. These tiger coloring pictures will provide a fun, learning experience for them. Do let us know what your kids think of the terrific tiger!
DISCLAIMER: All images found here are believed to be in the "public domain". We do not intend to infringe any legitimate intellectual right, artistic rights or copyright. All of the images displayed are of unknown origin. If you are the rightful owner of any of the pictures/wallpapers posted here, and you do not want it to be displayed or if you require a suitable credit, then please contact us and we will immediately do whatever is needed either for the image to be removed or provide credit where it is due. All the content of this site are free of charge and therefore we do not gain any financial benefit from the display or downloads of any images/wallpaper.
The following two tabs change content below.