Cellulite may build up in the body anytime after puberty. However, the development of cellulite during pregnancy and menopause is more common because of the several physical changes that the body undergoes. Cellulite, or the orange peel syndrome, is a skin condition that occurs in almost all women. It generally occurs around the hips, thighs, abdomen, and buttocks and is characterized by lumpy or dimpled skin with an orange-peel texture (1) (2). Cellulite occurs when the fat tissues protrude into the outer layers of the skin; therefore, the condition is usually found in the areas of the body having more subcutaneous fat. It appears when the collagen fiber, connecting the fat and the skin, breaks, stretches or pulls (3). Read the post for more information on the causes of cellulite during pregnancy and the different treatment options available.
Is It Normal To Get Cellulite During Pregnancy?
Cellulite is likely to affect women in pregnancy as the body undergoes a lot of physical changes, and an increase in the subcutaneous fat could lead to its development. More deposition of the fat ensures adequate availability of calories for pregnancy and lactation (4). Here are some other factors that might contribute to cellulite during pregnancy (2).
Hormonal changes
Genetic factors
Diet and lifestyle
What Causes Cellulite In Pregnancy?
One of the reasons for cellulite development during pregnancy could be an increase in the level of estrogen (5), which is responsible for the arrangement of fatty tissues in the body (6).
Some factors that are likely to increase the chances of cellulite in pregnancy are as follows (7):
Age, women conceiving at a higher maternal age
Weight gain, although a normal part of pregnancy, excessive weight gain could be a factor.
Water retention, where the excessive volume of fluids settles in various parts of the body
Inadequate exercise, poor diet, and lifestyle habits
Genetic factors could also play a role
How To Get Rid Of Cellulite When Pregnant?
Here we list a few ways that may help prevent or get rid of cellulite naturally or with medical treatments.
Natural ways:
Avoid the intake of foods that are high in calories.
Add more fiber-rich foods such as vegetables and fruits in the diet.
Lean meat and oily fish are good additions to the diet.
Engage in some light exercises and pregnancy yoga
Avoid smoking
Stay hydrated (7)
Medical treatment:
Anti-cellulite lotions, such as slimming lotions, may be applied to the affected area to reduce its development and make it less evident. The main content of cellulite cream is caffeine, which is a diuretic and a xanthene.
It might increase the blood flow in the targeted area and stimulates the cells to remove the excess fat (8). However, the use of caffeine and xanthenes is restricted during pregnancy due to their counter-effects. Hence, pregnant women are recommended to use it post-pregnancy (9).
Ways That Might Help Reduce Cellulite Post Pregnancy
There are various medical procedures for treating cellulite post pregnancy. But, remember, there is not enough research to back their efficacy.  Based on the skin condition, the dermatologist may suggest one of the following medical procedures:
Cellfina: It is a non-invasive method (subsicion), wherein a very thin blade is used to break the fat under the skin by inserting it through a small incision. The affected area is slightly suctioned up using the Cellfina device for inserting the blade without impacting the surrounding tissues. The results are visible within a few days and may last up to three years (10).
Acoustic wave therapy: This therapy involves the stimulation of the connective tissues of the affected area by using vibrations. This method aims at collagen remodeling, thereby improving the texture and appearance of the skin (11).
Radiofrequency treatments: These therapies are a combination of tissue massage and radiofrequency technology that includes ultrasound, radial pulses to heat the skin, and infrared light for cellulite treatment (10).
Cellulaze: It is a laser treatment method used to break the fat bands beneath the skin by inserting a tiny laser probe. The fatty tissues are heated using a laser, which might help in releasing the fat, reducing the thickness of the fat layer, stimulating collagen production, and improving the elasticity and texture of the skin. The results may last for about one year (10).
Vacuum-assisted precise tissue release: In this procedure, a device with small blades is used to cut the tough bands beneath the skin to remove the excess fat. Its effect may last for about three years (12).
Laser-assisted liposuction: It could be suitable for removing a small amount of fat. A laser treatment combined with liposuction is more suitable for cellulite treatment (12).
Ionithermie cellulite reduction treatments: This is a spa treatment for the skin using algae or clay or a mixture of both. A mild electric current is then applied to the targeted areas using an electrode. It may help in reducing the size and appearance of the cellulite (12).
Endermologie: This spa treatment involves deep massaging of the affected area by lifting your skin with a vacuum-like tool. This treatment might need several sessions, and the results may last for about 12 months. It may also cause some bruises (12).
Carboxytherapy: It is another invasive method that involves the insertion of carbon dioxide under the skin. This method increases blood flow in the targeted area, which could help in reducing the visibility of the cellulite. This procedure may cause a little discomfort and temporary bruises. However, the results are visible after seven to ten treatments (13).
Cryolipolysis: It is a non-invasive procedure, also known as Cool Sculpting. It involves fat removal by freezing the fat tissues and cells under the skin, to prevent any injuries to the skin.
This procedure needs to be done several times, and it might take around four to six months for it to show a noticeable difference (14). However, this method has been found effective in the removal of large fat pockets under the skin, but not the cellulite.
Ultrasound: It is a non-invasive method that uses sound waves to remove the excess fat from areas like the thighs and abdomen. There is no evidence to prove its effectiveness, but ultrasound with another cellulite treatment may help in reducing the amount of cellulite (12).
Apart from the medical treatments, the natural way to treat cellulite is weight loss. By sticking to regular exercise routines and a healthy diet, you may be able to shed the unwanted fat in the body.
Frequently Asked Questions
1. Does pregnancy cellulite go away?
There is no sure-shot natural remedy to get rid of cellulite as it results from the skin's natural aging process. It is difficult to get rid of cellulite once you get it. You may consult a dermatologist if you wish to know alternative treatment options to get rid of cellulite (7).
2. Does walking reduce cellulite on thighs in pregnancy?
For some women, walking may help lose fat deposits and excess weight, which may reduce cellulite (15). However, you should engage in physical exercises only under your doctor's advice during pregnancy.
It is not uncommon for women to experience cellulite built up in their bodies. In addition, the physical changes during pregnancy and after childbirth can make them more prone to having cellulite deposits in their bodies. Certain pregnancy hormones and pregnancy-associated weight gain are the most common reasons for cellulite deposition during pregnancy. You can consult your gynecologist or dermatologist about safe treatment options and get rid of cellulite post-delivery.
References:
MomJunction's articles are written after analyzing the research works of expert authors and institutions. Our references consist of resources established by authorities in their respective fields. You can learn more about the authenticity of the information we present in our
editorial policy
.
The following two tabs change content below.

Shreeja holds a postgraduate degree in Chemistry and diploma in Drug Regulatory Affairs from the University of Mumbai. Before joining MomJunction, she worked as a research analyst with a leading multinational pharmaceutical company. Her interest in the field of medical research has developed her passion for writing research-based articles. As a writer, she aims at providing informative articles on health...
more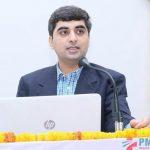 Dr. Shashwat Jani is a consultant obstetrician & gynecologist in Smt. N.H.L. Municipal Medical College, Ahmedabad. His field of interests are High Risk Pregnancy, Infertility and Endoscopy. He has written 12 chapters in reference books of Ob/Gyn and published 18 articles in Index journals. Dr. Jani has been invited as faculty in more than 200 national and international conferences. He...
more