You may love spending your day with your little one, but when it comes to bathtime, they may turn the entire house upside down. They struggle, scream, or hit in an attempt to flee, and a hair wash may often become a battle with such toddlers making it almost impossible to accomplish the task. Here, we bring you some tips for washing toddlers' hair that may help spare your energy and make it a more pleasant experience.
Simple techniques such as protecting their eyes when using shampoo or getting creative to keep away stress may be helpful. With these easy tricks, you can make hair washing fun for your toddler or at least easier if you usually struggle to get it done.
Here Are Some Ways For Washing Toddlers Hair :
1. Time It Right:
Wash your toddler's hair at the beginning of the bath. If your little one likes to play in the tub, she might be willing to tolerate a hair wash in the hope of the fun coming next.
2. Use Accessories:
You don't have to fight this battle alone! Buy some accessories to help you out:
You can use a sun visor, a special foam shampoo visor, or swimming goggles to protect your toddler's eyes during hair wash.
Use bath toys, recycled squeeze bottles, or spray bottles and let your toddler play with water while you wash her hair. This will not just distract her but will also help her associate washing hair with fun!
3. Prevent Stimulation:
Sometimes, the sensation of shampoo trickling down on their scalp can be too stimulating for toddlers. So, you can pour some shampoo on your hand before you apply it to your toddler's scalp.
4. Use A Toddler Appropriate Shampoo:
Make sure the shampoo you are using is mild. Washing toddlers hair can be an experience in itself! Don't use a shampoo that is too thick or has a strong odor. Also, make sure that the shampoo you are using has a no-tears formula.
5. Tilt Forward Or Backwards:
While rinsing off the hair, you can ask your toddler to tilt her head backward. You can put some stickers on the ceiling to keep your toddler occupied while you rinse her hair. If tilting head backward is not working for you, try making your toddler lean forward with a dry cloth over her eyes. This simple step will give her a sense of control while rinsing.
6. Get Creative:
You can get creative while rinsing your toddler's hair. Some children like the feel of a good quantity of water being poured over their head. While others prefer a trickle of water. See what works for your toddler. You can also a wet washcloth to rinse your toddler's hair! How? Just squeeze out the extra water and run the washcloth through your toddler's hair. Repeat till all the shampoo is rinsed off!
7. Keep The Eyes Shut:
Make sure your toddler keeps her eyes closed during hair wash. You can either ask her to close her eyes or blow on her face, gently. When your toddler closes her eyes, finish your task quickly!
8. Doll Up:
Try practicing hair washing using your toddler's favorite doll. Wash the doll's hair together and help your toddler become comfortable with hair wash.
9. Get A Mirror:
Many toddlers love to watch themselves in a mirror while getting a bath. So get an unbreakable mirror and let your toddler watch as your wash her hair.
10. Keep It Rare:
Your toddler does not need a hair wash every day. Once or twice a week is more than enough for most toddlers.
11. Use Vaseline:
You can also apply Vaseline on your toddler's forehead to prevent water from entering her eyes.
12. Keep Stress Away:
Don't stress and don't get angry with your toddler if she fusses during hair wash. Keep it fun and happy.
13. Provide Comfort:
No matter how hard you try, you can't prevent all the tears. So to calm your little one after a hair wash. You can do so by wrapping her in a warm towel and holding her close.
Frequently Asked Questions
1. Why do toddlers struggle with hair washing?
Toddlers may refuse to wash hair due to sensory problems, such as feeling uncomfortable applying shampoo to the scalp and getting scrubbed. Experiences such as inhaled water or eye irritation from shampoo or soap can also be a reason for toddlers to struggle with hair washing.
2. Is it okay to apply hair oil before washing hair?
You may use baby hair care oils before a few hours of bathing. These hair oils may prevent hair damage by moisturizing and conditioning the hair.
3. How often should I wash a two-year-old's hair?
Most toddlers require hair wash once a week. However, this can vary depending on the hair type, climate, and greasiness.
Bath time can be enjoyable for your child but keeping things under control usually becomes a challenge while washing their hair. Try the tips for washing toddler's hair to ease the struggle. For example, use goggles and earplugs to prevent water from entering eyes and ears, get their favorite doll to wash hair together, or use toys to keep them distracted. Some toddlers cooperate more if head wash comes at the end. Keep trying different methods and seek out the best way to keep your little one's hair and scalp clean, depending on their response.
The following two tabs change content below.

Jessica Albert is a passionate writer who seeks to connect with her readers through wit and charm. Her work aims to invoke curiosity and keep the readers engaged through and through. She has prior experience working with magazines and e-commerce establishments as a content marketer and editor. Being a mother herself, she puts all her knowledge into creating content about...
View Profile

›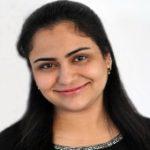 Pranjul Tandon joined the Childbirth and Postpartum Professional Association (CAPPA) in 2014 to become a Certified Childbirth Educator and began the journey of her venture Womb and Beyond in 2015. She became a certified Infant Massage Instructor with the International Association of Infant Massage (IAIM) in 2017. She has expanded her skills further by being certified as a Baby Sign...
View Profile

›