Is your baby getting wholesome food? Is he still hungry even after a feed? Seven-month-old babies require solid feed that fill their stomach. This is the time when the baby starts developing his own personality. It is also a transitional age where they have some mobility, and hence a good diet is very important at this milestone.
Much of the routine changes for the baby by the time they reach seven months. The time is right for feeding solid when they start reaching for food from your plate. It is not necessary that need to have teeth to consume solid food. You can feed the seven-month-old baby solid food 2-3 times a day, topped with breast milk or formula milk.
Flavours and Textures:
This is the time when your baby learns about different textures and flavours of food. Introducing a wide range of food and flavours to your baby until he/she reaches the age of one, helps him/her to acquire a good eating habit. It has been noticed that children who have not been introduced to various kinds of food become fussy or picky eaters as they grow.
Small Feeds:
A baby at seven month has a small stomach and can only take a small feed. Therefore, it is always better to offer only one or two spoons of the food. Wait for two day or more before introducing the next food so that you can check whether he develops any kind of allergy to the food. As you keep introducing new foods, you must go back to the earlier food you gave him. This helps your baby to develop a taste for the food.
[ Read: When Can Babies Start Drinking Water ]
Feeding Schedule For 7-Month-Old
Feeding your 7-month-old as per schedule is essential to ensure that the baby gets all the vital nutrients on time. Here is how to feed the baby at different time intervals (2):
Meal
Food Items
Quantity
Breakfast (early morning)
Breast milk or Formula
10 oz (295 ml)
Mid morning (10 am)
Mashed fruits or vegetables
1.5 oz (45 ml)
Lunch (around 12:30 pm)
Iron-fortified cereal with pureed meat
5 tablespoons cereal
1 oz (30 ml) pureed meat
Mid afternoon (3 pm)
Breast milk or Formula
10 oz (295 ml)
Dinner (6 to 7 pm)
Iron-fortified cereal with pureed vegetables
5 tablespoons cereal
1.5 oz (45 ml) pureed vegetables
Bedtime (8 pm)
Breast milk or Formula
10 oz (295 ml)
Homemade Food for 7 months baby:
Homemade food is the best food for 7 month old baby. Today the market is filled with a wide range of baby food. It is quite easy to open a bottle and feed. However, there is nothing like feeding your baby wholesome food prepared at home. The packaged food can have added preservatives; additives or the ingredients may not be organic and even a whole lot of harmful pesticides. In the long run it is not good for babies.
When you prepare food for your baby, you know for sure what ingredients go into. You can use the freshest of produce to prepare the food. You can add various ingredients according to the liking of the baby. This way you are introducing the natural taste of food to the baby thus ensuring better and healthy eating habits in the future. Homemade food will ensure that you are feeding your baby with vitamins and minerals to promote the growth as well as immunity in your baby.
[ Read: 8 Month Baby Food ]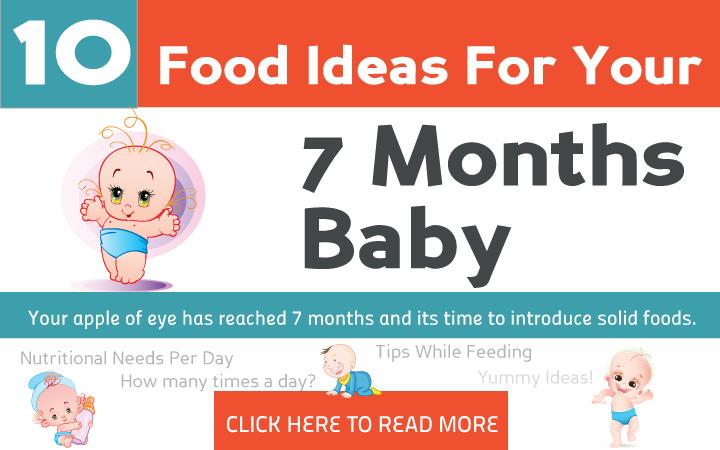 Click here to view an enlarged version of this infographic.
Preparing food for 7 months baby is not all that difficult. It is quite easy to cook a few vegetables and fruits like apple and puree it. You can ensure they are well cleaned and free from dirt or pesticide before giving it your baby. There are baby food blenders and processors that help to make your baby food easily. You can also prepare them in larger quantity and freeze them for later use.
Top 10 Ideas For 7 Month Baby Food:
Here is our delectable list of ideas you can try it for a 7 months baby food:
1. Purees of Fruits:
Much of the fruits can be mashed or pureed without even cooking them. You can give fruits like bananas, mangoes, peaches, plums, etc. Fruits are the best solid feed to start your baby with.
2. Mash of Cooked Vegetables:
Cooked vegetables like carrot, peas, potatoes, sweet potatoes, etc. can be well mashed with little water or milk, so that your baby can swallow it easily. This provides the much-needed vitamin C for immunity development in babies.
3.  Applesauce:
Apples are a good source of fibre and vitamins. Cooking and pureeing them is good for your baby. The applesauce is sweet with a slight acidic taste.
4. Mashed Apple and Pumpkin:
Mix 1 tbsp cooked and mashed pumpkin with 1 tsp of cooked and mashed apple. You can add a little water to loosen the consistency. If you like, you can add cooked rice too to make it more filling.
5. Rice Kicchdi:
Rice is a good cereal to start your baby with. You can add cooked lentils to make it flavourful. You can also add yogurt to it to provide the necessary calcium and iron. A preparation with mild spice, lentils and rice with pea puree or other vegetables helps you to introduce your child to herbs and spices.
6. Egg Yolk with Boiled Peas or Lentil:
It is quite safe to introduce boiled egg yolk. You can give mashed egg yolks and boiled peas. A pinch of cumin powder adds flavour too. Egg Yolk helps in the development of the baby brain. Mix of Cooked beans and lentil too provide the right kind of iron needed for the baby.
7. Oats Porridge:
You can make cook oats powered wheat, barley, as a porridge for your baby. Combining it with banana, apple, strawberry or chickoo and sugar make it an irresistible combination for your baby. They are a good source of iron for the baby. It is best to feed one cereal at a time before trying various combinations.
8. Chicken And Sweet Potato:
Once the baby is happy feeding on various fruits and vegetable, you can introduce meat. Meat and chicken are good source of protein and iron for the baby. You can combine chicken and sweet potato and make a puree of it.
9. Red Cabbage With Apple:
Make a puree of Red cabbage, apple, and raisins. You can add a little milk to loosen its consistency. This is a good combination of vitamin C and fibre.
10. Fruity Cream Cheese:
Mix 3 tsp of cream cheese in a blender to make it smooth. Add the pulp of mango or strawberry puree and sugar to it and blend to a smooth consistency.
You can make all kinds of combinations once you are sure your baby is not allergic to any food. If it tastes good to your palate, then there are good chances that your baby too will like it. You as the mother can help inculcate healthier eating habits in this world of unhealthy fast food.
Do share your comments on your creative ideas for 7 month baby food in the comments section below.
Recommended Articles:
Comments are moderated by MomJunction editorial team to remove any personal, abusive, promotional, provocative or irrelevant observations. We may also remove the hyperlinks within comments.
The following two tabs change content below.