Mother's love is truly incomparable. It's the purest form of affection. Isn't it? So are you searching for perfect mother quotes to pair them with your mom's picture and gift her this mother's day. You need to stop right here!
The celebration of mother's day started way long in the early 20th century, It began to mark the honor of one's own mother, motherhood, influence of mothers in society and maternal bonds. Showing your love to mom through words can be one of the precious ways to melt her heart. Here we have compiled the best inspirational quotes for mother written by the famous personalities and writers.
Pick your choice from the best quotes on mothers and motherhood, which may make you both laugh and cry.
100 Best Mother Quotes:
1. "A mother is the truest friend we have, when trials heavy and sudden fall upon us; when adversity takes the place of prosperity; when friends desert us; when trouble thickens around us, still will she cling to us, and endeavour by her kind precepts and counsels to dissipate the clouds of darkness, and cause peace to return to our hearts."
Washington Irving
2. A mother's happiness is like a beacon, lighting up the future but reflected also on the past in the guise of fond memories.
Honoré de Balzac
3. Motherhood has a very humanizing effect. Everything gets reduced to essentials.
Meryl Streep
4. A mom's hug lasts long after she lets go.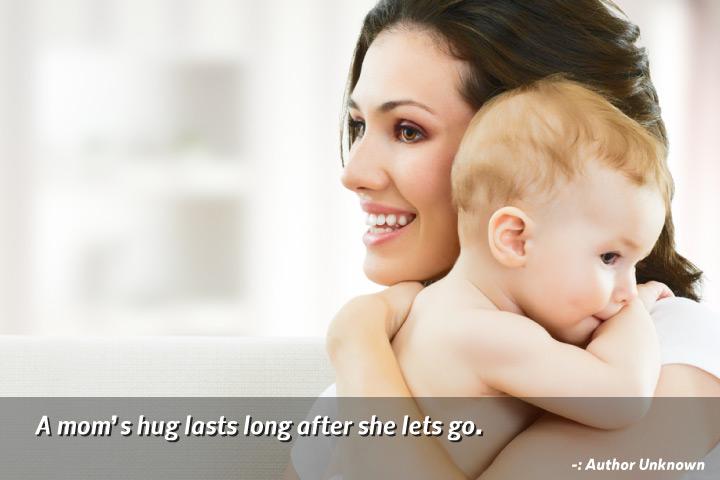 Author Unknown
5. The tie which links mother and child is of such pure and immaculate strength as to be never violated.
Washington Irving
6. That best academy, a mother's knee.
James Russell Lowell
7. She never quite leaves her children at home, even when she doesn't take them along.
Margaret Culkin Banning
8. When you are a mother, you are never really alone in your thoughts. A mother always has to think twice, once for herself and once for her child.
Sophia Loren
9. A mother's arms are made up tenderness and children sleep soundly in them.
Victor Hugo
10. Hundreds of dewdrops to greet the dawn, Hundreds of bees in the purple clover, Hundreds of butterflies on the lawn, But only one mother the wide world over.
George Cooper
11. If you have a mom, there is nowhere you are likely to go where a prayer has not already been.
Robert Brault
12. Most of all the other beautiful things in life come by twos and threes, by dozens and hundreds. Plenty of roses, stars, sunsets, rainbows, brothers and sisters, aunts and cousins, comrades and friends — but only one mother in the whole world.
Kate Douglas Wiggin
13. A mother's love is patient and forgiving when all others are forsaking, it never fails or falters, even though the heart is breaking.
Helen Rice
14. The mother's heart is the child's schoolroom.
H.W. Beecher
15. The hand that rocks the cradle is the hand that rules the world.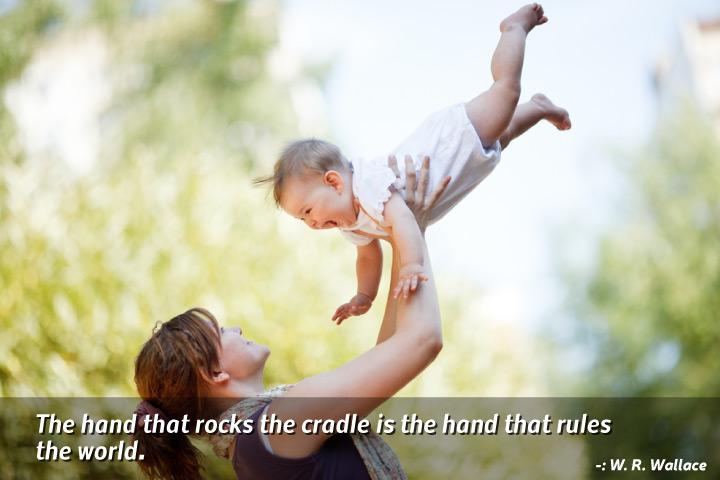 W. R. Wallace
16. A mother understands what a child does not say.
Jewish proverb
17. A mother's heart is a patchwork of love.
Author Unknown
18. An ounce of mother is worth a pound of clergy.
Spanish Proverb
19. And it came to me, and I knew what I had to have before my soul would rest. I wanted to belong – to belong to my mother. And in return – I wanted my mother to belong to me.
Gloria Vanderbilt
20. A man's work is from sun to sun, but a mother's work is never done.
Author Unknown
21. The heart of a mother is a deep abyss at the bottom of which you will always find forgiveness.
Honore de Balzac
22. Mother love is the fuel that enables a normal human being to do the impossible.
Marion C. Garretty
23. No language can express the power, and beauty, and heroism, and majesty of a mother's love. It shrinks not where man cowers, and grows stronger where man faints, and over wastes of worldly fortunes sends the radiance of its quenchless fidelity like a star.
Edwin Hubbell Chapin
24. I remember my mother's prayers and they have always followed me. They have clung to me all my life.
Abraham Lincoln
25. The real religion of the world comes from women much more than from men — from mothers most of all, who carry the key of our souls in their bosoms.
Oliver Wendell Holmes
[ Read: Family Quotes ]
Inspirational Mothers Love Quotes
26. Being a full-time mother is one of the highest salaried jobs in my field, since the payment is pure love.
Mildred B. Vermont
27. Some mothers are kissing mothers and some are scolding mothers, but it is love just the same, and most mothers kiss and scold together.
Pearl S. Buck
28. Mother's love is peace. It need not be acquired, it need not be deserved.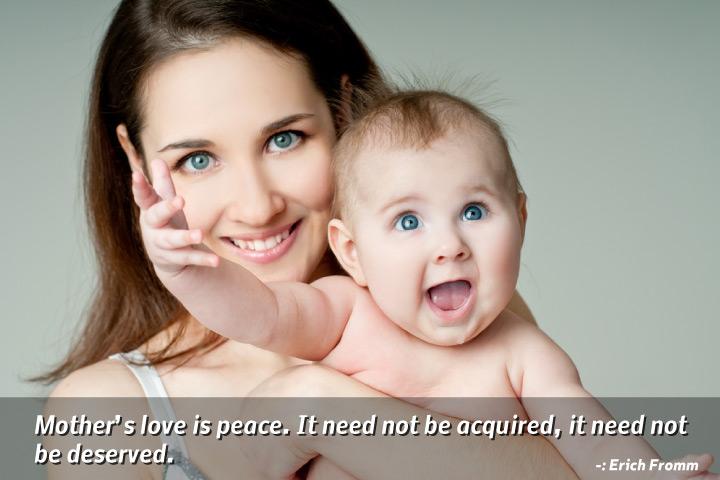 Erich Fromm
29. Youth fades; love droops; the leaves of friendship fall; A mother's secret hope outlives them all.
Oliver Wendell Holmes
30. Motherhood is neither a duty nor a privilege, but simply the way that humanity can satisfy the desire for physical immortality and triumph over the fear of death.
Rebecca West
31. No matter how old a mother is, she watches her middle-aged children for signs of improvement.
Florida Scott-Maxwell
32. The mother-child relationship is paradoxical and, in a sense, tragic. It requires the most intense love on the mother's side, yet this very love must help the child grow away from the mother, and to become fully independent.
Erich Fromm

33. There is no way to be a perfect mother, and a million ways to be a good one.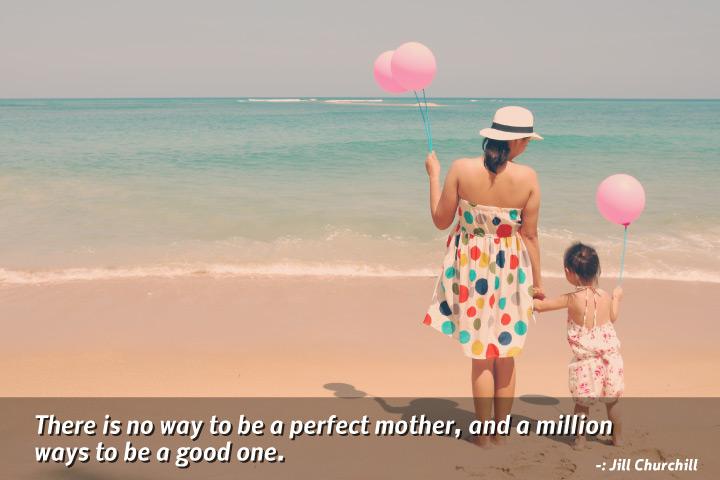 Jill Churchill
34. A mother is not a person to lean on, but a person to make leaning unnecessary.
Dorothy Canfield Fisher
35. By and large, mothers and housewives are the only workers who do not have regular time off. They are the great vacation-less class.
Anne Morrow Lindbergh
36. Mother is the name of God in the lips and hearts of children.
William Makepeace Thackeray
37. Men are what their mothers made them.
Ralph Waldo Emerson
38. We never know the love of the parent until we become parents ourselves.
Henry Ward Beecher
39. Most mothers are instinctive philosophers.
Harriet Beecher Stowe
40. Of all the rights of women, the greatest is to be a mother.
Lin Yutang
41. Mama exhorted her children at every opportunity to 'jump at the sun.' We might not land on the sun, but at least we would get off the ground.
Zora Neale Hurston
42. Making a decision to have a child–it's momentous. It is to decide forever to have your heart go walking around outside your body.
Elizabeth Stone
43. A mother is a person who seeing there are only four pieces of pie for five people, promptly announces she never did care for pie.
Tenneva Jordan
44. Women do not have to sacrifice person-hood if they are mothers. They do not have to sacrifice motherhood in order to be persons. Liberation was meant to expand women's opportunities, not to limit them. The self-esteem that has been found in new pursuits can also be found in mothering.
Elaine Heffner
45. All that remains to the mother in modern consumer society is the role of scapegoat; psychoanalysis uses huge amounts of money and time to persuade analysis and to foist their problems on to the absent mother, who has no opportunity to utter a word in her own defence. Hostility to the mother in our societies is an index of mental health.
Germaine Greer
46. The moment a child is born, the mother is also born. She never existed before. The woman existed, but the mother, never. A mother is something absolutely new.
Rajneesh
47. The most important thing a father can do for his children is to love their mother.
Author Unknown
48. All mothers are working mothers.
Author Unknown
49. Motherhood is priced; Of God, at price no man may dare/To lessen or misunderstand.
Helen Hunt Jackson
50. Nobody knows of the work it makes, to keep the home together. Nobody knows of the steps it takes, nobody knows- but Mother.
Author Unknown
Being a Mother Quotes and Sayings
51. If the whole world were put into one scale, and my mother in the other, the whole world wouldKick the beam.
Henry Bickersteth
52. Mother – that was the bank where we deposited all our hurts and worries.
T. DeWitt Talmage
53. There is only one pretty child in the world, and every mother has it.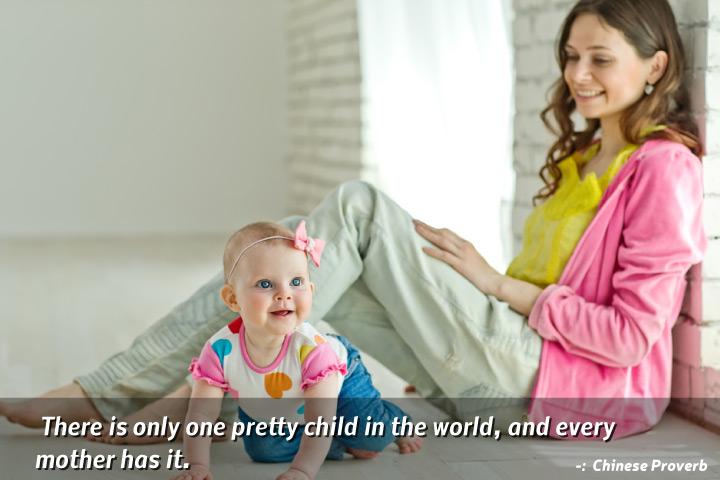 Chinese Proverb
54. No gift to your mother can ever equal her gift to you – life
Author Unknown
55. Insanity is hereditary; you get it from your children.
Sam Levenson
56. Setting a good example for your children takes all the fun out of middle age.
William Feather
57. Any mother could perform the jobs of several air traffic controllers with ease.
Lisa Alther
58. Mother is a verb. It's something you do. Not just who you are.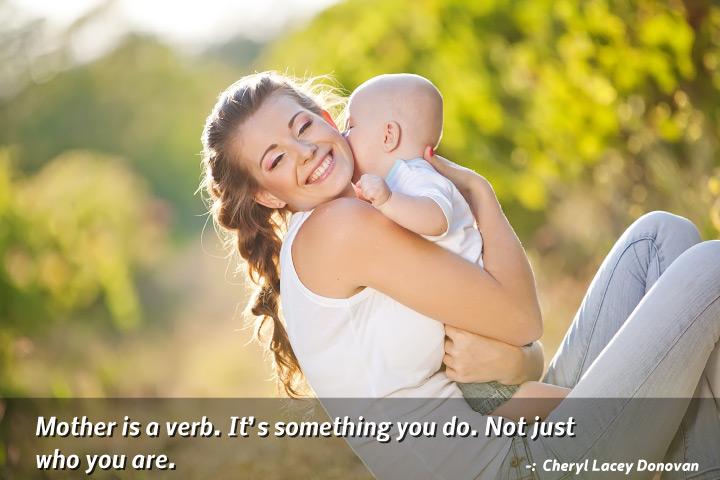 Cheryl Lacey Donovan
59. An ounce of mother is worth a pound of clergy.
Spanish Proverb
60. The phrase "working mother" is redundant.
Jane Sellman
61. Whatever else is unsure in this stinking dunghill of a world a mother's love is not.
James Joyce
62. Mothers and their children are in a category all their own. There's no bond so strong in the entire world. No love so instantaneous and forgiving.
Gail Tsukiyama
63. A man loves his sweetheart the most, his wife the best, but his mother the longest.
Irish Proverb
64. The natural state of motherhood is unselfishness. When you become a mother, you are no longer the center of your own universe. You relinquish that position to your children.
Jessica Lange
65. Mothers do not have love affairs. Before their children they have dreams, and after their children they have delusions. If the father is involved somewhere, they have fantasies.
Bauvard
66. Most mothers are instinctive philosophers.
Harriet Beecher Stowe
67. All women become like their mothers. That is their tragedy. No man does. That's his.
Oscar Wilde
68. Women's natural role is to be a pillar of the family.
Grace Kelly
69. If Mama ain't happy, ain't nobody happy.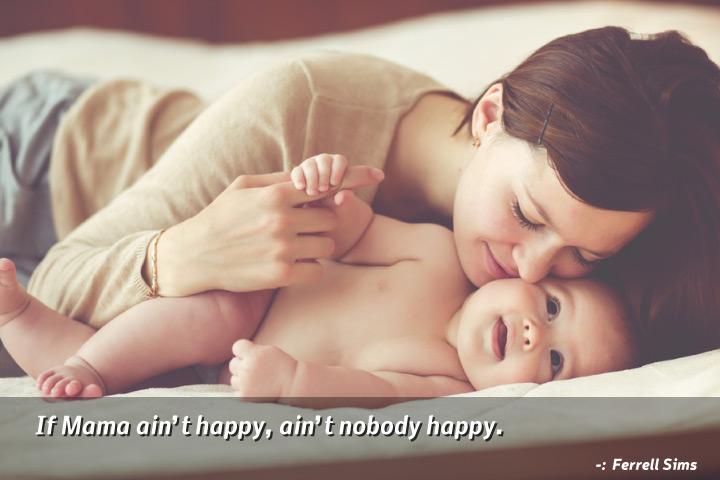 Ferrell Sims

70. A mother's yearning feels the presence of the cherished child even in the degraded man.
George Eliot
71. Woman is the salvation or the destruction of the family. She carries its destiny in the folds of her mantle.
Henri Frederic Amiel
72. I look back on my childhood and thank the stars above. For everything you gave me, but mostly for your love.
Wayne F. Winters
73. Education commences at the mother's knee, and every word spoken within hearsay of little children tends toward the formation of character.
Hosea Ballou
74. A mother's love for her child is like nothing else in the world. It knows no law, no pity, it dares all things and crushes down remorselessly all that stands in its path.
Agatha Christie
75. A mother is someone who dreams great dreams for you, but then she lets you chase the dreams you have for yourself and loves you just the same.
Author Unknown
[ Read: Inspirational Parenting Quotes ]
Loving Quotes About Joys of Motherhood
76. A mother is the one who is still there when everyone else has deserted you.
Author Unknown
77. You do not really understand something unless you can explain it to your grandmother.
Albert Einstein
78. The greatest gift of all is being a mom.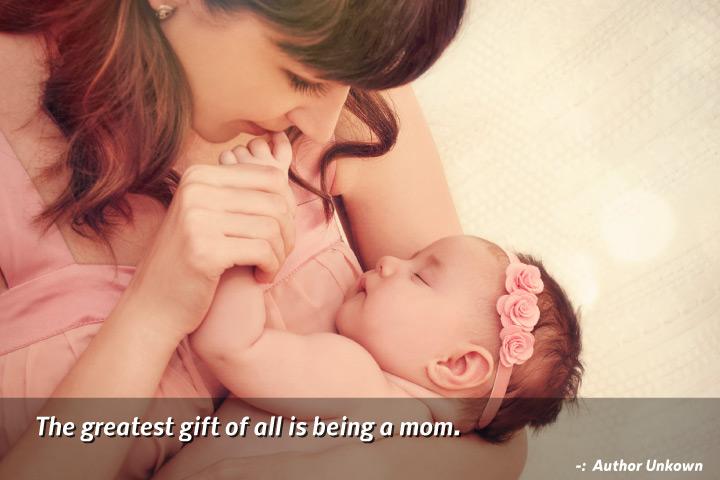 Author Unkown
79. There are so many times you will feel you have failed, but in the eyes, heart and mind of your child, you are supermom.
Stephanie Precourt
80. The beauty of being a mom is that no matter how many times your love is divided, it's still whole.
Author Unknown
81. In all my efforts to learn to read, my mother shared fully my ambition and sympathized with me and aided me in every way she could. If I have done anything in life worth attention, I feel sure that I inherited the disposition from my mother.
Booker T. Washington
82. The only love that I really believe in is a mother's love for her children.
Karl Lagerfield
83. You realize that you habitually thought of Mom when something in your life was not going well, because when you thought of her it was as though something got back on track, and you felt re-energized.
Shin Kyung sook
84. In a child's eyes, a mother is a goddess. She can be glorious or terrible, benevolent or filled with wrath, but she commands love either way. I am convinced that this is the greatest power in the universe."
N. K. Jemisin
85. Being a mother is an attitude, not a biological relation.
Robert A. Heinlein
86. He didn't realize that love as powerful as your mother's for you leaves its own mark.
J. K. Rowling
87. Behind all your stories is always your mother's story. Because hers is where yours begin."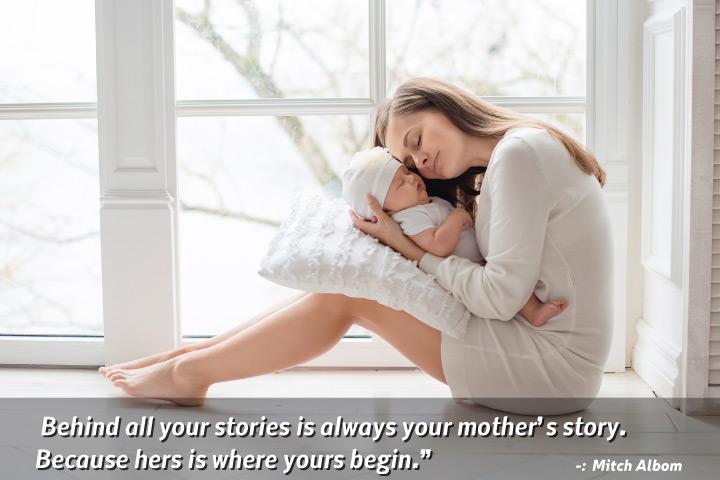 Mitch Albom
88. Think of your mother and smile for all of the good precious moments."
Ana Monnar
89. My mother is my root, my foundation. She planted the seed that I base my life on, and that is the belief that the ability to achieve starts in your mind.
Michael Jordan
90. No language can express the power, and beauty, and heroism, and majesty of a mother's love. It shrinks not where man cowers, and grows stronger where man faints, and over wastes of worldly fortunes sends the radiance of its quenchless fidelity like a star.
Edwin Hubbell Chapin
91. If evolution really works, how come mothers only have two hands?
Milton Berle
92. No influence is so powerful as that of the mother.
Sarah Josepha Hale
93. Good mother is worth hundreds of schoolmasters.
George Herbert
94. I love my mother as the trees love water and sunshine — she helps me grow, prosper and reach great heights.
Terri Guillemets
95. All that I am or ever hope to be, I owe to my angel Mother.
Abraham Lincoln
96. And I realized when you look at your mother, you are looking at the purest love you will ever know.
Mitch Albom
97. Mama was my greatest teacher, a teacher of compassion, love and fearlessness. If love is sweet as a flower, then my mother is that sweet flower of love.
Stevie Wonder
98. A mother loves her children even when they least deserve to be loved.
Kate Samperi
99. Moms are the backbones of their children's success
Author Unknown
100. Mother's love surpasses all logic.
Author Unknown
We hope our exhaustive list of mother love quotes serves your need well. Do share if you have more interesting and inspiring quotes on mothers love with us.
Recommended Articles:
The following two tabs change content below.
Latest posts by Aayesha Hakim (see all)