Did you ever notice the look on your little one's face when they learn something new all by themselves? Maybe, through discovery or by accident? These self-accomplished moments are parents' greatest reward. At ten months, your baby becomes a little explorer with the new mobility he has acquired, all thanks to his crawling. He is intrigued by tiny things and is high on tasting different things as his fingers are becoming agiler. His problem-solving skills are improving, and he is a lot more interested in interactive games. Finding toys, which will keep him busy, is difficult at this stage.
It is this difficulty that MomJunction would help you get through. We have made a list of some interactive and learning toys which will grab the attention of your 10-month-old and engross your baby in fun and beneficial playtime.
We also have some unique gifting ideas for ten-month-olds.
But before going further, one must understand what to look for in toys while buying them and why you should always buy age appropriate toys for your baby.
18 Best Toys For 10-Month-Old Babies
1. Fisher-Price 4-in-1 Step 'n Play Piano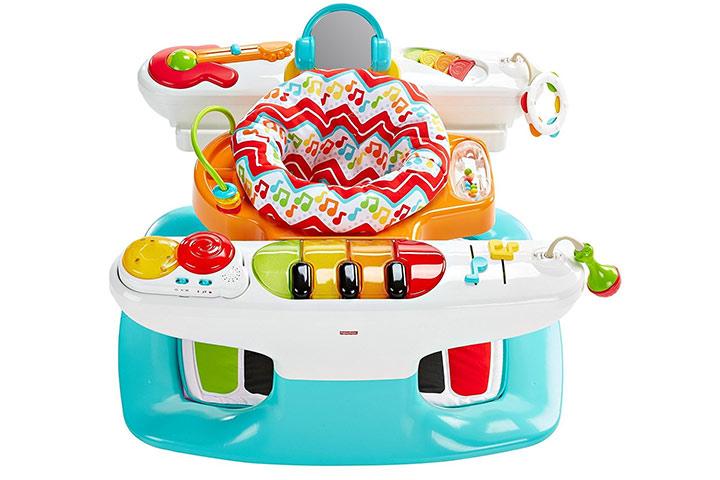 Skill development: Fine motor skill
Description: Your tiny tot won't miss a beat with this Step-n-Play Piano. The super-sized, soft musical keyboard mat below (for foot play) and musical hand keyboard on top (for fine finger fun) encourage your baby to learn. The tiny musician will have lots of busy activities in between, including light up drums, music note sliders, microphone rattle, guitar with roller ball and much more!
With the advantage of a spinning seat, your little one can go for a spin (360 degrees). The light and sound grab the wee one's attention, which helps in stimulating his important senses. This toy grows with the baby and can be used even beyond ten months of age. Now is when the little ones discover that their actions make beautiful 'music' happen.
2. Fisher-Price Newborn-to-Toddler Play Gym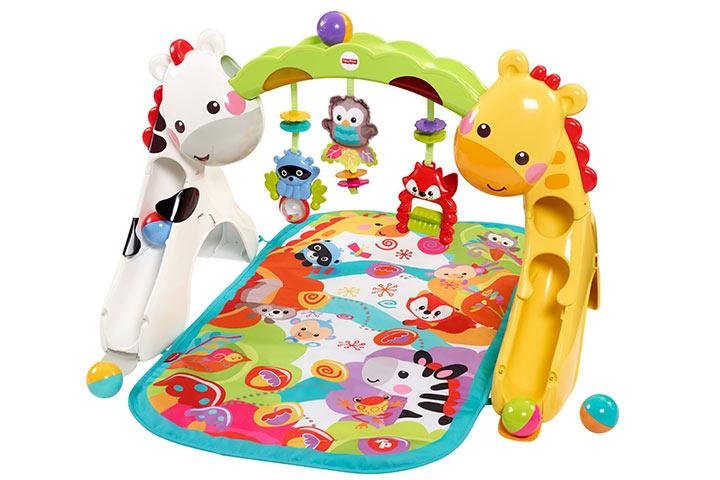 Skill development: Problem-solving skills, motor skills, cognitive development
Description: The toy makes gym workout fun. This play gym has a lot of fun activities such as toys, sounds, and lights to keep him entertained. It also grows with your baby, from lying, sitting, crawling, to finally standing.
You can point out colors and names of the animals in the gym, which makes the baby think and improve his problem-solving skills. Even though your tot might not understand the meaning of the colors and know the animals, he will learn to switch focus from one thing to another.
3. VTech Baby Lil' Critters Spin and Discover Ferris Wheel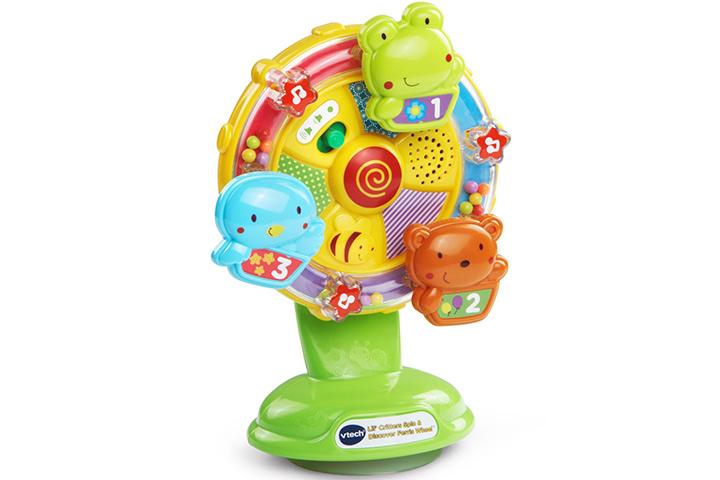 Skill development: Motor skills
Description: Spin the wheel of fun with this Lil' Critters spin and discover ferris wheel. This baby high chair toy attracts your baby's attention with flashing stars and friendly music. It includes a suction cup that holds the toy in place on any smooth surface.
This infant learning toy is perfect for hard floor, high chair, or table. It features five sing-along songs and over 45 sounds and phrases that encourage your baby to speak. Cute animal buttons on the suction toy teach the baby numbers, colors, and, of course, animals. Light up stars flash along with music and voice. Babies will love to spin the ferris wheel. This toy is intended for babies between three months and two years of age.
4. Fisher-Price Roller Blocks Tumblin'Zebra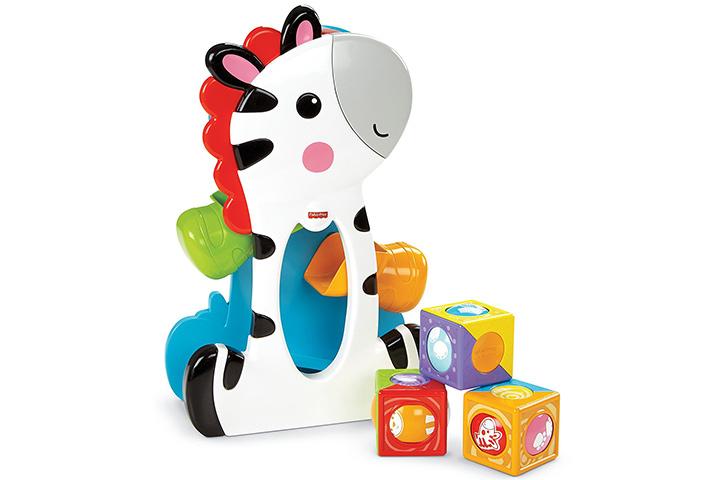 Skill development: Fine motor skills, hand-eye coordination, stimulation of visual senses
Description: Your baby will have an entertaining time with this Fisher-Price Tumblin'zebra. The toy includes three colorful roller blocks for spinning, tumbling, or stacking play. The zebra has an opening through which blocks can be put. As the blocks are moved through the hole, the zebra's hands move.
Grasping and stacking roller blocks on zebra's head will help her develop multiple skills. Bright colors of the toy stimulate the baby's senses. Little ones can just bat at the roller blocks to watch the animal faces spin. As your baby grows, you can use the colorful blocks to teach numbers, animal names, and much more!
5. Chicco Butterfly Spinner Toy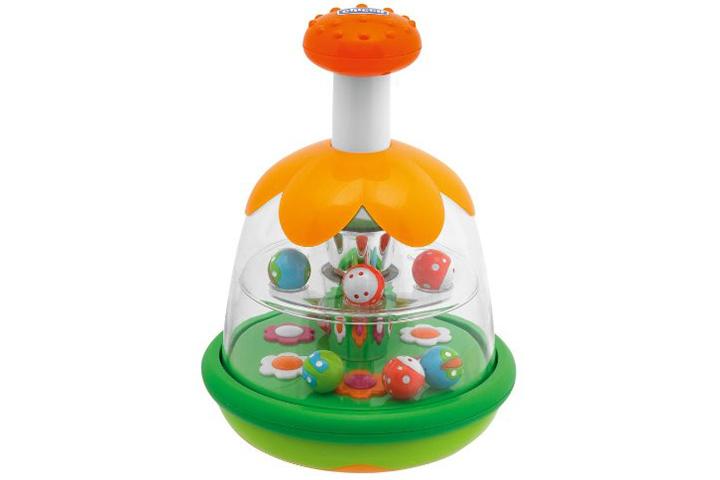 Skill development: Motor-sensory capacity, hand-eye coordination, and visual skills development
Description: This is one of the best toys for a ten-month-old. This classic toy is designed to introduce the concept of cause and effect to your baby. The toy spins when the handle is pressed down, and the little ladybugs and butterflies fly around inside. Bright colors help develop the baby's visual senses. The sound fascinates curious, little babies. The toy is BPA-free, making it safe for use. The added advantage here is that it requires no batteries.
6. Playskool Play Favorites Busy Poppin' Pals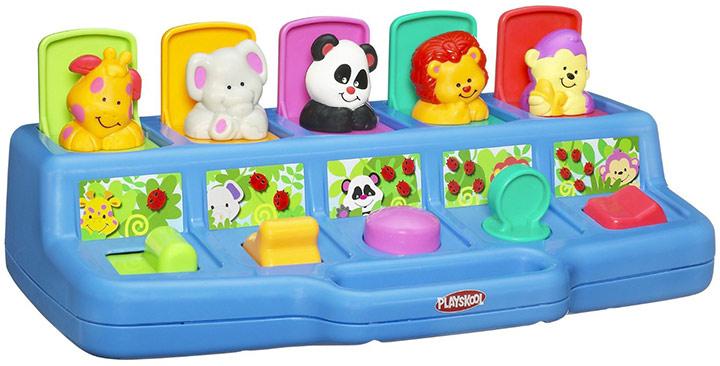 Skill development: Fine motor skills
Description: Hands on, pop-up activity toy introduces your baby to different shapes, animals, and cause and effect play. Your baby builds his fine motor skills as he presses or turns the toy. Reward your baby's exploration and discovery skills with this toy. With a push, pull, slide, turn, and press, your tot will have lots of fun as colorful animals pop up to the corresponding actions. The toy comes with a built-in handle, which helps your munchkin take this toy anywhere and everywhere.
7. 2 In 1 Xylophone for Kids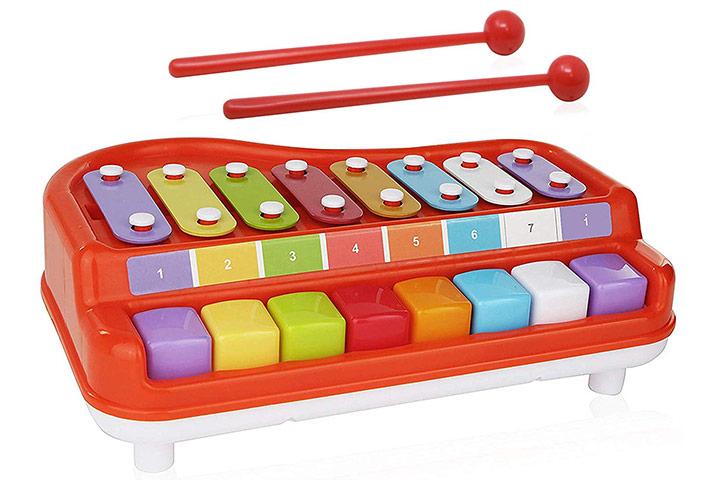 Skill development: Gross motor skills, hand-eye coordination
Description: Introduce your baby to the world of music with this 2-in-1 piano and xylophone. A ten-month-old baby gains numerous skills by learning to produce his own music. This instrument comes with a vibrant multi-colored surface, and the chimes produce a wide range of tones, which let your baby experiment musically. The toy is made of non-toxic, child-friendly, and BPA-free material.
8. Fisher-Price Laugh and Learn Puppy's Crawl-Along Ball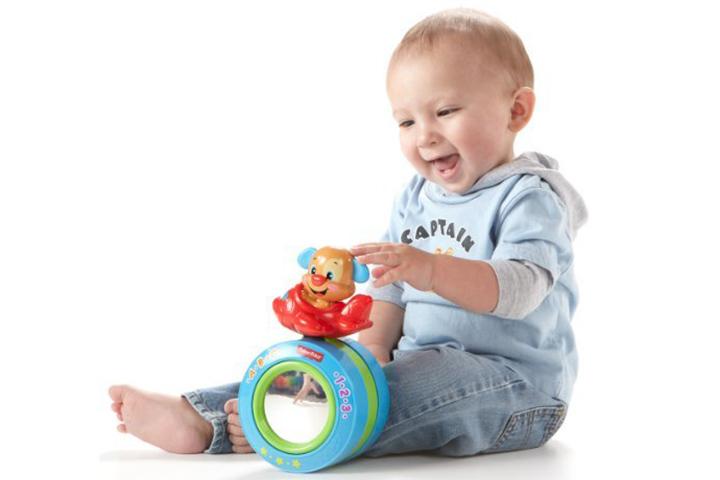 Skill development: Physical development, motor skills
Description: Your baby will be delighted in chasing this friendly and entertaining toy. The shiny mirror feature encourages self-discovery in babies during play time. The little ones can bat at the adorable puppy character to unlock fun sing-along songs. Rolling the toy activates exciting sounds, tunes, and phrases, which stimulate the baby's senses.
9. Fisher-Price Stackin' Sounds Animals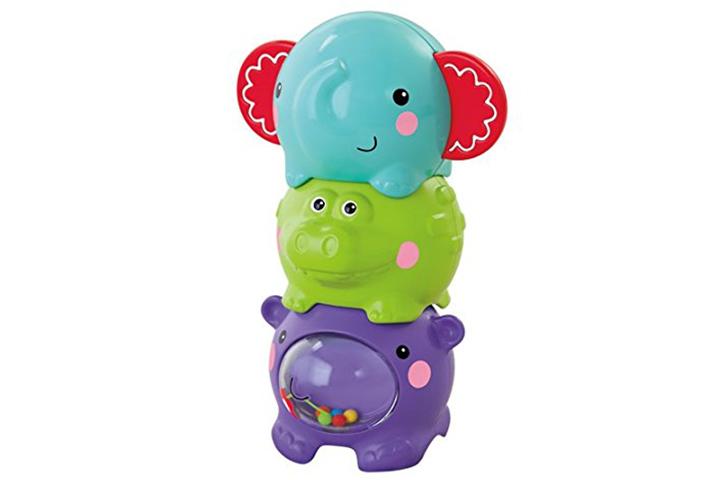 Skill development: Hand-eye coordination, fine motor skills, problem-solving skills
Description: Your munchkin can stack these colorful animals the way he wants. The playset includes a hippo, elephant, and crocodile. Each animal has its unique color and rattle sound. The rattle beads bounce inside the toy when shaken. The animals can be stacked in any way possible, including mixing them up. The size and shape of the toy are perfect for little ones to hold, grasp, and stack.
10. Fisher-Price Animal Friends Discovery Tree house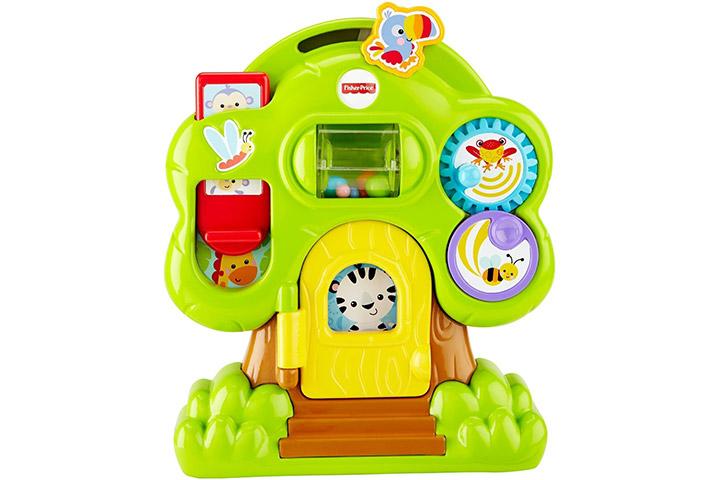 Skill development: Stimulates senses, development of fine motor skills
Description: Let your baby branch out to a whole tree house full of fun mechanical sounds and activities that give a playful workout. There are gears to turn, peek-a-boo friends to discover, rollers to bat at, doors to open, and so much more. Your little one is rewarded with fun mechanical sounds for every action of hers. Hands-on activities introduce the baby to cause and effect and bright colors of the toy stimulate the baby's senses.
11. Baby B. by Battat Under the Sea Jamboree Playset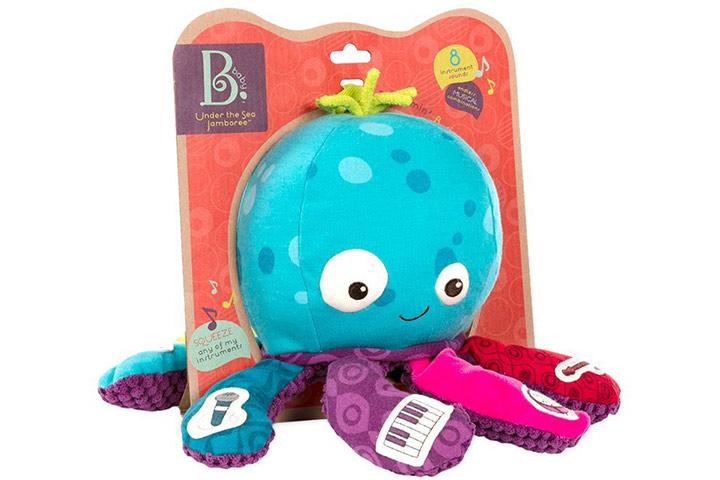 Skill development: Sensory development
Description: Press one tentacle of the octopus to hear an instrument play and press another to hear a new instrument. Press the head of the octopus to start a new song or give it a shake to bring it to a stop. Your baby can also press two instruments at the same time to create a bit of harmony. This toy plays six different songs with eight unique instruments. It includes bubble sounds, underwater sounds, and much more. The batteries are inside the octopus' head, preventing their access to the babies. The fabric is smooth and great for babies.
12. Delta Children Mason the Turtle Lil' Play Station 3-in-1 Activity Walker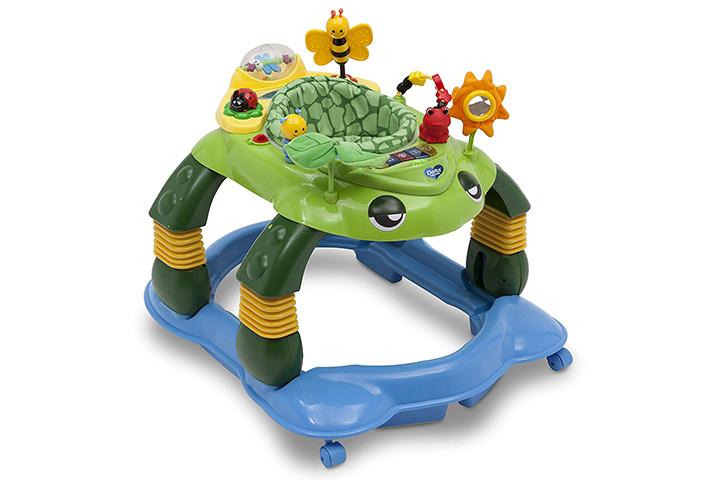 Skill development: Motor skills, physical development
Description: You will love watching your tiny tot take her first steps around the perimeter of this activity station. Several activities and functions packed into this activity walker make it a good buy. The front rim has a piano that gives out funny sounds. The seat is adjustable with three height positions. It has three functions and can be used as a stationary activity center, a rocker, and a walker for older infants.
13. Baby B. by Battat Hooty-Hoo Baby Toy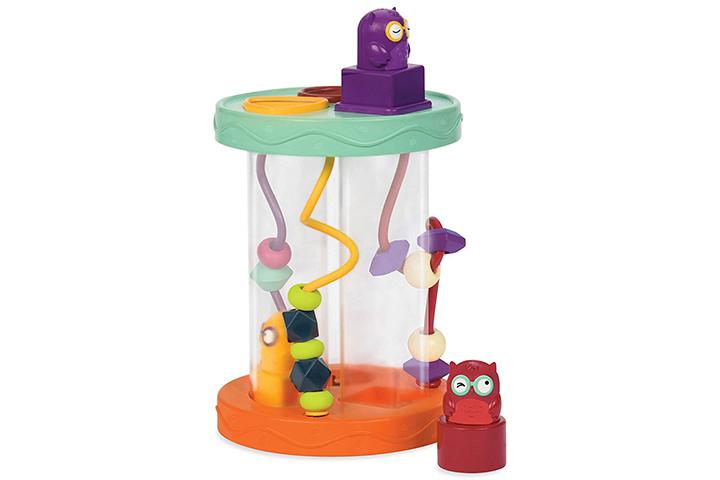 Skill development: Motor skill, hand-eye coordination, cognitive development, problem-solving skills
Description: Your baby will learn how to sort based on color and shape and get problem-solving skills with this toy. Slide three different owls on their perfectly shaped perches and hear their little hoots. This toy will help your baby develop her senses. The toy rolls across the floor. Your baby would love to slip, slide, and hoot out loud with this toy.
14. Skip Hop Explore and More Musical Hedgehog Accordion Activity Toy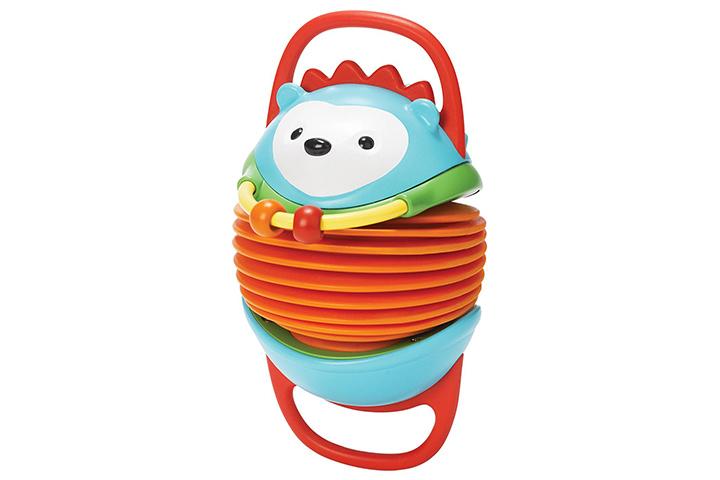 Skill development: Motor skills, hand-eye coordination
Description: This little whimsical woodland creature is sure to engage your darling baby's imagination with hours of musical play. It comes with easy to grab handles, which are perfect for little hands. It has a delightful range of unique tunes as they push and pull the soft rubber accordion. It is designed with movable beads and rubberized details for teething.
15. Peradix Swirl Ball Ramp Educational Toy Puzzle Rolling Ball Bell Stacker for Kids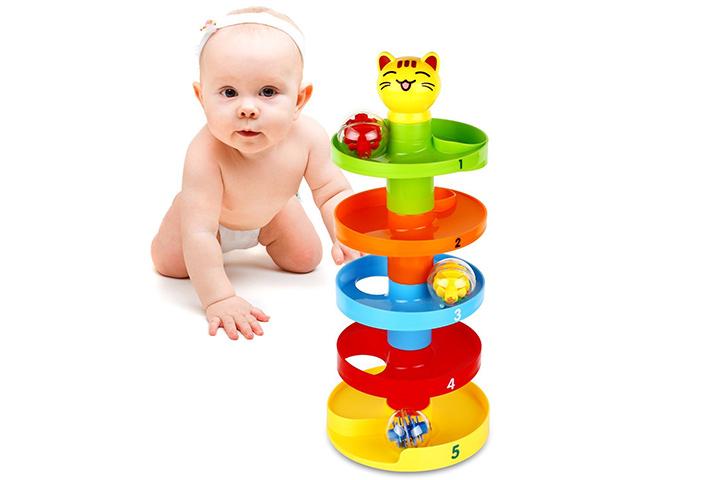 Skill development: Problem-solving skills, fine motor skills
Description: The five-tier, multi-colored ball ramp is an excellent educational toy for babies. It enhances the baby's problem-solving skills and fine motor skills. The ball contains colorful rattling beads, which make interesting sounds when rolled. The tower can be built up to its full 12-inch size in a snap!
16. Fisher-Price Poppity Pop Turtle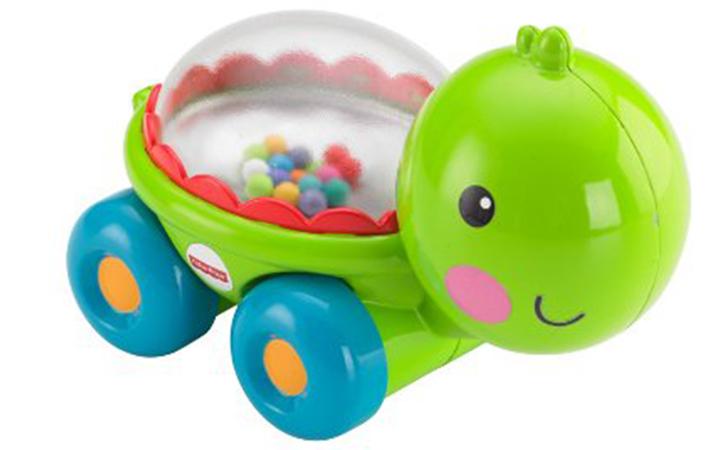 Skill development: Aid in the development of senses, gross motor skills
Description: Colourful bouncing balls, fun popping sounds, and shiny reflections encourage your baby to push and crawl along. Perfect for the baby's little hand, this toy introduces cause and effect and strengthens multiple skills and senses. It is a perfect crawl along pal for your little one, as it makes fun sounds.
The baby needs to push the cute turtle to make the colorful balls go pop-pop as it rolls along. Your little one will fall in love with this toy, and it is travel-friendly too.
17. Fisher-Price Laugh & Learn Storybook Rhymes Book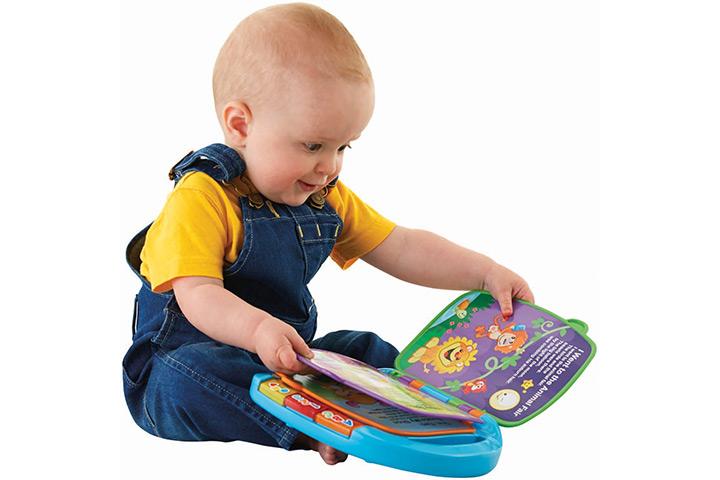 Skill development: Fine motor skills, visual and auditory senses development
Description: While baby learns with the storybook, important skills are developing too. Storybook teaches counting words, letters, numbers, shapes and more! Three buttons for letters, numbers, and shapes light up, which help stimulate the baby's visual and auditory senses. The book has easy-to-turn pages with six favorite songs that foster fine motor skills. Top handle of the book makes it easy to carry. This toy is great to introduce your baby to cause and effect.
18. VTech Brilliant Baby Laptop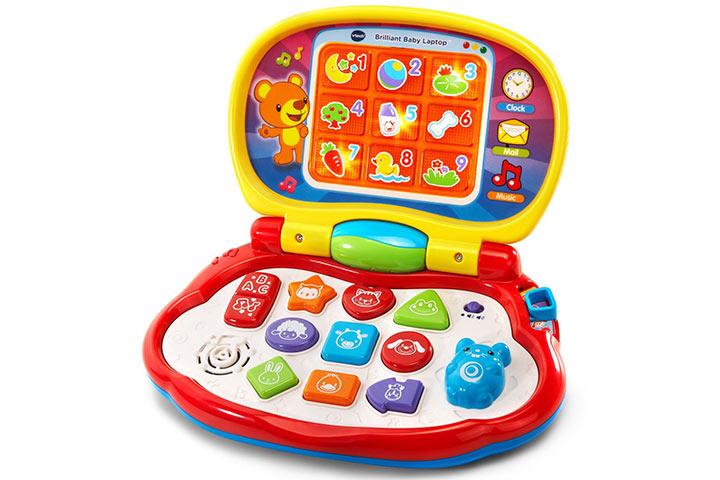 Skill development: Gross motor skills, problem-solving skills, visual and auditory senses development
Description: Press colorful buttons to introduce animals, colors, shapes, or wiggle the mouse to activate fun lights and sound. Your baby will be thoroughly entertained with over 115 songs, melodies, sounds, and phrases and three modes of play. This travel-ready toy laptop has nine brightly colored shape buttons. Your baby can choose animal mode to learn about animals and their sounds and shape mode to explore colors and shapes. This toy is parent-friendly too – volume control for quieter play-time, automatic shut off, and has a durable design. Your baby can explore and learn at the same time with this toy. It requires two AA batteries to function.
You may choose from this list to buy some toys for your baby to keep them busy and learn a thing or two.
If it is the time to gift a 10-month-old, be it your child, nephew, niece or somebody in the family and friends, you may consider something more than just toys.
14 Best Gifts For 10-Month-Old Babies
Here are some non-toy gift ideas for ten-month-old babies:
1. iBaby M2 Pro 720p Wi-Fi Digital Video Baby Monitor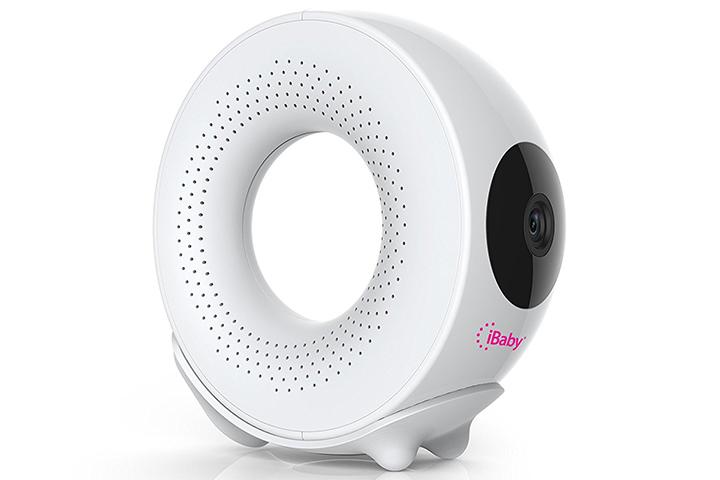 Description: This amazing baby monitor features sound and motion sensors that capture video and pictures when activated. This way parents know what is happening. The sensor has different levels of sensitivity that can be adjusted. You can add unlimited people to access the alert camera. It has 720p video resolution with zoom and crystal clear night vision too, giving sound and motion alerts. You can add MP3 music, including lullabies, or connect it to iTunes or Google library. This monitor has privacy control, sleep mode, and social share.
2. Baby Banana Infant Training Toothbrush and Teethers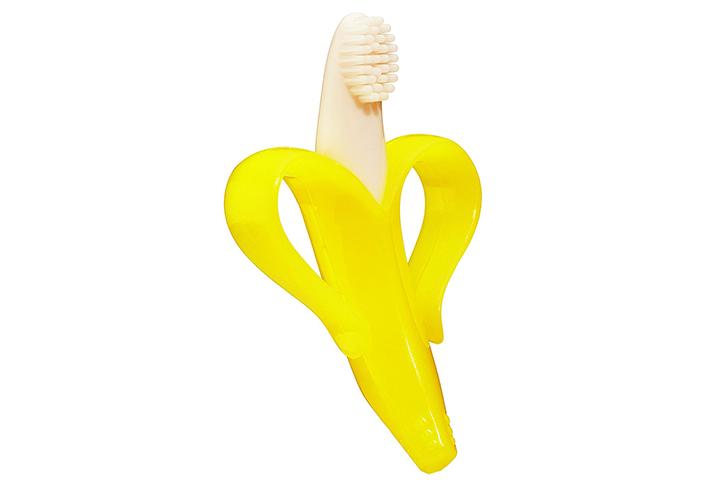 Description: This item is useful for a ten-month-old baby who is teething. It comes with easy-to-grasp banana peel handles and helps develop good oral hygiene habits early. This baby banana infant toothbrush is safe as it is made of 100% food grade flexible silicone to prevent mouth injuries.
The brush comes in a variety of colors to suit your baby's choice and style. It is BPA, latex, and phthalate-free. The toothbrush gently massages sore gums and little teeth with soft, thick silicone bristles. The added advantage is that it is dishwasher and freezer-friendly.
3. Fisher-Price Spacesaver High Chair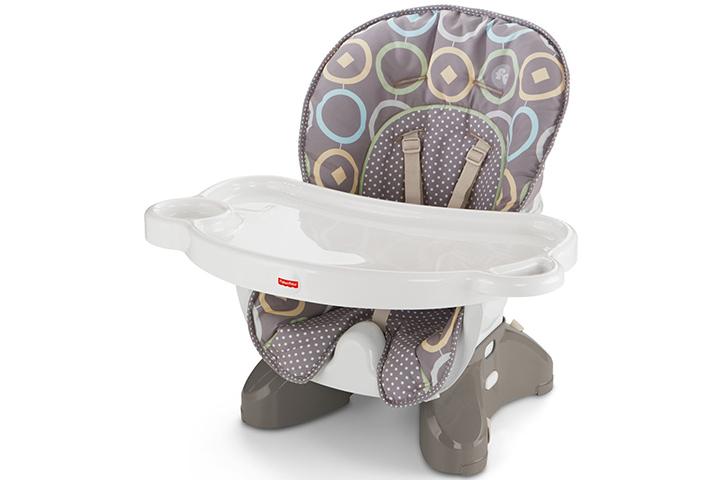 Description: This space-saving high chair makes mealtime easy and comfortable. You can strap the chair securely to any kitchen or dining chair, and it is easy to take off. It has three positions to make feeding comfortable, and the tray stays at an even level when the seat is reclined.
You can adjust the height that is comfortable for you to feed the baby. The tray is removable, and the seat pad is spill and stain–resistant, making it easy to wipe and clean. The compact size of the chair makes it perfect for use in small spaces or on-the-go!
4. Regalo Extra WideSpan Walk Through Safety Gate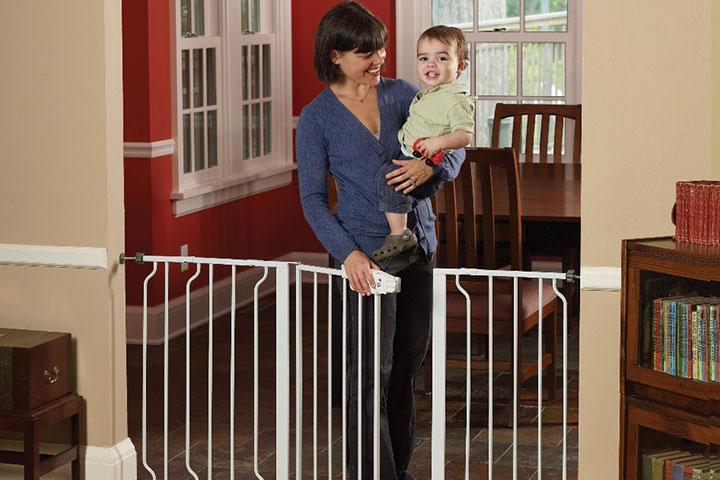 Description: This walk-through safety gates is useful for parents of an active ten-month-old. In fact, it is an essential tool to childproof the home. The metal, pressure-mounted, easy-to-install 29-34 inches wide gate, makes life less hectic for busy parents and safe for active little ones. It can be installed easily and quickly with four pressure mounts. The safety gate is PVC-free and meets the safety standards of the American Society for Testing Materials (ASTM). The gate is perfect for doorways, staircase, open spaces, and hallways.
5. Baby Boys Reversible Minky Velboa Stroller Blanket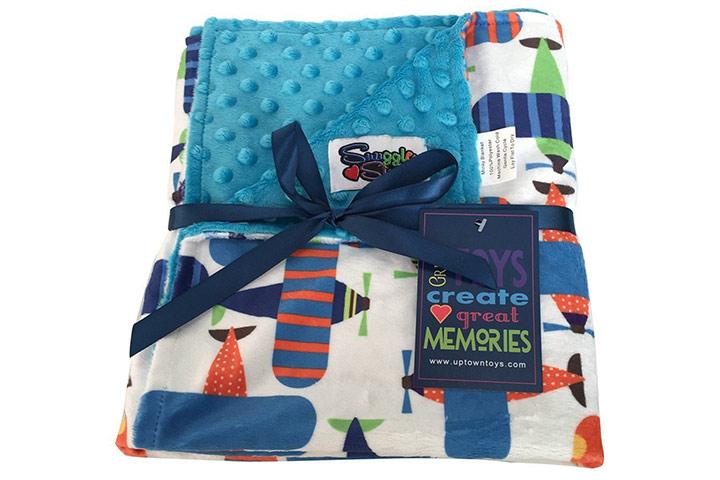 Description: This reversible blanket is ultra soft and snuggly. Low-pile plush mink fabric will keep your baby warm and cozy. The 29"x23" size blanket is perfect for swaddling, car seat rides or as play mat stroller. It can be machine-washed and tumble-dry on low. The playful airplanes and turquoise print make it a perfect gifting option.
6. SoapSox Bath Toy Sponge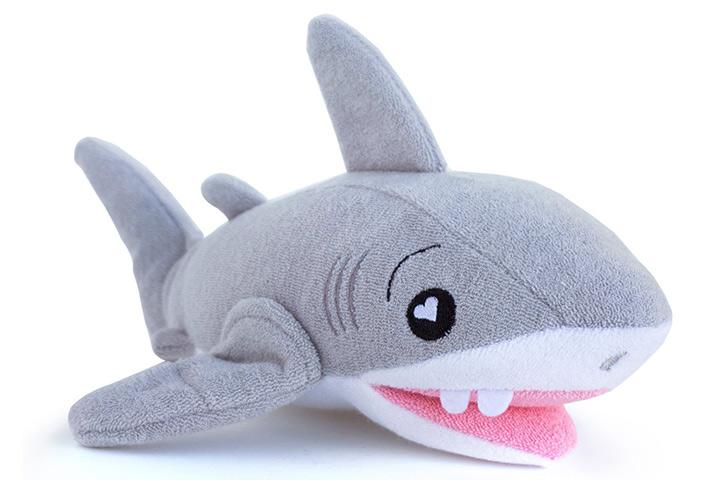 Description: The adorable looking soft shark makes bath time fun and keeps your infant clean too. The built-in finger pockets aid in scrubbing. The toy sponge is a combination of mesh and antimicrobial sponge, which creates a soft yet sturdy interior. With a perfect 9×3 inches, this is easier to use. It can be machine-washed and tumble-dry on low. Use SoapSox bar soap or liquid, add some water, lather, and scrub on your little one. Your baby is going to love his bath time.
7. SoundBub Portable Bluetooth Speaker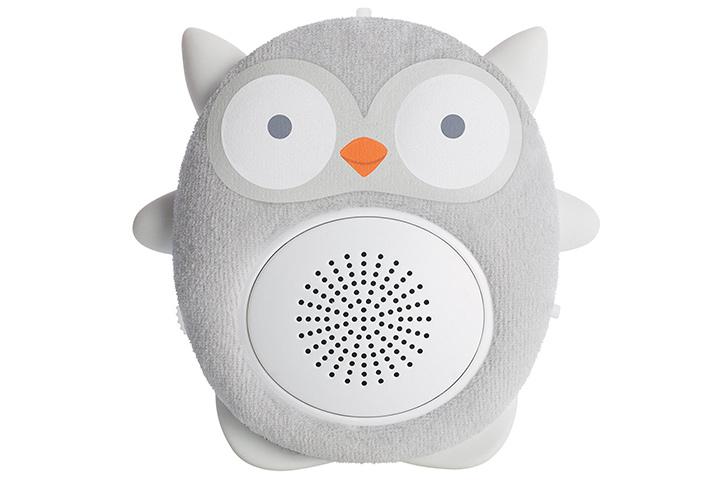 Description: This portable bluetooth speaker and infant soother make your little one drift off to sleep easily. The white noise will calm and soothe your crying or uneasy baby. It connects with bluetooth enabled devices so that you can entertain or soothe your baby with familiar voices, making it a convenient aid for active parents. It comes with 30, 60, and 90 minute timers as well as a continuous play option.
Press the belly button to play preloaded sounds of gentle rain or ocean wave. It runs on electric power and charging it is very easy. The best part about the toy is that it is made of chew-safe material.
8. Inflatable Baby Bath tub, Topist Portable Mini Air Swimming Pool Kid Infant Toddler Thick Foldable Shower Basin with Soft Cushion Central Seat (Pink)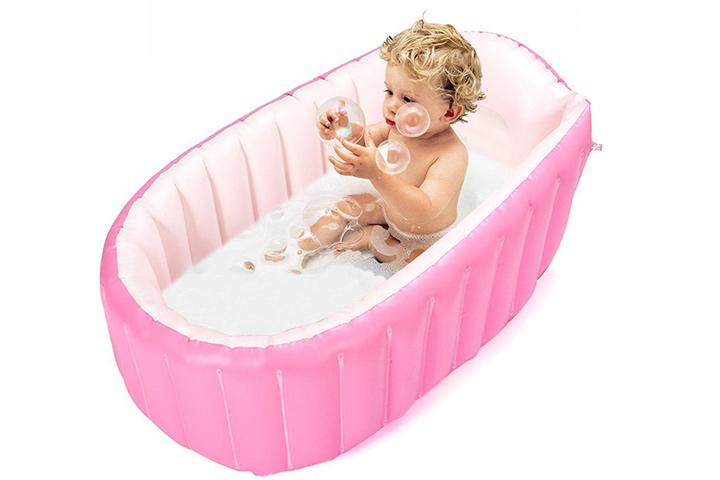 Description: This padded tub inflates in seconds, making it travel-friendly. The anti-skid design at the bottom and inner cushion ensure your baby's safety. It uses European standard 0.6P PVC for the make. One can inflate the tub through the nozzle. It has a convenient drain plug at the bottom for easy water drainage. The tub is practical, durable, safe, easy to use, and clean and is easily foldable.
9. Stick 'em Up Baby Age Blocks Milestone Blocks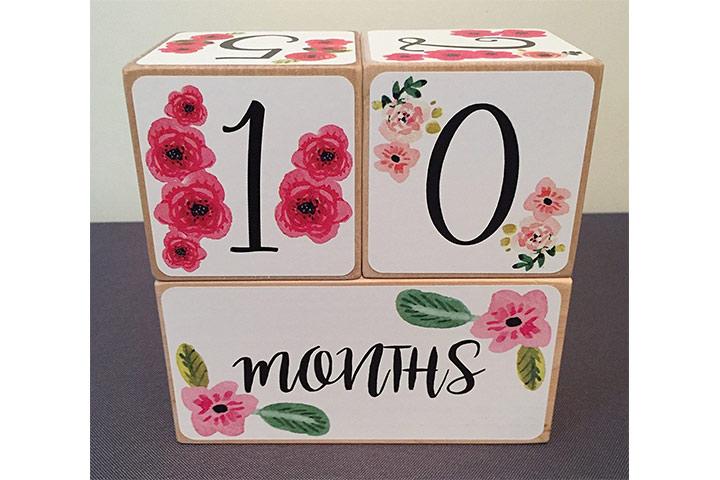 Description: These gorgeous watercolor baby milestone blocks are a beautiful way to document and cherish your baby's milestones. The handmade products have non-toxic paints and high-quality wood with smooth edges. They can display numbers up to 43. Since it is handmade, there could be slight variations in the wood color and size. The larger blocks have weeks, months, and years written on them. It is a great way to keep a track of every milestone. It is only for learning and does not fit the role of a toy.
10. Summer Infant Complete Nursery Care Kit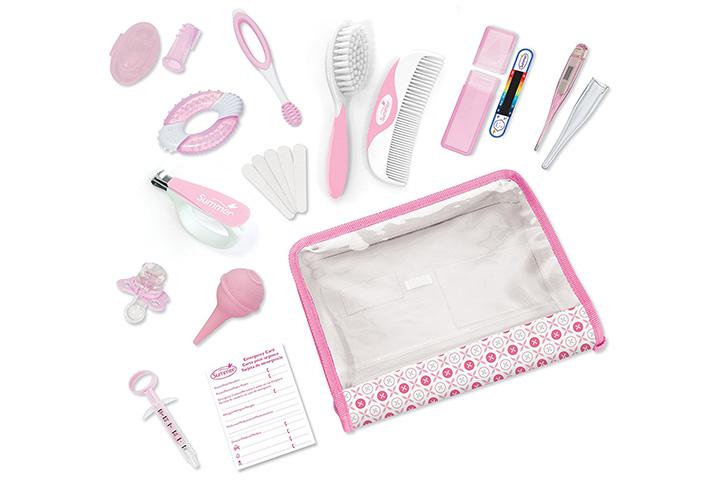 Description: The summer infant complete nursery kit includes 21 healthcare and grooming items essential for your little one. A durable storage case makes it convenient and portable for traveling. The kit has medicine syringe and pacifier medicine dispenser that help parents measure and administer the proper dosage to their little one.
In case the baby has nasal congestion, the kit has nasal aspirator to relieve the baby off congestion. The digital thermometer reads the accurate temperature. Kit has emergency information card for quick reference to the doctor's number. This kit is a great gift for first-time moms!
11. Aveeno Baby Daily Bath time Solutions Gift Set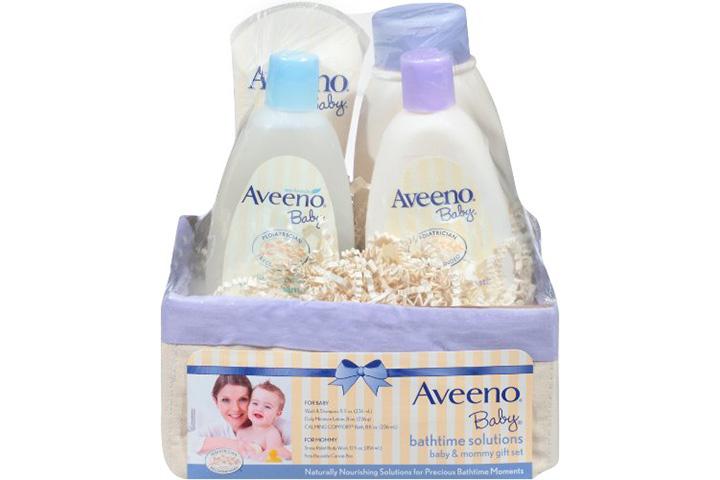 Description: This gift set is a gentle bath routine with skin products for both mom and baby. It has a stress relieving body wash, baby calming comfort bath, shampoo, and lotion. The wicker carrier includes everything you need for your baby's bath. The products are gentle on your baby's delicate and soft skin. The brand uses natural ingredients that help in restoring skin's normal pH level and preventing dry, itchy, irritated skin.
12. Graco Pack 'n Play Playard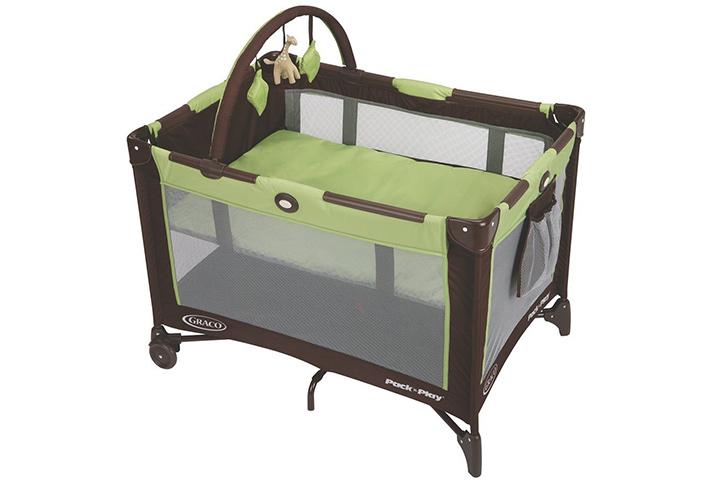 Description: The play yard is designed to help you keep your baby safe and comfortable no matter where you are. It has automatic folding feet and durable frame, making it travel-friendly.
13. Evenflo Tribute LX Convertible Car Seat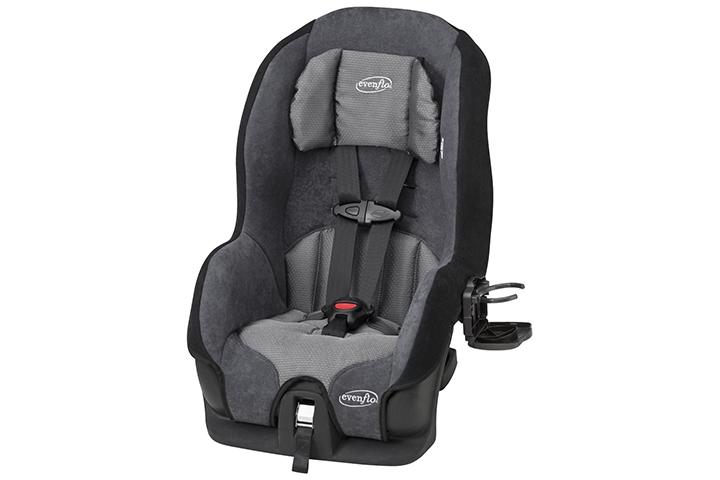 Description: This convertible car seat is designed to be compact and lightweight. It meets all federal safety standards (side impact tested, tested for structural integrity at energy level approximately 2X the federal crash test standard). The car seat comes with multiple shoulder harness positions for a better fit. Upfront buckle release and harness adjustment allow easy and convenient adjusting, and the body cushion gives added comfort. The car seat provides safety and comfort to your infant while driving and is made of 100% polyester.
14. Baby's Headbands Girl's Cute Hair Bows Hair bands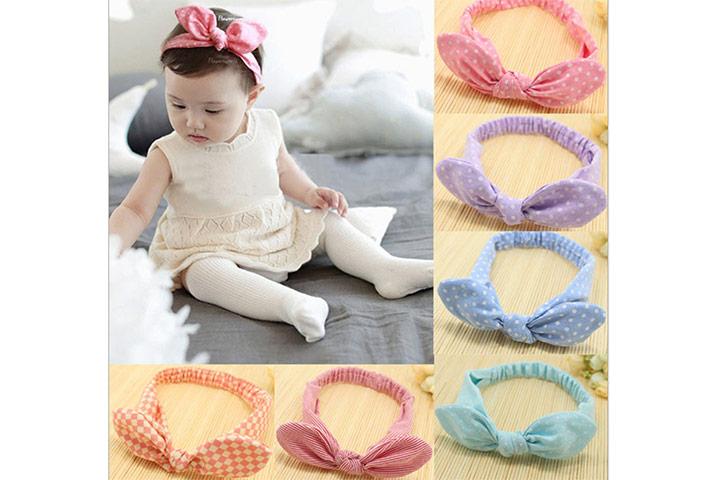 Description: These head bands look adorable on a little baby girl, keeping her hair away from her eyes without leaving a mark on the baby's head. The band is made of chiffon, which is a friendly fabric.
4 Tips For Buying Toys For Your Baby
Here are useful suggestions that you may consider while buying toys:
1. Put safety first:
Always keep safety in mind while selecting toys for your little one. The toy should be sturdy, and should not be a choking or cutting hazard. It should be devoid of sharp edges. Most old heirloom toys do not meet safety standards as they may contain lead or toxic paint.
2. Look for quality:
Make sure the material used for the toys and the paint are non-toxic and safe for the baby. It should not break easily, should be odorless, and BPA and phthalate-free.
3. Age appropriateness:
Check for age labeling on the toys as it is based on the baby's physical and mental ability, interests, and safety. Choosing toys that fit your infant's level of learning will help him challenge himself without stressing him out.
4. The toy should stimulate senses:
Choose toys which are designed to stimulate your baby's sensory development. Attractive colors, interesting sounds, and texture help your tiny tot explore and learn.
Also, you might want to check the age recommendations given on the packaging of the toys.
What Do Age Recommendation Labels On Toys Mean?
Age recommendations are guidelines for customers when they are purchasing toys for babies. A lot of consideration and testing goes into establishing the age recommendation for toys. It is often based on the following factors:
Safety guidelines
Observation of babies' interest and interaction with toys
Developmental stages of babies
Inputs from parents
History of similar toys
Use these interactive toys for your darling babies and see them play and enjoy while also benefitting from them.
Have some more toys and gift ideas for 10-month-old boys and girls? Let us know in the comment section.
Recommended Articles:
Comments are moderated by MomJunction editorial team to remove any personal, abusive, promotional, provocative or irrelevant observations. We may also remove the hyperlinks within comments.