If you are looking for an engaging toy for a ten-month-old, we have made a list of the best toys and gifts for 10-month-old babies. When your baby is ten months old, they start to sit upright, make sounds, stand with your support, and put everything into their tiny mouths to satiate their curiosity. They start to learn about their surroundings. So, you need to encourage them to help them develop cognitively and enhance their motor skills. Our list includes various exciting toys and gifts that are educational and help your child learn age-appropriate skills while having fun. So, take a look at the available options to choose one that suits your child's interests.
22 Best Toys For 10-Month-Old Babies
Develop your baby's motor and sensory skills, hand-eye coordination, and color recognition with these pull-back vehicles. The toy set includes a school bus, family car, fire truck, and police car. Check out this video on this product and find out more about its features.
Pros
Pull-back vehicles follow the rev-up mechanism
Easy to wash and clean
Wheels can be detached for cleaning
Soft, lightweight toys
Free of harmful chemicals
Cons
Might be slightly big for babies
Colors may not be as vibrant
Fat Brain Toys Spin Again Kids Stacking Toy comes with six discs and a corkscrew pole to keep your baby busy. All your baby needs to do is sort the discs and stack them on the pole. It is a rather simple activity but with a lot of benefits. Here's a video of a detailed review of the product to help you decide.
Pros
Helps develop hand-eye coordination and teaches cause and effect
Vivid textures of the discs and pole encourage tactile exploration
Helps the baby identify colors
Ergonomically designed for easy grasping
Made of BPA-free ABS plastic that's safe for babies
Cons
Might require parental supervision
Might not be as stable
Make learning exciting with a pretend picnic basket. This interactive toy plays more than 150 phrases, sounds, melodies, and songs and is ideal for teaching shapes, colors, and more. If you want to know more about this product, here's a video worth watching.
Pros
15 play pieces to help your baby sort and identify colors and shapes
Picnic basket includes tablecloths, plates, forks, cups, and food
Comes with a butterfly button that plays songs and phrases when activated
Features three interactive play modes: Music Mode, Shapes & Colors, and Pretend Picnic
Cons
Basket handle might not be sturdy
May not be suitable for independent play
Are you looking for a toy that can grow with your child? Look no further. This fun-filled magic learning chair teaches your baby colors, letters, numbers, shapes, and counting.
Pros
Plays fun songs and phrases when the baby sits and stands
Content changes as your baby grows
Remote control buttons and illustrated flip book introduce cause and effect
Comes with more than 50 auto-tuned sing-along songs and phrases
Cushion seat has space to surprise your baby with gifts
Cons
Does not have automatic shutoff
Might get scuffed with rough play
Does your lovely baby enjoy bath time? Why not increase the fun with spin and rattle toys? The Munchkin Float and Play Bubbles Toy improves your cute little one's hand-eye coordination, hand movements, and grasping skills.
Pros
Each bubble comes with a cute animal character
Colorful textured rings around the bubbles move freely
Bubbles float effortlessly in water
Improves baby's sense of touch, sight, and hearing
Designed for easy grip
Cons
All balls might not be equally interesting
Plastic might be slightly hard to clean
Does your baby get attracted to bright colors and colorful toys? Bring home this attractive toy that helps improve your cute little one's motor skills and stimulates their senses.
Pros
Comes with five colorful food-grade silicone bubbles
100% food-grade and BPA-free plastic frame
Teaches cause and effect and engages sense of touch
Portable design lets you carry the toy anywhere
Completely safety-tested and child-safe
Cons
Might be better-suited to toddlers
Requires both hands to handle silicone cups
Make your baby's playtime more exciting with this deluxe kick and play piano gym and maracas by Fisher-Price. The toy helps develop the baby's muscle strength, sensory skills, and motor skills, and awakens their curiosity. It includes a five-key piano, self-see mirror, mat, arch, repositionable toys, and little rattle maracas.
Pros
All parts are detachable
Plays beautiful phrases and songs
Introduces your baby to colors, shapes, numbers, and animals
Mirror helps baby develop self-awareness
Soft, thick, and machine-washable mat comes with loops for attaching toys
Cons
Mat might be smaller than expected
May not be easy to assemble
The Playskool Poppin Pals Pop-up Activity Toy is a hide-and-seek toy. The animals pop up when the corresponding switches are activated. It is an ideal toy for introducing your baby to colors, shapes, and animals, and teaching cause-and-effect.
Pros
Handle is easy to grab
Animals hide when lids are closed and pop up when activated
Lever, key, beeper, and switches are easy to use and baby-friendly
Teaches how to identify different animals, shapes, and colors
Cons
Animal illustrations might not be realistic
Stickers might not stay on for long
Make your baby's transition from sitting and crawling to standing and walking seamless with the VTech Sit-To-Stand Learning Walker. This walker comes with amazing features to keep your baby engaged for long. It boasts more than 70 fun phrases, sing-along songs, and sound effects to stimulate children's imagination.
Pros
Colorful walker comes with a removable activity panel
Five-key piano plays musical notes and encourages creativity
Set includes accessories that help develop motor skills
Shape sorters introduce your baby to different shapes
Comes with a pretend telephone set that encourages role play
Cons
Tire might not have enough grip
Phone might be easy to misplace
Teach colors and shapes to your baby with the Fisher-Price Rock-A-Stock and Baby's First Blocks. The toy set helps develop your baby's hand-eye coordination, problem-solving skills, motor skills, and balancing and coordination skills.
Pros
Includes ten colorful blocks for sorting and five colorful rings for stacking
Helps develop hand-eye coordination and problem-solving skills
Storage bucket comes with a handle
Stacking rings from biggest to smallest helps introduce the concept of relative size
Cons
Easy for babies to knock the lid over

Fisher-Price 4-in-1 Step 'n Play Piano is a complete package that offers your baby unlimited fun and entertainment. The toy helps in developing your baby's motor skills, hand-eye coordination, and muscle strength.
Pros
Comes with 20 different toys and activities
Removable soft mat allows your baby to lay and play
Sliding seat helps the baby take their first steps
Seat is 360-degree rotatable
Cons
May be a bit loud
Mat might be small
Bring home the Melissa and Doug Flip Fish Baby Toy. The toy comes with a range of textures and colors and squeaks and crinkles to keep your baby fully entertained and engaged.
Pros
Encourages grasping and developing the baby's finger strength
Crinkly scales and hidden pictures promote tactile exploration
Features child-friendly mirror for self-exploration
Machine-washable
Cons
Might be slightly bigger than expected
Squeaker in the fins might be a bit startling
Make learning fun and exciting with Vtech Turn and Learn Driver. This toy encourages imaginative play and develops motor skills. While your baby pretends to drive, a cute tiny dog toy moves back and forth.
Pros
Includes three play modes: animal, driving, and music
Comes with more than 60 sing-along songs, music, and phrases
Bright buttons introduce babies to various vehicles and animals
Easy to clean with a damp cloth
Cons
Steering might be a bit difficult to turn
Might be a little noisy
Does your baby love music? How about a musical table? This learn and groove musical table encourages your baby to learn shapes, colors, numbers, letters, and much more.
Pros
Loaded with 70+ songs and tunes
Teaches sounds of different instruments
Features two play modes: learning and music
Helps kids groove to the sounds of a xylophone and guitar
Cons
Might be too lightweight for rough play
Can tip over due to child's weight
Make your baby's playtime more fun and exciting with this low maintenance climb and crawl playset. The activity playset develops your kids' hand-eye coordination and gross motor skills.
Pros
Includes five different foam shapes designed to climb, crawl, and slide
Toys are safe to use, easy-to-clean, and lightweight
Super-simple to stack, lift, and carry
Foam shapes come with a non-slippery bottom
Made of phthalate-free materials
Cons
Might be bigger than expected
Small modifications like adding Velcro might make it more durable
Why not bring home a 3-in-1 smart car for your hyperactive baby? It is an ideal toy for teaching shapes, letters, and more. And the toy grows with your baby.
Pros
Dashboard allows your baby to honk, turn the wheel, turn the keys, and press buttons
Easy-to-grab handle helps your tiny tot take their first steps
Babies will enjoy pretending to steer the wheel
Plays interactive songs and phrases
Cons
Might be slightly challenging for babies
May leave marks on hardwood floors
Fed up with the regular rhyme book? How about a musical rhymes book? This musical rhyme book by VTech is interactive and makes learning easy.
Pros
Teaches about colors, instruments, and nursery rhymes
Comes with in-built melodies, phrases, sounds, 40 different songs, and six interactive pages
Features two different play modes: music mode and learning mode
Easy-to-turn pages
Cons
Volume might be a bit loud
The attractive and easy-to-grasp Sassy Developmental Bumpy Ball is a perfect toy for developing your baby's motor skills and stimulating their tactile senses.
Pros
Attractive colors and rattle sounds keep the baby engaged
Bold patterns on the ball help your baby recognize different patterns
Toy is designed for easy grasping
Can keep kids up to 3 years old engaged
Cons
Might be slightly large for babies
May be a bit noisier than expected
Bring home this attractive, colorful, kid-friendly, and travel-friendly laptop. Your baby can now learn about animals, shapes, and colors by pressing the various buttons.
Pros
Plays more than 115 phrases, melodies, and sounds
Comes with special parent-friendly features like auto shut-off and volume control
Unique movable mouse allows the baby to trigger lights and sounds
Sizeable carrying handle makes it easy for kids to hold
Cons
Might not be engaging enough for some
May not be able to convey the concept of a laptop
Stimulate your baby's curiosity with these hide-and-squeak eggs. Your kid needs to crack the eggs open to find the hidden chicks inside. This toy helps develop hand-eye coordination and sorting and motor skills.
Pros
Includes six attractive eggs and a storage box
Each egg comes in a different color
Chicks make sweet chirping sounds when their heads are pressed gently
Helps develop hand-eye coordination
Eggs are easy to grip
Cons
Top half of the egg might be slightly pointy
Egg carton may be slightly tough to open
This turtle-shaped activity gym grabs your baby's attention and keeps them busy. Your baby can sleep and play and sit and play in it.
Pros
Comes with 40 colorful balls
Features four hanging animal-shaped toys that sway, jingle, and rattle
Pop-up side mesh keeps your baby safe while playing on the mat
Ideal for developing baby's motor skills and color- and object-recognition skills
Cons
Bottom mat might shrink slightly in wash
Top layer of mat might bunch up
This activity cube helps with your baby's brain development and stimulates their senses. It is an ideal toy for teaching colors, shapes, and numbers and is perfect for building parent-child bonding. Do not worry about the quality of the cube. It comes with finely polished edges and is made using water-based non-toxic paints and safe materials.
Pros
Wooden cube designed for convenient storage
You can remove the bead-maze-top for easy transport.
Every side of the cube comes with fun activity
Shape sorter encourages your baby to learn different shapes and match them
Spinning gear helps improve motor skills
Clock teaches numbers and time
Cons
Might be smaller than expected
Wooden pieces may be slightly challenging to push through the spiral
9 Best Gifts For 10-Month-Old Babies
After carrying out extensive research, we have selected a few gifts that can surprise your baby. Have a look.
This Baby Banana toothbrush is an ideal gift for babies as they tend to put almost anything into their mouths. The toothbrush is soft, flexible, and chemical-free; and the banana peel handles prevent choking. The toothbrush also helps in massaging the teeth and gums. Moreover, the toothbrush develops good oral hygiene habits. The toothbrush is easy to clean and dishwasher safe.
Pros
Can be put in the freezer to provide soothing numbing effect
Can be used with or without toothpaste
Eases transition into toddler toothbrush
Available in many colors
Cons
Might not be effective for plaque removal
Bristles might begin to fray over time
Surprise your baby girl with this soft, bright-colored dress and matching sandals. The machine-washable dress set includes a soft, gentle frock with lovely prints and a cardigan with a tiny pocket. The sandals provide an excellent grip for your baby while walking. The frock can be worn in all seasons and you get the option to choose from 17 different prints.
Pros
Imported quality
Extremely comfortable
Available in several sizes
Machine washable
Cons
Might not be suitable for running around
Shoes may not be a perfect fit for some
Gift your baby the Baby Delight Go with Me Chair that can be carried around anywhere. The portable chair comes with a removable five-point safety harness, sun canopy, and food tray. Whether it's a trip to the beach or a camping expedition, this chair will keep your little one safe, secure, and supported all the time.
Pros
Folds into a compact size
Easy to travel with
Features protective leg enclosure with net
Strong and stable flared leg system
Cons
Removable tray might be high for some
Sun shield may not be easy to adjust
Gift your tiny little one the Sassy Tummy Floor Mirror. The mirror encourages self exploration and improves the baby's focus. The mirror features a butterfly toy and a ladybug with tracker ball and textured leaves to help develop the baby's visual skills and stimulate the baby's tactile senses.
Pros
Comes with two-color spinning ball
Soft frame
Stimulates the baby's tactile senses
Easel back supports mirror against the floor
Cons
Reflection may be a little warped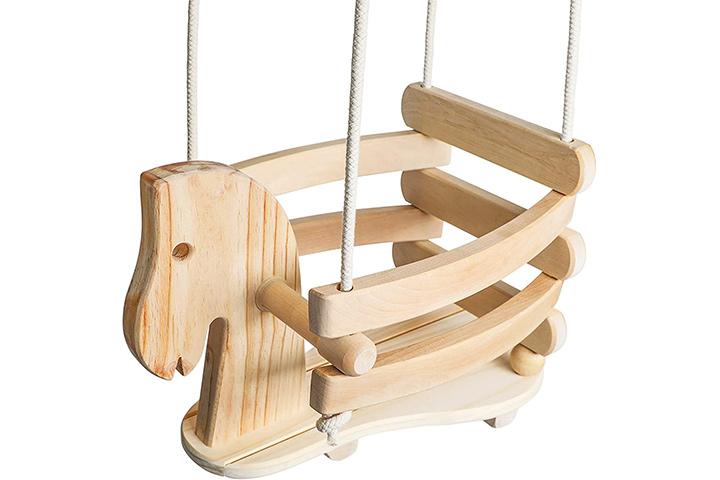 Babies enjoy swinging. How about gidting them a safe and secure giraffe-themed swing? The eco-friendly Ecotribe Wooden Giraffe Toddler Swing is made of varnished solid birch wood with finely finished edges. The opes are made from durable cotton for a tight fit. The swing can be used both indoors and outdoors. The swing is capable of holding babies weighing up to 44lb (20kg).
Pros
Suitable for children from three to six years
Features wear-resistant cotton ropes
Easy to install
Lab-tested for US compliance and safety
Cons
Assembly directions might not be clear
Ropes might begin to fray slightly over time
Fancy giving your baby girl a perfect gift that suits every occasion? Grab the Baby Girl Nylon Headbands that come in attractive shades. Each pack includes no less than five headbands to complement your baby's different outfits. The headbands come with excellent elasticity and are extremely soft and lightweight.
Pros
Do not leave any marks
Suitable for newborns and toddlers
Great for all occasions
Does not feel too big or tight
Cons
Might snag slightly over time
Lighter colors might look faded after multiple washes
This playmat is one of the best toys that you could gift your baby during their tummy time. The bright colors provide visual stimulation, and the various aqua animals keep the baby engaged for hours. It also develops their gross motor skills and facilitates good parent-child bonding.
Pros
Improves hand-eye coordination
High-frequency heat-sealed
Consists of all colors needed for visual training in babies
Lightweight and portable design
Cons
Water valve might be slightly difficult to thread
Instructions may not be clear enough
This inflatable baby bathtub is all that you need to make your baby's bath time fun? The textured and cushioned bottom makes it safe and comfy for your baby. Moreover, the bathtub is easy to use and can be compactly folded for storage.
Baby Banana toothbrush is designed to help infants and toddlers learn how to maintain oral hygiene. The silicone bristles are soft and gentle on sore, sensitive gums and teeth and help relieve pain during teething. This toothbrush is easy to hold and made of food-grade silicone for safety and durability. It is recommended for children between three and 12 months.
Pros
Free of BPA and phthalates
Bendable body
Dishwasher-safe
Can be put in the freezer
Available in several fun and cute designs
Cons
Banana head might be long for some
May attract dust
How To Pick Toys and Gifts For 10-Month-Old Babies
Here, we provide a few essential points that you may consider before buying a toy for a 10-month-old baby.
Skill development: You may buy a toy that helps develop motor skills, cognitive skills, hand-eye coordination, listening skills, and problem-solving skills of the child.
Interactive: Interactive toys never bore your baby. They encourage interaction and can be used for teaching numbers, letters, colors, and shapes.
Age and growth: The toy that you buy must match your baby's age. Look for toys that grow as your baby grows. It means your baby can enjoy or still play with them even when they get older.
Safety: Choose toys that are made of chemical-free materials as babies tend to put toys into their mouths.
Durability: A 10-month-old baby has tiny hands and is still learning how to grab things. There might be chances of toys hitting the floor and breaking. Hence, choose toys that are made using high-quality materials and are long-lasting.
Color: Kids are attracted by colorful toys. If your kid doesn't like a particular toy, it could mean that the color of the toy is dull.
Why Trust MomJunction?
Priti Bose is a seasoned content creator and product reviewer who is passionate about reviewing kids' products and toys. She has come up with this list of the best toys and gifts for ten-month-old babies to make it easy for parents to pick safe and useful products. She has compiled this list after going through various reliable sources and has also added a buying guide to help you make the right decision.
Recommended Articles: