Jump to toys for:
When he was two, Harry would take his stuffed dog everywhere he went. He had found a new love in a red toy car by the time he turned three. He played with it for hours. At five, he barely noticed the car and the dog. He spent his time with a remote car and riding his bicycle. His mom wondered what his favorite toy would be next year and the year after that.
Purchasing toys for boys is not easy, is it? That is why MomJunction gives you a list of a variety of toys for five, six and seven-year-old boys.
Make sure to add them to the birthday or holiday shopping list!

Best Toys For Five-Year-Old Boys
Want to keep your five-year-old boy busy in a good way — without using TV or electronic gadgets? Get him these toys then.
1. Barrel O' Slime
Slimy things and greasy stuff may gross you out, but they are likely to fascinate a five-year-old boy. This toy, aptly named Barrel O' Slime, is a perfect tool to engage him in interactive play. The slime is made from a non-toxic, child-friendly material and can keep the kids engaged for hours together.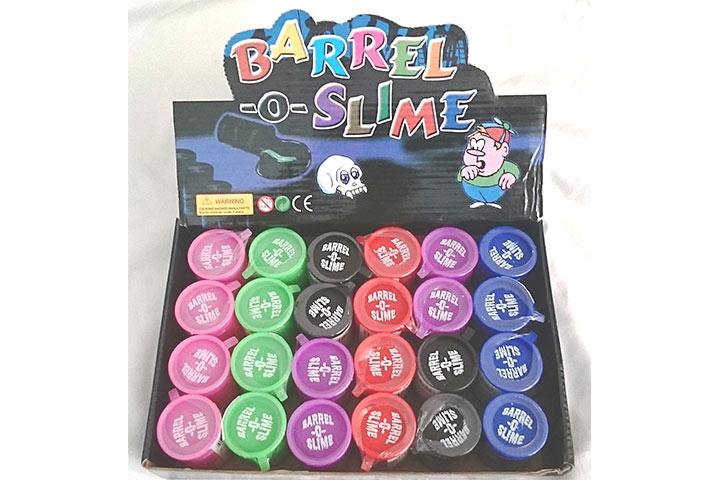 Why kids like it: A five-year-old boy will love playing with the slimy substance as they can pull it apart and try to separate it but it comes back together. It lets the kids get messy, without being yelled at! After all, Barrel o' Slime gives them the license to make a mess and learn about science too.
What we like about it: This set of Barrel O' Slime has 24 barrels! That's a lot of slime that the kids can play with for months, or until they get bored of it. Also, the sticky and gooey substance can teach kids about various scientific concepts such as velocity, polymers, density, cohesion and viscosity among others.


2. Dinosaur Toys
Dinosaur toys are educational and fun to play with too. The set has 12 unique dinosaur toys, each around six inches tall. Perfect for creative role play, these dinosaur toys can be used for solo or group play. You can also buy them as return gifts for birthdays and other occasions!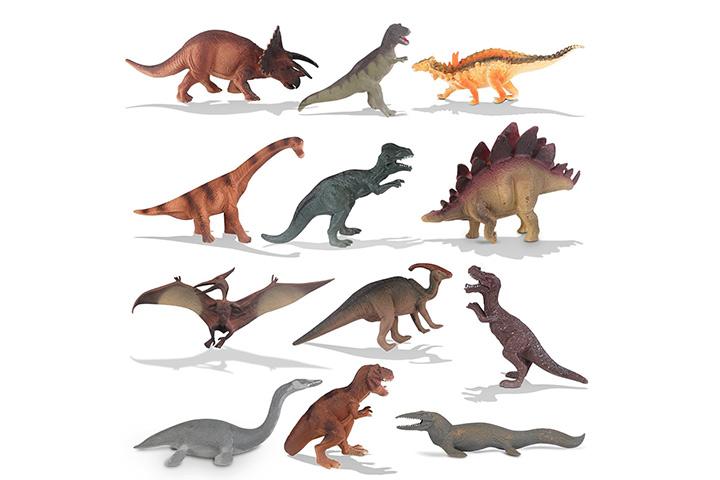 Why kids like it: Dinosaurs are big, they roar and are cool! That is what makes dinosaur toys one of the best choices for a five-year-old boy. There are 12 different dinos the boy can play with and go back to the Mesozoic era when dinos ruled! The kids can also recreate Jurassic park with the dinosaur toys – using sand, temporary fences, and other figurine or role-play toys they have.
What we like about it: The set contains 12 unique dinosaur toys, which can be used to teach the kid about the era of the dinosaurs, characteristics of each dinosaur, and extinction of the dinosaurs, although in a subtle way. These toys can be used to introduce the child to paleontology and the study of fossils.


3. Hot Wheels Track Builder Stunt Box
You might think that a five-year-old boy is too young to be a Hot Wheels car collector. But he certainly is old enough to play with a Hot Wheels toy!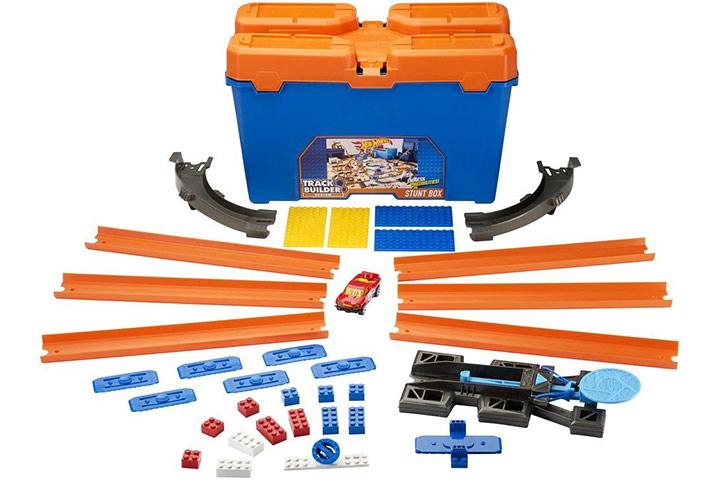 Why kids like it: If your boy already has a collection of Hot Wheel cars, then he will love the Track Builder stunt box which can be used to build tracks in different ways! Children can experiment by configuring the tracks in several ways using the tracks, ramps, launchers, split loops, connectors and brick components, and send their cars flying in different ways!
What we like about it: The track builder kit comes with a storage box that also doubles up as one of the components to build a track for the stunts! The kit has over 35 pieces of track building material and encourages creative thinking and problem-solving in children. Besides entertaining them, the kit also keeps them busy in a good way.


4. Lego Red Racer, Multi Color
Lego has been a pioneer when it comes to developing educational toys that can bring out the creative best in kids. The Red Racer is one of the simplest of Lego toys that you can get for a five-year-old boy.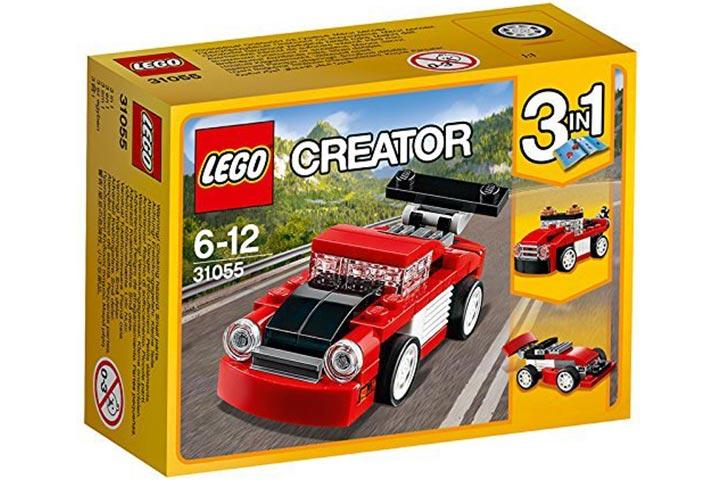 Why kids like it: Boys love cars, and this one can be customized as the kid wants it. The bright red colored sports car with a changeable rear spoiler, bright white headlights, and a rear engine design is appealing to little kids. The kit has over 70 puzzle pieces, including tires, a hood and other bricks for completing the car's red, black and white scheme.
What we like about it: The Lego Red Races is a three-in-one car, which means your child can make two amazingly cool sports cars or a tow truck, depending on his mood. The toy is easy to assemble and is small enough to carry around for road trips.


5. Lego Creativity Box
Want a starter Lego kit for your five-year-old boy? Get one of the Lego creativity boxes available in green, red and blue.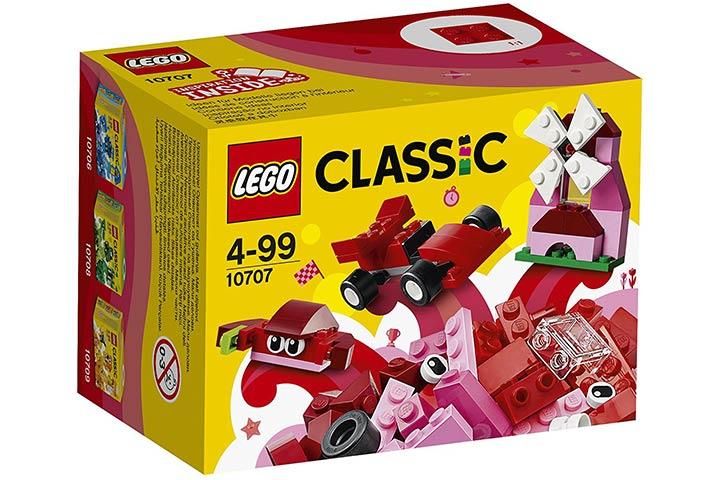 Why kids like it: It is incredible how many things you can make using building blocks such as Legos. The Lego creativity box has over 50 pieces of bright colored bricks, wheels and other shapes that the kids can use to build a home, a car, an animal or anything else that comes to their mind.
What we like about it: The bricks foster open-ended creativity and imagination, giving the child a free rein to create anything he wants with the blocks. The kit contains a variety of bricks that enable the kids to build structures at different levels of complexities to suit different age groups. The kit also comes with a set of instructions that can be used to teach the kid about building with Lego bricks.
Toys For Six-Year-Old Boys
Your six-year-old boy will still love toys, although the kind of toys he chooses may not be as simple as they were when he was five years old. Here are our picks of ideal toys for a six-year-old boy.
6. LEGO City ATV Race Team
This Lego set contains some rugged-looking vehicles since the theme is an ATV race team.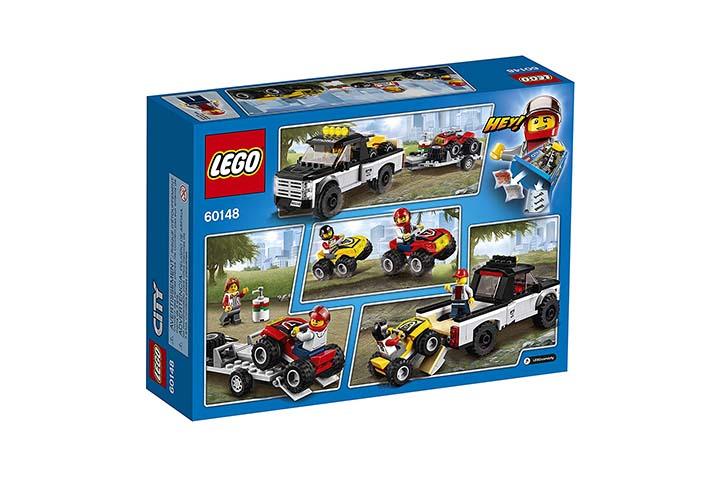 Why kids like it: There is a pickup truck with a trailer, on which you can place the ATV toy. The pickup truck features a ramp and a place to store tires from another ATV. The realistic look and attention to detail in this toy will get your child excited.
What we like about it: There are not many parts in the toy and can be easily assembled by the child with some assistance. The quality of plastic is typical of Lego – durable and long-lasting.


7. Mattel Bounce Off Game, Multi Color
An excellent game that keeps your child's mind active throughout, Bounce Off is a two-player game that can never get tiring. Although it looks simple at first, Bounce Off needs your child to focus and works on his hand-eye coordination.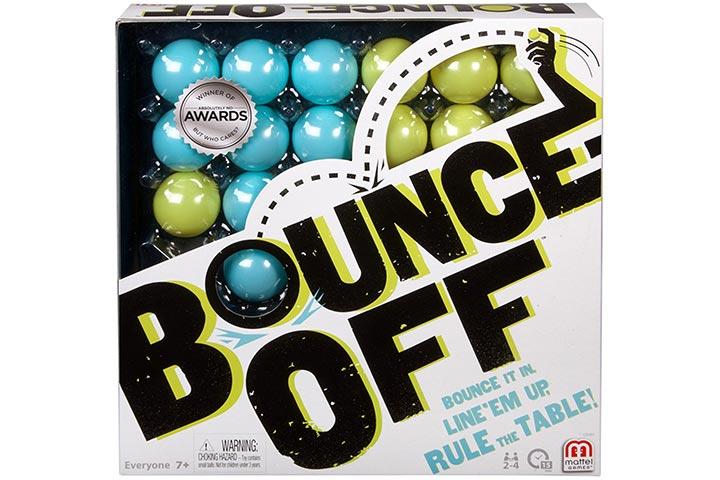 Why kids like it: Bounce Off is basically a competition between two players, who have to create patterns on the board by bouncing off the balls. That's not all. The kids have to try and get the pattern before the other player does, which makes the game all the more exciting. Now, wouldn't boys like that?
What we like about it: Bounce off may seem like a silly ballgame for kids, but it is more than just that. The game encourages the child to pay attention to what they are doing and helps develop their fine motor skills and hand-eye coordination. This game can also be an excellent option for the family game night, where you can teach your son a skill or two about aiming at a target!


8. Wooden Tetris Jigsaw Puzzle
Puzzles are good for the brain. When you want your restless little boy to sit down and focus on something, just get him this wooden jigsaw puzzle.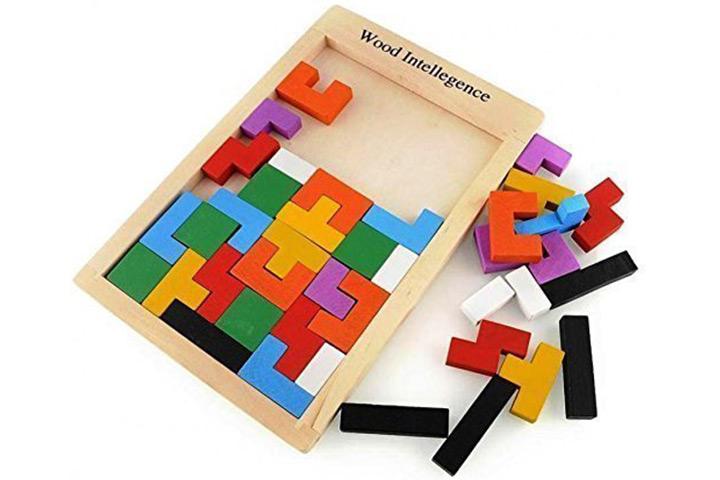 Why kids like it: Kids like a challenge and this wooden puzzle toy offers them just that. The puzzle pieces can be used to create different shapes such as a pyramid, tree, villa, robot, umbrella and more! The kids can follow the instructions to create geometric designs or create designs that they conjure up using their imagination.
What we like about it: The wooden puzzle is made from non-toxic material and promotes hand-eye coordination, fine motor skills, visual perception, imagination, color recognition, pattern recognition and problem-solving skills. The toy is as much educational as it is fun and can keep the kids occupied for hours together.


9. Nerf Nitro Longshot Smash
Nerf brand of toys is usually about guns and bows that use soft foam blasters and arrows. But this Nerf toy is different and more fun and unique when compared to the other products.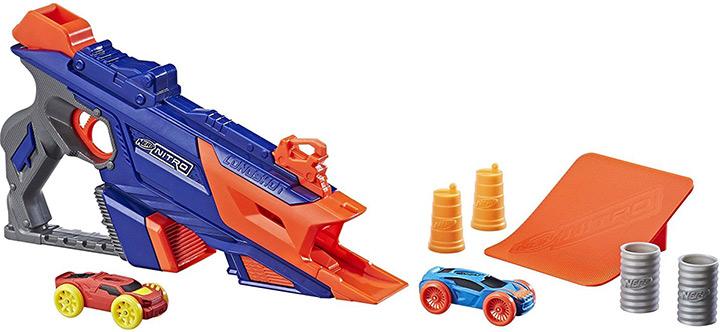 Why kids like it: The Nerf Nitro Longshot Smash is a blaster too, only it blasts cars off the ramp for some action-filled playtime. The toy comes with a nitro blaster and a long jump ramp that makes the car fly high! Made of lightweight foam, the cars fly high and far when released from the blaster. The toy comes with four obstacles too, making the activity all the more fun.
What we like about it: This toy is somewhat similar to the Hot Wheels racing track, except without the assembling part. The cars are made of foam, which makes them safe to play with, even when they move at high speed. The toy lets the child configure the blaster, ramp and the obstacles to control the speed and the distance traveled by the foam car.


10. Zing Z Bow
The Zing Z Bow is not just any other bow and arrow toy. A strong bow that is built to shoot toy arrows at long distances, the Zing Bow comes in orange, green, black and yellow, and pink.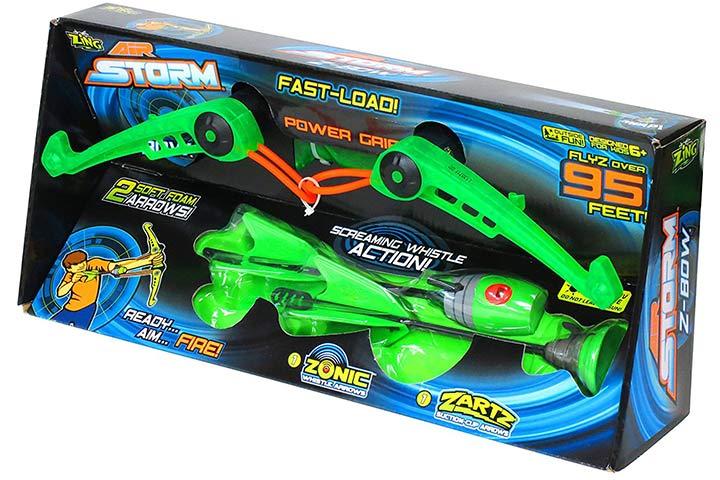 Why kids like it: Your little boy can be Robin Hood, Oliver Queen or any other bow-wielding hero who wants to fight the bad guys, only if he has the Zing Z Bow. The set comes with a pair of RedX arrows and a suction cup arrow. Kids will love when the suction cup arrow hits the target and sticks to it. The RedX arrows have a foam tip which will make them bounce back off a target.
What we like about it: The arrows are made of lightweight plastic and foam, which makes them safe to play with. This toy can be a great tool for target practice, especially if the child is keen on archery or other target sports. The bow is designed to ensure pinpoint accuracy, which makes it an ideal option for target practice until the boy is old enough for a real bow and arrow.


Toys For Seven-Year-Old Boys
At seven, your boy is slightly taller, stronger and smarter than before and needs toys that challenge him in all these areas. With that in mind, we have shortlisted a few toys for him here.
11. Sport Squad FX40 Foosball Table
Foosball for a seven-year-old boy? Well yes, for this is a mid-sized foosball table that the entire family can have fun with.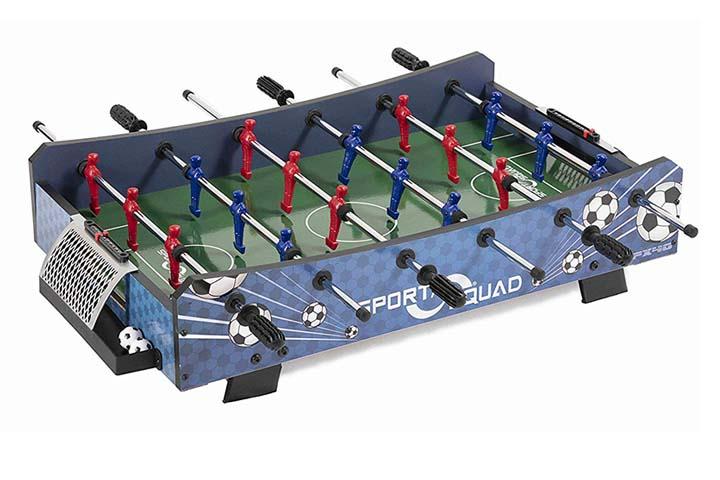 Why kids like it: Foosball is also a competitive sport/game that boys love. If your little boy has been fussing about playing at the adult foosball table, then get him this mid-sized game table. Foosball is not exactly football/soccer, but it can expose the child to the real game and may even help him learn the rules.
What we like about it: Foosball table can be a hit at birthday parties, for family game nights and long summers and holidays when the kids have a lot of time on their hands. The foosball board can be placed anywhere and has four rods, which means the entire family can play this for fun.


12. AUUGUU Dinosaur Race Car Track
If your child loves dinosaurs, then this toy is for them. The AUUGUU Dinosaur Race Car Track features a dinosaur park theme complete with dinosaur toys.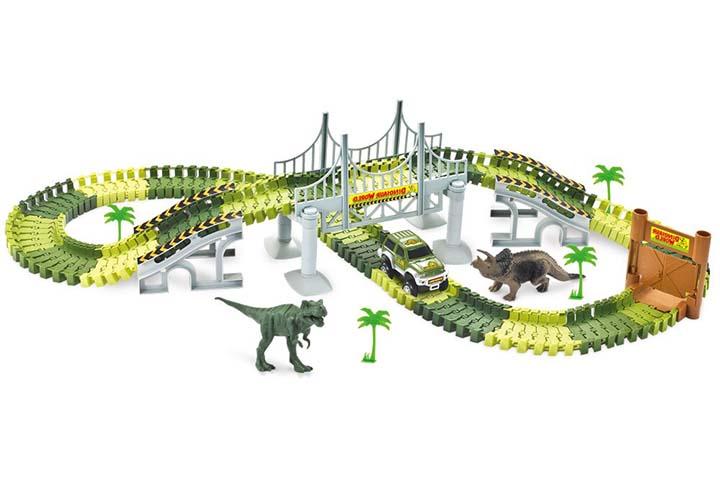 Why kids like it: The toy comes with two battery-powered cars that move on the track. The track itself is collapsible and your child can use their imagination to create new track shapes.
What we like about it: There is attention to detail in this toy. The toy comes with a gate through which it passes quite similar to what we see in the popular film Jurassic Park. The automatic movement of the car and opening of the door will certainly fascinate the child.


13. Meccano 5-in-1 Model Motorcycles
Does your kid enjoy playing with build-it-yourself toys? Then the Meccano 5-in-one motorcycles kit is just what your seven-year-old boy needs to stay busy during the holiday season.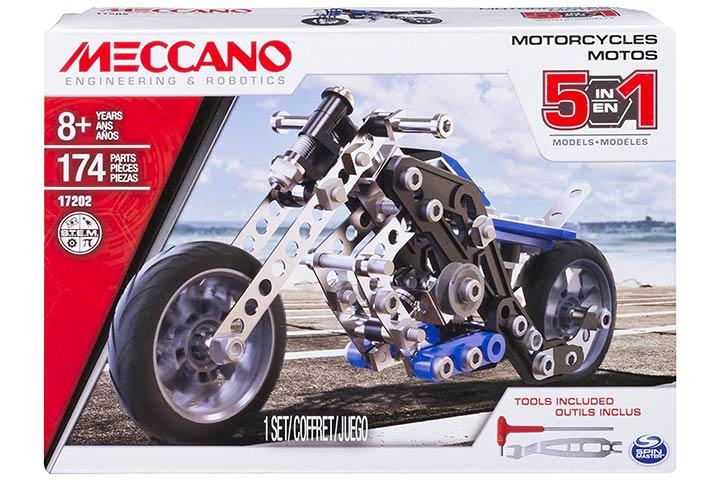 Why kids like it: Kids can build five unique motorcycles with this kit, although one at a time. The kit comes with five design options that are easy to follow and assemble. Kids can also mix and match the components to create their own designs, which is more fun than just following instructions.
What we like about it: The Meccano DIY motorcycle kit is an educational toy that promotes the STEM (science, technology, engineering, and math) subjects. The toy helps develop the child's hand-eye coordination, fine-motor skills, problem-solving skills and awareness of the STEM subjects. Most importantly, the toy promotes creativity and imagination.


14. Authentic Throwbak Spin Tops
Spinning tops are cool. But what is cooler is being able to spin the top like a pro. This set of wooden spinning tops is colorful and also safe for children.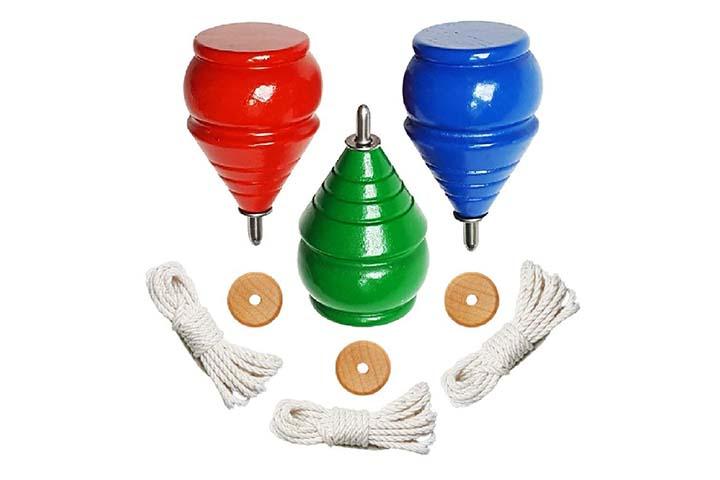 Why kids like it: This set has three different tops with a string for each. The string goes around the top and unwinds rapidly to spin the top. Spinning these handmade tops is a challenge that little boys will love to win.
What we like about it: These are one of the few toys that a kid needs to master the skill of spinning such that it performs a specific action. The toy promotes concentration, hand-eye coordination and timing too.


15. Mota Classic Holiday Christmas Train
There is nothing more exciting to a child than seeing an electronic toy train. Here is a toy with a real toy engine and train cars.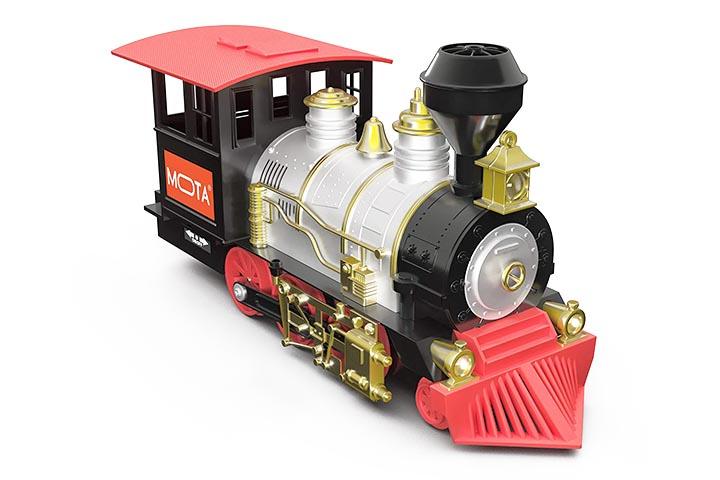 Why kids like it: The toy looks real with tiny wheels, track, and the lights. The train engine is capable of making real smoke. Add a few drops of mineral oil (not sold with the pack), and it will convert into a smoky mist resembling the smoke we see from a real engine.
What we like about it: The track is easy to assemble, which means your child will spend more time on play than on preparing for the play. The train cars are an open type. So your child can place imaginary cargo in the car to make playing with the train more fun.


Besides these cool toys we talked about here, you can also check out the Hot Wheel Mega Hauler toy, transforming car robots, wooden vehicle sets, Nerf Strike sets, Star Wars masks and sabers, and simple fidget spinners that the kids can be occupied with for hours at a stretch. The idea of buying these toys for your kids it not just to keep them entertained, but also help promote their physical, intellectual and emotional development in the process.
Make the right picks, and you might end up buying the perfect favorite toy for your five, six or seven-year-old boy! What is your little boy's favorite toy? Tell us about it here.
Disclaimer: MomJunction may earn a commission when products are purchased through affiliate links given in the article. However, this partnership does not influence the editorial content featuring in our list.
Recommended Articles: