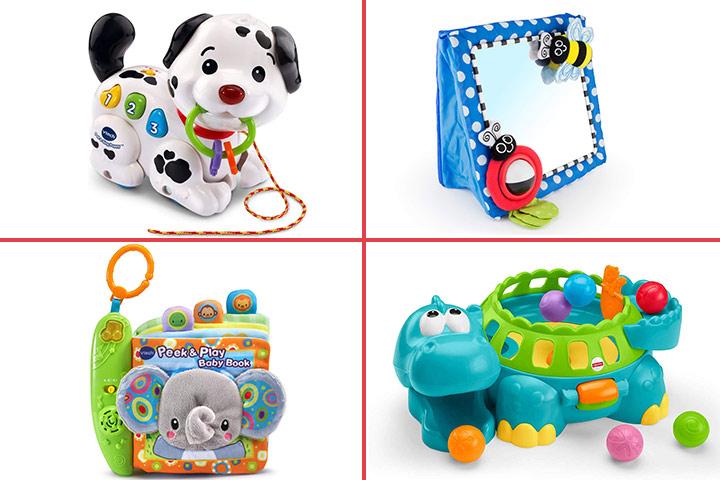 It is now seven months since your little angel arrived in your life and now manages to sit up to look at you. Your little monkey does not stay put anymore and chases after you on his fours. In no time he will start walking with you and even sputter incoherent words.
For a fast growing child it is best to keep them surrounded by toys that will help in their mental and physical development. Hence, MomJunction recommends you the following best toys for 7 month old babies.
21 Best Toys For 7 Month Old Babies
Do not feel confused with what could be the best for your baby. Have a look at the following toys and you will know which toys your baby will enjoy playing with the most.
1. VTech Busy Learners Activity Cube 7/2642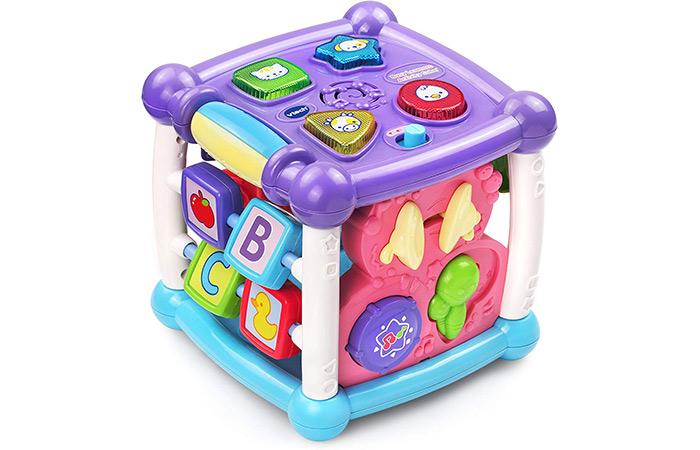 This toy is designed to develop your baby's fine motor skills. As their fingers explore every side of this cube they can learn a little every single day.
Features:
Each side offers interactive activities to develop fine motor skills
Light-up buttons activate music that introduce shapes, sounds and so on
Toy plays 25 songs to keep baby engaged
Comes with adjustable volume
Free from BPA
2. VTech Turn and Learn Driver 7/2051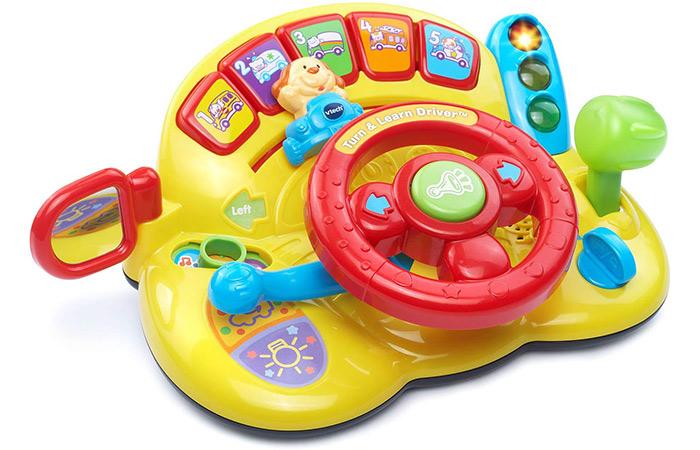 We all love listening to music while driving. Your little one might like it too. This steering wheel comes with flashing lights and plays sounds and music for baby's entertainment.
Features:
Comes with three different modes: animal mode, driving mode and music mode
Colorful buttons activate different sounds and songs
Car design promotes imaginative play
3. LeapFrog Spin and Sing Alphabet Zoo 7/636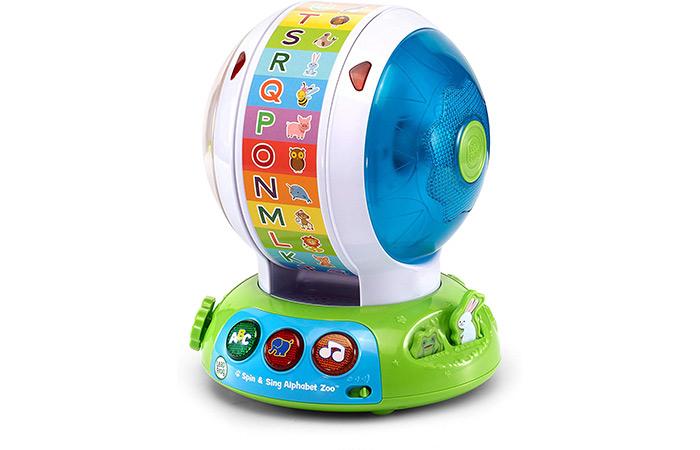 Introduce your baby to letters and names with this cool spinning toy. It also helps strengthen fine motor skills.
Features:
Introduces babies to letters, animals, and music
Interactive toy helps promote finger dexterity
Colorful lights encourage baby to explore toy
4. Munchkin Little Boat Train 7/920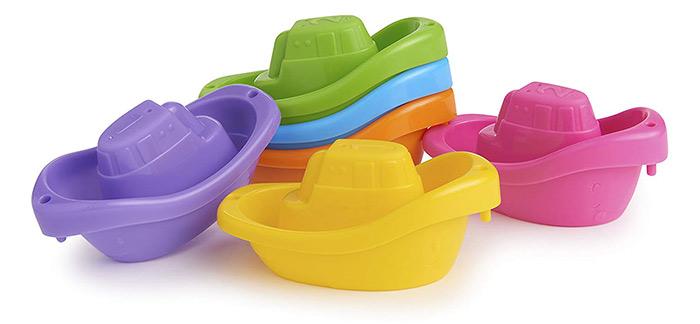 These brightly colored boats create a train when attached in line. And when piled upon each other they make a colorful tower.
Features:
Lightweight body easy to grasp and hold
Helps develop fine and gross motor skills
Strengthens hand eye coordination
Boats collect water for additional fun play
5. Toys – Stacking Rings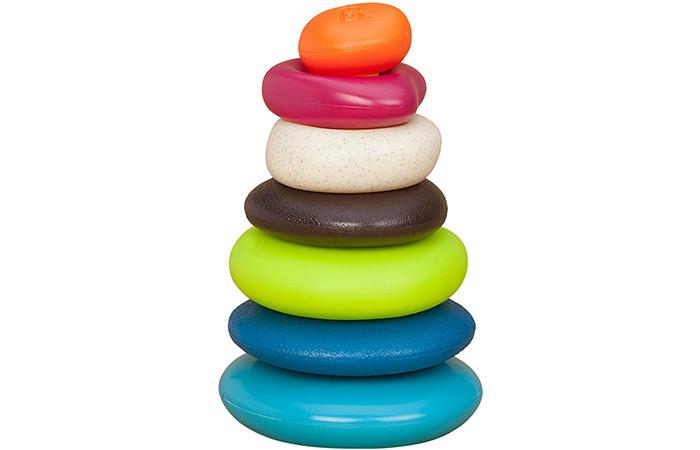 Stacking is a simple activity that babies enjoy indulging in. These textured stacking rings help hone motor skills in baby and strengthens sense of touch.
Features:
Set contains 5 textured rings made of different materials
Designed for easy grasping and holding
Bright colors makes toy visually appealing for baby
Stacking helps develop problem-solving skills
6. VTech Pull and Sing Puppy 6/1753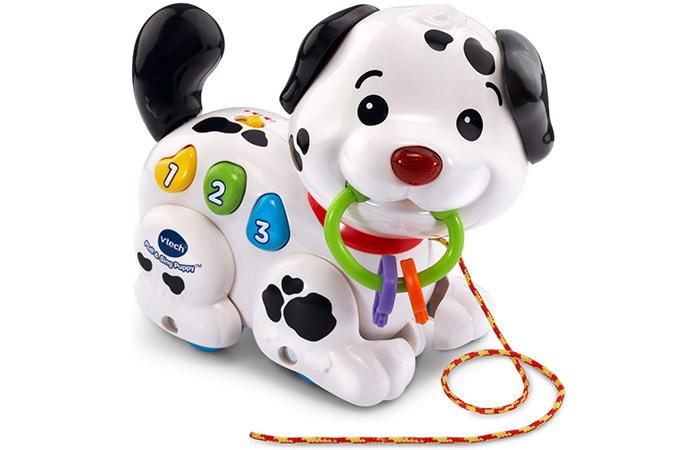 Here is a pet cum toy for your little one. This little puppy plays music and also roams around with your baby.
Features:
Colorful buttons boosts finger dexterity
Plays music and different types of sounds
Helps introduce numbers, colors and so on
Movable toy encourages baby to try to stand and move
7. Infantino Textured Multi Ball Set 6/1739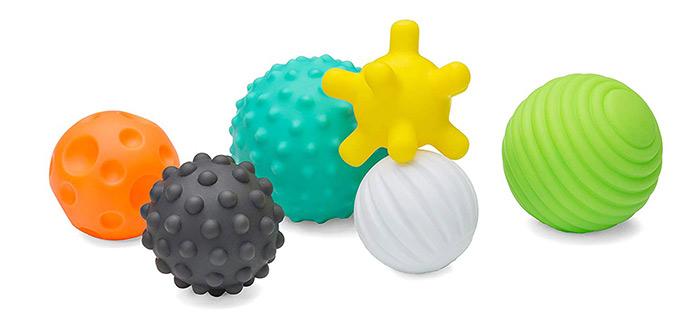 As your baby examines toys with his hands and mouth he will learn to understand the difference in various textures and material. This textured ball set helps develop your baby's sense of touch with a variety in ball shapes and design.
Features:
Made of BPA-free material
Textured body strengthens tactile senses
Designed for easy grasp and hold
8. LeapFrog Scout's Learning Lights Remote 6/1499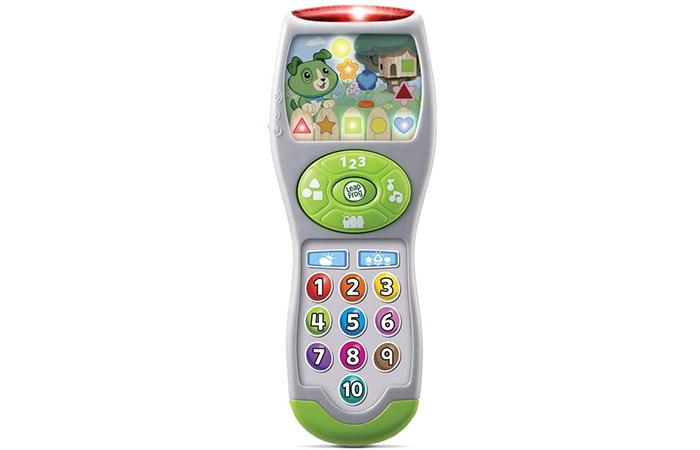 Where else can a baby learn number better than a remote control. Of course this one is a toy remote control. It will not change the channel for you but play numerous songs on various educational topics for your baby.
Features:
Toy plays music introducing shapes and numbers to baby
Flashing lights encourage baby keep pressing buttons
Helps develop fine motor skills and finger dexterity
9. HABA Snug-up Doll Luis 6/151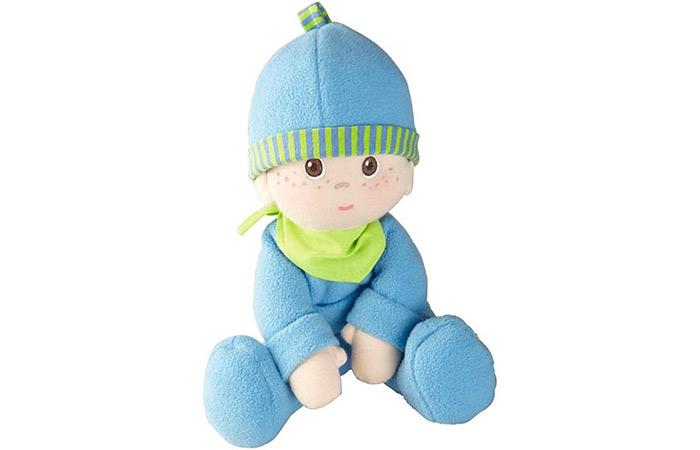 Looking for a simple soft-toy for your baby? Then have a look at this cute cuddly doll. He comes dressed in pajamas and bandanas and looks at your with his innocent large round eyes.
Features:
Soft body for easy cuddling
Toy is washable in machine
10. TOMY Toomies Hide & Squeak Eggs 5/3204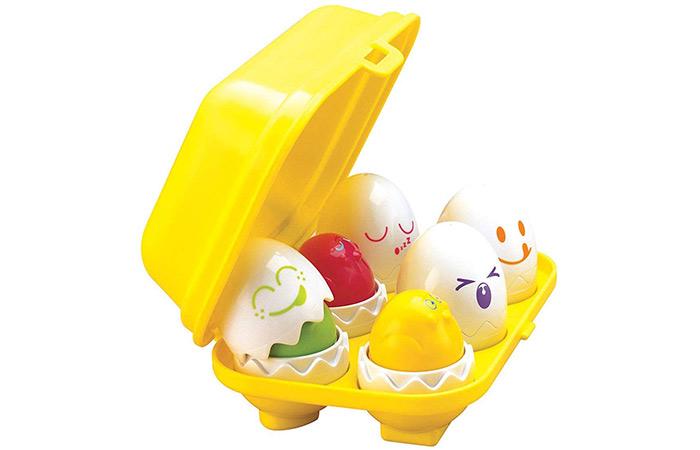 If your child loves toys that make cute sound then these little birds squeaking from their eggs might keep him entertained.
Features:
Promotes shape and color recognition
Sound effects keep baby entertained
Comes in a bright yellow box for easy and convenient storage
11. Sassy Tummy Time Floor Mirror 5/2344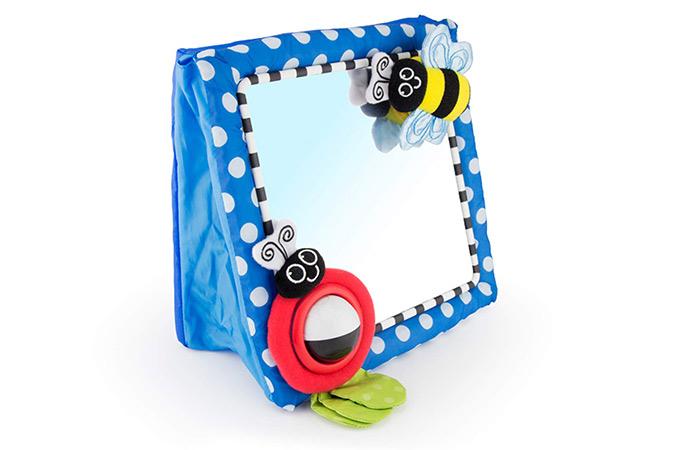 Babies like to see faces and when they happen to see their own reflection it develops a sense of self-awareness. Playing with mirror helps baby strengthen visual tracking skills. But do not hand over a regular mirror. This baby-safe mirror is a better option.
Features:
Mirror comes with a soft frame for safe use
Colorful butterfly boosts tactile exploration
Easel back enables the mirror to stand erect
12. Baby Einstein Octoplush Plush Toy 5/1800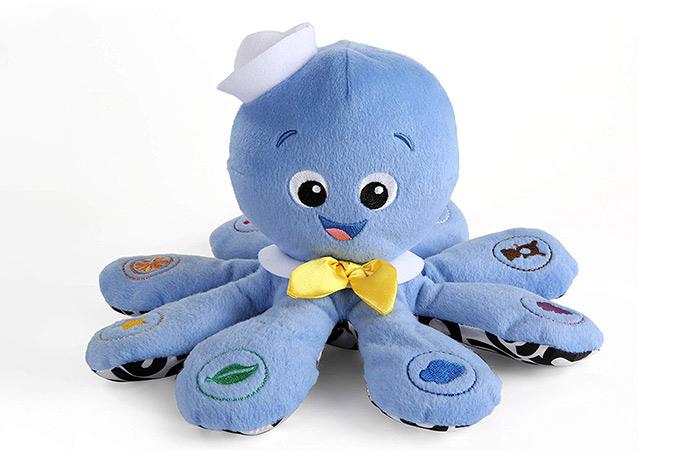 Now here is a soft cum music player for your baby. Your child can hug and cuddle the toy at night and during the day the toy will play music for kid.
Features:
Huggable body for baby's comfort
Soft body promotes tactile development
Toy speaks in three languages: English, Spanish and French
Comes with volume control
13. Baby Einstein Discovering Music Activity Table 5/747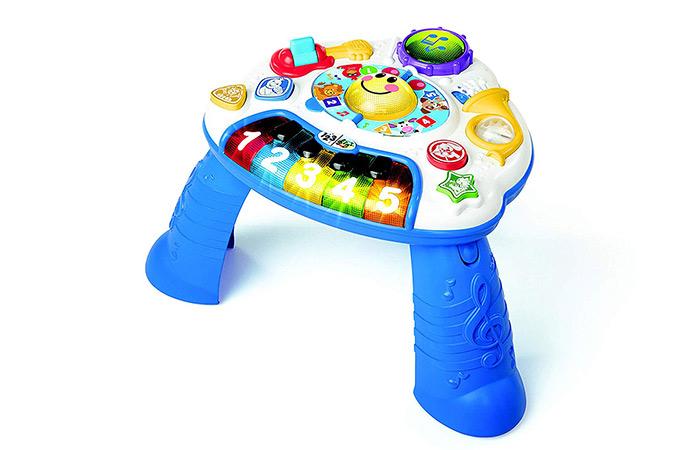 This music activity table offers two main benefits to your child. One that it encourages babies to sit up straight and be busy with it. And two that it promotes love for music.
Features:
Bright buttons play musical instruments such as piano, drum, guitar and French horn
Piano keys plays music teach numbers and colors
Toy plays in three languages: English, Spanish, French
14. Skip Hop Explore & More Follow-me Bee 5/423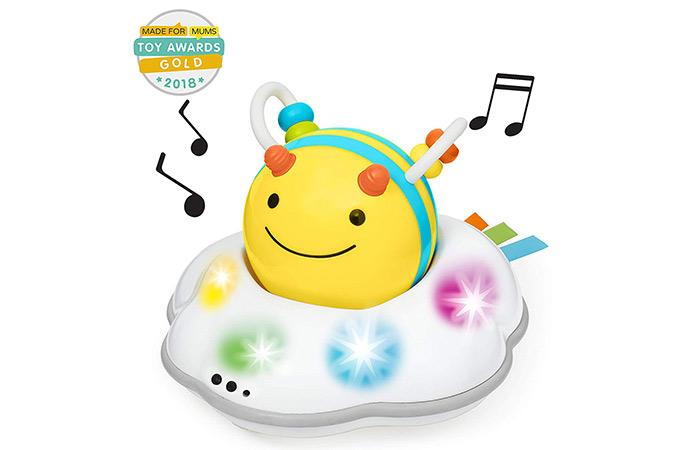 After sitting up your baby will now start crawling. And if he does not crawl then this follow-me bee might make him follow it. Winner of kids toys award, this toy flashes light and moves in patterns encouraging baby to chase after it.
Features:
Helps boost gross motor skills
Toys moves in a pattern but covers short distance for baby to easily chase
Comes with sensors to avoid collision with other objects
Movable beads with rubber texture help with teething
15. Bright Starts Light & Learn Drum with Melodies 5/413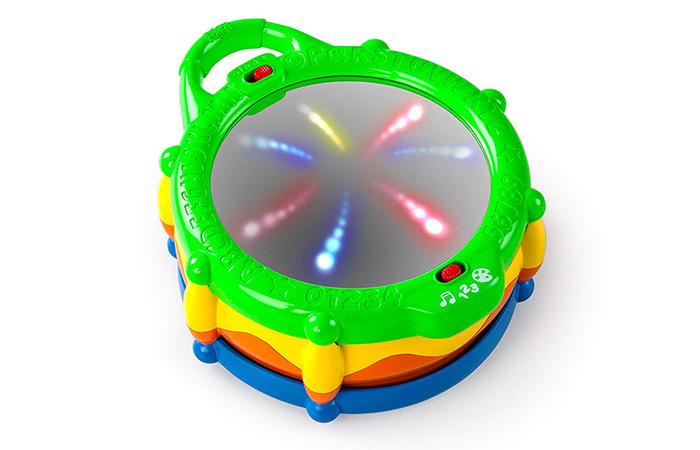 Your baby now sits up straight and enjoys beating stuff around him. This light-up musical drum enables your kid to tap his hands on it while it plays sounds and music.
Features:
Along with musical sound, toy are plays songs teaching numbers and colors
Comes with a textured handle for easy hold and transfer
16. Click N' Play Assorted Colorful Bath Squirters 5/145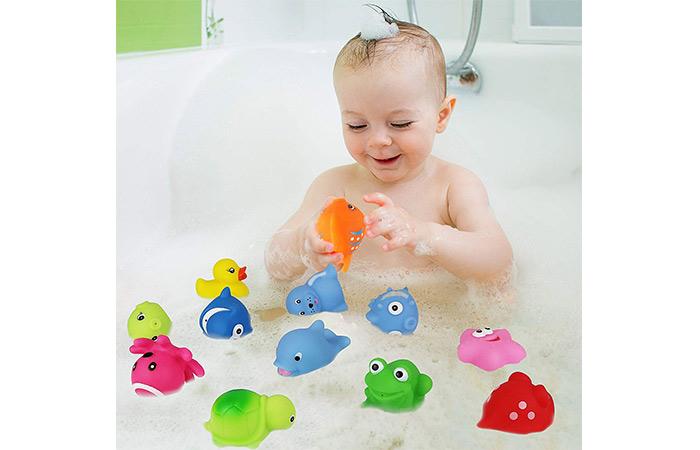 Bath time for your baby becomes a lot more fun when he has some squirting toys to play with in water. These colorful toys are safe for playing under adult supervision.
Features:
Set contains squirters in shapes of various sea creatures
Comes housed in a mesh tube for safe storage
Tiny size for easy squeezing to develop finger muscles
Free from BPA
17. Bright Starts Clack and Slide Activity Ball 4.4/932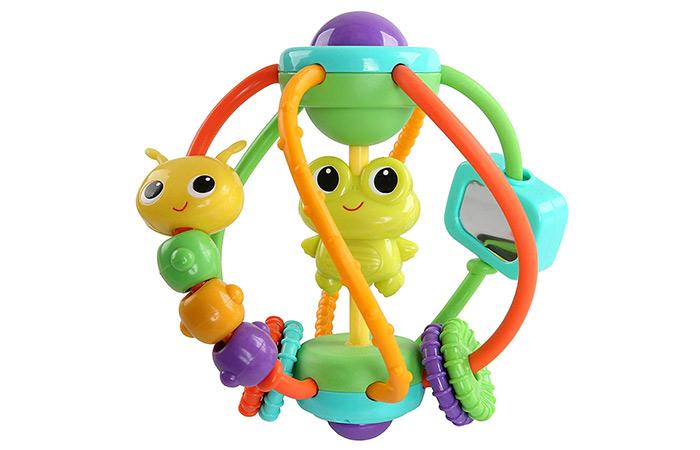 If you want to buy a toy to keep your baby busy when you are both outdoors then get him this activity ball. As the name suggests, this ball offers multiple activities to keep your baby engaged so you can go about doing your other work.
Features:
Multiple spinning characters helps strengthen finger muscles
Squeaker and clacking rings makes sound to attract baby's attention
Textured handles are easy to clutch and hold
Simple to clean with mild soap and cloth
18. NextX Baby Infant Musical Learning Toys 4/191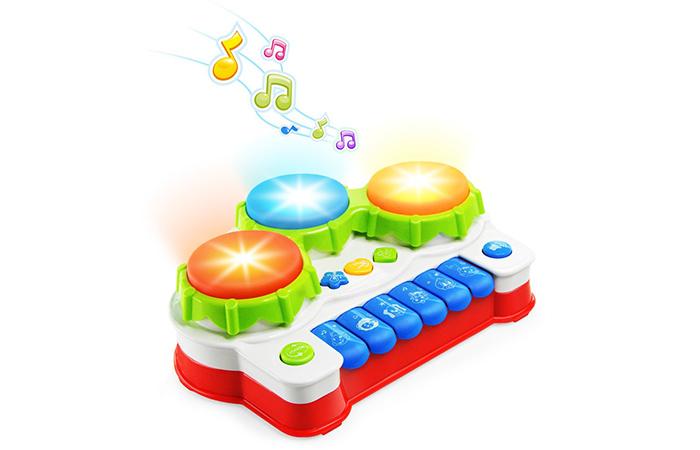 Made from good quality ABS plastic this musical toy can keep your baby engaged with its tunes and lights. It comes with piano keys, hand drums and musical buttons for your child to explore different sounds.
Features:
Helps develop love for music in kids
Comes with volume adjustment
Big colorful buttons help strengthen hand eye coordination
Multiple buttons help improve finger flexibility
Lightweight design easy to carry around
19. VTech Peek & Play Baby Book Toy 4/142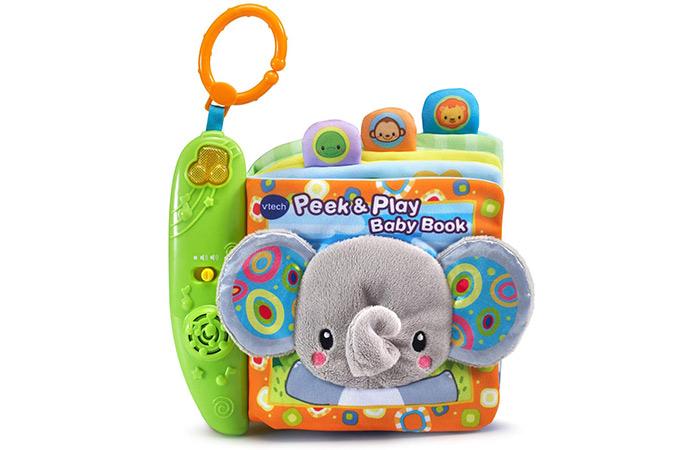 If your wish your baby to develop a love for reading and books from infancy then this baby book toy might help you with that. This cloth book comes with 6 interactive pages that your baby will enjoy reading.
Features:
Pages comes with flaps for exciting images and surprises
Plays songs to introduce baby to colors and animals
Music button flashes light to attract baby
Flipping of pages and variety in textured material helps develop sense of touch
Comes with a plastic ring holder to hang with stroller
20. VATOS Baby Ipad with Music & Light 4/101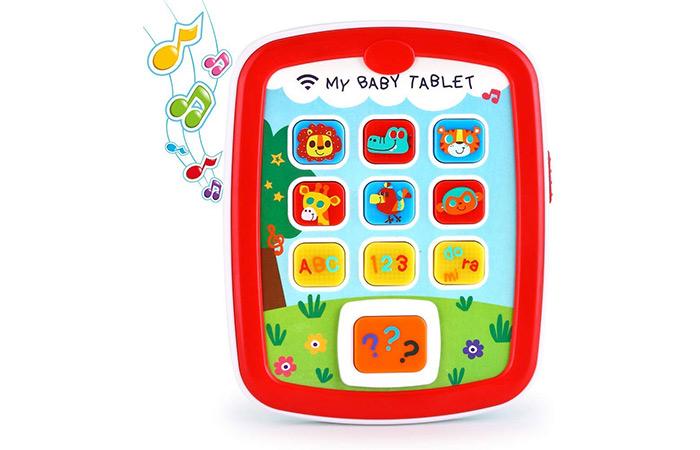 Seeing you on your digital devices your baby must be curious and may want to emulate you. So why not get your baby a personal Ipad that plays music and light especially for babies.
Features:
Pressing button helps tech cause-and-effect phenomenon
Plays music to teach baby alphabets and numbers and animal sounds
Flashing lights help attract baby's attention
21. Fisher-Price Go Baby Go Poppity Pop Musical Dino 0/1818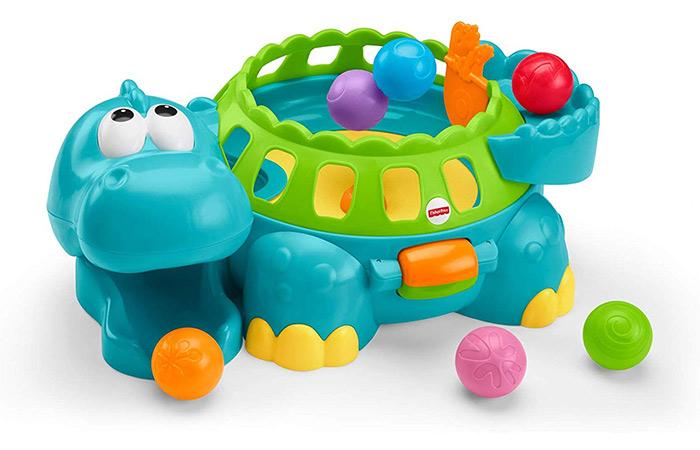 A hungry Dino throws colorful balls from its mouth so your baby can collect it. Fill the Dino's stomach and it happily sings and gives tiny little balls.
Features:
Popping balls prompt baby to crawl after it
Tiny balls help strengthen grasping and fine motor skills
Textured balls help develop tactile senses
Plays 8 tunes to entertain baby
Buying Guide For Best 7 Month Old Baby Toys
At seven months, your baby has turned into a full-time explorer. They will now have a few favorite toys that they will play with the most. Here are a few tips you can consider before buying toys for your little one.
With a grip more stronger than before, your child will now reach out of toys and even put it in their mouth. They will want to touch and taste everything. You may not be able to stop your child from mouthing but you can ensure buying toys that the toys are non-toxic and BPA-free. This way mouthing or teething does not prove unsafe for your baby.
Brands create toys that are easy to clutch so your baby can hold them longer. This helps develop finger muscles of babies. Your growing child is also developing their sense of touch. Buying toys with different textures helps baby identify various materials and surfaces.
Bright, colorful toys stimulate visual senses of the baby. And toys that make sounds help hone your baby's hearing ability. When a toy that flashes light, plays music and moves around, your baby is sure to notice it and become excited to chase after it. This further develops gross motor skills in babies.
The list above contains toys that are a combination of these buying tips. When you are out hunting for toys, keep in mind the significant role toys play in the development of kids. If your baby seems lagging behind in any way, then bringing a toy meant for developing that certain skill might help your baby.
These were our options for best 7 month old baby toys. Did you like any these toys? Do let us know your answer in the comments section below.
Disclaimer: MomJunction may earn a commission when products are purchased through affiliate links given in the article. However, this partnership does not influence the editorial content featuring in our list.
Recommended Articles:
Best Toys for Six Months Old Baby
Best Toys for 3 Months Old Baby
Best Toys for Two Months Old Baby
Best Toys for Four Months Old Baby
Comments are moderated by MomJunction editorial team to remove any personal, abusive, promotional, provocative or irrelevant observations. We may also remove the hyperlinks within comments.