Toys are for boys.
But big boys need more than just silly toys to entertain themselves. They need something that engages their brain and keeps them occupied in a productive way. Boys aged between eight and ten are stronger, have an increased attention span and are more independent than before (1). They have a quicker reaction time and enjoy indulging in skill development .
Considering all that, and the fact that boys need to be silly once in a while, MomJunction has created a list of toys for eight, nine, and ten-year-old boys.

Gifts For Eight-Year-Old Boys
What toys can you buy to make an eight-year-old boy happy? Keep reading to know!
1. Compose Yourself
Compose Yourself? That sounds more like an order than the name of a toy. But it is a toy and an educational one at that.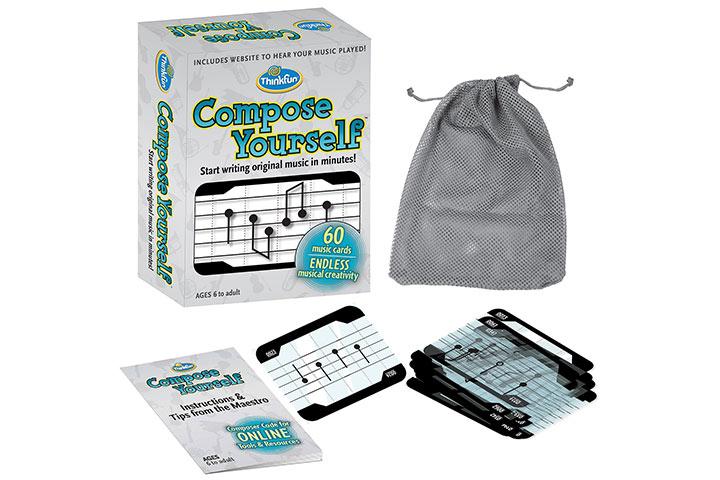 Why kids love it: What's cooler than being able to make your own music and show off to your friends? Compose Yourself makes composing music easier with music cards, which means your boy doesn't need any musical experience to be able to enjoy this game. Your kid can also register online and share his compositions with friends and download it as Mp3.
What we like about it: Exposure to music can benefit the child in many ways (2). If your child has been showing a keen interest in music, this toy is a good investment. Compose Yourself allows children to get creative and helps in building their confidence. The toy also improves the child's sense of music, harmony, rhythm, and more.


[ Read: Educational Toys For Kids ]
2. Gravity defying car
Gravity is one of the many science concepts that your eight-year-old kid learns at school. And that is one of the reasons he might like the gravity defying RC car.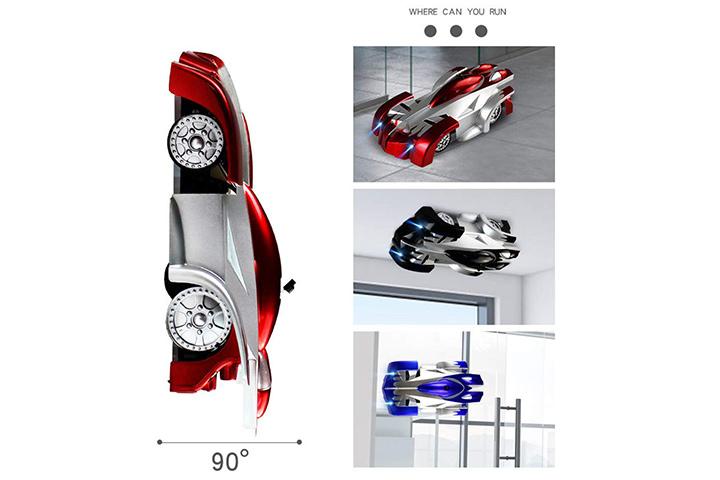 Why kids love it: A regular RC car moves on the ground. But the gravity defying car goes up on the walls. And, it can also travel upside down! Now that is fascinating for an eight-year-old boy. Get him this toy, and we guarantee that he'll love this longer than he has loved his other RC cars.
What we like about it: If your child has not learned about gravity yet, this toy can be a fun way to teach him about it. And then, your kid might even get curious about gravity, how it works, and how some things can defy gravity!


3. NERF N-Strike Elite Mega Lightning Bow
Buying toy guns for kids is not an idea that many parents are comfortable with. If you are one of them, the lightning bow is a refreshing alternative to consider.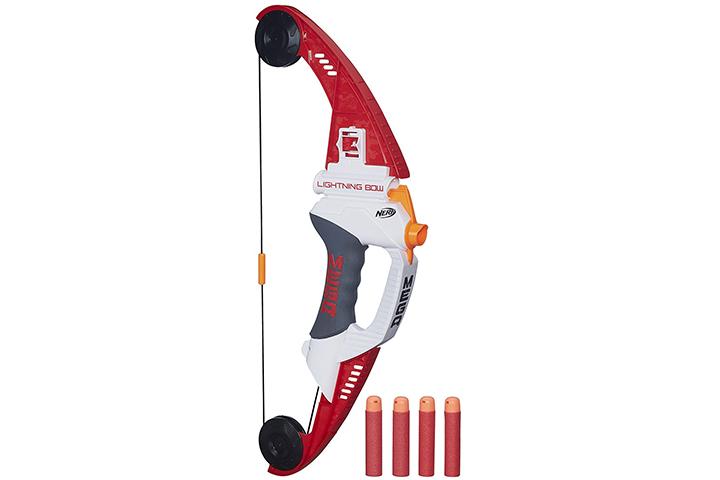 Why kids love it: Boys like shooting toys, so no matter how old your kid is, he will love playing with this. Also, this toy could make him feel like heroes such as Robin Hood, Oliver Queen, Merida, or even Susan from The Chronicles of Narnia.
What we love about it: This toy is safer than most other shooting toys, considering that it comes with foam darts. Also, children can practice target shooting without causing hurt to self or others and without damaging anything.


4. Smartivity Pump It, Move It Hydraulic Crane
When you do not want to buy your kid just any toy, the Smartivity Hydraulic education toy maybe something that you will like. Keep reading to know why.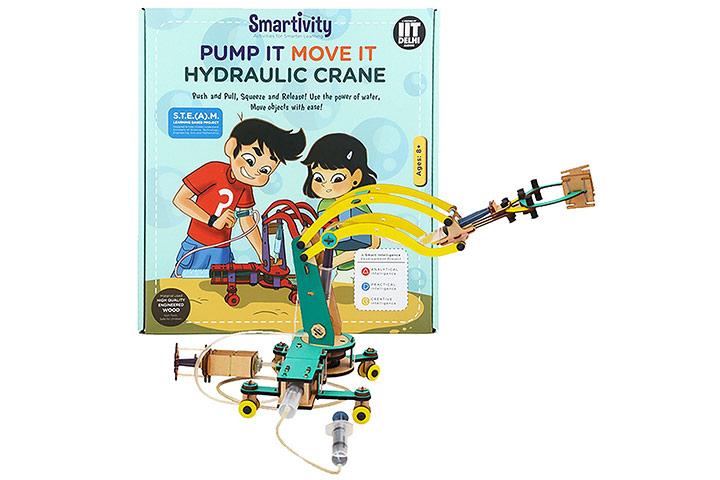 Why kids love it: Children can build this on their own, or with a little help from parents. Unlike other building toys, this one lets you create something and use it too. The toy is cool and can be used to lift and move around small objects, and is a must have for all science geeks.
What we like about it: One of the best educational toys for eight-year-old boys, the crane is built to help understand some of the basic Science Technology Engineering and Math (S.T.E.M) concepts. This toy helps kids develop their analytical skills, practical skills, and encourages innovation.


5. Funskool Upwords
When you want to make vocabulary building a fun activity and not a tedious lesson, you should buy the boy Funskool Upwords.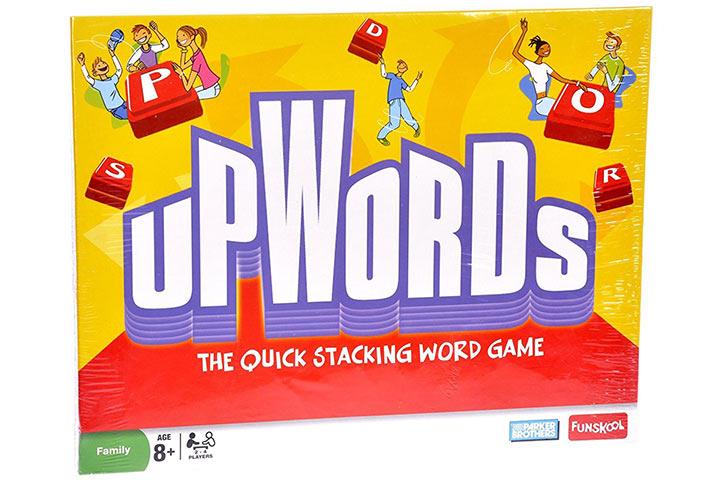 Why kids love it: Your kid must have played word games where he built words downwards, sideways, or even diagonally. But Funskool Upwords defies gravity (not literally!) and lets the child build words upwards. While that is the fun part, Upwords is a game that boys who enjoy reading and writing will love.
What we like about it: Language development is the key benefit of this game. That said, this game also encourages creative problem-solving and helps build the child's vocabulary. This can also be a great family game and promote children-parent bonding.


6. Pokemon Action Figures Toys
This set of Pokemon toys consists of 144 pocket-friendly Pokemon figurines that come in different shapes and colors.
Why kids love it: If your child loves Pokemon, he will love these toy figurines even more. One, they are small enough to fit in a pocket or a bag and can be taken anywhere. Two, they get 144 toys. That's right, 144 unique pocket monsters just for the little boy.
What we like about it: All the toys come in a box that helps keep them sorted. The handle on the top makes it easy to carry the box.


[ Read: Laptop Toys For Kids ]
Gifts For Nine-Year-Old Boys
At age nine, your child is still a little boy. But has more maturity, imagination, and better social skills. Regardless, he would love owning these toys.
7. Stickbot Animation Studio
Stick toys are boring but can become the best toy for nine-year-old boy.if you can bring them to life on the digital screen. Sounds interesting, doesn't it?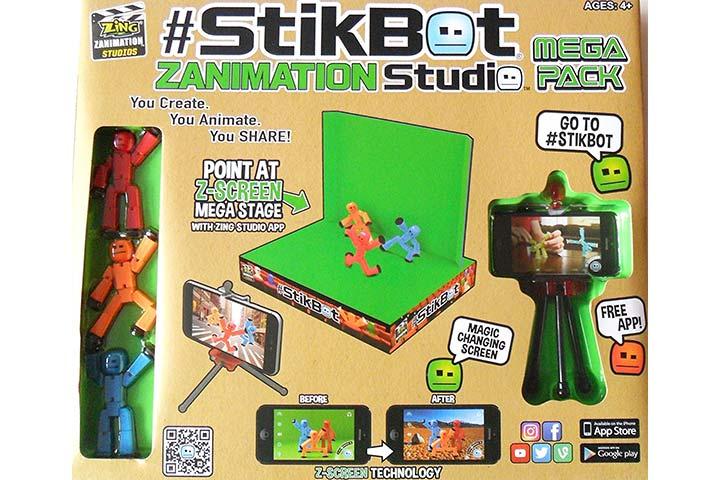 Why kids love it: Imagine being able to create animated videos using nothing but stickbots. Isn't it exhilarating? Your child gets to be the director, call the shots, choose the location, and make the stickbots act any way he wants them to! All he needs is the mini animation studio and a smartphone or tablet.
What we like about it: Giving the child reins to creating an animation video can be a great idea for it boosts creativity, encourages the child to be imaginative and experimental. Most of all, it teaches the boy a bit about video animation and the technology behind it.


8. Perplexus
If you want to keep that young brain of your boy working and active, get him the Perplexus.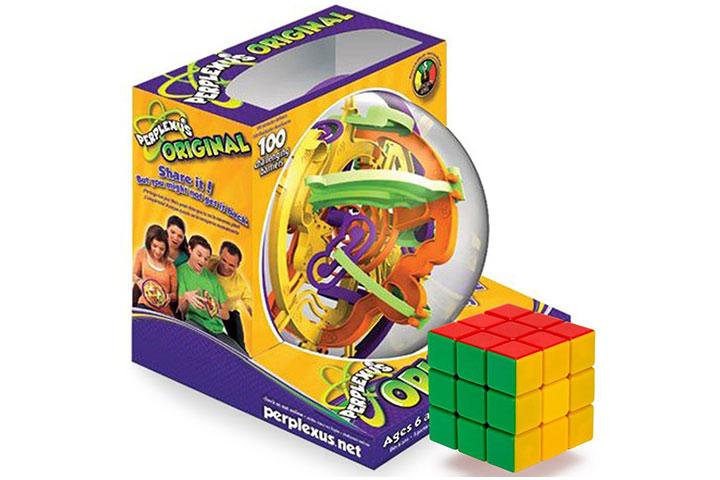 Why kids love it: The 3D and 2D puzzle cubes inside the ball are simply mind bending and can get your son hooked to the toy for hours. The cube contains easy puzzles for beginners as well as complex ones for advanced users. The toy has over 22 feet of track with a hundred barriers that the kid needs to cross, to make it to the finish line.
What we like about it: Puzzles stimulate a child's brain cells and helps improve his levels of concentration. Perplexus is an excellent toy to improve your son's hand and eye coordination, sense of balancing, reasoning, and spatial thinking skills.


[ Read: Minecraft Toys For Kids ]
9. Disgusting Science Kit
The name can put a parent off. But a nine-year-old boy? He is likely to get curious about what is so disgusting about science?
Worry not! The Disgusting Science kit is an educational toy/experiment kit that teaches kids the science behind nasty or 'yucky' things in a fun way!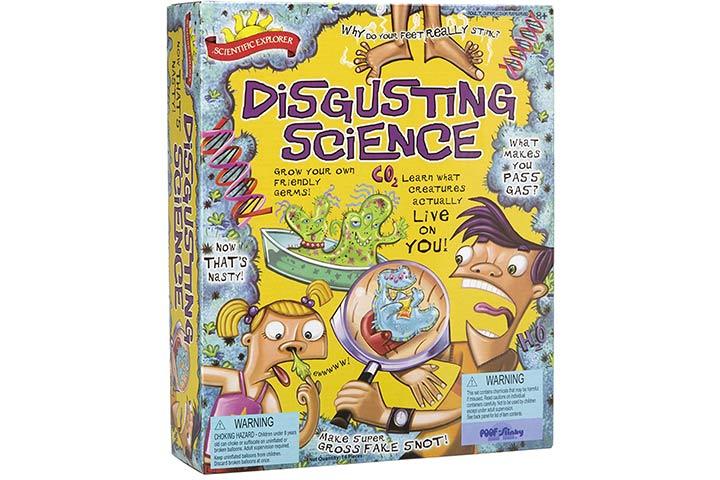 Why kids love it: This is perhaps the grossest science kits there is, and boys love it! The kit contains petri dish, magnifiers, and a few chemicals that kids can use to learn about the revolting things that can be found in and on the body. Germ habitats, snot and smelly bellies that pass gas are some of the few things that the boy will learn in an interesting way. Do you still need to ask if boys would love it?
What we like about it: Not all things are beautiful. There are some not-so-nice things such as dirt, grime, and germs and then there are disgusting things such as farts, bacteria on the skin and snot. Whether or not we like it, these things are real and exist due to some reason. This kit helps the child understand that in a kid-friendly way.


10. Funskool Master Mind Animal Friend
A variation of the popular game named Master Mind by Funskool, Master Mind Animal Friend is suitable for kids who love animals. The concept and the gameplay remain the same as they are in mastermind, only here it is the code of the jungle animals.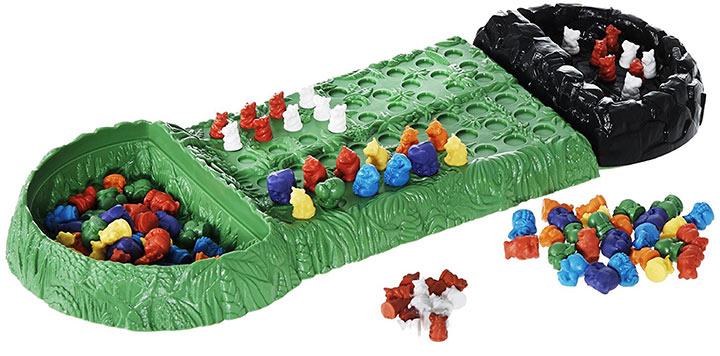 Why kids love it: A nine-year-old boy prefers to socialize and spend more time with his friends. The Master Mind game can help him spend more time with their friends, in a productive way. And if your kid is a friend of the animals, he'll love this version of Master Mind even more.
What we like about it: Like the classic game, the Master Mind Animal Friend promotes analytical thinking to solve the problem, which is to break the code. The game has been designed for kids and helps build their analytical thinking, strategic thinking, and logical deduction.


11. Light Saber
Young boys like to play with guns, swords, and other such toy weapons. But getting such toys for nine-year-old boys is not always a great idea, especially if their sense of good and bad is not completely formed. A safer option would be a fictional object such as the laser light saber.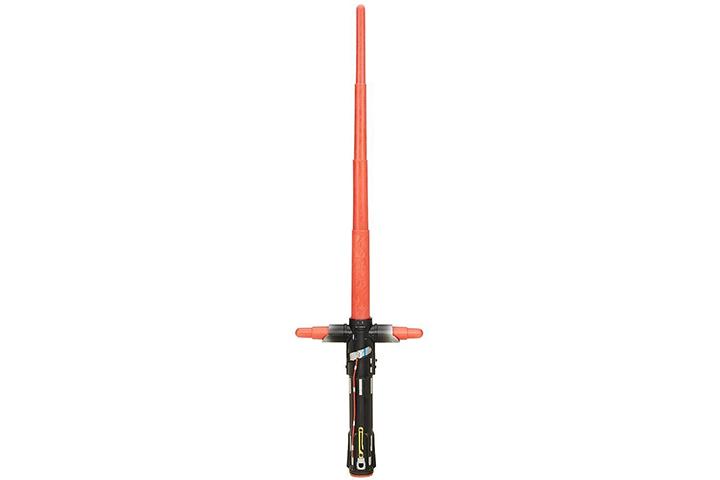 Why kids love it: Any kid, who has watched the Star Wars movies, would love to own a light saber. I know I did when I was a kid! Also, a light saber looks like a sword, which makes it a cool toy that any boy can own.
What we like about it: A light saber can be used for role play games, imaginative recreations of the Star Wars episodes, and so on. The toy is safe and is extendable, which means it can be carried around with ease when folded. An official Star Wars merchandise, the light saber is strong and doesn't break easily.


[ Read: Ben 10 Toys For Your Kids ]
12. Gravity Maze
A game of logic, Gravity Maze challenges the players to use the laws of gravity to bring the marbles from the top block to the bottom block.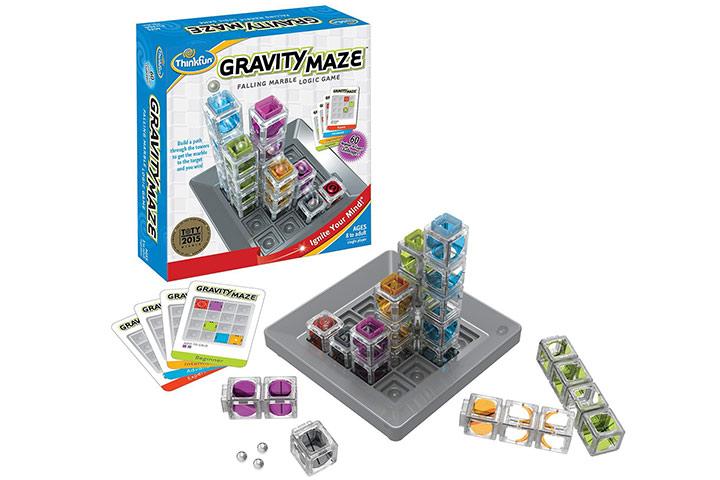 Why kids love it: This is a game of pure logic, suitable for kids who love a good challenge. The game has up to 60 levels, ranging from beginner to advanced, and can keep the kid engaged for hours, in a productive way. The game can be played alone or with a friend of family member.
What we like about it: Gravity Maze promotes the development of logical reasoning and problem-solving skills in the kid. It is a tad bit expensive when bought outside the US, but worth the investment. An educational or brain game, Gravity Maze also helps improve planning skills in the child.


13. Ivan's Hinge
Keep those gray cells working with this amazing brain teaser toy that can be looped, hinged, folded, twisted, and turned. In short, Ivan's Hinge by FatBrainToys is fun and brilliance combined in one.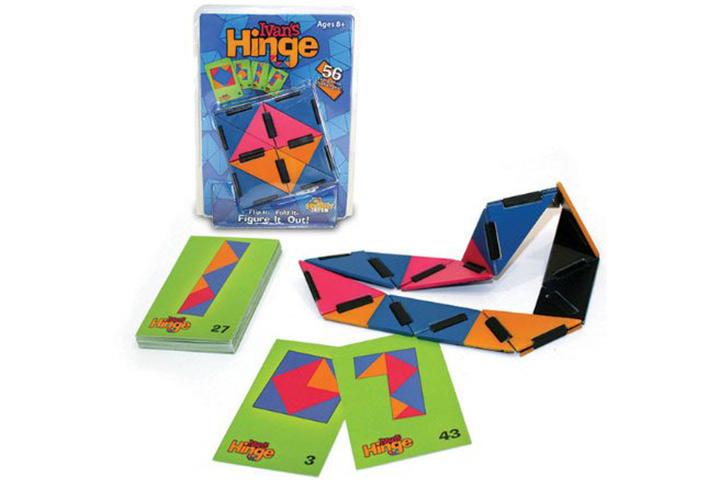 Why kids love it: Ivan's Hinge can be addictive. If your kid loves puzzles, he will love playing with this one for hours, trying to get the patterns right. He can choose from 56 unique challenge cards and try different patterns to solve.
What we like about it: Ivan's Hinge is undoubtedly challenging and pushes the child with each new level. Every level is harder than the previous one, which means your boy will get so much more smarter each time he solves a pattern. Ivan's Hinge promotes critical thinking, problem-solving, and logic.


[ Read: Toys For Autistic Kids ]
14. Doodling Robot
Why do you need a robot when you can doodle yourself? Because it is fun to doodle together!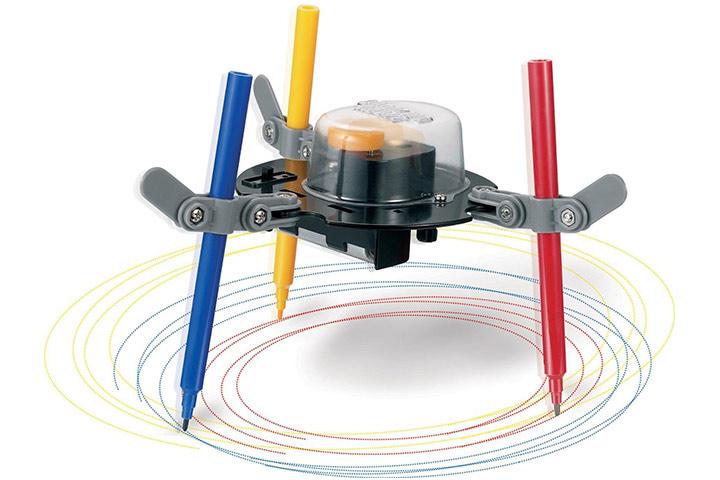 Why kids love it: Having a companion or having someone to doodle something for you can be a fun idea. Your son can set the robot to work and watch it create awesome works of art via rotation and vibration. The robot can be adjusted in angle and height to create a variety of patterns. The best part is assembling the robot, something that every robotics enthusiast will enjoy.
What we like about it: The toy robot is easy to use and runs on battery, which means your child will not be able to use it without your guidance. The robot boosts the child's creativity and also teaches him the mechanics involved in the functioning of the robot.


Gifts For Ten-Year-Old Boys
If you think the toys we listed so far are good, wait till you see the cool toys for ten-year-old boys that we have listed here!
15. OWI 14-in-1 Solar Robot
Robots again? Well, yes. This is is a solar robot that harnesses the energy of the sun to move. This toy is just what you need to introduce environmental issues and the need to go eco-friendly.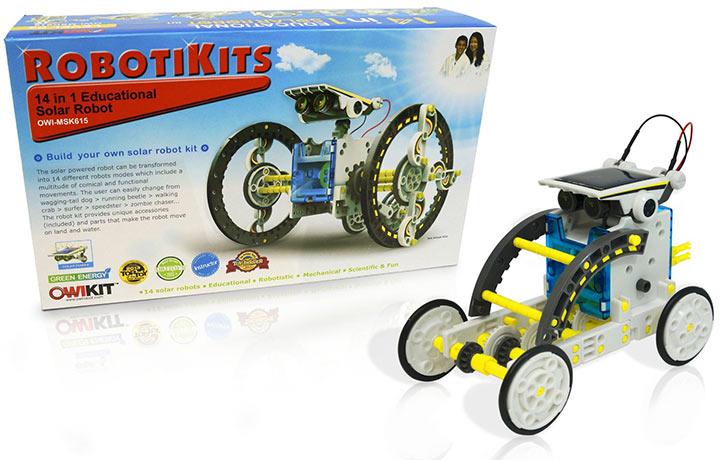 Why kids love it: Owning a robot, regardless of what it can do, is a cool thing for a little boy. And if that robot can function like "Wall-E", just by charging itself under sunlight, it is even cooler. Your child can make 14 unique robotic models with this kit. A car, zombie, wheel chair, beetle, dog, and more.
What we like about it: Unlike other robot toys, this one encourages the child to get creative and try making new models of robots using the same parts. Besides teaching the kid about how to build a robot, the kit also encourages the child to use the natural power of the sun to create energy.


16. Ripstik Caster Board
It is neither a skateboard nor a scooter. It is more interesting than a bicycle and something that your ten-year-old boy would love to own.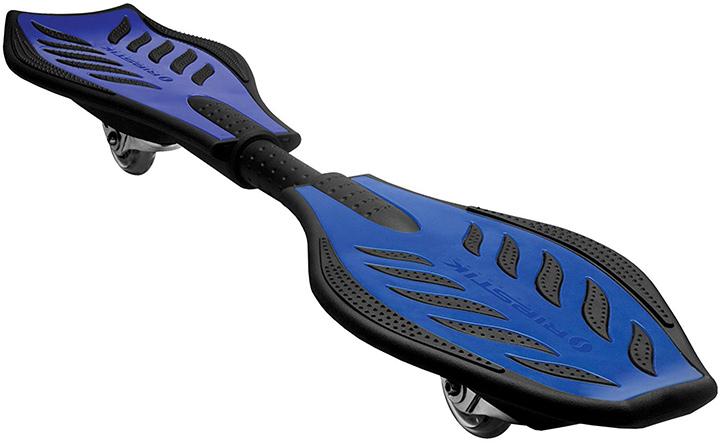 Why kids love it: Besides the cool design, the Caster board is a high-quality product from Razor and beats the kick scooters and other skateboards by a big margin. Unlike the traditional boards, this one has only two wheels but is steadier and can also make smooth 360 degree turns. One of the best parts about this board is it can be easily propelled uphill with a little bit of traction.
If your child is into skateboarding, he will love this gift.
What we like about it: The Caster board has a sturdy body and steady wheels, which means that your boy will be safe if he knows how to maneuver the board. This can be a great toy for the kid, but the use of safety gear such as knee and elbow pads and a helmet is a must.


[ Read: Toys For 5, 6 And 7 Year Old Boys ]
17. Holy Stone HS190 Foldable Mini Nano RC Drone
If your ten-year-old loves RC toys, then this foldable mini drone can be a great birthday present.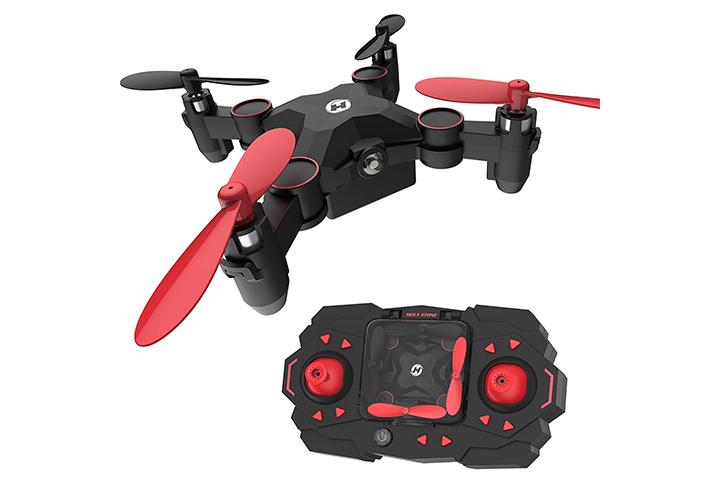 Why kids love it: RC toys are fun and exciting. Imagine being able to control something that flies high and moves fast like a real drone. Your kid can fly the drone with a controller.
What we like about it: The blades of the drone are foldable, which makes it highly portable. The best part probably is the one Press Return button, which automatically brings back the drone to the location of the controller. You do not worry about your child losing this toy!


18. Catapult Wars
An interesting DIY toy for boys, this Boy Craft toy that your child will be happy to share with his siblings or friends.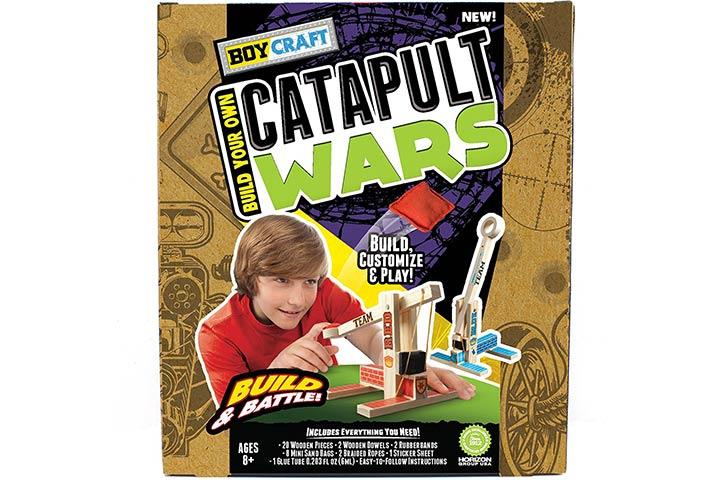 Why kids love it: Catapults are typical toys for ten-year-old boys, for they let you throw things afar or at someone or something. The Boy Craft catapult is one that your boys can build from scratch and decorate it any way they want. The toy comes with foam blocks that can be aimed at a target. The game can be used at birthday parties for fun activities or to make sleepovers more fun than they usually are.
What we like about it: The toy encourages the child to create something from scratch, thus letting them know that they have to put in some effort to have a little fun. The best and the most interesting part of this kit is making the catapult, using the stickers and giving it your personal touch.


19. Zoob Inventor's Kit
ZOOB has some amazing educational toys for kids, and this is one of them. The inventor's kit can be a great idea for boys that love science and building blocks. Only, ZOOBs are more fun!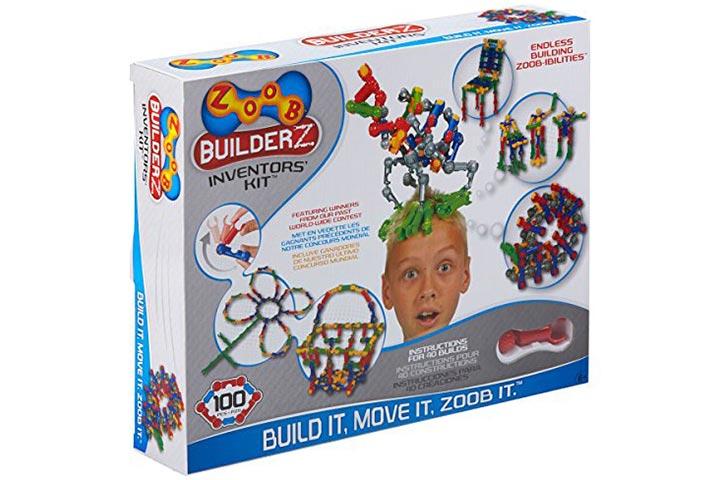 Why kids love it: Children who enjoy building blocks will enjoy playing with the ZOOB Inventor's Kit. The kit has 100 ZOOB pieces that can be hinged in any way the child wants to to create a hundred different things! The possibilities are limited only by the kid's imagination.
What we like about it: The kit can keep the child and his friends, or siblings, engage in a productive activity for hours. This can also be a fun family-activity on holidays. You can have competitions and even push the child to get creative. And the best part is that you cannot get wrong with whatever you make with the ZOOBs. Whatever you create, is an invention!
You can also consider board games such as Catan, Cluedo, Scotland Yard, and movie or superhero merchandise if your boy is into collectibles. Remember that a toy doesn't become the best gift just because your child wants it badly. Sure, your kid may be fascinated by it. But he may not benefit from it or even enjoy it as much as he thinks he would. So choose wisely.


[ Read: Gifts For 5 Year Old Boys ]
You know your boy better than anyone else. Think about a toy that he is likely to love and remember for a long time. And then go and get it for him!
What's your idea of a cool toy for eight, nine, and ten-year-old boys? Tell us in the comments section below.
Disclaimer: MomJunction may earn a commission when products are purchased through affiliate links given in the article. However, this partnership does not influence the editorial content featuring in our list.
Recommended Articles: