At eight months, a baby starts to crawl, babble, and try to reach for their toys. So, here's our list of the best toys for 8-month-old babies to help them stay engaged for hours. Your child might show more interest in their toys than before, so choose colorful, stimulating toys to aid their overall development. Fun, educational, interactive toys help your child learn age-appropriate skills through playtime. So, check out the toys listed below to find one that suits your child's interests.
Top 25 Toys For 8-Month-Old Babies In 2022
Do not mistake this cute elephant to be a regular cuddly toy. It is an interactive plush toy that flaps its ears and plays songs for your baby. Pressing the play button makes the elephant shut its ears for a game of peek-a-boo. This video will give you an insight into how the toy works.
Pros
Ideal for children to develop social skills
Suitable for pretend-play
Soft material
Available in many variants
Cons
Ears may not cover the eyes over time
This cute little puppy is a multisensory soft toy that plays music and gives warm comfort to your child. It is an ideal toy to help develop your baby's sensory and fine motor skills. Clcik here to know more about this toy
Pros
Teaches numbers, colors, and letters of the alphabet
Helps introduce new words
Equipped with a playlist of 75 songs
Multiple buttons on the body promote cause-and-effect learning
Highly interactive
Cons
Some infants may find the lights to be bright
Sounds may become feeble after a point
As your baby learns to develop their sense of touch, this multi-textured fish toy can come in handy. It is a brightly colored toy that babies can squeeze to strengthen their grasp.
Pros
Visually appealing design
Helps achieve developmental milestones
Texture encourages grasping and finger strength
Crinkly scales on the toy aids in tactile exploration
Durably made to survive wear and tear
Engages children with a screen-free time
Cons
Fish might be large for some infants
Seams may come apart over time
Give your little one a soft and comfy doll while sleeping. This cute soft toy can give your baby company at night as they drift into sleep after a tiring day of exploration. Before buying, have a look at this video for more details.
Pros
Snuggle-friendly
Easy to dry after washing
Adorable design
Cute colors of the toy engage the baby
Cons
May not be sewn well
Ribbon may get caught between fingers of the baby
Your baby is now able to sit and play. This 20-piece activity set consists of tiny blocks and balls that your baby can spend hours playing. The set includes eight textured sensory balls, eight counting blocks, and four animal toys. The squeezable toys help strengthen finger muscles, and teething and help soothe sore gums.
Pros
Ideal for introducing numbers, colors, and animals
Travel-friendly
Works as a learning tool for descriptive language and object recognition
BPA-free
Cons
Some toys may have relatively sharp edges
May require keeping it away from moisture to avoid molds
The best toys for eight-month-old babies are those that help reach developmental milestones. This musical toy looks attractive, plays various songs, sounds, and phrases, and is an ideal toy for strengthening the baby's motor skills.
Pros
Suitable for teaching cause and effect
Helps develop finger strength
Provides tactile stimulation
Easy to grasp
Cons
Some children may find the toy heavy
May require a specialized battery that could be difficult to get
As your baby turns eight months old, they can probably sit up straight and crawl. This activity center can be useful to prep your baby to stand. The 360-degree rotating seat enables the baby to sit and bounce.
Pros
Can be converted into a table for playing or drawing
Can be set up anywhere
Encourages kids to use their legs
Comes with four different interactive toys
Cons
Seat may be a bit large for some infants
Seams might be a bit sharp
Suitable for infants up to 12 months of age, this crawling crab toy moves fast and crawls sideways. It plays fun music and lights up, encouraging children to chase it, which develops their limbs and movements. The toy has sensors that help change or reverse its direction when faced with an obstruction. You can choose this toy as a gift for children learning to walk or crawl.
Pros
Suitable for tummy time
Improves neck strength
Suitable for pets
Easy to use
Cons
Does not run on batteries
May run faster than expected
Stacking is an educational activity for babies. This toy's Wobbly base challenges the baby to work harder to stack correctly. It is a set that plays 40 songs for your child to learn sing-along songs and melodies while stacking. Colorful textured rings help develop tactile senses, help teach colors, shapes, numbers, and so on.
Pros
Encourages color recognition
Challenging and fun to play
Sharpens cognitive skills
Batteries included
Cons
May be challenging to keep it clean
May tip over easily
Now that your darling angel can crawl, encourage them to chase this musical toy. It helps develop gross motor skills. The removable bee toy makes a rattling sound when it shakes. The cloud moves in circular and random patterns to make the baby chase after it by playing different types of music and flashing colorful lights.
Pros
Suitable for all crawling stages
Offers exercise to body by promoting discovery and exploration
Comes with sensors to avoid obstacles
Equipped with moveable beads for teething
Cons
May require adult supervision while playing
Sounds may startle some children
Let your baby make some noise with this colorful and bright drum set. It plays different types of music and flashes colorful lights. Ideal for teaching numbers and colors, the toy helps in developing gross motor skills.
Pros
Plays classical, marching, and salsa music
Can be connected with LeapFrog for customized learning learning ideas
Can come in handy for bilingual learning
Speaks out in two languages, namely English and Spanish
Helps develop gross motor skills
Cons
May require more effort to hit and create music
Sound from the drum may be feeble
This musical activity table offers multiple musical instruments so your little musician can become a musical maestro one day. Its large buttons are child-friendly, and the colorful lights excite the baby.
Pros
Plays music and instructions in three languages, namely English, Spanish, and French
Plays sounds of instruments like piano, drum, guitar, and French horn
Teaches numbers, colors, letters of the alphabet, and so on
Allows the baby to create their own music with multiple instruments
Comes with three AA batteries
Carpet-friendly
Cons
Legs of the toy may not lock in while in use
Activity table may be prone to glitching
If your baby hates bathing, we can feel your pain. That is why we recommend making bath time more fun with squirting toys. This set contains ten different types of squirting toys. This set contains ten different types of squirting toys that help improve hand-eye coordination and is free from BPA.
Pros
Squirts water to make bath time more fun
Encourages imaginative play
ASTM certified
Perfect size for babies to squeeze
Cons
May be prone to developing mold
This durable stacking toy consists of six dual colored spheres and a base which is made of BPA-free ABS plastic and is safe for babies. Its unique design and shape make stacking fun.
Pros
Dynamic play potential
Great for sensory exploration
Encourages spatial reasoning
Aids in open-ended creative play
Cons
Bigger pieces may be heavy
May have sharp edges
The baby elephant musical toy is suitable for children aged six to 12 months. It is made of high-quality ABS plastic and does not have sharp edges, burrs, or scraps, making it safe for children to hold and play with. With various sensory features, the toy helps develop the child's hand-eye coordination and fine motor skills. Children can turn the balls, twist the elephant's trunk, turn the page, twist the knob, and play with the keys.
Pros
Features fun baby songs and stories
Adjustable volume
Soft light for eye protection
Portable design
Cons
May be smaller than expected
Volume may not be loud enough for some
Keep your child engaged for hours with this musical, light-up toy by HumorPlay. The crawling turtle toy can be operated with one button, making it easy for children to use. It plays fun songs and moves around, encouraging children to crawl or run after it. Designed for children aged six to 12 months, this interactive toy offers a hand drum and a telephone game, helps them learn the alphabet and numbers, and plays eight lullabies, six animal sounds, and five musical instrument sounds.
Pros
Shatterproof ABS material
Free of BPA
Rounded smooth edges
Two volume settings
Soft lights for eye protection
Cons
May be smaller than you expect
May have gaps big enough for fingers to get stuck
These soft blocks help promote the baby's tactile senses. These toys also help the baby differentiate between different kinds of surfaces. Set includes a peek-a-boo child-safe mirror for self-discovery. Blocks come with colorful and exciting images.
Pros
Multi textured sides fosters tactile stimulation
Engages child in the long run
Suitable for newborns as well
Colored blocks contain names of colors in English, French, and Spanish
Cons
Sounds may be a little loud
Paint may peel off over time
Here's a child-friendly learning table that plays exciting music and flashes lights to keep little ones entertained. It allows your child to flip the animal sound book, push the buttons, and spin the pointer, thus improving their fine motor and early education skills. It runs on three AA batteries, and you can adjust the volume to suit your needs. The toy, measuring 9.7×8.7×7.1in, is made of non-toxic materials and is safe and smooth for hassle-free playing.
Pros
Soft lights
Detachable legs
Can be tied to the crib railing
Portable design
Cons
May be smaller than expected
Legs may not be very sturdy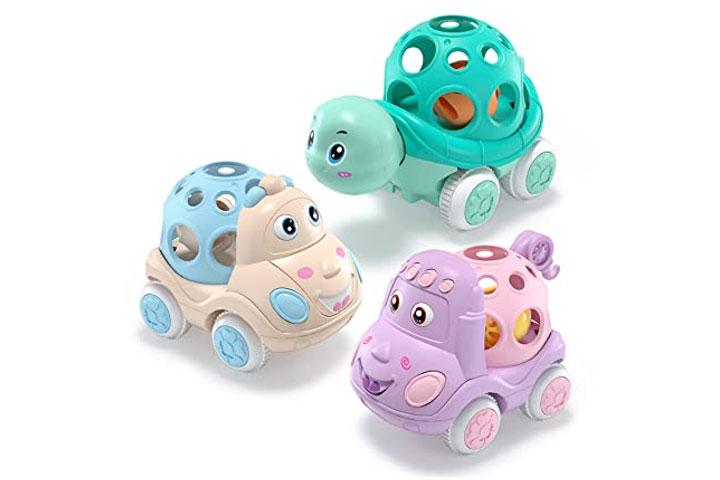 These colorful rattle toys are shaped like a truck, a tortoise, and a crane. They are soft and flexible and have smooth finger holes, making them easy for children to grasp. Each car produces a different rattle sound, improving the child's auditory skills and keeping them engaged.
Pros
Friction-powered
Moving eyes and mouth
Made of premium, non-toxic materials
Improves hand-eye coordination
Cons
Small parts may pose a choking hazard
Hooks on the back may not be highly durable
This water mat comes with colorful bright floating characters that encourage babies to crawl. Is easy to set up and fold, and is also a good sensory toy that helps babies develop gross motor skills.
Pros
Helps improve hand-eye coordination
Suitable for both indoor and outdoor play
Leak-proof and soft
Made from BPA-free PVC
Cons
May have a smell of paint
May develop holes over time, leading to water leakage
After your child has mastered crawling, the next step would be walking. Central dome lights up in different colors and includes light-up piano keys, a phone, a peek-a-boo door, a book page, a bead spinner, a high-five paw, toy gears, and two dangling toys.
Pros
Comes with adjustable speed levels to suit the child's ability
Can be used as a play gym
Plays engaging music
Can be used as a floor activity panel and a walker
Apt for teaching colors and letters
Cons
May tip occasionally
May move too slowly when set to 'slow'
Pros
Made of non-toxic soft polyester
Features a handle with colorful beads, making it easy to carry
Durable stitching to withstand rough handling
Helps develop a love of reading in babies
Lovely patterns and textures stimulate the baby's senses
Cons
Locking mechanism may be poor
Sharp plastic pieces may break off over time
This set could be your baby's first step to becoming a pop star as it comes with a piano, guitar, and drums. Each toy comes with big buttons, so your baby finds it easy to play with. The toy plays over 25 different songs and can help kindle your child's interest towards music.
Pros
Equipped with a free-play mode
Songs pick up from where the baby stops
Aids in cognitive, physical, and emotional development
Certified for safety
Cons
Users may find trouble turning it off
May be smaller than expected
Tell your baby, "On your mark, get set, go!" This rattling car is lightweight and colorful. The toy is BPA-free and its wheels come with rattle beads that make sounds when moved.
Pros
Easy to grasp and play
Texture and surface are safe for teething
Available in different colors
Toys are easy to hold
Cons
Child's fingers may get stuck while playing
Car's middle section may be a bit sharp for babies
It is never early to surround your baby with learning toys. This cloth set comes with tiny cards consisting of letters of the English alphabet, images, and names. It can help your future geek get acquainted with letters and words.
Pros
Easy to wash
Seamless stitching for durability
Helps in color recognition
Made from non-toxic soft polyester
Cons
Content may not be available in English
May look smaller than expected
How To Choose The Right Toys For 8-Month-Old Babies?
Here is a comprehensive buying guide to selecting suitable toys for your eight-month-old baby.
Developmental milestones: Look for toys that will help your baby develop their fine and gross motor skills and enhance their imagination. They should have different textures, lights, sounds, and more to encourage your child to move and grab.
Safety:Ensure the toy you choose is non-toxic and safe for your baby to play with. Avoid anything with small parts that could cause choking, and look for well-made toys that won't easily break apart.
Portability: Consider choosing lightweight toys you can easily carry to make traveling with your child easy.
Interest: Choose toys based on your child's preferences to keep them engaged for long. Toys with various features work well to hold your child's attention.
Why Trust MomJunction?
Priti Bose specializes in writing about children's products, toys, and gifts, having written hundreds of articles in this stream. To help your eight-month-old reach their developmental milestones, Priti has compiled this list of some of the best toys that are safe, interactive, and entertaining. These toys encourage children to improve their fine motor skills, sensory skills, and hand-eye coordination.
References:
Recommended Articles: