Is your newborn one-month old now? Are you looking for some toys to please your little angel? If you said yes, you should consider reading the post below. Here, we list some wonderful toys for 1 month old baby.
A one-month-old baby tends to become more expressive than a newborn. She learns to coo and gurgle when she sees her mother and family members. Vision and hearing sensations begin to improve, so she responds to colors and sounds. So, you should try to get colorful and sound imitating soft toys for your little angel. We have made a list of some wonderful toys for one month old baby that will help you entertain your baby.
5 Wonderful Toys For 1 Month Old Baby:
1. Skip Hop Treetop Friends Crib Mobile: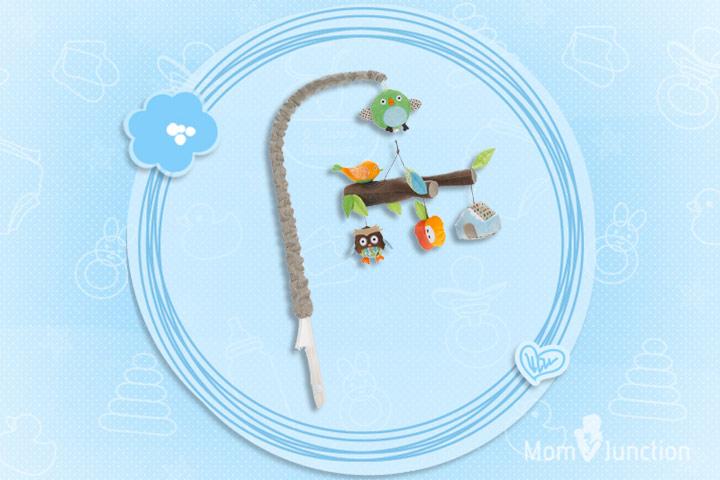 As a one-month-old baby spends most of her time in the crib, crib toys are the best for your baby. Skip Hop Treetop Friends Crib Mobile is an incredible musical crib toy to engage your baby as she lies on her back in the crib. The music box offers your baby an amazing changing view of tree birds of multiple colors and shapes. Her excitement will be priceless.
Available At: Here
[ Read: Ways To Ensure Toy Safety For Babies ]
2. Makarine 4 x Baby Infant Soft Toy Wrist Rattles Hands Foots Finders Developmental: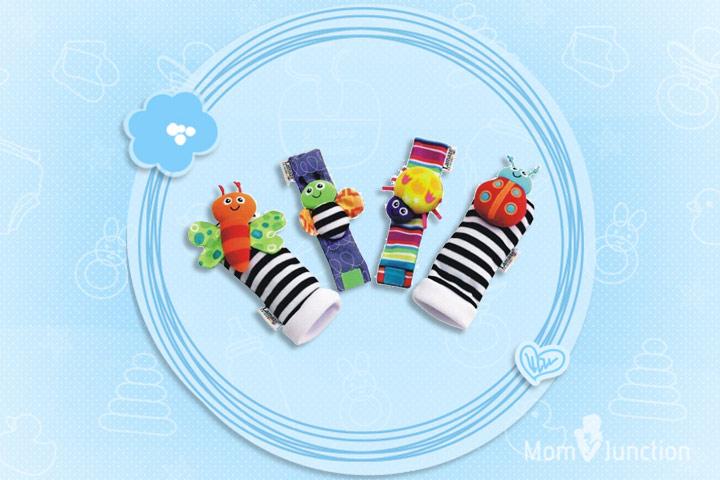 Babies tend to enjoy moving their hands and feet, up their face and in the air. If you tie a soft toy wrist rattle on her hand, it will please your baby when she hears the wonderful sound every time she swings her hand. Even if you tie one of them on your baby's feet, you can see your baby gazing at the colorful toy when she raises her foot up in the air. You can get a set of four admirable wrist rattles of Makarine to tie them on your baby's wrists and feet.
Available At: Here
3. Munchkin Twisty Figure 8 Teether: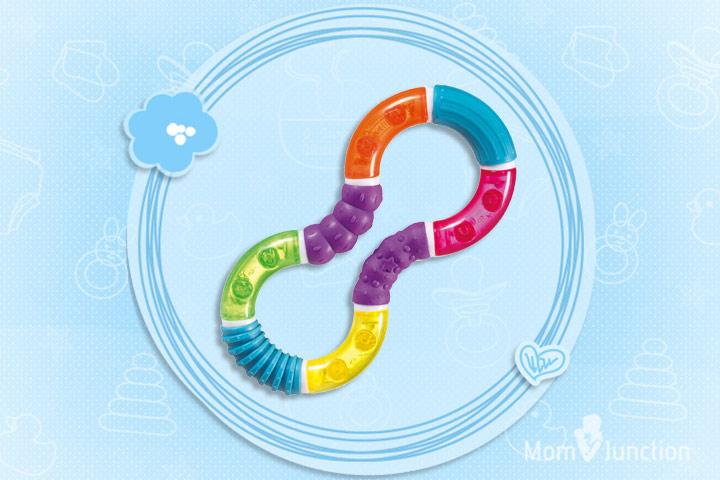 Teethers can be great toys for 1 month baby. The munchkin twisty teether is a safe, and amazing colorful soft toy for your dear little one. The toy sports figure eight in the combination of seven different colors, and it possesses four different teething surfaces. The teether promotes the development of sensory and motor skills of your little angel. The soft toy is easy to grasp, hold, and chew.
Available At: Here
[ Read: Best Teething Toys For Babies ]
4. Baby Einstein Take Along Tunes Musical Toy: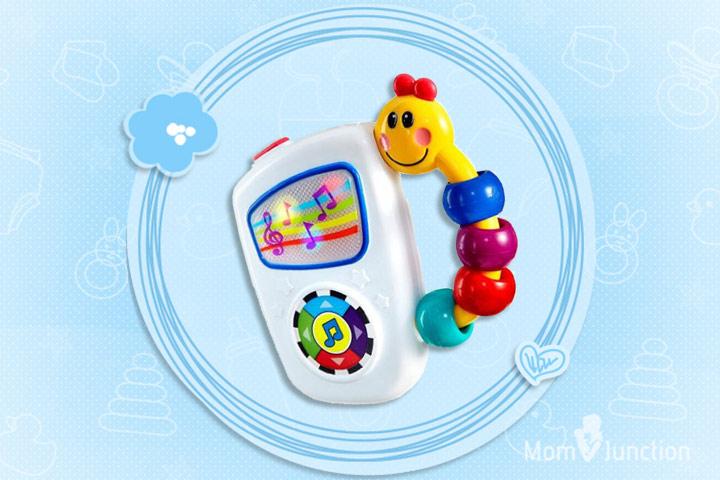 Melodious sounds fascinate a one-month-old baby. The Baby Einstein Musical Toy can be an amazing entertainer for your dear baby. The musical toy features seven baby-friendly classical melodies and possesses volume control to adjust volumes. The toy is colorful and easy to grab for babies. The musical toy helps promotes the auditory development of your baby incredibly.
Available At: Here
[ Read: Educational Toys For Babies ]
5. Fisher-Price Soothe and Glow Seahorse Baby Soother – Blue: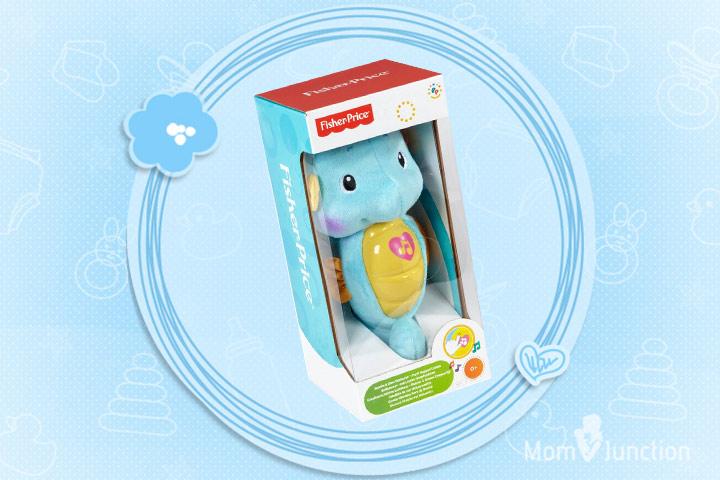 A month old baby likes when you place exquisite soft toys near her to allow her grab it and play. Fisher-Price's Soothe and Glow Seahorse Baby Soother can be an incredible soft toy for 1 month old baby. When your little one cuddles it, its belly will glow gently and play music and ocean sounds for about five minutes amusing your dear little angel. You will see a delightful expression on your baby's face as she sees the glow of the seahorse toy and listen to amazing ocean sounds.
Available At: Here
[ Read: Learning Activities For 1 Month Old Baby ]
Now that you know five marvelous soft toys to please and engage your one-month-old baby, choose one and delight your dear little one with it.
Did you buy a soft toy for your one-month-old baby? How did your baby enjoy playing with it? Share your wonderful experience with other moms here. Leave a comment below.
Recommended Articles:
The following two tabs change content below.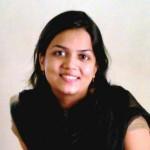 Latest posts by Manjiri Kochrekar (see all)