Your baby has turned two months old. For the first time, he would look towards familiar faces, give a lopsided smile, and begin to display better motor reflexes. He recognizes familiar voices and shows improved muscle-eye coordination. Therefore, this is the right time to buy him some suitable toys.
But, around this time he would love exploring objects around him by putting them in his mouth. This makes it challenging to select toys for two-month-olds. You would like to buy him something that will help him boost his reflexes, but are safe too. So, what are the best toys for your two-month-old baby?
MomJunction is here with a list of toys for your 2-month-old baby. These toys would not only make play fun but also aid in the overall development of the baby.
21 Toys That Your 2-Month Old Baby Will Love
1. Fisher-Price Rattle and Rock Maracas Musical Toy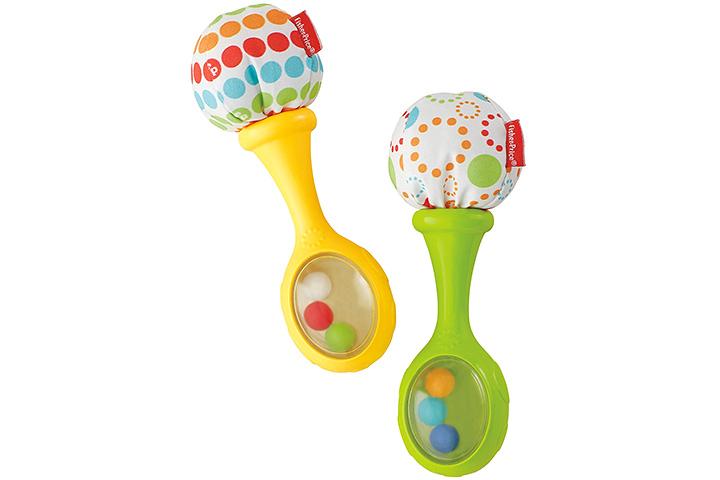 Skills developed: auditory senses, sense of touch, motor skills
Sounds are major stimuli to elicit a reaction from your two-month old. This Fisher-Price Rattle and Rock Maracas Musical Toy in pom-pom shape and embedded rattle beads makes a great toy for your baby since it stimulates his auditory senses. The hands of your little ones are still tiny, but he will love experimenting with his grip by holding objects. This toy is a perfect grip enhancer because it fits comfortably in the palm of a two-month-old baby.
This rattle toy comes with an integrated soft spongy bun on which your baby can flex his grip. It is also safe if the baby puts it in his mouth.


2. Ashtonbee Baby Teething Relief Toys with Fruit Design (FDA-approved, BPA-free)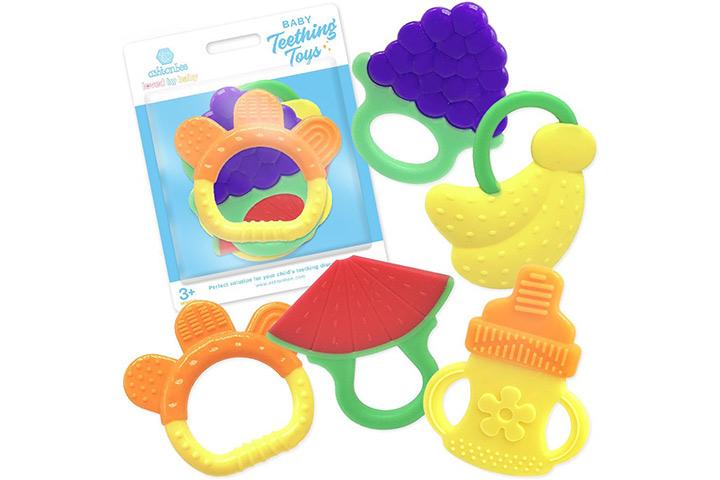 Skills developed: gross Motor skills, jaw strength, sensory perception through the mouth
The toy is exclusively for gnawing and chewing – activities that two-month-old babies generally indulge in. Your baby will develop his first teeth by the end of the third month, but he will still like to put things in his mouth to get a sense of them. The Ashtonbee baby teething relief toy makes a great way to meet your little one's curiosity and demands to gnaw at something.
These toys are made from food-grade silicone and are free from harmful chemicals such as phthalates, latex, and BPA ( an industrial chemical). What's more, they are approved by the US FDA.


[ Read: Activities For 2 Month Old Baby ]
3. Manhattan Toy Classic Baby Beads Wood Rattle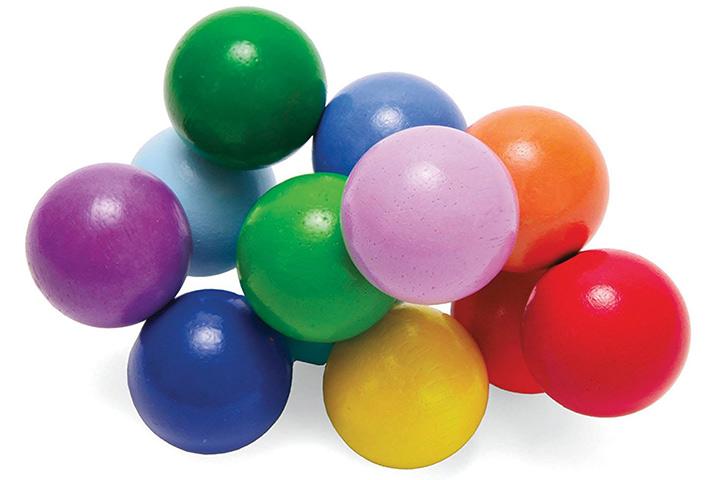 Skills developed: gross motor skills, auditory perception
This cluster of beads provides many benefits in a single toy. Each bead in this rattle is made from wood and strung together using durable elastic bands. This allows your baby to twist each bead independently, thus utilizing all his hand motor skills. The beads also make a clicking sound when they are turned, which interest the baby further.
Each bead in the toy is coated with non-toxic, water-based paint, which makes it safe for your baby to put it in his mouth. They are also brightly colored, thus providing visual stimulus to your little one.


4. Summer Infant Mommie's Melodies Soother Lamb
Skills developed: auditory stimulation, tactile perception
It is a soft plush toy that your 2-month-old baby will love to grip and cuddle. It comes with added advantage of featuring a built-in speaker that plays soft, soothing lullabies whenever it detects the baby crying. You can hang this toy to the baby's crib or also on a stroller whenever you take him outdoors. The electronic module can be accessed only by an adult and can be conveniently removed to wash the toy.


5. Guurachi Multi-function Decoration Infant Baby Activity Spiral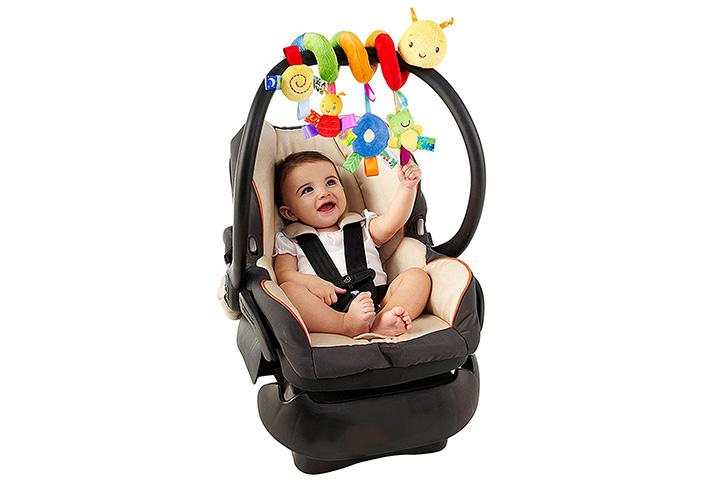 Skills developed: visual stimulation, stimulates tactile perception
When your baby is two-months-old, he will love looking at bright colors and will even get distracted by moving objects. Here is a toy that stimulates these natural reflexes of your baby. It consists of a central spiral soft toy that wraps around a bar or crib handle. Each loop of the spiral has a hanging soft toy that can droop low thus making it accessible to the baby. This makes it a great addition to your baby's play gym or cradle where he can watch the toy on his back and try grabbing the dangling toys. It is also a great toy to capture your baby's attention while also encouraging him to touch and feel objects to understand them.


6. Manhattan Toy Wimmer-Ferguson Infant Stim Mobile To Go Travel Toy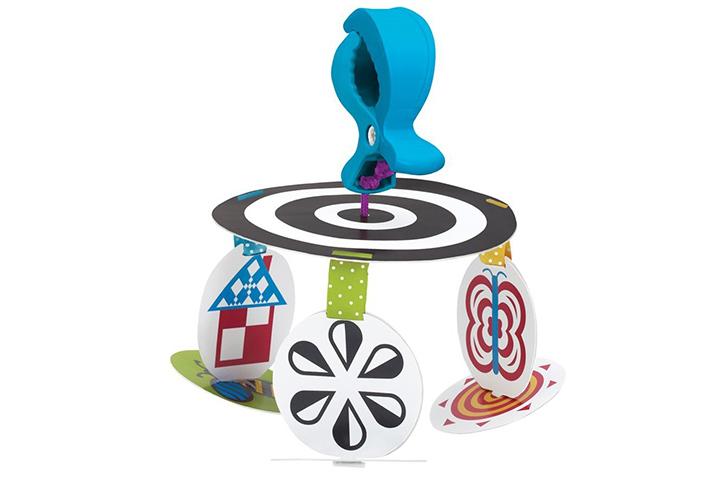 Skills developed: visual stimulation, pattern recognition
This toy is specifically made for your baby's visual development. The Manhattan Toy Wimmer-Ferguson Infant stimulation toy consists of small circular cards with abstract high contrast patterns on both sides. They suspend from a sturdy plastic clamp that can be attached to most cribs and strollers.
The objective of the high contrast pattern is to stimulate the visual cortex of the brain and expand the baby's sense of visual perception. After all, vision plays a key role in information assessment and in a two-month-old it is still in the developmental stages. Here is a toy that works at nurturing it.


7. Fisher-Price Soothe and Glow Seahorse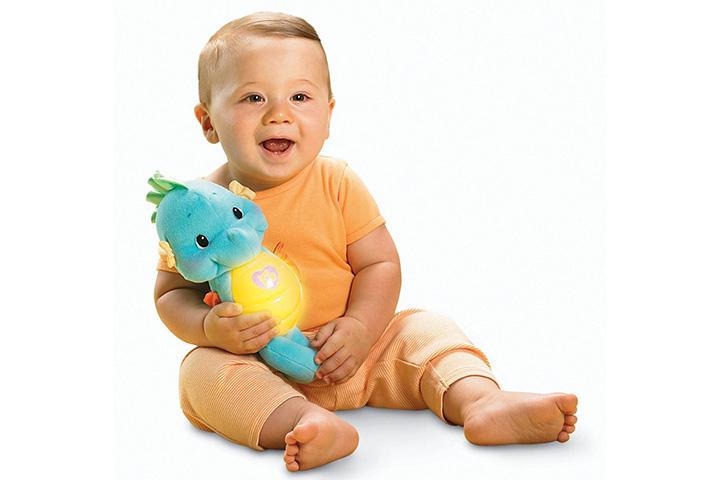 Skills developed: stimulates auditory perception, visual stimulation, introduction to cause and effect
It is quite likely that your two-month-old would sleep with a soft toy that would also act as a pacifier whenever he breaks into bouts of crying. Here is a toy that provides all the comforts of a soft toy, and more. The Fisher-Price Soothe and Glow Seahorse comes equipped with a pleasant glowing light in the belly of the adorable soft toy. It even comes loaded with tunes of eight different lullabies and ocean sounds that work perfectly to drift your baby to sleep.
All the features are activated by a gentle squeeze of the toy, which can be done by the baby himself. This means if the baby presses the toy it lights up and music plays. This acquaints the baby with basic cause and effect tricks, which in turn paves the way for long-term cognitive development.


[ Read: Toys For Your 3 Month Old Baby ]
8. VTech Baby Lil' Critters Musical Dreams Mobile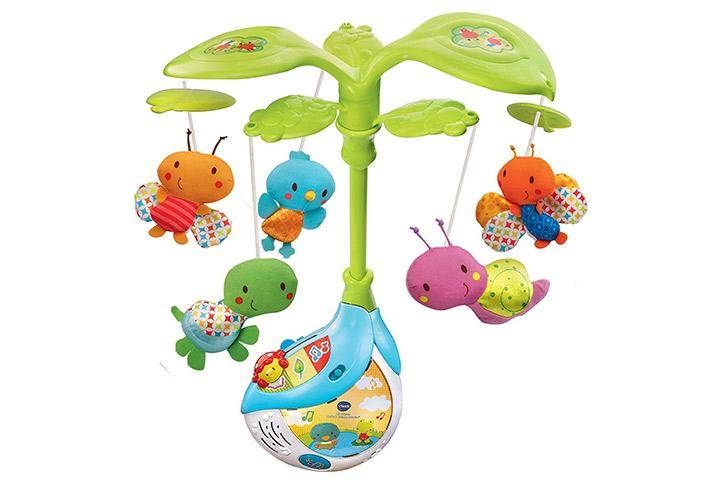 Skills developed: Visual and auditory perception, Basic color stimulus
This toy for a two-month-old can be easily attached to the crib. It features a central mast with a set of small plush toys attached to it, which rotate when the toy is switched-on. It also gets activated when your baby cries or whines. Young babies are easily drawn towards moving objects, and if that is coupled with sound, then it is more likely to hold their attention for longer. It will be a good exercise to stimulate their vision and hearing.


9. Oball Shaker

Skills developed: Sound-Muscle coordination, auditory stimuli
This is a simple rattle shaker that will snugly fit into the palm of your baby's hand. You can place it in his hand and help him rattle it. This will draw his attention to the sound and he may repeat the action. Toys such as the Oball Shaker are a great way of stimulating the hand and ear coordination of the baby. This means the baby will take cues from the sound he hears and will repeat the causal action with the use of his arm muscles.


10. O Ball Flexi Loops Teething Toy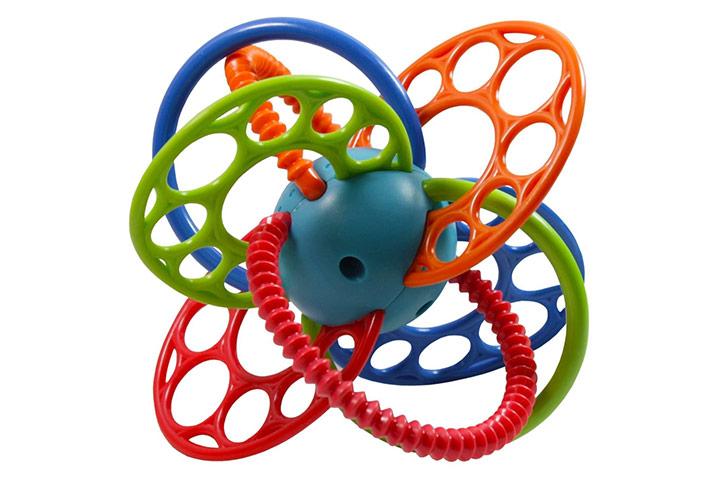 Skills developed: gross motor skills, object manipulation in hand, nerve stimuli
This serves as a great toy for the baby to explore with his mouth while improving his hand grip. The toy is made of a central sphere that is attached to several colorful circular discs. Your infant will gnaw at these discs while holding the toy. Every time he wants to nibble another disc he will move it using both his hands. His movement may be albeit clumsy but still a great way to enhance his object manipulation skills.


11. Oball Toy Assortment, Grab & Rattle Football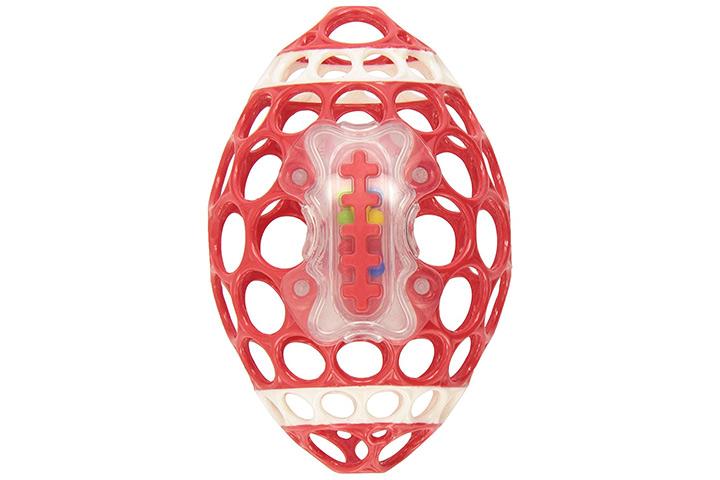 Skills developed: strengthening arm muscles, sensory skills
Shaped like a rugby ball, this toy is made from a mesh-like pattern that works great at improving your baby's grip. Just place it in your baby's hands, and his fingers will slide into the toy to grip it firmly. There are also some beads in a plastic case attached to the toy, which rattle as they move. Due to the toy's shape, it can be rolled over a surface, which means you can use it to distract your baby when he is being fussy or during his tummy time.


12. Baby Einstein Discover and Play Piano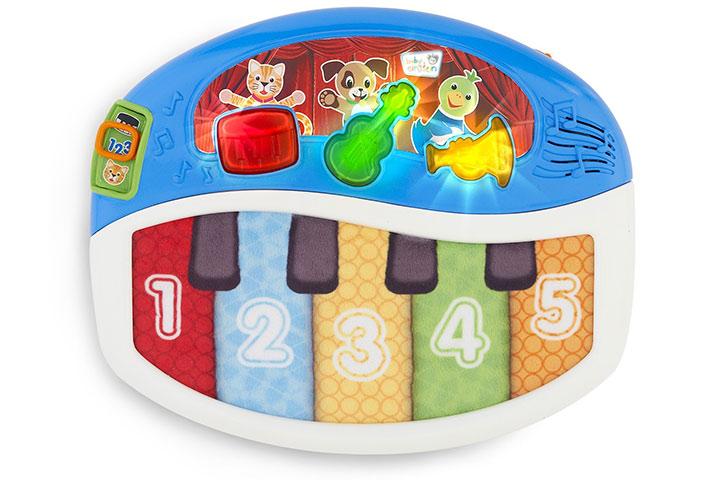 Skills developed: sound and hand coordination
A two-month-old can grow visibly alert to sounds. For this reason, playing different types of sounds is a great way of improving his sensory as well as cognitive development. The mini piano is a great way to introduce your baby to different types of sounds. The keys in the toy are made from soft fabric and work on touch. This means all your baby has to do is touch the keys in order to hear the 20+ classical melodies pre-loaded in the toy. Isn't it a wonderful toy to acquaint your baby to the world of music?


[ Read: Baby Second Month Development Guide ]
13. Fisher-Price Link 'n Go Play Pack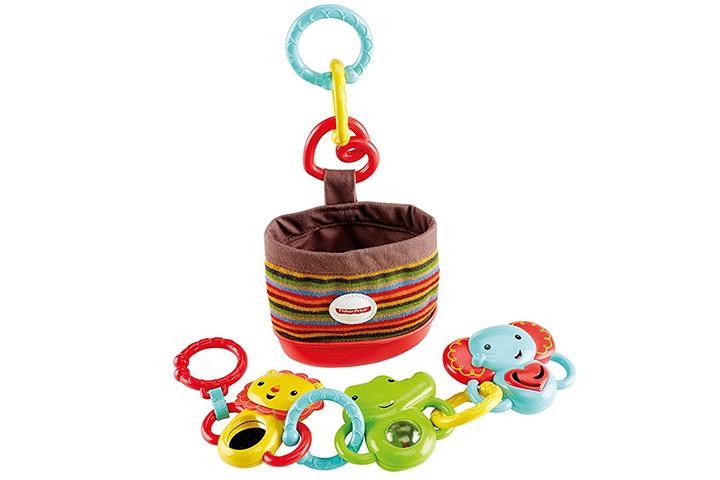 Skills developed: self-awareness, visual attention, constant tactile feel, auditory stimulus
A great multi-activity toy while on the go or when your little one plays indoors, you would find three toys in the bag each with a unique feature. A crocodile toy with a rattle, an elephant toy with a jingle, and a cute lion that comes with an unbreakable mirror at the center are what make this toy super cute. The entire ensemble comes in a pouch that features plastic loops that can be easily attached to a baby stroller when going outdoors.
A mirror is a great way to introduce a two-month-old baby to basic self-awareness. His reflection is certainly going to leave him intrigued. The rattle and jingle familiarize your baby to different kinds of sounds, making it a great way to improving his hearing capabilities.


14. Fisher-Price Snugapuppy Calming Vibrations Soother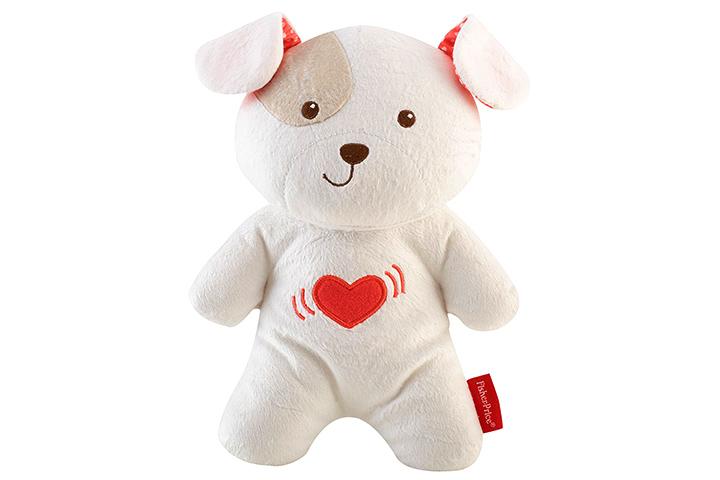 Skills developed: sensory perception through vibration
The cute little puppy toy comes with an embedded vibrator that vibrates on touching the heart icon on the front. The toy also plays humming sounds and music, which along with the soothing vibrations will help your little one fall asleep. This toy also teaches your kiddo the sense of vibration.


15. Bright Starts Grab and Spin Rattle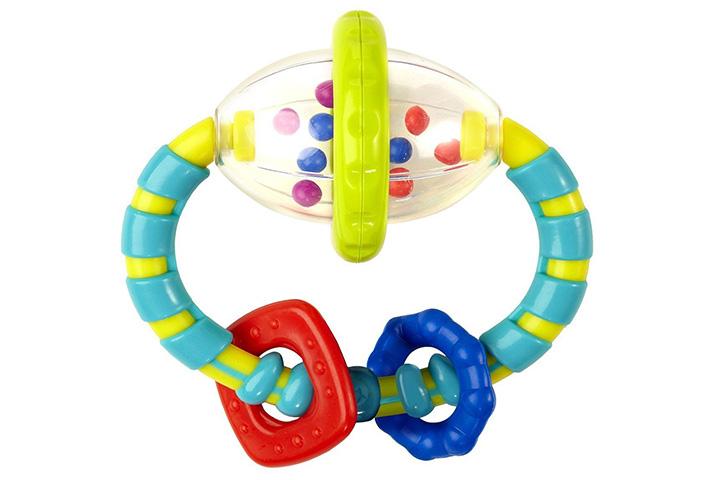 Skills developed: grip management, auditory stimulus
It is a good old spin rattle that comes in a ring-like shape to stimulate grip along with auditory functions in your two-month-old baby. The paint used in the product is non-toxic and is safe for your baby. The oval-shaped loop of the toy features ridged textures that provide great tactile sensation along with a teething surface for the baby.


16. Crazy Cat Baby Sensory Development Toys Animal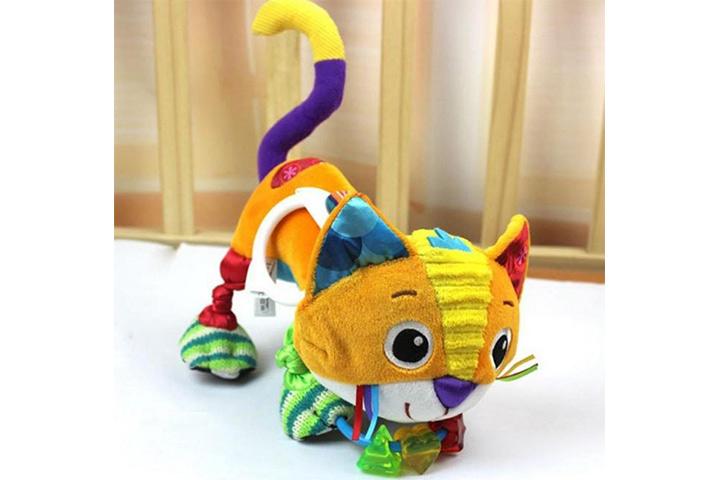 Skills developed: color perception, visual stimulus
The adorable toy kitty is a great companion to your two-month-old bundle of joy. It is made from multicolor fabric and features high contrast shades on the paws of the soft-toy cat. It can be hung, which means your baby sees a wide gamut of colors while lying on his back in the stroller or the crib. Babies love high contrast colors such as black and white, chessboard-like patterns, etc. A multicolored toy with just the right amount of high contrast patterns is a perfect developmental toy for your two-month-old baby.


17. Burt's Bees Baby Loop Bee Rattle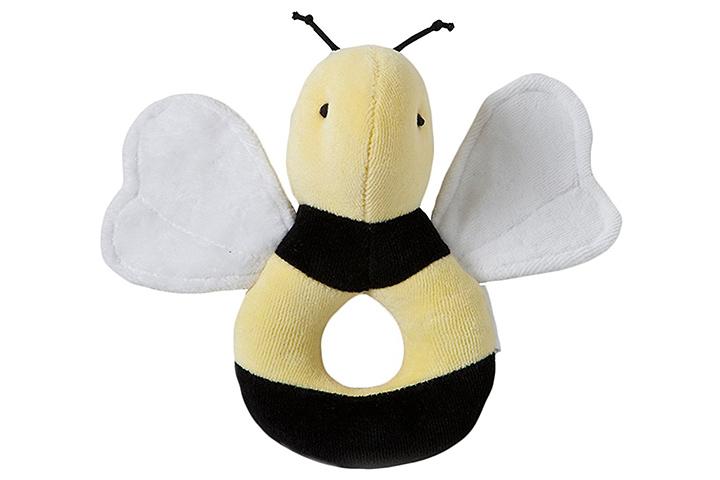 Skills developed: hearing and muscle movement
Distinctive shapes and designs are definitely going to attract your baby when he is two months old. This bee-shaped rattle is a great toy for your baby, thanks to its adorable design and soft feel. The toy can be slid over your little one's wrist. Now every time he moves his hands he hears the ringing of the tiny bell inside the toy, which is surely going to engross him.


[ Read: Educational Toys For Babies ]
18. Baby Einstein Explore and Discover Soft Block Toys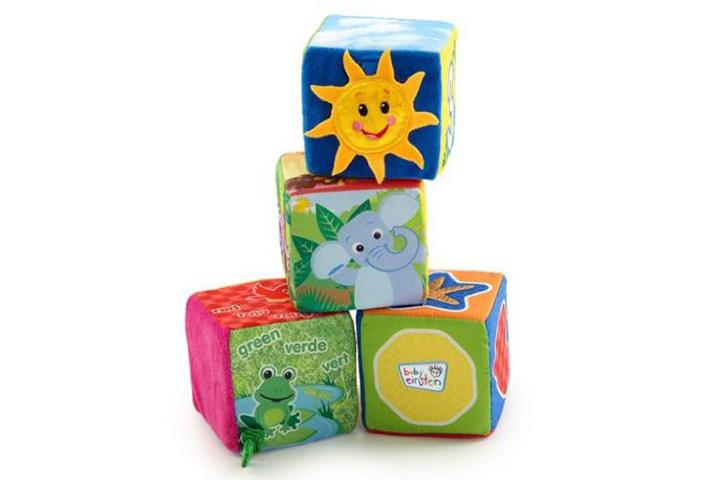 Skills developed: exploration of new colors and visual shapes
These are soft toy blocks made from plush fabric. It means you can place them along with your baby in his cradle because unlike plastic blocks they will not pose a risk of being a choking hazard. Each face of the cubical block has an attractive pattern or image etched in bright colors, which will attract your two-month-old bundle of joy.


19. BeautyVan Picture Cognize Book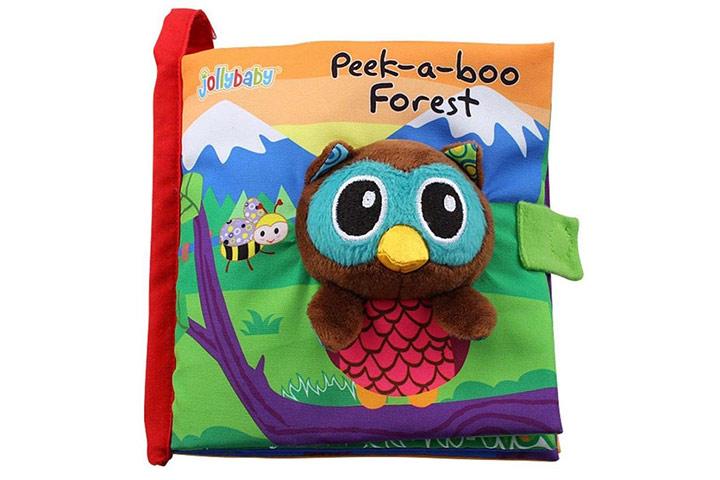 Skills developed: hand-Eye coordination, visual stimulus
Babies love books. They love the bright color drawings and the splash of colors everywhere. If the book is three-dimensional with soft toys as illustrations, then your baby is surely going to love it. The BeautyVan Picture Cognize Book is made of soft fabric and looks more of a pillow. Nevertheless, it is a great toy to introduce your baby to vivid colors of books but in a more interactive manner. The best way to do so is to make him sit on your lap, while you open and turn each mushy page of this special book. Do remember to let your two-month-old touch and explore the toy. That way he will assimilate more information.


20. LIGHTDESIRE Musical Caterpillar Toy Rattle with Ring Bell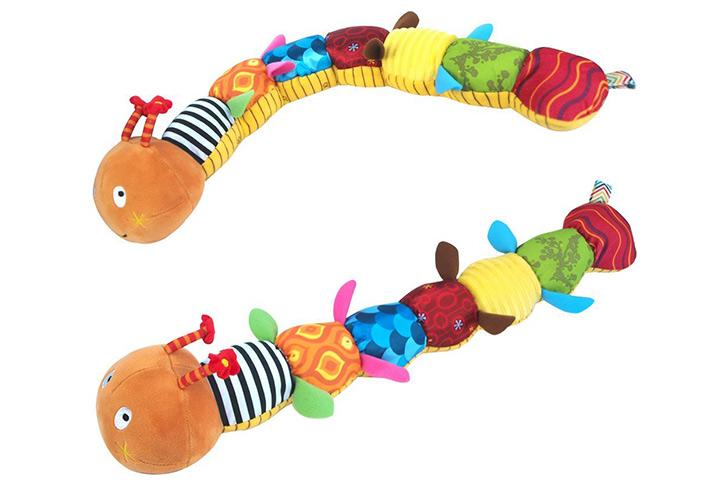 Skills developed: understanding various types of sounds from one source, Visual stimulus
It is an all-rounder toy for an all-round development of your baby! This cute toy caterpillar is made of different sections stitched together to form one single string. The head of the caterpillar, when pressed, emanates a musical sound. The other sections of the toy consist of a rattle each. It thus has some amazing acoustics to attract your baby. It is also one of those toys that you can rattle around your baby just to observe his sound-muscle coordination. Each section of the caterpillar toy features a different color, which makes it a great stimulant to your baby's visual development.


21. Skip Hop Baby Alphabet Zoo Stroller Bar Activity Toy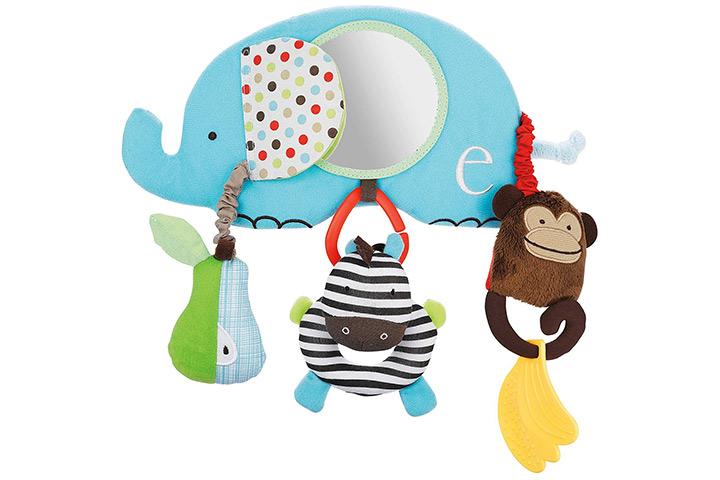 Skills developed: constant visual stimulus, self-awareness
If you are looking for an outdoor toy for your baby, then here is something that fits the requirement. The stroller bar toy attaches to your baby's stroller's front bar – right within the line of sight of the baby. The elephant-shaped segment of the toy has a small unbreakable mirror at its middle. This means your baby will see his reflection. There is also a pear-shaped rattle, a detachable zebra soft toy, and a banana-shaped teether. A wonderful overall package to keep your two-month-old busy.
"All play and no work makes Jack a mere toy." Right? Then why not make the little one learn something through the toys with which he plays? We aren't suggesting that you should be ambitious about his education right from the second month. We are referring to the physical and cognitive skills that develop in babies around this age.


[ Read: Toy Safety For Babies ]
6 Tips To Help Your 2-Month Old Learn Through Play
As a parent, there are various things you can do to ensure that your little bundle of joy gets the maximum benefit from his play time. Here are some tips to make your baby's play time useful:
If your baby shows interest towards holding a toy let him do so. Touch is one of the best ways infants can learn, and the more he touches and explores his toys the more his skills develop.
Keep rotating his toys so that there is always freshness in his play time. This will also be visually stimulating and polishes his memory when he sees an old toy again.
Keep a watch on your baby when he is playing. Be by his side.
Do not just leave him with the toy and then simply watch. Prompt him with cue words, do some baby-talk, and encourage him to explore the toy in a soothing and assuring voice.
Never force your baby to play when he seems visibly bored and fatigued. That way you risk making him lose interest in the toy.
Keep all the toys clean and inspect them regularly for chipped paint and broken components.
Most toys, like the ones mentioned in the list, meet high-quality standards and are meant for two-month-old babies but you must still have your own check on a regular basis. With the jumpiness that your tiny tot shows now and the exploration he does with his mouth, it becomes imperative that you be careful about the toys you are giving him. Let fun and learning go hand in hand.
So what toys did you find best for your two-month-old? Do share with us in the comments below.
Recommended Articles