With increasing fine motor skills, a five-month-old baby has something new to explore each day. She can now observe, reach, grab, and even taste things. And it's time to give her toys in varying sizes, textures, and shapes to allow your little one explore, but under an adult's supervision.
A study found that infants who contentedly explore toys on their own hit more developmental milestones by 14 months than babies who don't. Study author and a researcher at Columbia University in New York City, Nina Banerjee recommends to step back, when you can and watch how your baby is playing with a toy before jumping in.
MomJunction helps you identify safe and exciting toys for 5 month old babies.
Baby's Overall Development At Five Months
Understanding the development of a five-month-old baby and the way she plays helps you in picking the right toys.
Physical Development: The baby becomes more physically active than before and can reach out to grasp toys. She can adjust the position of her hand to accept a toy being offered. She can roll to back from belly. She explores most things by putting them in her mouth.
Cognitive Development: The baby will be able to 'multi-task' like babble and reach for things, simultaneously.
Social And Emotional Development: A five-month-old baby smiles at others and at her reflection. She gets more social and interactive by now.
Now that you are aware of your baby's development at five months, let us look out for suitable toys for the little one to explore.
Best Toys For 5 Month Old Baby
1. L&J Drum Keyboard Musical Toys With Flashing Lights, Animal Sounds, And Songs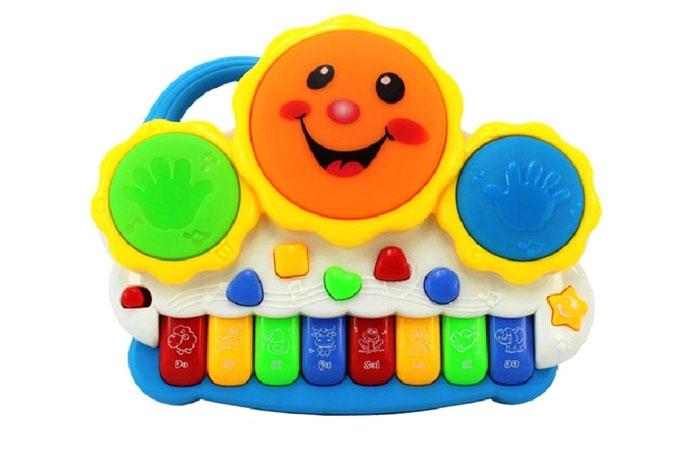 This toy is full of bright colors, flashy lights, and lovely notes, which your baby would love for sure. She will have many moments of joy and laughter as she switches between the drums and keyboard.
Rhythmic flash lights show up when drums are played. The keyboard plays western music and animal sounds. Baby sounds are heard by pressing the colorful play buttons. All these engage your little one.
The toy works with just three AA batteries and is the best gift for the little one as it can stimulate imagination, hand-eye coordination, musical interests and color perception.
2. MAM Bite and Brush Teether, Blue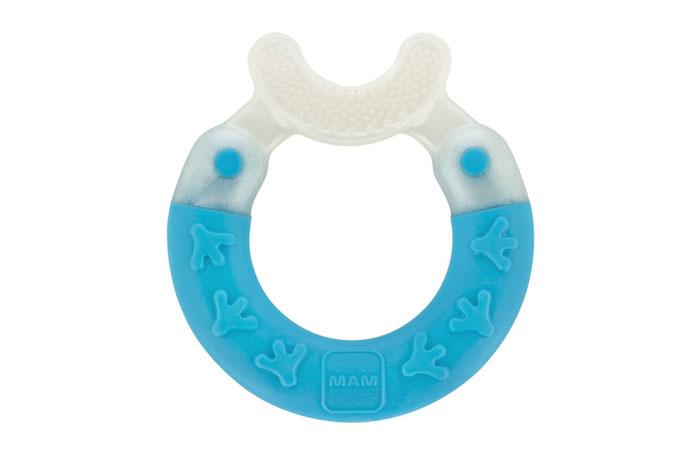 Buy MAM Bite and Brush Teether, Blue @ www.amazon.com/mam-bite-and-brush-teether,-blue
MAM Bite and Brush Teether toy is one of the best gifts for 5 month old as she is in the stage of exploring things through mouth. The baby loves the BPA-free teether as it is comfortable to hold, and soothes her tender gums when chewed. The soft silicone bristles can clean the baby's first teeth. The textured ring-shaped teether relieves the little one from teething pain.
[ Read: Best Teething Toys For Your Baby ]
3. Baby Einstein Bendy Ball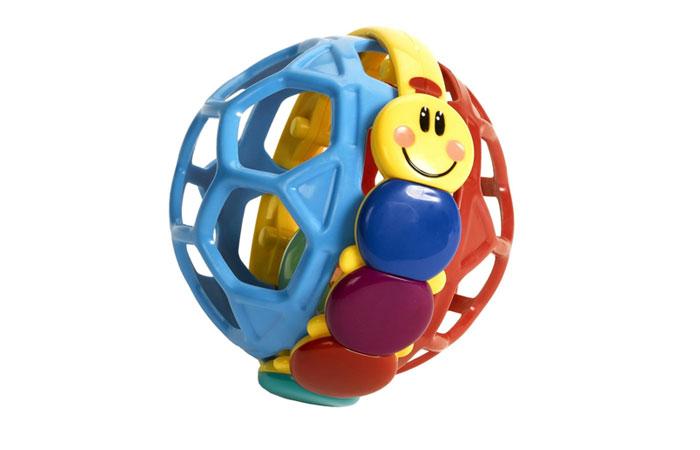 Buy Baby Einstein Bendy Ball  @ www.amazon.com/baby-einstein-bendy-ball
Rolling objects tend to fascinate a five-month-old and so does the Baby Einstein Bendy Ball. Your baby will love to squeeze, roll, grasp and bend the flexible, soft plastic ball. The multi-color toy fascinates the little one with both visual and sound effects. As your baby plays with the ball, tummy time increases, developing neck and torso muscles and improving coordination.
4. Fisher Price Go Baby Go 1 – 2 – 3 Crawl Along Snail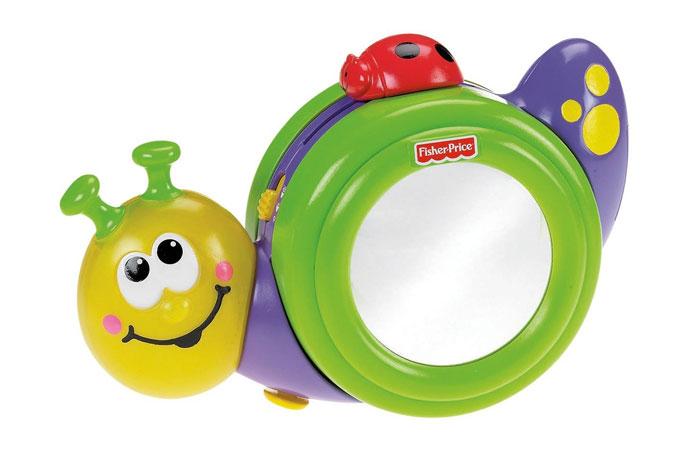 Buy Fisher Price Crawl Along Snail  @ www.amazon.com/fisher-price-crawl-along-snail
The 1 – 2 – 3 musical snail improves the baby's sense of self-recognition and memory as she enjoys viewing her reflection in the mirror. The main feature is an attractive snail in bright colors, making different movements with a musical sound. The baby can enjoy fun rocking motion when the wheels are locked.
Music, lights, and sounds improve baby's motor skills while the social game like peekaboo with a mirror elicits riotous laughter and excitement in the baby. The entertaining toy improves your baby's tummy time. A simple clap can turn on and off the music and your little one would love to discover it.
5. Vtech Baby Talk And Go Farm Rattle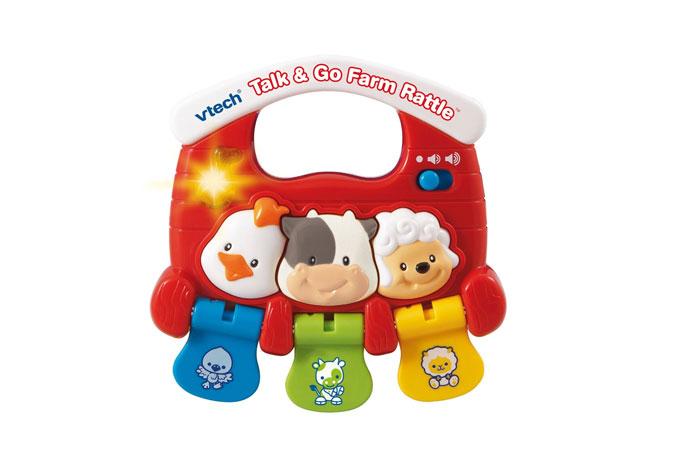 Buy Vtech Baby Talk And Go Farm Rattle @ www.amazon.com/vtech-baby-talk-and-go-farm-rattle
The baby enjoys playing with this multi-colored toy featuring animals and peek-a-boo game. Flashing lights fascinate your baby and more than 40 sing-along songs, and fun phrases are always entertaining.
VTech Baby Talk and Go Farm Rattle is an ideal interactive fun toy for 5 month old baby with interesting sound effects and melodies, which grab your baby's attention. The toy helps to develop your baby's senses and stimulate her curiosity. The comfortable handle grab makes it easy to carry out of the home. Flipping three animal species helps develop motor skills.
Animal sounds, melodies, and short tunes can be heard by pushing the farm animal buttons. Flashy lights grab baby's attention besides encouraging interaction. The toy helps in developing baby's senses, auditory stimulation, curiosity, and discovery.
6. Hohner Rainbow Shaker, Baby Maraca, Baby Rattle, Cage Bell Band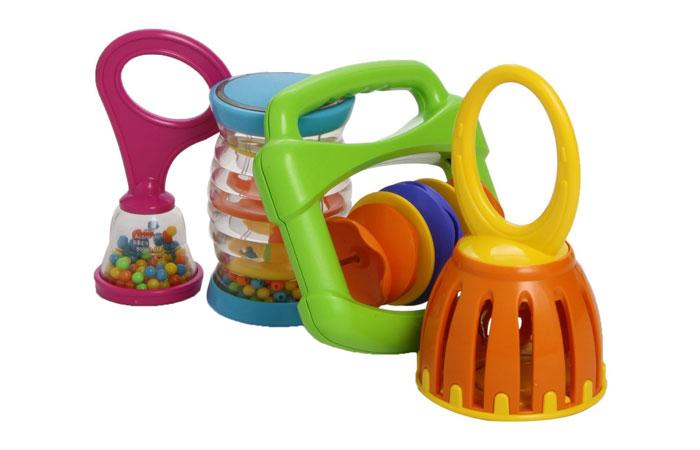 Buy Hohner Rainbow Shaker @ www.amazon.com/hohner-rainbow-shaker
The Hohner Rainbow Shaker, Baby Maraca, Baby Rattle, Cage Bell Band is a popular toy that has received the 27 Creative Child Magazine Top Toy award. The brilliant entertainer is safe for babies as it is lead-, BPA- and phthalate-free, and meets all the safety regulations.
Your baby will love rocking and shaking the band, thereby, developing gross motor skills as well as other early stage development benefits. A sturdy carrying case is provided with vinyl bag.
7. Kids Ii Bright Starts Grab and Stack Blocks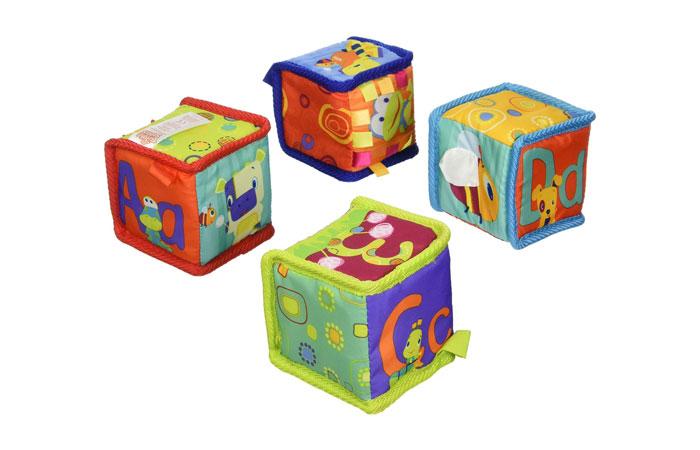 Buy Kids Ii Bright Stack Blocks @ www.amazon.com/kids-ii-bright-stack-blocks
Kids Ii Bright Starts Grab and Stack Blocks tend to attract five-month-old babies. It is a pack of four blocks made of soft fabric which can keep your baby engaged for a long time. Colorful blocks have different patterns and funny characters, generating interest in babies. They are easy to carry while traveling. Attached satin tags and loops help tie the blocks onto carriers. Babies will have fun-filled tummy time.
8. Bright Starts Take Along Carrier Toy Bar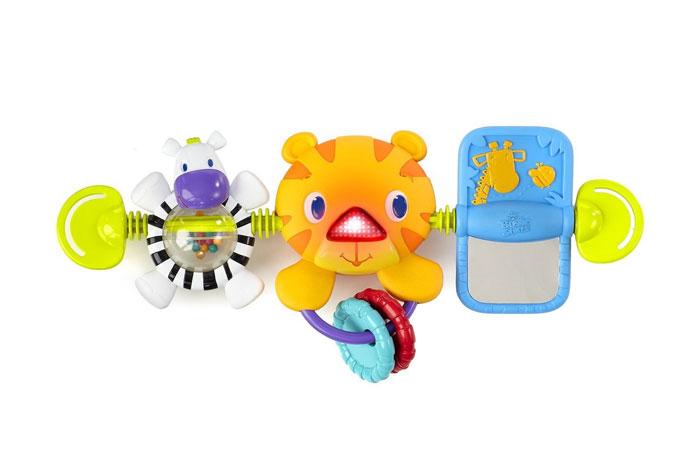 Buy Bright Toy Bar @ www.amazon.com/bright-toy-bar
The Bright Starts Take Along Carrier Toy Bar is an entertaining toy that offers multiple fun activities to your five-month-old baby on the go. It offers four fun melodies and features baby activated light. Interesting lights, melodies and fun activities keep the little one entertained. The toy bar attaches to the most standard infant carrier.
9. B-Kids Turtle Rattle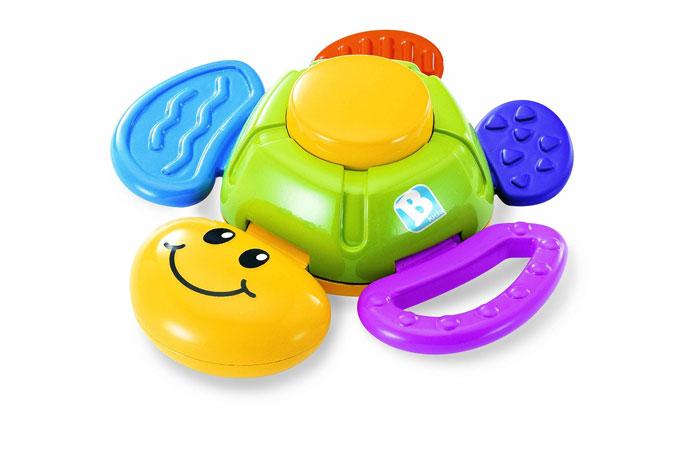 Rattling sea turtle produces a whistling sound that fascinates the baby. The multicolored toy gives your baby immense fun as the fins can be twisted into different positions. Growing infants enjoy the kinesthetic stimulation toy that is designed for easy carrying with a secure handle.
10. Hape Shake it Up Duo E0321A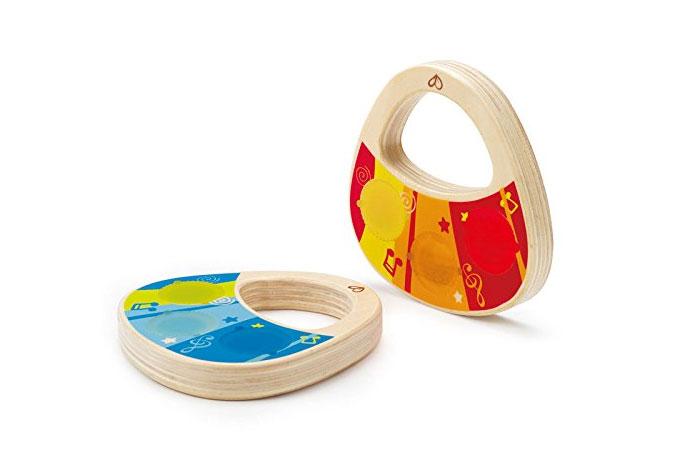 Buy Hape Shake it Up Duo @ www.amazon.com/hape-shake-it-up-duo
Your baby will love to shake the Shake it Up Duo, enjoying the fascinating rhythm coming from the plastic beads safely secured inside the toy. Designed for the young hands to easily hold, grasp and shake, the toy helps nurture the baby's natural abilities. The solid wood construction and child-safe, durable paint finish make the toy unique.
11. VTech Baby Happy Lights Bear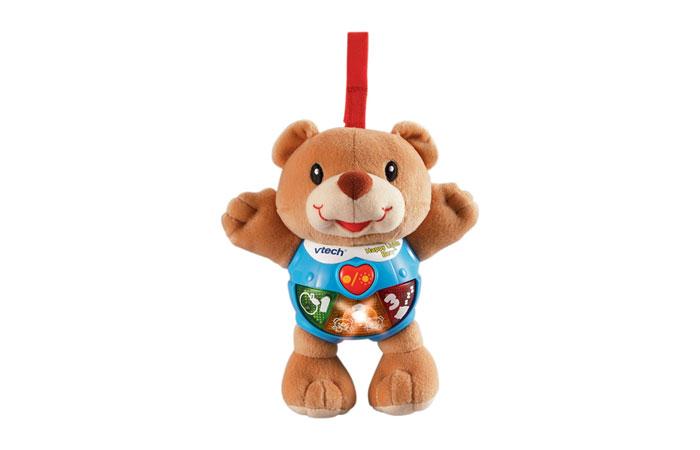 Buy VTech Baby Happy Lights Bear @ www.amazon.com/vtech-baby-happy-lights-bear
Your baby will love to hug the Happy Lights Bear! He can be engaged either during playtime or nap time. More than 35 sing-along songs, sound effects, melodies and fun phrases help your baby with auditory stimulation. The chunky light-up buttons, which flash with music, stimulate the senses of the baby. The toy introduces your baby to many early emotions and numbers. The infant toy that runs with two AAA batteries can be attached to the stroller or crib with velcro-style strap.
12. Deals India Fashion Laughing Baby Stuffed Soft Plush Toy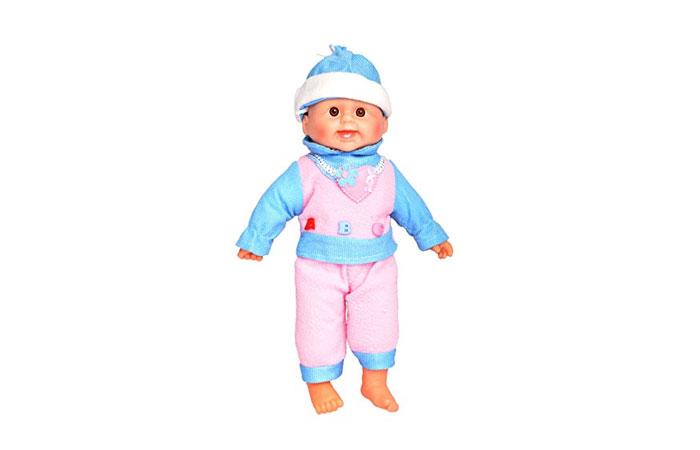 The toy helps you soothe a crying baby and apparently makes him giggle. Wondering how? Just press a hidden button inside the toy and listen to the sound of a laughing baby. The skin-friendly and easily washable Laughing Baby Stuffed Soft Plush Toy is a great gift for your little one.
13. Mee Mee Four Musical Playthings Train Engine, Multi Color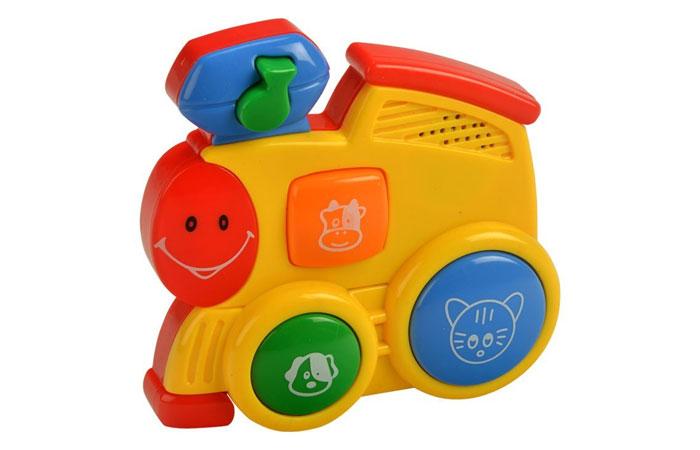 The colorful toy with a smiling face on the engine attracts the baby. Chimney plays happy tunes as well as the sounds of a cow, cat and dog, leaving your little one fascinated. Mee Mee's Happy Little Train's different features help in the development of the baby's musical interests and color perception.
14. Fisher Price Tambourine and Maracas Gift Set, Multi Color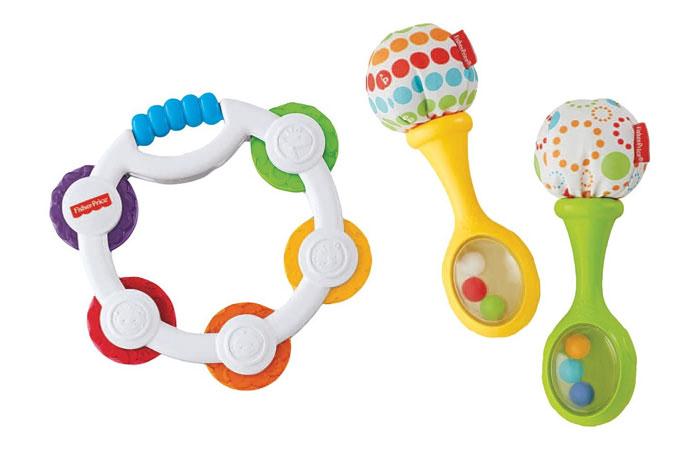 Buy Fisher Price Tambourine Gift Set, @ www.amazon.com/fisher-price-tambourine-gift-set
The baby loves the interactive and colorful musical instruments, which come with the Fisher Price Tambourine and Maracas Gift Set. They are a good fit into the hands of the little one. The five-month old baby loves to shake, bat and tap the tambourine for cackler sounds. Two rattle 'n rock maracas with soft pompoms help to strengthen sensory and gross motor skills of the baby. Roly-poly rocking action as well as a large shiny mirror add fun and make your baby rock in no time.
15. 8pcs Random Lovely Rubber Squeaky Animal Bath Toys/ Floating Fun For Baby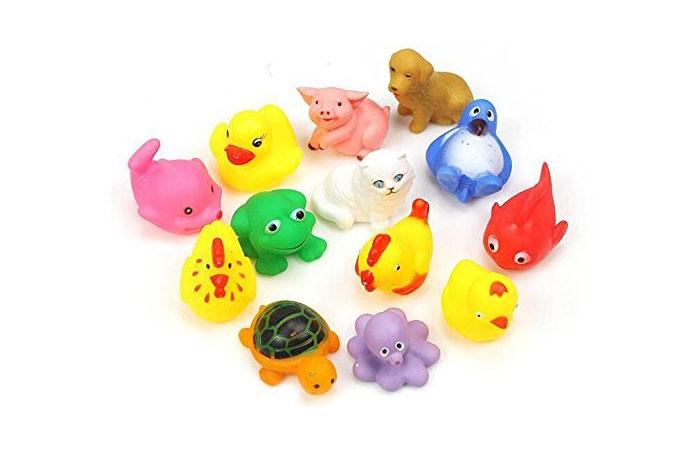 The rubber squeaky animal toys make bath time enjoyable for babies. Just leave them in water while your baby bathes and let her have fun as they float with the water current. The baby loves the sound made by the toys when squeezed.
These fun toys are environment- friendly as they are BPA-, phthalate- and PVC-free. The elastic rubber is toxic-free and soft.
Why Experts Recommend These Toys For A 5 Month Old?
These toys are great picks for your five-month baby for many good reasons such as:
Melodious sounds and flashy lights help in developing the baby's senses besides stimulating curiosity.
The toys stimulate imagination, hand-eye coordination, musical interests, and color perception.
Bright colors and sound effects improve your baby's motor and visual skills.
Social games like peekaboo with a mirror elicit self-recognition and excitement in the baby.
The kinesthetic stimulation toys are ideal for the growing infants.
Tips To Add Fun To Playtime And Help Baby Learn More
Here are few tips to make your baby's play time fun and interactive. Help your baby learn as she plays:
Help your baby explore all the angles of the toy and describe what you see.
Help the little one recognize herself by pointing to her reflection in a toy with mirrors.
Encourage the baby to play longer on tummy by placing a toy within her arm's reach. Tummy time helps the baby develop stomach and neck muscles.
Support communication as you play. The more you talk, the more you are helping with her development.
Hum or sing a song along with the music that comes from the toy.
Let the baby feel different textures, activate sounds and lights. All these contribute to her sensory stimulation besides sharpening the memory bank.
Offer colorful, activity toys with potential to tempt the baby to reach out. This is essential to enhance eye-hand coordination and thinking ability.
Allow your baby to explore the world from various angles by giving him plenty of play time on his back as well as his belly.
Let the baby play under an adult's supervision to avoid possible hazards.
Ensure that your baby's toys are clean and do not have a choking hazard.
See that the toys do not fit through a roll of toilet paper, to check for choking hazard.
Check labels to ensure that all toys are safe for chewing!
Hope we took you through useful information about toys and tips helpful to make the play time of your five-month-old interesting. If you have any more suggestions or experiences, share with us here.
Recommended Articles:
The following two tabs change content below.
Latest posts by Sumana Maheswari (see all)