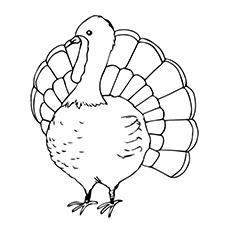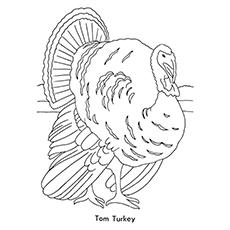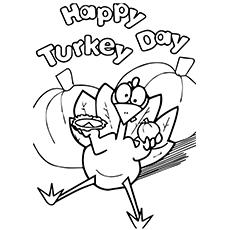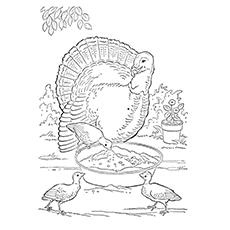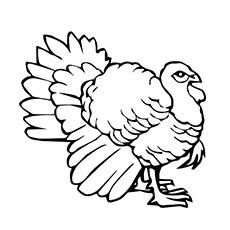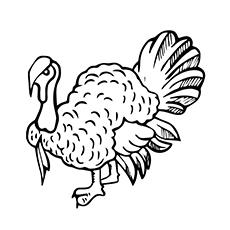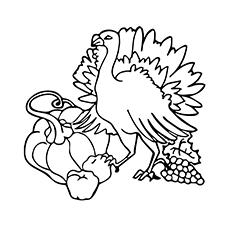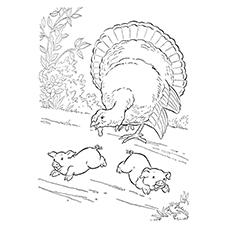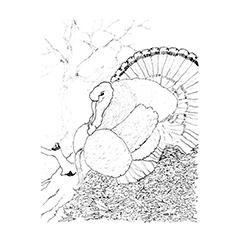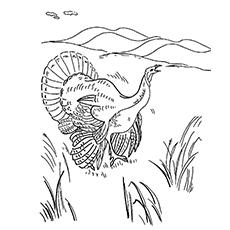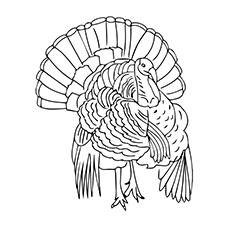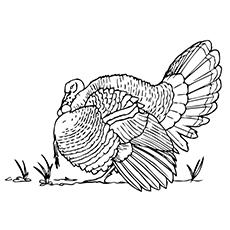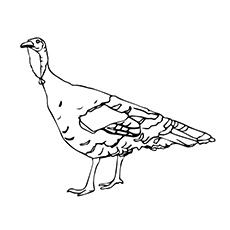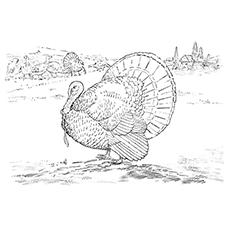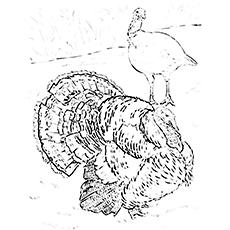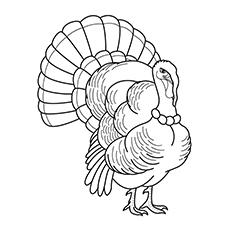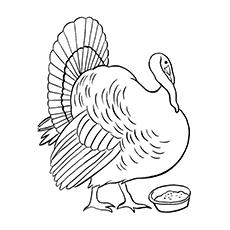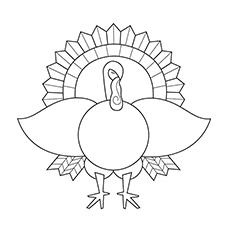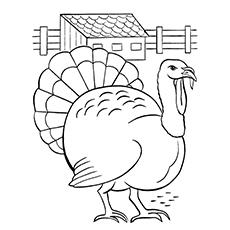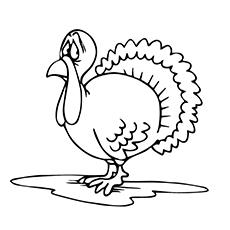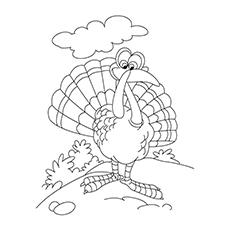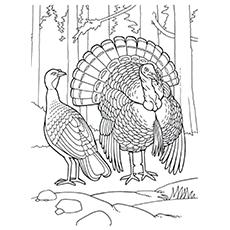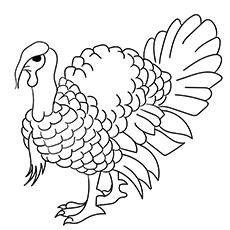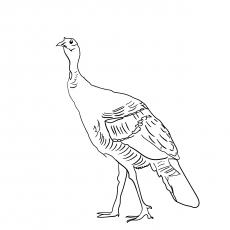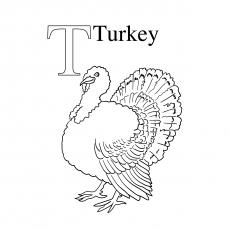 Recommended Articles:
Do you have little guests coming over for Thanksgiving dinner, and are you looking for ways to entertain them? Are you scouring the internet for some turkey coloring pages to keep the kids occupied while you prepare the feast? If you relate to any of these situations, then our twenty-five turkey coloring sheets are sure to help!
Most American kids learn to identify turkeys early in life; by tracing the outlines of the diagram of the turkey to make Thanksgiving cards. These spectacular birds are not just limited to Thanksgiving. They are a familiar sight the rest of the year too, with flocks of turkeys walking through the woods. Today, we've selected 25 of the best free printable turkey coloring pages that will help your little one learn more about their favorite bird, but in a fun and enjoyable way. Tell your kid to get his crayons, and start coloring away.
Check out our 25 best turkey coloring pages for your little one:
1. Turkey
Here's a simple and neat black and white diagram of a turkey. Do you know where the turkey was domesticated first? Turkeys were domesticated in Mexico and were brought to Europe in the 16th century. Just like peacocks, even turkeys puff up their chests and spread their feathers. And can you guess how many feathers an adult turkey has? An adult turkey has around 5000 to 6000 feathers. Each turkey has its unique voice, and that's how Turkeys recognize each other. Place this turkey coloring page as a centerpiece on your Thanksgiving table. Your kid will feel proud seeing her creation gracing the dining table.
[ Read: India Coloring Pages ]
2. Tom Turkey
Here's a coloring image of Tom turkey. No, it's not the name of this turkey. All the male turkeys are called Tom. Tom or male turkeys have fan-like tails, bare head, bright beard and ruffled feathers. Male turkeys puff themselves as feathery balls and fill the air with their loud gobbling. Tom turkeys have extremely keen and sharp eyesight. They can see and sense a movement almost fifty miles away. A strange feature about Tom turkeys is that their head changes colors when they become very excited. With loads of feathers and a puffed-up chest, the turkey in the coloring page is looking for some fall colors. Can your child give him some?
3. Happy Turkey Day
Nothing says Happy Thanksgiving better than a big, fat turkey. So here's a big, bold turkey coloring page for younger kids. But don't you think this turkey is too cute to eat. And why is this turkey laughing so much? Someone must have cracked a funny joke that got this turkey into splits. Color this turkey and ask your kid a few of his favorite jokes. Hang this coloring page around the house after your little one has finished decorating it. Make sure he paints the words "Happy Turkey Day". Do you know what a Turkey Day is? Turkey Day is nothing else but a synonym for Thanksgiving.
[ Read: Country And World Flags Coloring Pages ]
4. Turkey Grazing On The Grassland
This turkey coloring sheet shows a turkey grazing the field with its two little poults. Turkey hens are diligent mothers. Baby turkeys flock with their mama all year long. Baby turkeys or poults cannot fly for the few weeks of their lives. So mama turkey stays with them at the ground level to keep them warm and safe until they are strong enough to roost with other wild turkeys. Turkeys have incredible geography skills. They can learn even the precise details of an area over 500 acres in size. The coloring page has fine details so make sure your kid colors within the lines. You can even teach your little one the value of mother-child relation through the medium of this coloring page.
5. Domestic Turkey
Here's a coloring image of a domestic turkey. Domestic turkeys are descendants of the Mexican subspecies of a turkey. Unlike the wild turkey, domestic turkeys have white-tipped tails. The domestic turkey is bred all across the temperate regions of the world for their delicious meat and white feathers. These turkeys cannot fly long distances, as they are too heavy. Their flight covers only short distances. But yes, they perch and roost their lungs out. The behavior of a domestic turkey changes as it grows. Domestic turkeys are also very friendly birds. They can even recognize a stranger in their group. Do you know how a domestic turkey indicates danger? It shouts in a high pitched voice to gather all his friends.
[ Read: Thanksgiving Turkey Coloring Pages ]
6. Black Turkey
This turkey color sheet displays the magnificence of the black turkey, a breed of domestic turkey. These turkeys were first bred from the Aztec turkeys in Europe and were later brought to Mexico in the early 16th century. The black turkey has black, lustrous plumage that has a metallic green sheen. It has red wattle, black beaks and pink shanks and toes. As for the size, the black turkeys are slightly smaller than bronze turkeys. The French Black turkey is pure black in colors with the Norfolk Black turkeys have dull black plumage with brown and white tips. The black turkey is also one of the finest for the table qualities.
7. Bourbon Turkey
The Bourbon turkey is native to Kentucky in the United States. J.F. Barbee developed this turkey from the crosses between White Holland, Buff and Bronze turkeys. This species of turkey is renowned for the large amount of carcass it produces and the delicious flavor of the meat. This turkey is also very active and energetic and loves spending its time chasing his pals. The Bourbon turkeys look very handsome! It has bluish red wattles, pink toes and legs, light gray beak and a black beard. It has rich, chestnut colored plumage with a white tail and flight feathers. Instruct your kid to use these colors for creating a lifelike image of the Bourbon Turkey.
[ Read: Peace Sign Coloring Pages ]
8. Thanksgiving Turkey
This turkey coloring pictures is guaranteed to get into the Thanksgiving mood. It features a turkey and freshly harvested fruits and vegetables. Thanksgiving is all about roasted turkeys, pumpkin pie and of course, family reunion. The diagram symbolizes the abundant supply of food during the Thanksgiving. In fact, the first Thanksgiving celebrated the plentiful harvest season. The coloring page is simple enough for younger children to color and detailed enough for older children to enjoy coloring. Children can also draw their favorite Thanksgiving dish on the diagram. It will complete the picture.
9. Bronze Turkey
The bronze turkey is native to North America, and the Aztecs domesticated it in Mexico around 500 years back. It is one of the most famous turkeys in the history of America. These turkeys are a lot more vigorous than the European species of turkeys. The Bronze Turkey is very imposing and stately in appearance. It got its name for its beautiful, shimmering brownish green feathers that appear metallic in sunlight. There are two main types of bronze turkey, the Unimproved Bronze turkey, and the Broad-breasted Bronze turkey. The bronze turkey in this coloring page is a Broad-breasted Bronze turkey. But the sad news is that the numbers of bronze turkeys are reducing rapidly. They are in dire need of conservation. So we must do something about it as soon as possible.
[ Read: Four Leaf Clover Coloring Pages ]
10. Wild Turkey
Here's a wild turkey coloring page for bird enthusiasts. Wild turkeys love to forage on the forest floors, but some also like roaming in swamps and grasslands. These turkeys enjoy feeding on fruits, insects, salamanders, and nuts. Just because turkeys look so awkward and big, it may seem unlikely that these birds can take a flight to the skies. But that's a misconception amongst common people. A wild turkey can take a short flight of up to 55 miles an hour. Fact-Benjamin Franklin had once argued the wild turkey, not bald eagle must be the national bird of the United States.
11. Eastern Wild Turkey
The eastern wild turkey is one of the most widespread birds in the world. The fine details on the coloring page will help improve your tot's hand-eye coordination.You will see this turkey widely distributed in North America. In fact, it inhabits the entire eastern half of America. You will also find the eastern wild turkeys in the thick forests and hardwood of southern Canada and New England. It's also one of the largest species of turkeys. It can reach up four feet tall and can weigh up to 20 pounds. It is a chestnut brown colored turkey with black underparts. As for the wings, the eastern wild turkeys have black and white bars extending from the outer edge of each feather.
12. Florida Wild Turkey
Florida wild turkey is one of the most hunted species of turkey. This turkey is strictly limited to the Florida region of the United States. In fact, it has only lived in the Florida peninsula, not any other place in the world. This factor makes it one of the most desirable wild turkeys. Florida wild turkey is similar to the eastern wild turkey in appearance but has darker feathers. And the white bars on this turkey are much narrower and have an irregular and broken pattern. Along with being fun, this coloring page also has detailed designs that will give your kid's fine motor skills a good practice.
13. Merriam's Wild Turkey
The Merriam's wild turkey is native to the pines of the western mountainous regions of the United States. Its name honors C. Hart Merriam, the first chief of the United States Biological Survey. The Merriam's wild turkey remains isolated from the other species of turkey, as its range is limited to New Mexico, Colorado, and Arizona. This turkey spends much of its time searching for seeds and bugs in forest meadows and forest openings. The adult Merriam's wild turkey is a black turkey with blue, bronze and purple reflections. It has white feathers on the lower back, which differentiates it from other species of wild turkey.
14. The Rio Grande
Here's a coloring page of the Rio Grande wild turkey. This turkey is native to the semi-arid regions of Kansa, Oklahoma, and Texas. The turkey gets its name from the Rio Grande River, the water supply bordering the country and bushy scrub of western Texas and Mexico. The turkey forms large flocks of hundreds of Rio Grande bird in winter. An adult Rio Grande turkey is approximately four feet tall and has copper colored feathers tipped with yellow buff. The Rio Grande turkey once existed in millions, but it is small in numbers now. The government has introduced various trapping and transplanting programs to preserve this turkey.
15. Gould's Wild Turkey
Here's a Gould's wild turkey pictures to color. You can use this coloring page as an opportunity to start a conversation about Gould's wild turkey and sneak in some knowledge. Gould's wild turkey is the least known of all the wild turkeys. This turkey is native to the mountains of northern Mexico and Arizona. The turkey is named after J. Gould, who found and described this turkey in his Mexico expedition. The Gould's wild turkey has the largest body of all the five North American turkeys. Gould's wild turkey is an exquisite bird. It has large feet, long legs, and large center tail feathers. It has bluish-green plumage and copper rump feathers.
16. Ocellated Turkey
The Ocellated Turkey also called Cutz by the Mayas, is a wild turkey that looks more like domestic turkey. This turkey is appreciated for its delicious flavor. The turkey has beautiful tail feathers with green-blue spots, edged in bronze colors. It has a reddish-orange protuberance from the head but lacks the tuft of beard that is common in all wild turkeys. The Ocellated Turkey has strong and powerful wings, but can maintain flight only for short distances. This turkey grazes the ground for seeds, insects, and fruits and avoids staying in the jungle. The Ocellated Turkey was once in the danger of extinction but is now in large numbers throughout the Mundo Maya.
17. Animated Turkey
This cute, but not so little bird is ready for the big day. And he is looking very excited! We think that he is going to attend the Thanksgiving feast at his friend's house. But what will this turkey and his pals eat at the feast? We believe that they will have a vegetarian feast. What does your child think about it? Tell your little one to color this turkey in traditional fall colors like red, yellow or orange. He can even write a short story that can go with the picture. It will exercise his comprehension skills in the process.
18. South Mexican Turkey
South Mexican turkey is not just limited to Canada and the United States. This turkey is domesticated in Mexico and Massachusetts. The South Mexican turkey is one of the smallest species of wild turkeys. Its size and delectable flavor make it very popular with the masses. The South Mexican turkey has red or blue neck, black beard and stunning black and white-colored feathers. This turkey weighs somewhere between 20 to 36 pounds. This coloring page will make a great holiday activity for kids.
19. Narragansett Turkey
The Narragansett Turkey, as the name implies, was developed in Narragansett Bay. It is a cross breed between the Norfolk Black turkey and Easter Turkey. These turkeys are extremely popular in Holland and Austria. Narragansett Turkey looks incredibly captivating. It has unique, tan colored feathers with gray, white and black patterns. It has orange-pink feet and legs, gray-black beak, a black beard and red wattles. This turkey weighs 114 to 23 pounds, 18 being the average. Whether you need a farm themed project or a Thanksgiving party, this coloring page is ready to color and enjoy.
20. Royal Palm Turkey
The royal palm turkey has been a proud resident of the United States since the 1920s. But do you know where these turkeys were first bred? These turkeys are believed to be first bred in Europe because of their similarity with Ronquieres, Crollwitzer, and Pied turkeys. Today, the royal palm turkeys are produced widely for their table qualities and muscles. The plumage of the royal palm turkey has a distinct pattern. It has a black back, black rimmed tail, black beard, white neck feathers and black lined breast feathers. These turkeys have blue or red heads and red wattles. The royal palm turkeys are excellent foragers. But they cannot fly very well.
21. Turkey Enjoying His Meal
This coloring page shows a turkey enjoying his meal. Let's discuss a bit about turkey's eating habits with this coloring page. Wild turkeys forage for food in flocks. In winter and early spring, they graze the forest floors for acorns and nuts like pecans and beech nuts. They also relish eating wild black cherries, ash seeds, and other berries. When the snowfall hits them, they keep themselves warm by eating hemlock buds, club mosses, and burdock. Besides, turkeys also supplement their diet with snails, salamanders, beetles and other insects. And just like most types of birds, turkey swallows grit and gravel to aid digestion. It's also a necessity for them, as just like all the birds, even turkeys don't have teeth. Very intelligent!
22. Gobble Gobble
Here's a very easy turkey color page. The bold lines of the color page make it perfect for little fingers to color. Kids are suggested to use bright and bold colors for this turkey. They can then use it for making Thanksgiving cards. Turkeys make a gobble sound to attract the female warn the other competing males. Isn't that cute? You can hear the distinctive gobbling of the turkeys from even a mile. Only male turkeys gobble, female turkeys make distinct noises that sound more like clucks and chirps. Ask your little one if he has even seen or heard a turkey gobbling. You are sure to get funny responses.
23. Slate Turkey
Have your kid put his creativity to use with this realistic coloring image featuring a slate turkey on a farm? It's a great coloring page to start a discussion about farming and farm animals. The Slate is a beautiful gray colored turkey. It's a cross breed of black and white turkey. It has black spots on its feathers. But if your turkey has brown or white spots then he may be suffering from some nutrient deficiencies. The slate turkey can be aggressive or docile, depending entirely on the breeding conditions. It is one of the rarest species of turkeys. In fact, it's close to extinction. So make your little one color is as fast as he can.
24. Sad Turkey
This coloring page features the iconic bird of Thanksgiving, turkey. Why is this turkey looking so sad and grouchy? We think that he is missing his turkey pals whom he lost to the Thanksgiving feast. What do you think? Turkeys are very sensitive and intelligent animals. And they are highly social. They create bonds with their pals that last forever. Turkeys are also very affectionate with each other, just like dogs. This coloring page will also give you the opportunity to talk with your little one about complicated emotions. Ask him about his best friends in school. You can also ask him his views on friendship.
25. T For Turkey
Are you looking for an effective way to boost your kid's alphabet and pre-literacy skills? If yes, then why don't you consider our T for Turkey coloring page? Tell your little one trace the upper case T and then color this smiling turkey. Help your tot call out the word turkey and try other words starting with the letter T. This coloring page will also make a colorful addition to the refrigerator door.
So why wait? Pull out the crayon sets and get coloring with your little one. Our coloring pages are not just for the occasion of Thanksgiving. Kids are free to use these pictures of turkeys to color for their school projects too. What is your kid's most favorite bird? Is it the turkey or some other bird? Tell us here, leave a comment below.
DISCLAIMER: All images found here are believed to be in the "public domain". We do not intend to infringe any legitimate intellectual right, artistic rights or copyright. All of the images displayed are of unknown origin. If you are the rightful owner of any of the pictures/wallpapers posted here, and you do not want it to be displayed or if you require a suitable credit, then please contact us and we will immediately do whatever is needed either for the image to be removed or provide credit where it is due. All the content of this site are free of charge and therefore we do not gain any financial benefit from the display or downloads of any images/wallpaper.
The following two tabs change content below.