In India, turmeric is often consumed mixed in milk. This nutritious and medicinal beverage is effective for relieving a sore throat, cough, or pain due to injury. But some may wonder whether it is beneficial to drink turmeric milk during pregnancy.
Turmeric has several health benefits since it is rich in different bioactive compounds. In addition, it has proven effects against infections and inflammation.
Continue reading this post to learn more about whether drinking turmeric milk is safe during pregnancy, its health and skin benefits, and some possible side effects.
Is It Safe To Take Turmeric During Pregnancy?
As per the U.S Food and Drug Administration, turmeric is "generally regarded as safe" (GRAS) to be used as a food ingredient (1). However, any specific recommendation for pregnancy has not been documented. Therefore, you may add it in your diet in small quantities or consult your doctor about the right amounts.
Pregnant women, who regularly took small amounts of turmeric in their food, did not report any adverse effects. However, prolonged use of large doses of turmeric may cause gastrointestinal problems  (2).
Is It Safe To Drink Turmeric Milk During Pregnancy?
It is likely safe to take a glass of warm milk with a pinch of turmeric once every few days. Milk is a major source of dietary calcium, which is essential during pregnancy (3), and turmeric being rich in antioxidants and anti-inflammatory components (4), offers double benefits.
However, you should consume it in small amounts and consult a nutritionist to know of some more ways to include turmeric into your diet safely.
Nutrients And Health Benefits Of Turmeric
Before understanding turmeric benefits, let's understand what turmeric is. Turmeric, scientifically known as Curcuma longa, is a root used in medicines and food. It is available in extracts, capsules, or powder and is referred to as the "Indian saffron" due to its bright yellow color and potential therapeutic properties (5).
Nutritional facts of turmeric:
One tablespoon, i.e., one serving of turmeric powder, provides the following nutrients against the recommended allowances per day (RDA) (6) (7).
| Name | Amount | RDA |
| --- | --- | --- |
| Fiber, total dietary | 2.13g | – |
| Calcium, Ca | 15.8mg | 1000mg |
| Iron, Fe | 5.17mg | 27mg |
| Magnesium, Mg | 19.6mg | 360mg |
| Phosphorus, P | 28.1mg | 700mg |
| Potassium, K | 196mg | 2900mg (AI) |
| Sodium, Na | 2.54mg | 1500mg (AI) |
| Manganese, Mn | 1.86mg | 2mg (AI) |
| Folate, total | 1.88µg | 600µg |
| Choline, total | 4.62mg | 450mg |
AI = Adequate intake (AI) is the recommended average daily intake level of apparently healthy people. It is used when an RDA cannot be determined (8).
The nutritional value of turmeric is promising. So, it is wise to check what benefits you could possibly reap from it.
Benefits Of Turmeric Milk During Pregnancy
It may not be safe to take turmeric as an oral supplement, but combined with milk, it might prove beneficial. Besides, it might also help treat many problems that you experience during pregnancy. Turmeric has various nutrients and some bioactive compounds such as curcumin and demethoxycurcumin that have medicinal properties. Let's check some benefits in detail.
Joint pains: Joint pains might primarily occur due to the burden the joints bear because of weight gain. However, sometimes joint pains during pregnancy could be due to some medical reasons such as inflammatory arthritis (9). In such scenarios, turmeric might provide some help. Due to curcumin's strong anti-inflammatory quality, turmeric could provide symptomatic relief from joint pains and swollen legs (10).
Constipation: Some researchers have shown that curcumin is effective in relieving constipation caused by irritable bowel syndrome (11).
Cholesterol levels: The levels of cholesterol and triglycerides increase during pregnancy as they are crucial for the growth and development of the fetus and the production of hormones (12). However, an abnormal increase in cholesterol and total fat could lead to medical complications such as acute pancreatitis. Turmeric is often seen as a natural remedy to regulate cholesterol levels. A research study demonstrated the effectiveness of turmeric extract in reducing cholesterol and triglyceride synthesis (13).
Sore throat: Traditionally, turmeric has been in use to get relief from cold, cough, sore throat, and chest congestion. According to Ayurveda, one teaspoon of turmeric boiled in milk can help with the expectoration of mucus, and this relieves cough (14). Clinically, the efficacy of turmeric to relieve sore throat is still very limited.
Immunity: Turmeric has nutrients and certain bioactive compounds that possess antioxidant properties and help in removing free radicals and boosts immunity by keeping away mild infections (15). Therefore, the use of turmeric to support immunity during pregnancy is a wise choice. However, consult a doctor.
Blood purification: Blood purification is essential to keep your body free from metabolic waste and toxins. In ayurvedic and unani medicine, there is a use of turmeric to purify the blood (16). Thus, turmeric milk can be used to regulate the blood flow and improve blood circulation. However, there are no research studies to prove the safety and efficacy of turmeric as a blood purifier during pregnancy.
Undoubtedly, turmeric has some crucial therapeutic properties. However, there are some concerns related to the use of turmeric during pregnancy.
There are a few concerns about the adverse side-effects of turmeric use during pregnancy.
Miscarriage: Turmeric is believed to stimulate uterine contractions and cause bleeding, especially before full term (37 weeks). This could increase the risk of miscarriages and preterm births. However, there is no evidence to prove the claim. In contrast, an in-vivo experiment conducted on rats showed that curcuminoids in turmeric have the potential to relax the uterus, an effect that could be beneficial in the cases of preterm labor (17).
Birth defects: It is often said and believed that the use of turmeric could affect fetal development. The bioactive component curcumin is purported for effect. However, scientific studies show that curcumin in turmeric could possibly help in reducing congenital fetal defects (18).
Bleeding disorders: Turmeric is known to prevent the production of clotting factor and aggregation of platelets, increasing the chances of bleeding (19). However, this is a concern for women who are taking medications for bleeding concerns.
Curcumin, taken orally, is neither absorbed nor metabolized properly. In fact, it is rapidly eliminated from the body. Therefore, the potential of curcumin as a harmful substance is limited by its poor bioavailability.
Turmeric supplements are also known to cause spotting as early as two days after their consumption.
Before consuming turmeric, you might want to take your doctor's advice. But turmeric is not just restricted to its use in foods. It is good for your external body, as well.
Is It Safe To Drink Turmeric Tea During Pregnancy?
In general, turmeric tea is not considered safe during pregnancy, as the proportions of turmeric are high in it. Excess intake of this root powder can cause uterine contractions and menstrual flow.
Skin Benefits Of Turmeric During Pregnancy
Turmeric is believed to give a beautiful glow to your skin. Here are some ways you can try to get that smooth and supple skin during pregnancy, along with the glow.
Treats stretch marks: Make a paste of turmeric with curd and apply it over the stomach. Leave for 15 minutes and take a bath. Using it regularly can treat the stretch marks.
Reduces hyper-pigmentation: Blend cucumber and extract juice from it. Add lime juice and turmeric powder to make a paste. Apply the paste on the intensely pigmented area and wash off after 20 minutes. Turmeric prevents melanin production and lightens the skin tone.
Removes pregnancy acne: The highly potent anti-inflammatory and antiseptic properties help in treating acne. A paste of turmeric and water on the acne-prone skin will work wonders.
Gives clear complexion: Drinking turmeric milk along with honey helps cleanse the impurities from the system and provides a clear skin. Also, you can use a face pack made of turmeric, milk, curd, and gram flour.
The medicinal properties of turmeric make it a preferred addition to the diet during pregnancy. Many women consider having turmeric milk during pregnancy since it is generally considered safe and provides health benefits. However, an excess intake during pregnancy may result in gastrointestinal disturbances and sometimes cause miscarriages or congenital disabilities. In conclusion, despite its several health benefits, it is safe to consult your Ob/Gyn on its consumption. Also, do not forget to ask for the right dosage and the right form of consumption of turmeric milk during pregnancy.
References:
MomJunction's articles are written after analyzing the research works of expert authors and institutions. Our references consist of resources established by authorities in their respective fields. You can learn more about the authenticity of the information we present in our
editorial policy
.
The following two tabs change content below.

Rebecca is a pregnancy writer and editor with a passion for delivering research-based and engaging content in areas of fertility, pregnancy, birth, and post-pregnancy. She did her graduation in Biotechnology and Genetics from Loyola Academy, Osmania University and obtained a certification in 'Nutrition and Lifestyle in Pregnancy' from Ludwig Maximilian University of Munich (LMU). She has been into health and...
more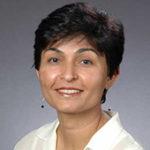 Jyoti Benjamin
(MS, RD, CSO, FAND, CD)
Jyoti Benjamin has 25 years of experience as a clinical dietitian and currently works in Seattle. She focuses on teaching people the value of good nutrition and helping them lead healthy lives by natural means. Benjamin has a masters in Foods and Nutrition, and has been a longtime member and Fellow of AND (Academy of Nutrition and Dietetics) and the...
more