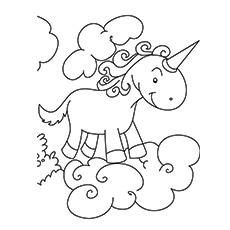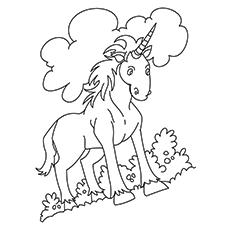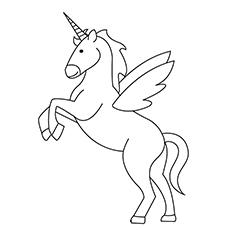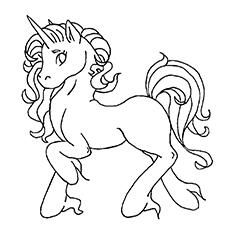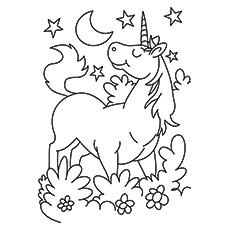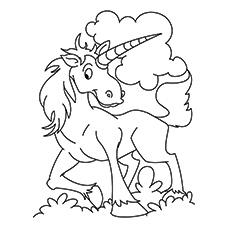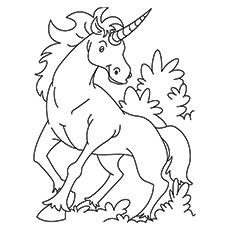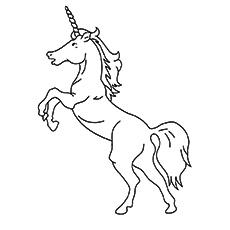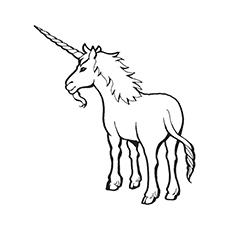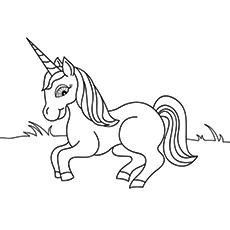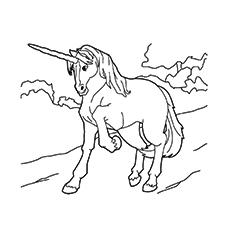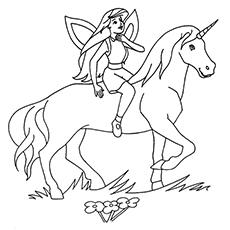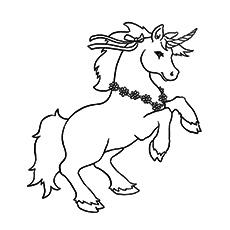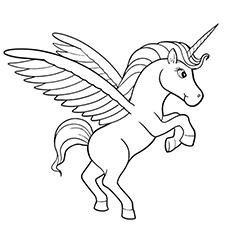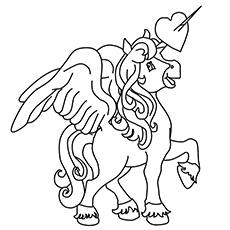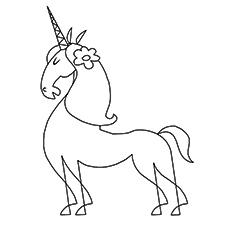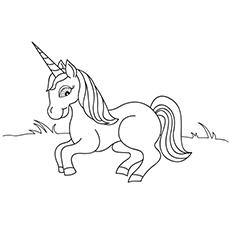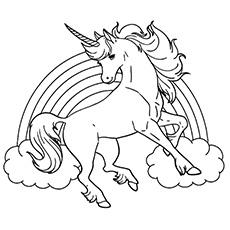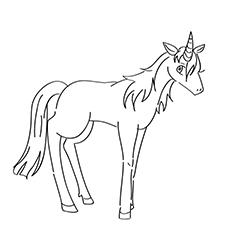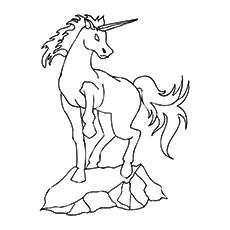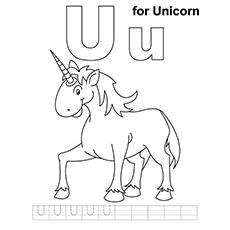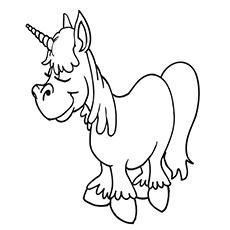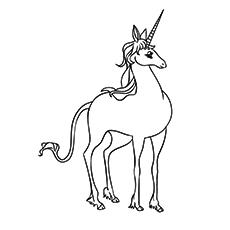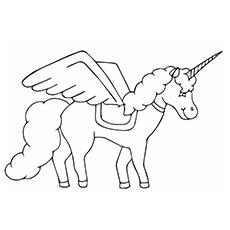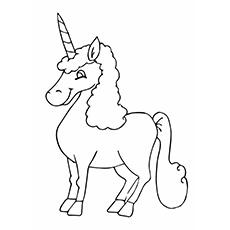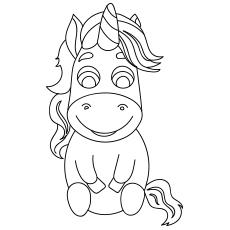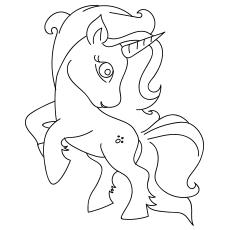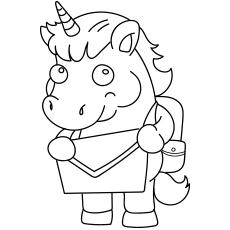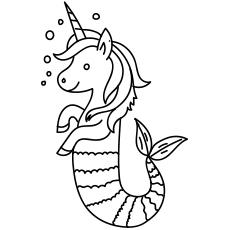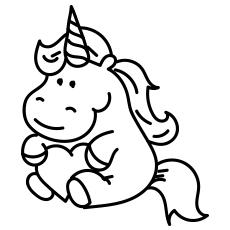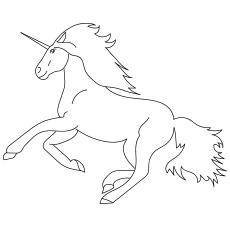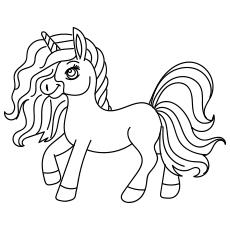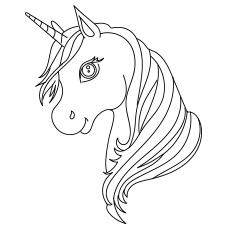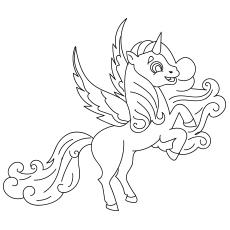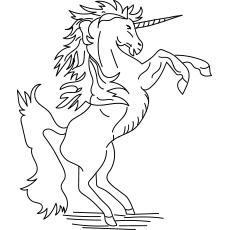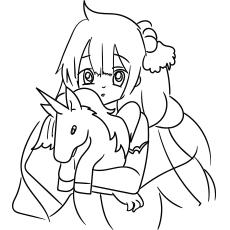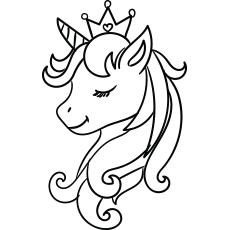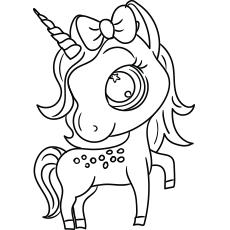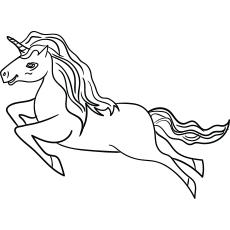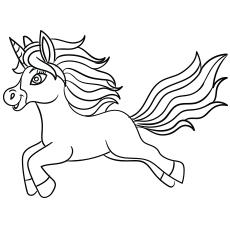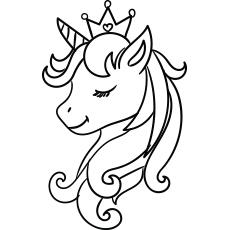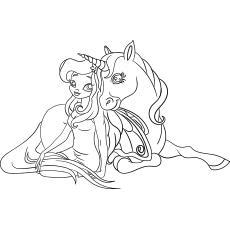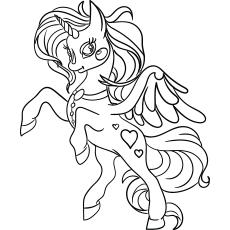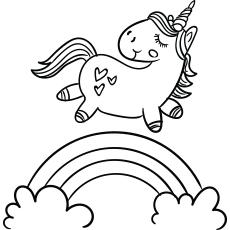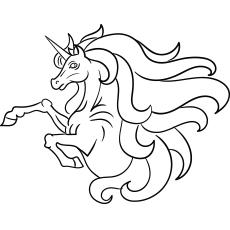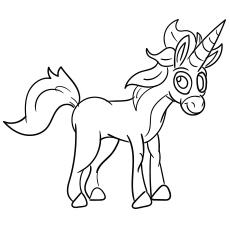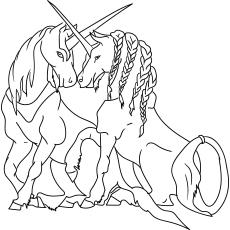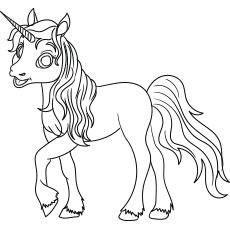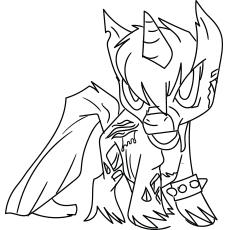 Recommended Articles:
Aren't unicorn's magical creatures? This amazing creature was first introduced in European fables. A unicorn closely resembles a horse; the only exception is a single horn protruding from its forehead. A few renditions have facial hair and hooves of a goat. The horns of these magical creatures have the power to neutralize poison. It can even turn poisoned water into potable liquid.
Kids love fairy tales and the incredible characters associated with them like unicorns, flying horses, phoenix and mermaids. Unicorns feature widely in children's cartoons, literature and movies. Unicorns often appear as sidekicks of maidens and princesses. They are also depicted as a protector of the land or kingdom as a whole. Just like most of the creatures of mythology, there is nothing evil about unicorns. They symbolize purity, beauty and magical strength.
Cute Unicorn Coloring Pages For Kids
This article includes some of the outstanding unicorn coloring sheets. These fun and educational free unicorn coloring pages to print will allow children to travel to a fantasy land full of wonders, while learning about this magical creature. Your child need not follow the generic coloring pattern of a white body and silvery horn. These unicorn coloring pictures can be colored pink, blue, black and even multicolored.
1. U For Unicorn:

Kindergarten is all about learning about the different alphabets and the sounds they make. Prepare your child for school with this coloring sheet featuring the letter U with a cute image of a unicorn.
Color this magical creature with your child as he learns to write the upper and lowercase alphabets.
Your child can use glitter or any other art mediums to add dimension to the picture.
[ Read: Seahorse Coloring Pages ]
2. American Unicorn:

This coloring sheet shows a magnificent American unicorn. It resembles a white horse with the exception of a straight horn at its temples.
The American unicorn is said to purify water and air. Female American unicorns can run twice as fast as their male counterparts.
This unicorn loves to eat clover and blackberries. It usually travels in groups or herds.
3. Karkadann:

The Karkadann is an extinct species of the unicorn. It once flourished on the grass plains and deserts of India, Africa and Persia. It was a large unicorn with a body as large as a rhinoceros and tail like a lion's.
The Karkadann unicorn commands great respect because of its ferocity and strength. It closely resembled the Oryx.
It is believed that the Karkadann unicorn would stand for hours beneath the nest of a dove, shooing away its predators so that it could enjoy its beauty.
4. Cartazon:

Here is a coloring sheet of a Cartazon unicorn for your children. Tell your child to draw a background like a castle or a forest to go with the picture.
Cartazon unicorns are large mountain unicorns. This black colored unicorn is said to have a tawny mane, a goat's tail and a sharp, pointed horn.
This unicorn is fairly gentle and kind. There are no magical powers attributed to this unicorn.
5. Kirin:

This coloring sheet features Kirin, an Asian unicorn. It resembles a stag with the body of a musk deer and a tail of an ox. It is distinguished by its multicolored belly.
Kirin unicorns have spots on their back. So tell your child to add the same while coloring the sheet.
Kirin unicorns are usually found in the remote areas of China and Japan. They are quite shy and restrain from fighting.
6. Lancelot:

Lancelot is a unicorn found in California. It is a goat like unicorn with a horn on top of its head. This famous creature is also associated with beauty and mystery.
This specie of unicorn was bred from Angora goat stock. It first appeared to the public in 1980 and performed in the circus.
The Lancelot unicorn is considered one of the most unusual unicorns because of its strange appearance.
[ Read: Winx Club Coloring Pages ]
7. Unicorn Above The Clouds:

Here is a beautiful coloring sheet of a unicorn above the clouds.
This coloring sheet is ideal for little girls who love reading fairy tales.
You can hang the work up as a wall art to encourage your child.
8. European Unicorn:

This is a coloring sheet of a European unicorn. It has a horn that is slightly twisted and sharp. The European unicorn has large ears, big, brown eyes and horse like mane.
It has a thick coat that gets thicker in the winter. The color of the coat ranges from fawn to creamy. Its call sounds like a sad wail.
The European unicorns existed in the remote parts of the world. It was believed that the water, when touched the unicorn's horn became safe for consumption.
9. Shadhavar:

Shadhavar is a delicate, gazelle like unicorn with hollow horn. The wind creates a beautiful, flute like music as it flows through this hollow horn.
Its music would draw human and animals.
It is a carnivorous unicorn and was often thought to be evil.
10. Persian Unicorn:

The Persian Unicorns, also known as the Khara looked like donkeys with a single horn on its forehead. It had three legs and six eyes.
The Persian unicorns were extremely powerful and were very important to the Zoroastrian religion.
Despite their popular image as a benevolent and pure spirited creature, the Persian unicorns were sinister and perhaps the deadliest unicorn species.
11. Physiologus's Unicorn:

This coloring sheet is of the unicorn mentioned in Physiologus. The Physiologus is a didactic text written by a Greek author in Alexandria.
The book consists of descriptions about several animals, birds, stones and plants, all provided with a moral content.
The Physiologus' unicorn is a small and fierce creature with a sharp horn.
12. Ki'lin:

The Ki'lin is the noblest form of unicorn and is considered the emblem of perfect good. It is a hybrid animal with the body of a deer, the head of a lion or a wolf and a long antler. It has furry scales that are red, yellow or blue in color.
It is an intelligent forest unicorn belonging to the Chinese mythology. It has ties to fertility and fortune.
Ki'lin was never valued for its body parts and luckily was never hunted. It has a deep and melodious call.
[ Read: Letter U Coloring Pages ]
13. Unicorn from Daniels Dream:

This coloring sheet features the unicorn from the book of Daniel in the Bible. The unicorn is described as a goat with eyes of deep red in rage.
In the story, the unicorn fell into combat with a ram and knocked it down in the water using his horn. The horn then tipped with blood and began growing in size.
The horn, then fell off and was replaced with four smaller horns.
14. Re'em:

The Re'em unicorn is also mentioned in the Bible. It represents strength, spirit and agility.
It is depicted as a mysterious creature and is never clear whether it was specifically supernatural.
It was an enormous unicorn and was so large that it could not fit on the arc.
15. Indian Unicorn Equus Assinoceros:

The Equus is an Indian species of unicorn. It is now believed to be extinct.
Also called the thorned ass, the Equus supposedly lived in the prehistoric times.
It is said that the Equus was interbred with horses or donkeys.
16. Pegasus:

The Pegasus is a popular creature from the Greek mythology.
Pegasus is a kind of unicorn with wings. A Pegasus looks like a normal, white unicorn with wings.
The Pegasus was considered a symbol of wisdom and fame from the middle Ages until the Renaissance.
[ Read: Letter H Coloring Pages ]
17. Ruva:

Here is a coloring sheet of Ruva, a classic unicorn that comes in natural or pastel colors.
They are said to have a special thing with the flowers that not everyone can understand. Ruva unicorns are also called "flower unicorns" because of that.
They look very similar to horses in appearance.
18. Japanese Unicorn:

The Japanese unicorn strongly resembles the k'ilin unicorn in appearance. It has a thick mane and a single horn like most of the unicorns. Japanese unicorn was an important part of the oriental culture.
The Japanese unicorn looks like a deer or a goat with eyes that look threatening and intent.
It has the uncanny ability to detect right from wrong and punish the guilty with death.
19. Black Unicorn:

The black unicorn, as the name suggests, has a black fur with red horn and hooves. It is a sub variety of the Northern European type.
The black unicorns look scary with plain colored fur.
The dark rider is a common variety of black unicorns. They have evil powers and attack the bright unicorns. They take the food, water and the magical powers of the other unicorns when attacking.
20. Chinese Unicorn:

The unicorn was a favourite motif in Chinese art for more than hundred years. They are five main types of Chinese unicorns, the Bai Ze, the Xie Nium, the Ki – Lin, the Qilin and the Xie Chai.
The Chinese unicorn was an aggressive beast and ate fire in its ravenous fury.
It was praised for its ability to discriminate between good and evil. It is also associated with judges and law enforcers.
[ Read: Camel Coloring Pages ]
21. Archaic Unicorn:

The archaic unicorn is a goat-sized unicorn with a beard, cloven hooves and lion's tail.
It had a perfect goodwill, gentleness and benevolence with all the creatures.
Besides learning about this unicorn, your child will also get important fine motor practice along the way.
22. Jewel:

This coloring sheet features Jewel prancing in the forest. Jewel is a noble and creamy unicorn from the "Narnia" series. Your child will have a ball bringing life to this unicorn.
This handsome unicorn wears a gold chain around his neck. He uses his ice blue horn as a fierce and deadly weapon in a battle.
Jewel is the best friend of King Tirian and is extremely faithful to him. He has also proved his friendship for his master several times in the film.
23. Fairy And Unicorn:

This coloring sheet shows a unicorn with a girl riding on its back. It is a beautiful unicorn with a long, spiralling horn, a thick mane and a body of horse.
You can use this coloring sheet to familiarize your child with the different features of the unicorn.
We are sure your child will love adding some dreamy colors in this fantasy-coloring sheet. Let your child's imagination run wild with this coloring sheet.
24. Rainbow Unicorn:

The most common unicorn in the world is the rainbow unicorn. This coloring sheet features a majestic unicorn flying in front of a beautiful rainbow.
This is a simple coloring sheet, perfect for young learners who need practice coloring inside the lines.
A rainbow unicorn has a beautiful, multicolored mane and a white body. It has the power of changing the weather. Its main food source is the magical spring water.
[ Read: Farm Animals Coloring Pages ]
25. Lila:

Are you looking for something to occupy your kid this weekend? Then hand him this coloring sheet. Tell your child to break out her crayons on this coloring sheet featuring Lila.
Lila is the character from the film "Barbie of Swan Lake". She is a purple color unicorn who accompanies her mistress Odette in her task. She is also a very close friend of Odette.
This coloring sheet is guaranteed to please your little princess. She can choose any color she likes for filling this sheet.
Give your child the opportunity to choose the unicorn pictures to color of his own choice. Encourage him to make stories that go with these coloring sheets.
They can also add backgrounds or other ornaments with these free printable unicorn coloring pages online. You will be surprised to see how innovative your child can be with these coloring pages of unicorns. These coloring sheets are also perfect for unicorn themed parties. You can also create your own unicorn coloring book.
DISCLAIMER: All images found here are believed to be in the "public domain". We do not intend to infringe any legitimate intellectual right, artistic rights or copyright. All of the images displayed are of unknown origin. If you are the rightful owner of any of the pictures/wallpapers posted here, and you do not want it to be displayed or if you require a suitable credit, then please contact us and we will immediately do whatever is needed either for the image to be removed or provide credit where it is due. All the content of this site are free of charge and therefore we do not gain any financial benefit from the display or downloads of any images/wallpaper.
The following two tabs change content below.