If you are looking for unique yet practical gifts for soon-to-be moms, we have compiled a list of the best baby shower gift ideas to help you out. Baby showers celebrate the new mother and her child, so your gift should reflect the love and care she deserves. Our list includes several thoughtful, functional, and fun gift ideas, with something for every new mom. We have reviewed several products to ensure the gifts are high quality, durable, and long-lasting. However, choosing the right one can be challenging. From gift baskets to personalized items, check out our list of ideas to choose one that best fits the recipient's preferences.
Best Baby Shower Gifts
Even if it is your first baby shower party or tenth, you can never be wrong with your gift, if you go by these great ideas. From welcome baby home articles to soft toys, we have them all here to celebrate the occasion.
Why it's our pick:
This stuffed plush sheep will produce soothing sounds that can calm the baby to sleep in a fraction of seconds. It is a new mother's lifesaver. To know more about this product, watch this video.
Why you will love it:
The sleep sheep offers a relaxing white noise, which is perfect for bedtime. You can choose any of the four sounds – Mother's heartbeat, Ocean surf, Spring showers and Whale songs, which will create a calm sleeping environment. It can be used for the crib as well as car seat . It features a simple push button with volume control and automated time-out function.
Why it's our pick:
Made of natural rubber and food paint, this rubber giraffe would bring hours of drooling enjoyment to the newborn. You can undoubtedly select this as a gift as it also helps when the baby starts teething. Before buying, have a look at this video.
Why you will love it:
Sophie la Girafe is soft, flexible and slender. Baby can chew and squeeze it completely. It makes a happy sound when it is pressed. Sophie's ears are in the perfect size for munching and legs are skinny for the baby to hold it correctly.
Why it's our pick:
The baby will feel warm and nice when you wrap her in a blanket. The new parents can use this soft pattern wraps for many purposes – swaddling cloth, burp cloth, car seat drape, tummy mat or clean-up cloth.
Why you will love it:
It is a blend of cotton and bamboo rayon. The swaddle pack includes the black and white prints of core designs – Graffiti, Knuckle Sandwich, Zoonicorns and Gemstones. The Buttermilk Babies Swaddle offers a silkier feel unlike the cotton swaddles.
Why it's our pick:
It is a perfect baby shower gift that the mom will not forget. You can help the new mom in her baby's first public appearance in a comfy and cute dress.
Why you will love it:
This is a four-piece cotton set containing knit cap, short-sleeved bodysuit, jersey cardigan and footed leggings. It is available in three colors – blue, pink and gender neutral gray. This super-soft, 100% cotton combo gives an extra gentle fit for the baby's delicate skin.
Why it's our pick:
If you want to receive a big applause at the baby shower party, then this should be your choice. The new mom would love to swaddle her baby in cozy wraps of animal designs.
Why you will love it:
Critter towels are made up of thick cotton velour and terry for absorption and softness. They feature a hood that gives extra warmth to the baby after bath time. The hood has animal features like detailed eyes and ears – funny elephant trunk, friendly bunny ears and more.
If you do not want to limit yourself to a single gift but give a basketful of items, then go for gift baskets.
Baby Shower Gift Baskets
Who will not appreciate a basket full of gifts? Think beyond the diaper sets and get these ready-to-gift items. Here are a couple of baby shower gift basket ideas for you:
Why it's our pick:
This baby arrival set includes everything that is necessary to welcome a newborn.
Why you will love it:
The Honest Baby Arrival Gift Set contains seven essential things made of natural and safe ingredients. It, therefore, gets the new mom start with all she needs for the baby – wipes, diapers, sanitizing spray, healing balm, face and body lotion, shampoo and body wash and a teether. These things are all wrapped in a wooden box that is reusable and can make a great store for all baby things. Here's a video to help you understand the gift set better
Why it's our pick:
In the initial weeks, it would be a great struggle for the new mom to keep all her baby's essentials at one place. This gift set would be perfect as it contains everything a mother requires.
Why you will love it:
Sure to delight new parents, this classic gift basket contains two breathable cotton swaddles, soft and breathable blankets made of 100% cotton muslin, soft burpy bibs, a lovely cuddly toy and a Swaddle Love book about the history and art of swaddling.
Baby Shower Gifts for Boys
Airplanes, robots, cars and sneakers! They will be the best choices if you are finding for baby shower gifts for new parents who are welcoming a son. You will love these beautiful gift ideas.
Why it's our pick:
The elephant knitted blanket would be a lovely gift for the newborn baby.
Why you will love it:
This elephant print knitted blanket adjusts perfectly for a stroller or even a Moses basket. The parents can carry the baby in it or drape over a rocker in the nursery to keep her cozy. You can never go wrong with this blanket.
Why it's our pick:
This is a 3-in-1 award winning patented activity gym. It is a super cool activity mat for playtime, tummy time and any other time. It would be a great help for the new parents in developing their child's developmental activities.
Why you will love it:
The Yokidoo mat can help the baby with three different stages – lay & play, tummy & play, sit & play. The set contains many accessories and multi-textured toys, which aid in more than 20 developmental activities. It features a puppy-shaped tummy pillow, battery-operated musical buggy, which moves back and forth, a hanging mirror, detachable robot figures and contrasting retro robot design.
Why it's our pick:
The Moover truck is a blend of traditional craftsmanship with contemporary, bold looks. It would be perfect for the child to start off with playtime.
Why you will love it:
Moover toys are made from sustainable sources with environmentally conscious parents in mind. Though the baby may have 12 months to go before he can play with this wooden truck, it can be a welcome addition to his nursery decor. It encourages your little one develop motor skills and explore the world.
Baby Shower Gifts for Girls
What would you give if the baby is a girl? Should it be different from what you gift a boy? Gifts for baby girls are as adorable as those for boys. In fact, you have a wider choice for girls. New parents expecting a baby girl will fall hard for beautiful decor items, pink onesie garments and tiny pink shoes.
Why it's our pick:
It is a unique floral print the baby would love to snuggle in. If the new mom is in search for the best material crib, this suits the best.
Why you will love it:
This Madly Wish Boho is a handmade reversible quilted blanket. It has a bohemian style floral print that would be a fresh transition from all those precious pink and white designs. It fits into the standard size cribs, and your baby will fall asleep quickly.
Why it's our pick:
Freshly picked has perfect sized crib moccasins that can stay on the baby's feet. They are petite and are a perfect fit for a newborn until they reach four months of age.
Why you will love it:
If you cannot wait for the little one to wear those cute tiny shoes, this freshly picked crib moccasins are the right choice. They are easy to slip on and take off the feet. Made of 100% pure leather, they are durable and flexible for the little feet to move around. They go well with any kind of outfit.
Why it's our pick:
The Pemberley Rose Doux Reves petite fille crib is inspired from a vintage French perfume ad that could inspire sweet little dreams. It would be a unique baby shower gift idea for a girl.
Why you will love it:
The new mother can easily put the baby to sleep in this très chic style crib that is ultra soft and smooth. The smooth cotton fabric is elegant and fits a standard crib mattress up to nine-inch depth.
Why it's our pick:
This beautiful bodysuit is emblazoned with an excellent advice for the new parents. It can make an ideal gift for the baby shower party and can be used right after the baby's arrival.
Why you will love it:
Made of 100% combed cotton, it has convenient snaps between legs for a quick change. The material is treated with professional heat press equipment, which does not fade, peel or crack with usage. The mother can change the baby's diaper quickly and need not keep the princess waiting.
Why it's our pick:
Just like bunnies, the baby's savings will multiply when she uses the modern piggy bank. Until then, this porcelain bunny bank can wait on the baby's nursery shelf.
Why you will love it:
Made of porcelain with glaze finish, this bunny bank can help the parents make some savings for the baby. It has got a money slot over the top and an opening at the bottom.
Baby Shower Gifts for Mom
So, you may ask, if all the gifts are for the baby won't the new mother get anything? Why not? You can surprise her with any of the below creative baby shower gifts such as essentials for hospital stay, massage or a baby friendly teething jewelry.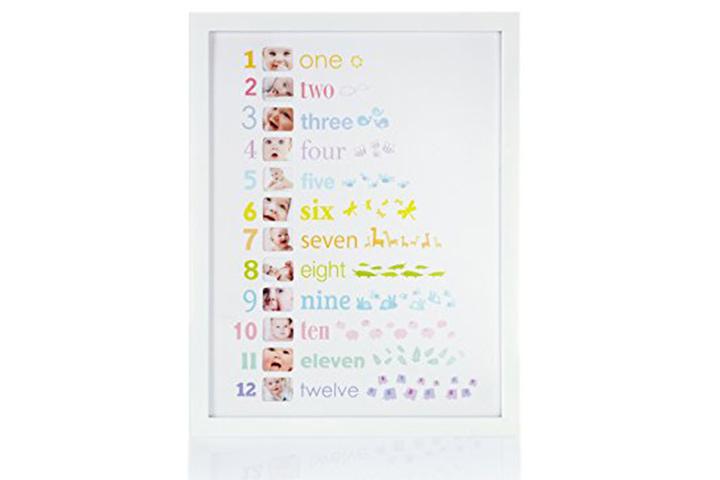 Why it's our pick:
Babies grow month-by-month. Why not gift a creative frame for mom and dad to recollect those memories for lifelong?
Why you will love it:
This is a hand-finished wooden wall frame, which can add brightness to a room with its fun hues. It is numbered one to 12 for the parents to paste their baby's photo each month. It will also be a great way to teach your kid about numbers, and those pictures can bring endless smiles.
Why it's our pick:
A mom-to-be may not be in a position to pack all essentials just before going to the hospital for her delivery. Therefore, we have the box as one of the perfect gifts that keep the lady ready for the D-day.
Why you will love it:
This box includes super soft jersey and cashmere essentials – robe, matching T-shirt inspired knee-length nightgown, a pair of panty briefs and cozy tube socks. These things will help during the long hospital stay.
Why it's our pick:
The simplest pleasure can make the strongest statement. This teething jewelry will not only add a serious style to the new mom but also act as teethers for the baby.
Why you will love it:
These beaded necklaces are vibrant and have eye-catching colors. The beads are 100% pure FDA approved food-grade silicone and free from toxic substances. The wood beads are 100% natural maple, coated with olive oil and organic beeswax.
Personalized Baby Shower Gifts
If the parents to be are close to you, you might want to give them a personalized gift that suits their requirements. Photo canvas, dish sets, artwork, and rattles would help them cherish each step as the little one grows.
Why it's our pick:
It would be a great baby shower gift for the parents to welcome their baby to the dining table. It looks dynamic and blends with any family table.
Why you will love it:
The personalized ceramic cup and bowl set has an elephant or giraffe print. It is made of food safety white earthenware clay and is dishwasher safe. It makes the baby mealtime fun and cleanup easy for mom and dad.
Why it's our pick:
They are beautiful handmade rattles carved in the shape of the US states. They make a great gift as you can choose them based on the parents' home state.
Why you will love it:
The Wooden State rattles are made up of solid hardwood cherry and are 100% organic. They can last long enough to run through generations. The finish is an organic mix of beeswax and flaxseed oil. They are perfect for gripping and helping the little one learn geography.
Why it's our pick:
Jellycat is one of the most trusted brands that manufacture soft and cute animals.
Why you will love it:
The toys are huggable bunnies with cuddly floppy ears and soft fur. They come in a variety of sizes and colors, and you can get them personalized by adding the baby's name or monogram in different thread colors and fonts.
DIY Baby Shower Gifts
The new mom will bless you for gifting some do-it-yourself (DIY) toys to the baby, for these kits will keep the child busy when she grows up into a toddler. Here are some DIY baby shower gift ideas.
Here is an easy DIY kit which contains everything from wool blend felt to hooks and screws, to make a fanciful hot air balloon.
The kit contains all the items you require to make the newborn's first toy.
Wood blend flet – 7 sheets, mic of pink, fawn, green, blush and turquoise.
Polyester stuffing that is hypoallergenic
Embroidery thread – 2 skeins
Sewing thread
Needle
Ceiling hook – 1
Screw hook – 1
Screw eye – 1
Mobile hanger parts made of beech wood
Instruction booklet
Once the air balloon baby mobile is made, it can be hung from a ceiling with a hook or can also be attached to the baby's crib using a wooden clamp.
These blocks are easy to build. All you need is to buy the starter set, or download the Olliblocks PDF, take a print out and stick them to wooden blocks. You can choose this as a perfect toy gift for the new baby. As a toddler, she can put the blocks together to form the desired pictures.
Some Unique Homemade Baby Shower Gift Ideas
If you are keen on giving personal touch, there would be nothing as special as a homemade gift. Here are some ideas you can easily try at home.
The new mommy can keep this basket near the baby's crib and use it as and when required.
You will need:
A wicker basket
Small identical pouches that will easily fit inside the basket
Identical ribbons
Small gifts to go in the pouches
How to make:
Fill up the pouches with small gifts like infant diapers, teethers, pacifier, a sleep eye patch for the mommy, a rattle, baby booties and mittens, a travel sized pack of wipes and so on.
Tie each pouch with a ribbon and place in the basket.
This can be the ideal homemade baby shower gift idea. The new parents can attach it to the newborn's crib.
You will need:
Two lightweight plastic rods of equal size
Fabric
Glue
Small soft toys
Cords
Ribbon
How to make:
Wrap the rods with the fabric using glue. Make sure you tuck in the ends so that no bare parts are visible or exposed.
String the soft toys through the cords, with one toy per cord. Hang them up on the rods.
Place the rods one across the other and secure with a bow in the middle.
The new mommy can put this homemade learning toy in the nursery as an educational wall décor or as a learning toy.
You will need:
Wooden blocks of same size
Fabric in different colors and patterns
Glue
Pair of scissors
How to make:
Cover the wooden blocks using the same fabric. You can also choose not to cover to give it a raw look.
Cut out letters from the fabrics, keeping it bright and colorful. You can also trace out pictures on the fabrics that correspond to that particular letter.
Glue them up on to the board, a few letters to each board.
The new mommy will love using the personalized baby book.
You will need:
Plain notebook with paper of choice
Decorating items like stickers, ribbons, laces, buttons, cut-outs and such
Glue and scissors
Colored pens
Fabric
How to make:
Wrap the front and back cover of the notebook using the fabric.
Decorate the inside using interesting items such as ribbons, stickers, buttons, and bows.
Use the colored pens to write out messages creatively. You can also create special spaces for the mommy to make notes.
Designate spaces to add lots of images of baby.
A diaper stash might sound funny but is one of the most useful baby shower gifts for a new mother.
You will need:
Infant diapers
A basket or large tray to hold them in
Bright ribbons
A cute soft toy – optional
How to make:
Roll up each diaper into the tiniest size possible. Tie up each diaper with a piece of ribbon. Once all the diapers are done, stack them up in the basket or tray.
You could simply place them there or create an interesting design. You can add the soft toy to go along with the diapers.
This is one of the cute baby shower gifts the expectant parents will love to see.
You will need:
Infant diapers for as many diaper babies as you want to make
One baby mitten and one baby booty for each diaper
A small basket to hold the diapers in
Ribbon
How to make:
Roll up the diapers. Add a baby mitten on one edge and baby booty on the other.
Place the diaper babies in the basket and adorn the basket with the ribbon.
The mommy-to-be will love the thought behind giving booties and mittens in such a unique way.
You will need:
Baby booties and mittens
Artificial leaves and stems
A small and compact vase
Ribbons
How to make:
Place the baby booties at the bottom of the vase to make the base.
Roll up the baby mittens and tie them with ribbons. Alternatively, you can stack them into and over the booties, so that they resemble colorful flowers. Make sure you stack them tightly so that they do not come loose. If required, use the ribbon to tighten them up.
Add the artificial leaves and stems in between to give it the look of a bouquet.
This will keep the expectant mother busy reading all the messages.
You will need:
Baby booties in plain colors
Fabric colors
How to make:
Design the baby booties using fabric colors.
Write out cute and thoughtful messages on the booties. You could write different parenting quotes or lines from nursery rhymes.
Alternatively, you can make different baby related patterns on the booties.
The gift will have a style quotient to it.
You will need:
Same colored baby onesies from size of 0 months to 12 months – one onesie for each month
Fabric color or fabric pen
A basket to hold the onesies
Ribbon
How to make:
Starting from the smallest onesie, write out a cute message corresponding to the particular month – for newborn, to month one, two, three and so on up to 12 months.
Decorate the onesies in a uniform pattern to make them look identical yet different.
Once the colors are dry, place the onesies in the basket and decorate the outside of the basket with a ribbon.
Every time the new momma remembers her baby shower, she will for sure take this gift out and cherish those moments.
You will need:
An instant camera
A plain notebook
Color pens
Glue
How to make:
Take instant pictures of all guests attending the baby shower.
Once dry, glue the picture on a notebook page. Ask the person to write a message on the page and decorate the pages as per their choice.
Once you have clicked all the guests, you will have an entire book of pictures and messages for the new momma and baby.
Funny Baby Shower Gifts
Want to give some real funny gifts that could make the expectant parents laugh out loud. Here you go.
It almost took nine months for the bun to cook completely in the oven. What else could be better than a funny and cheeky bodysuit? This is a vintage bakery inspired retro baby suit. Made of top-notch 100% cotton, it has got a classic closure and envelope neck.
If you want to gift something that can make parents check in with their sense of humor, this tongue-in-cheek pacifier will be the best gift. It helps to soothe the baby and lessen the noise. The new parents can start using the non-toxic silicone-made product from zero to six months.
Why Trust MomJunction?
To understand the current trends and preferences regarding baby shower gifts, we have analyzed numerous product reviews from several trusted websites. This list of the best gift ideas for a baby shower has been curated keeping your requirements and quality parameters in mind. It contains different products ranging from toys and clothes to gift sets. The buying guide offers all the information you need to know to pick the right one.
Recommended Articles: