I was always proud of my thick and wavy hair. But eventually, that very pride turned into a concern as my hair started falling more than usual. During my pregnancy, I was too happy to flaunt my shiny, long hair. But that was short lived.
Post pregnancy, my hair started shedding like never before. I felt as if it won't stop until I turn totally bald! But then I could do nothing. A hectic schedule with kids at home and a career meant that there is little time to even think about my hair.
But once my children grew up a bit, I had time to do something about my hair. That's when I tried several home remedies such as banana, fenugreek seeds, curd (in fact, my acquaintances have even suggested onion juice). I was spending time on them but wasn't sure if they were working at all.
In spite of my doubts, I continued with them because I didn't want to try any chemicals or artificial ingredients on my hair. I was in a desperate search for a natural cure to my hair fall. That's when Vedix was launched.
When I first tried Vedix Khoob Anti-hairfall oil, it was just a casual try. I thought, "Why not try it as it is completely natural."
Customization is their USP
When I booked the product online, I chose the trial pack of one month. They promised me a customized product that is in sync with my nature (Prakruti) and body type. Our Prakruti consists of 3 doshas namely, Vata, Pitta, and Kapha, according to the Tridosha Theory.
Vata represents the mechanisms of Air and Ether energies in our body.
Pitta represents the mechanism of Fire energy in the body.
Kapha represents the mechanisms of Water and Earth energies.
The mechanisms of these five energies regulate, direct, control and manage all the functions in our body.
I had to fill an online questionnaire to know my prakruti but I never imagined that it could be so in-depth.
Once I have answered all their questions (around 30 of them!), I was told about my prakruti and the kind of oil I need.  I was a bit sceptical first – afterall how can a product be so customized that it can actually suit my nature and habits this well?
Just think, we keep buying shampoos for hair loss or dandruff based on the advertisements. We must have never given a thought if those products suits our body and lifestyle (at least I never did!).
Understanding a consumer to this extension is probably happening for the first time.
The Vedix Khoob trio: A remedy for hairfall
I got an anti-hairfall oil (for kapha-pitta prakruti), a hair growth serum, and a shampoo. As per the instructions, I started using the oil and the serum on alternate days – applying oil in the night before I sleep, wash it with the shampoo next day and apply serum later that day, then apply oil again the next day to continue the cycle.
There wasn't much change in my hairfall in the first few days but my hair turned smoother on the first application itself. In fact, I stopped using a conditioner as the hair turned naturally smooth and shiny every time I washed it after applying the oil.
After a couple of applications, I have observed that the number of hair strands in my bathroom, on my comb and my hairband came from two-digit numbers to a single-digit.
It meant that the oil was working and controlling my hairfall. I wasn't afraid of combing my hair after washing it. And that itself was a big relief.
The serum would work slowly as its job is to regrow the lost hair and that definitely doesn't happen overnight. But the aroma of the herbs is very reassuring.
While you need to apply the oil on the scalp as well as the hair, the water-based serum needs to be applied on the scalp itself.
The ingredients and the production process
The ingredients (herbs) of the Vedix Khoob anti-hairfall oil are selected based on your Unique Dosha Profile to pacify the elevated dosha that is the root cause of your hairfall.
The shampoo consists of a non-harmful mild shampoo base, plant extracts like aloe vera, yasthimadhu, gunja, bhringraj, and 'quinoa protein'.
The hair regrowth serum has aloe vera, bakuchi fruit extract, gunja seed extract, japa pushpa, yasthi root extract, bhringraj and more.
Each selected herb is distilled separately to ensure that the useful and nutrient-rich part of the herb is used in the oil, and the toxins removed.
The best thing is, the selection of the ingredients, distillation, and manufacturing are all done under the supervision of experienced Ayurveda doctors.
The salient features only make it more attractive:
Useful for both men and women
No synthetics
100% natural ingredients
No animal testing
Paraben and sulfate free
Subscription and pricing
I am so bowled over by the quality and result of the products that I intend to extend my one-month trial package (Rs. 1,699) to a three-month subscription (Rs 1,499) or maybe a six-month one (Rs. 999) as I can get a price advantage that way!
So, here's my thumbs up and a 4/5 rating to this amazing product.
PS: They also have a trio solution for dandruff – Vedix Doorva.
The following two tabs change content below.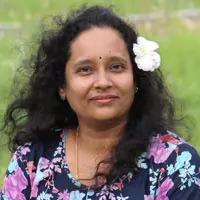 Bhavana Navuluri
Bhavana has nearly 20 years of experience in content writing and editing. She was a print media journalist before moving to online. Having covered various forms of writing and editing, she earned proficiency in developing content right from news and business to features and lifestyle. As the Chief Editor of MomJunction, Bhavana guides her team in writing the most authentic...
more