Vitamins play a crucial role during pregnancy. If you are pregnant, it is always recommended by your doctor that you take a balanced diet that comprises of all the essential nutrients.
Vitamin E is a fat soluble vitamin, also going by the name alpha tocopherol or alpha TE. This is an anti oxidant variety in vitamins that has the ability to neutralize free radicals. Let's know more about vitamin in this article!
Vitamin E Supplements During Pregnancy:

Vitamin E, usually neglected or taken in minimal amounts, is also required during pregnancy. Often, pregnant women are recommended to consume Vitamin E supplements in case of the following:
Complications in late pregnancy.
High blood pressure while pregnant.
Premenstrual syndrome.
Menopausal syndrome.
Hot flashes while suffering from breast cancer symptoms.
[ Read: Hot Flushes During Pregnancy ]
Cystic fibrosis (this is particularly the common case when pregnant women are prescribed extra supplements).
Benefits Of Taking Vitamin E During Pregnancy:

Pregnant women should take recommended amount of vitamin E in every daily diet. Below are some of the major benefits of Vitamin E during pregnancy and beyond:
Excellent blood thinner (helps prevents formation of clots during and post pregnancy).
Improves immune system of both the expectant mother and the growing baby inside the womb.
Gives extra shine to hair and skin during pregnancy, bringing out the glow.
Helps prevent minor skin infections like dry skin diseases and rashes.
Treats scars, acne and wrinkles naturally.
Excellent anti ageing stimulant, speeding up skin cell regeneration.
Helps in chronic conditions like cancers and Alzheimer diseases.
Helps deal with heart diseases.
Proven effective for the treatment of diabetes.
Helps retain the body moisture.
Sometimes, women with Vitamin E deficiency and pregnant are prescribed allowable range of Vitamin E supplements.
[ Read: Vitamin B During Pregnancy ]
High Doses Of Vitamin E During Pregnancy:

Despite the many benefits, it had been stated that high doses of vitamin E may lead to complications during pregnancy. You have to be careful about the quantity of vitamin E that you consume.
Usually, your doctor will analyse and confirm as to how much Vitamin E supplement has to be taken depending on an individual study.
You are more likely to be prescribed additional dosage of Vitamin E in specific cases of hypertension (high blood pressure), a possibility especially if you are having a late pregnancy.
Recommended Dietary Allowance Of Vitamin E:

While you can still incorporate the healthy foods as listed above in your diet, do take precautions with the quantity. Also, discussing the intake of Vitamin E with your doctor looking at your individual pregnant history helps boil down the options to the specifics.
The recommended allowance of vitamin E for pregnant women is set to a limit of 15 mg per day.
In case you are on multivitamin supplements that may already contain Vitamin E, there is no need to take additional dose unless your doctor considers it to be a requisite.
Risk Of Bleeding During Pregnancy:

In the past, women were allowed to consume excess Vitamin E to battle conditions such as pre eclampsia.
The recent studies have confirmed that a threshold has to be maintained while adding vitamin E supplement to your diet. This has come up after clinical observations of women developing bleeding because of Vitamin E consumption in high doses.
A Vitamin E overdose can also cause other problems like nausea, headache, fatigue when taken without prescription.
[ Read: Nausea During Pregnancy ]
Report to your doctor immediately in case of experiencing any such symptoms throughout pregnancy.
Food Sources Of Vitamin E:

Vitamin E is present adequately in the following food groups:
Almonds
Raw Seeds
Spinach
Green turnips
Kale
Plant Oils
Hazelnuts
Raw chards
Mustard Greens
Pine nuts
Avocado
Broccoli
Parsley
Papaya
Olives
Eggs
Fortified cereals
Soya beans
[ Read: Almonds During Pregnancy ]
Apart from the other core components such as iron, protein, sodium and folate, vitamins are required for the healthy development of your baby. What more, they are also essential for you as a pregnant mother to maintain good health throughout the pregnancy period.
Do share your comments on vitamin e in pregnancy, in the section below.
References : 1
Recommended Articles:
The following two tabs change content below.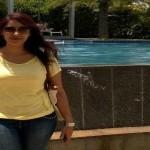 Latest posts by Deepa Balasubramanian (see all)