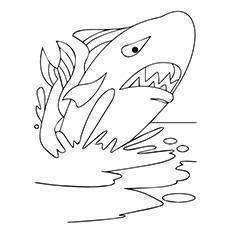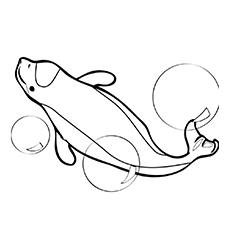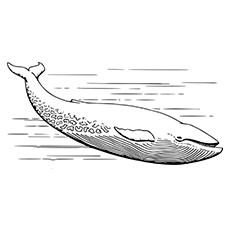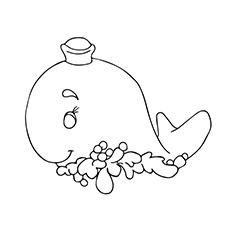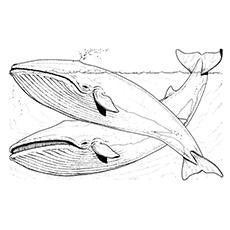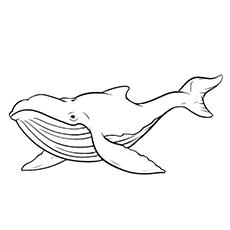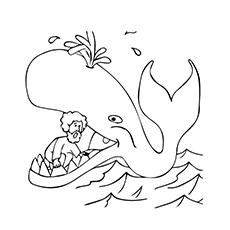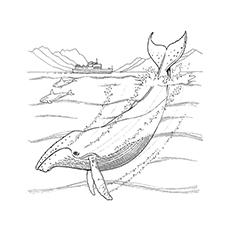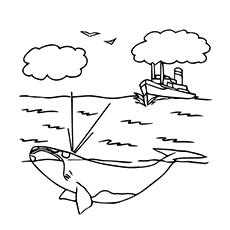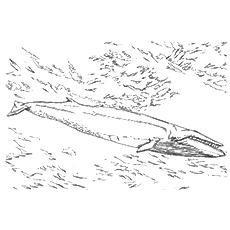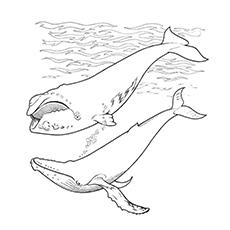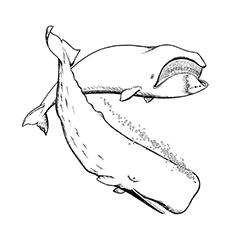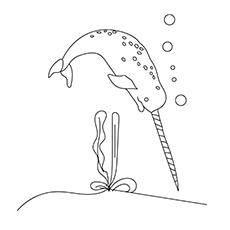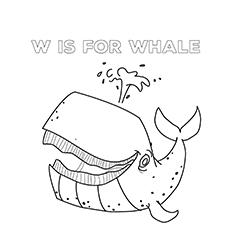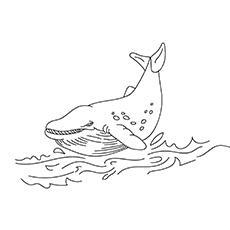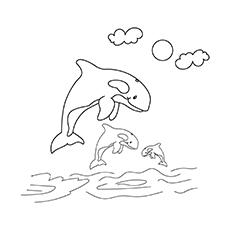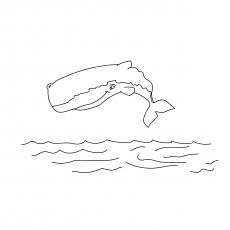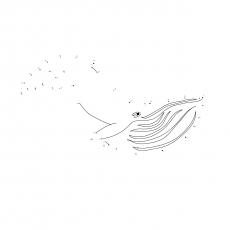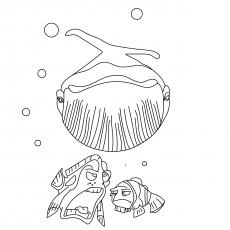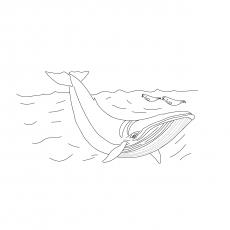 Recommended Articles:
Does your child love the ocean? Or is she an aspiring marine biologist? Is the whale one of her most favorite marine animals? Well, then giving her some whale coloring pages would be a good idea.
Whales are the largest species of mammals found in oceans all over the world. The creature features extensively in folklore, mythology, and religious documents of various cultures. They have also made appearances in films and television series.
Whale is one of the most popular subjects for ocean coloring pages for kids. Whale coloring pages allow children to learn about the various types and species of this large underwater creature. And the various colors of the marine animal will let your child experiment with different shades. Scroll down to check out our extensive collection of whale coloring pages. We have included almost all the species of whale here.
Whale Coloring Pages For Your Little One
1. W For Whale:
Here's a cute alphabet coloring page for your preschooler. The coloring sheet will let your child recognize the uppercase and lowercase W, and she will have a blast working on this coloring page. Can your child name other animals starting with the letter W?
2. Blue Whale:
The blue whale is the largest animal to have lived on earth, dwarfing even the dinosaurs. A child can crawl down a blue whale's aorta, its main blood vessel. And they have a heart of the size of a small car. A blue whale's baby can drink 50 gallons milk and can gain 200 pounds per day. The largest blue whale weighs 150 to 200 tons. Blue whales are blue, light gray or dark gray in color at the surface, but when seen underwater; they appear luminous aqua blue in color.
[ Read: Squid Coloring Pages ]
3. Killer Whale:
Here is an orca whale coloring page, also known as killer whale, one of the most familiar whales. This toothed whale tops the carnivores in the food chain. Killer whales only hunt in pods. They hunt on penguins, krill, penguins, seals, fish and even larger baleen whales. You'll find killer whales in all the oceans, but they seem to prefer cooler and coastal regions more. You can easily identify a killer whale. It has a jet-black body with white patches under the eyes, on the belly and under the jaw.
4. Beluga Whale:
Another Beluga whale coloring page your little one will love to color. It is a white whale and have a type of formation that sticks out. The beluga whale has the flexibility of movement. The whale has a high-pitched sound that it uses to socialize. They spend more time interacting and socializing than any other species of whale. The whale can dive thousands of feet into the water, but prefers staying near the surface. They dive deep only to get food and come back quickly. People often mistake beluga whales for manatee whales. But the confusion can only happen in an aquarium as they both thrive in different habitats.
5. Sperm Whale:
The sperm whale is the largest of the toothed whales. It got its name from the huge bulbous spermaceti organ in the head. It has a large head with rows of sharp teeth. A sperm whale has a brain that weighs 20 pounds. It is the biggest brain of any animal on earth. These whales are common in the Antarctic waters. Unlike other whales that form temporary bonds, sperm whales live in an extended family with lifelong associations. The sperm whale also holds the record for diving deeper than any other whale in the world. It can dive 3,300 feet with ease.
[ Read: Stingray Coloring Pages ]
6. Humpback Whale:
Here is a Humpback whale coloring page. They are best-known large whales. These whales have a hump over their dorsal fin. They have a habit of raising and bending while preparing for a dive. The dive accentuates their hump. The humpback whales also have a very long tail. Their tails can be up to 1/3 of their total body length. The humpback whales often collect in groups near the land. Another interesting fact about humpback whales is that its heart has four chambers. The humpback whales are a treat to watch. They are slow swimmers that allow the tourists to get a closer view of these whales.
7. Bowhead Whale:
The bowhead whale is common in the Arctic. The bowhead whales are also one of the largest species of whale in terms of weight. Only the blue whale is heavier than the bowhead whale. A bowhead whale is usually black in color and measures 15 to 18 months in length. A distinct feature of bowhead whale is that it has baleen plates nested of teeth that it uses for feeding. It also has a large, asymmetrical skull that is around one-third of its entire body. Unfortunately, this species of whale is facing a substantial decrease in the number because of the over-exploitation over the years.
[ Read: Seal Coloring Pages ]
8. Minke Whale:
Here is a minke whale coloring sheet. Minke whales are the smallest baleen whale. They are never more than 35 feet long and do not weigh more than 5.5 tons. The minke whales are usually black or white in color and have two blowholes. Other characteristics of this whale include a small fin, two large flippers and ridges around the back, just near the tail. Minke whales are not very social. They prefer living alone. It is only during migration that you will see more than one minke whale together. The anglers hunt this whale for large quantities for meat.
9. Long Finned Pilot Whale:
Long-finned pilot whale, as the name suggests, is one of the species of pilot whale. It has a sturdy and stocky body with a large, bulbous head. It has thick fins that become rounder and broader as they mature. Long-finned pilot whales are usually dark black in color, but sometimes appear brown or gray. They often occur in social pods and subgroups of 10 to 20 whales. The finned long whales can dive to the depths of more than 2,000 feet for 15 minutes. They usually dive deep to feed on fish like dogfish, cod, and herring.
10. Short Finned Pilot Whale:
The short-finned pilot whale is another species of pilot whale. Like other species of pilot whales, short-finned whales also have a bulbous melon head with no beak. Short-finned whales also appear in groups of 25 to 500 marine animals. They mostly feed on fish, octopus, and squid. Short-finned pilot whales usually occur in tropical and temperate waters of the world. They are dark brown or black in color with a gray saddle behind the dorsal fin.
[ Read: Dolphin Coloring Pages ]
11. Right Whale:
Right whales are usually dark gray to black in color. They have a bulbous head with large callosities. The V-shaped blowhole is also unique to them. The Right whales can measure 500 to 600 feet in length and 70 to 100 tons in weight. The early whalers gave it the name because they were the right whales to kill. Right whales have large amounts of blubber, oil, whalebone and baleen. They are also slow swimmers, making them easier to catch.
12. Sei Whale:
Here is a sei whale coloring page diving deep in search for some plankton. Sei whales are the most elusive of the larger whales. They don't come close to land at any time. You will find sei whales mainly in northern and southern hemispheres. They are relatively rare in Antarctica. Sei whales are also a major target for commercial whaling. It is also vulnerable to ship strikes, pollution and entanglement in the fishing gears. The species of whale is bluish gray or dark blue in color with whites on the underbelly. They usually appear solo or in a group of two to three whales.
[ Read: Shark Coloring Pages ]
13. Fin Whale:
Fin whales are the second largest whales. The nickname for fin whale is Razorback. It is because of the plates and grooves that design their bodies. Fin whales love to leap out of the water completely as they come up for breath. The fin whales are also one of the fastest whales. They can move at a speed of 25 miles per hour. The unique feature of the fin whales is its sound. It can produce the sound of 75-80dB at 100Hz, which is very loud for an animal. The sound can travel for over a hundred kilometers.
14. Gray Whale:
The gray whale is a species that people can quickly identify when looking into the ocean. These whales weigh more than 36 tons and reach more than 50 feet in length. They also have whiskers around the mouth. The Gray whales usually live is small groups, but sometimes form large pods. They never stay in the same group all their life. They form loose bonds and move on from one group to another. Gray whales can dive out of the water at incredible speeds. The process helps them remove parasites from their bodies. They also tend to arch their heads out of the water as if they are soaking the sun or are looking for something.
15. Narwhal Whale:
Narwhal is a type of toothed whale. The unique feature of this whale, as you can see in this coloring page is its long and straight tusk along the jaw. Most people wonder how it uses the tusk. Some say that it is for fighting. But whales have no enemies except man, so that cannot be the case. Narwhal whales are black and white in color when they are young, but turn completely white as they mature. Narwhal whales can also dive deep into the waters. It helps to regulate the body temperature. Narwhals are social animals. The always gather in a large group.
[ Read: Fish Coloring Pages ]
16. Finding Nemo Whale:
Here is a delightful coloring sheet for you to print out. It features the gigantic whale that helped Nemo's father. Upon leaving the anemone, Dory and Marlin come across a large whale. Dory asks the whale if he could help him find Nemo. But the whale ends up swimming away. He then slowly glides behind Marlin and Dory and swallows them whole. Dory tries to talk to him again. In return, the whale ejects Marlin and Dory from his blow-hole just near the Sydney Harbor. This underwater coloring sheet will appeal to younger children.
17. Connect The Dots:
What is the largest marine animal on the earth? To find out, tell your child to join the dots from 1 to 28. It will build their fine motor skills as he connects the dots. He can then color the page in any way he wants to. Make sure you read out the facts about whales as he illuminates the sheet.
[ Read: Octopus Coloring Pages ]
18. Angry Whale:
Why is the whale so angry? Did someone take away his food? Or is it angry with humans for exploiting its species. Only your child can calm him down by filling some colors in it. Tell your kid to write a story about how humans are harming whales and other marine animals for their benefits.
19. Jonah And The Whale:
This coloring sheet shows a whale swallowing Jonah. Jonah was reluctant to teach the people of Assyria. But Jonah rebelled and decided to go to Nineveh instead. He tries to escape God by fleeing on a ship. But a whale swallowed him while he was on the way. The coloring sheet is a great way to share Bible stories with your child. Your child can spruce up this incredible coloring page in any way he likes.
20. Cute Whale:
The adorable whale is all smiles and is showing off his pearly teeth. We totally loved the cute whale coloring sheet and hope that your child likes it too. Also, the image has simple outlines so it will work with younger children also. Try to teach him a little more about other sea animals like sharks and seahorses.
[ Read: Sea Turtle Coloring Pages ]
Your child will have a whale of time coloring these images. Tell him to use shades of blue, orange or turquoise for some of these whale diagrams. It will make the whale coloring sheets look appealing.
So wait no more! Find your kid's favorite images, download, and print! Which ocean animal does your child like the most? Tell us, and we will try to include it in our list.
DISCLAIMER: All images found here are believed to be in the "public domain". We do not intend to infringe any legitimate intellectual right, artistic rights or copyright. All of the images displayed are of unknown origin. If you are the rightful owner of any of the pictures/wallpapers posted here, and you do not want it to be displayed or if you require a suitable credit, then please contact us and we will immediately do whatever is needed either for the image to be removed or provide credit where it is due. All the content of this site are free of charge and therefore we do not gain any financial benefit from the display or downloads of any images/wallpaper.
The following two tabs change content below.