You need to plan several things when you bring your little one home, including the place your baby will sleep. Since the baby is young, the chances are that you may consider placing their crib in your room. However, as the baby grows older, you need to make provisions to settle the baby for nighttime sleep and naps in their own room. But when should babies sleep in their own room?
In this post, we tell you about the right age for babies to sleep in their own room and ways to prepare them for the transition.
Can Babies Sleep In Their Own Room From Birth?
Babies should preferably sleep in a crib placed in their parents' room. This is known as room-sharing. The American Academy of Pediatrics recommends that babies room-share for the first six months and preferably up to 12 months (1). Experts state room-sharing during the first year of the baby's life could reduce the risk of sudden infant death syndrome (SIDS) by 50%. It also makes it easier to feed the baby since they require frequent feeding during early infancy. Therefore, it is best to place the baby's crib in your room, at least for the first year.
How To Tell A Baby Can Sleep In Their Own Room?
There is no specific way to tell if your one-year-old is ready to sleep alone. You may consult a pediatrician before moving the baby into their own room.
Below are some factors to consider before deciding if the baby is ready to sleep in their own room.
Baby's health
Presence of chronic medical conditions
Baby is on medication
You may have to wait longer for babies with certain medication conditions or anomalies. It is usually not advisable to move the baby to a new room when they are ill or are on some medication. Discuss the possible suitable time to transition the little one to their own room with a pediatrician.
Tips For Transitioning The Baby To Own Room
Once you are certain that it is time to move the baby to their own, you could consider the following points to make the transition easier.
Choose the best time: Pick a time when it is most likely to be easy for you to move the baby to their own room. Do not pick phases when your baby is experiencing new changes, such as the arrival of a sibling or moving to a new home, making the baby clingy and in need of constant reassurances from parents.
Introduce the baby to their room: Let the baby spend a substantial number of their waking hours in their new room. Place the baby's toys in the room and let them always play in it. It will help acquaint the baby with the room and make them comfortable with it.
Set a safe sleep environment: Make the baby's room safe and comfortable for sleep. Dress your baby appropriately for the season. If it is cold, dress the baby in onesies, and if it is warm, you may dress the baby in soft, single-layered clothes. Maintain a room temperature of 65 to 70°F (18 to 21°C), which is ideal for babies (2). These measures will ensure that the baby will sleep through the night alone without waking up.
Start with naps: Begin by placing the baby in their room for naps. Once your baby is sleeping through naps for some weeks, place them in their room for nighttime sleep. It could help your baby learn to sleep alone gradually.
Establish a routine: Place the baby exactly at the same time for their naps and nighttime sleep to establish a bedtime routine. It will make the routine predictable for the little one, and they will know when it is time for them to sleep alone in their own room. You can incorporate comforting bedtime routine actions, such as giving a bath, feeding them, and reading a story, before placing them in their crib for nighttime sleep.
Check the baby initially: You may set specific intervals and times to check the baby in their room during the initial phase of the transition. It will help you know if the baby is getting along with sleeping in their own room. Keep your visits discreet to avoid disturbing the baby.
Consider aids and devices: You may take the help of baby monitors or baby room cameras that let you check on the baby from your room. Many devices connect to smartphones and alert the parent when the baby wakes up or tries to move out of the crib. Baby-monitoring devices could be especially useful if your baby has a tendency to wake up in the middle of the night or is unwell.
Letting your baby sleep in their own room is a major milestone and achievement for both the parents and the baby. It is always best to wait until your baby is a year old. Stick to the practice in all situations. You may make an exception and let the baby sleep in your room if they are very ill. However, most babies get used to sleeping alone irrespective of the situation, setting a habit that will last forever.

References:
MomJunction's articles are written after analyzing the research works of expert authors and institutions. Our references consist of resources established by authorities in their respective fields. You can learn more about the authenticity of the information we present in our
editorial policy
.
The following two tabs change content below.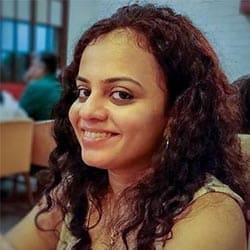 Shivali Karande
Shivali holds a bachelor's degree in pharmacy and a master's in management. After working for nearly five years in the market research sector, she discovered her passion for writing and started freelancing. Her knowledge about medicines and biology, coupled with her experience in research, helps her write well-researched, informative, and evidence-based articles. For MomJunction, she writes articles on health and...
more