Having a baby is the most special thing for parents. The happiness and excitement are indescribable, whether it is a baby boy or girl. Read this post as we tell you why having a baby girl is the greatest joy in your life.
Babies are the greatest source of joy in the world. And when you have a baby girl, you get the joy and opportunity to shop for cute dresses, shoes, and dollhouses and do many other things. Read on to know more about the amazing things you could do with your little princess.
1. Shopping For Those Cute Clothes
Being able to shop for those cute baby girl clothes is one of the first exciting things that comes to the minds of all women. And eventually get to take her shopping with you to buy those cute clothes.
Imagine rows and rows of pink, red, peach, cream hued clothes.
Imagine those never ending dresses with frills and laces and flowers and butterflies and bows and ribbons.
From frocks to skirts to cute frilly shorts to all those adorable tiny dresses, when you have a baby girl, you have the chance to shop for the cutest things in the world!
2. Shopping For Those Cute Hair Accessories
Once you are done with buying those cute baby girl clothes, the next cutest thing is to shop for hair accessories for your baby girl.
Hair accessories are pretty, and when you want to buy hair accessories for your baby girl, they epitomize cuteness.
Imagine dressing up your baby girl in those cute headbands, cute hair ties, ribbons, bows, cute clips and more.
Add to the fact that you can even match your hair accessories with your baby girl.
3. You Can Match Her Name To Yours
Naming your baby is one of the first celebrations you will have once you bring your baby home.
When you have a baby girl, you can always choose a name for your darling that will match your name.
There are so many choices when it comes to selecting a name for a baby girl that you will be spoilt for choice.
Not just a regular name, but you can also have some of the cutest names for your baby girl when you want to keep a pet name for your little darling.
4. Clothes With Those Frills At The Bottom
Baby clothes for girls are in themselves very cute, but nothing beats the cuteness factor when the clothes you buy for your baby girl are adorned with frills.
You will be amazed at how cute your baby girl will look when she wears those tiny leggings with the frills at the bottom.
In fact, many women are known to have wanted to have babies only so that they can have a baby girl and shop for her clothes and accessories.
5. Your Baby Girl Will Be Your Mini Me
When you have a baby girl, chances are she will end up becoming your mini me.
It is true that most women want to have a baby girl while some men want to have a son. As a woman, you have grown up as a little girl yourself.
You would love to see your little girl live those moments of your growing up in front of your eyes.
6. You Will Know All Her Growing Up Feelings
As a woman who grew up as a little girl, you will connect more with your little girl through her growing up years. Also be cool to celebrate with her the start of womanhood, like when she starts her menstrual cycle.
As your little girl grows up to her years of puberty, adolescence, teen and young adulthood, you will connect more with her.
Even without your daughter telling you everything, you will know what her thoughts, fears, concerns, and aspirations may be.
As a mother of a girl, you will be able to help her understand the various changes she will go through her life.
7. Diaper Times With A Baby Girl Are Always Easier
Agreed that diaper times are messy, but if you have a baby girl you have some solace.
When you change your baby girl's diaper, rest assured you will not have to deal with stray squirts of pee.
It will be easier for you to manage your baby girl's pee and poopy times and hold them better in the diaper.
Add to that the fact that once you pick up your baby girl in the middle of a diaper change, you don't have to worry about any additional or accidental squirts here and there.
8. Your Baby Girl Will Dress Up As You
Guess what one of the most fun part about having a baby girl is? She will dress up like you!
Your baby girl will see your style and way of dressing every day, and even without realizing, they will inspire her choices.
From as early on as a toddler, your baby girl will show her inclination to dress up like you.
She will play with your scarves, try to get her tiny feet in your heels, wear your sunglasses and play with your jewelry. Every time she does this, not only will it make her look cuter than she already is, it will also make you proud to have a baby girl who looks up to you.
9. Nail Time Will Be Fun Time
Imagine sitting down and painting your nails, and imagine doing the same with your baby girl!
Nail art will take an all new level when you involve your baby girl in the same.
What could be more fun than painting those tiny fingernails on those tiny hands and legs?
Once you have painted both you and your baby girl's nails, click pictures together to capture this fun mom and daughter moment.
10. Your Baby Girl Will Be Her Daddy's Girl
You will obviously spoil your baby girl to bits, and one more person who will do it with equal joy will be daddy dear.
Soon after birth and for some months after that, your baby girl will want no one but you.
Once those initial months are over, your baby girl will start enjoying her time with her daddy.
Your baby girl will turn into her daddy's little girl and you might even feel a little pang of jealousy at the sudden love interest that develops.
Frequently Asked Questions
1. How does having a baby girl change a man?
Fathers with baby girls tend to open up more when talking about emotions as they become responsive to their daughter's needs. They become more gentle and empathetic and begin to see the world from a female perspective.
2. How do I prepare to have a baby girl?
If you're expecting a baby girl, you can prepare by reading up on how to raise an assertive and confident young girl. Though society may impose rules regarding what kind of clothes and toys a girl should have, avoid instilling gender stereotypes from a young age. Instead, give your daughter the freedom to be involved in activities of her choice.
If you are expecting a baby girl or already have one, we are sure that after reading this post on why having a baby girl is the greatest joy, you cannot wait to shower her with all the love and care. Shopping for those cute petite dresses and shoes that always make you go aww, playing with them, teaching them things, watching them grow up, and being their best friends are a few of many the perks of having a baby girl. Ensure to make the most out of this journey and enjoy every moment with your little princess.
The following two tabs change content below.

Debolina Raja came into the writing world while she was playing around with words and participating in various literary events. In the professional world, she found her writing interest in various genres such as health, wellness, parenting, relationship, and brand management. Having done a Masters degree in English literature from Delhi University, she loves reading, heading out on road trips, hibernating...
View Profile

›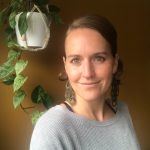 Jenn Chu is the owner and operator of Little Ones Welcome in San Francisco. She offers services in her private practice, and virtually. Her focus is on the health and wellbeing of the individual. She specializes in women's care with an emphasis on conception, pregnancy, birth, postpartum, and pediatric support. Jenn took her graduate degree in Traditional Chinese Medicine from...
View Profile

›