There is no doubt that apple is good for the apple of your eyes. Indeed! Apple has so many health benefits for your kids that you should make them take more of it.
Following are the ways in which apple can help your children grow healthy.
Apples provide the much needed carbohydrates to the body and keep your tiny tot active.
It also takes care of minerals like boron which are necessary for strengthening bones of your little one.
It has the essential vitamin C which aids in strong bones and teeth.
Lastly, it also contains pectin which aids in easing the digestion process in your young one.
Top 10 Easy Apple Recipes For Kids To Make:

To keep your children continue loving and eating apples, serve it in different versions to bring new variety.
Here are our top 10 kids apple recipes that you must try:
1. Apple And Walnut Halwa (A typical Indian sweet):
You can convert the already delicious apple in the form of a tastier halwa.
To make this halwa you have to take grated pieces for 2-3 apples.
Now in a frying pan, cook this apple with 2-3 tsp of ghee (clarified butter)
After 5 minutes add milk and let it simmer for 10 minutes.
Once the milk is absorbed, add sugar and walnut pieces.
Let the sugar get mixed well and your halwa is ready. This tastes good when served hot as well as cold.
[ Read: Apple Fruit Benefits For Kids ]
2. Apple And Honey Pancakes:

You can serve this as a healthy breakfast version and be confident that your kids will love it.
It is easy to make pancakes, all you need is to prepare a batter.
Take half cup of self-rising flour along with one cup of grated apples, butter, condensed milk, sugar and mix them well to make a medium thick consistency batter.
Now spread the batter on a pan and make small cookie sized pancakes.
Serve it with honey or any other syrup.
3. Apple And Oats Porridge:

This apple recipe for kids is actually a store house of energy for your little one and it comes with a good taste also.
Fill oats in a cooker with butter and sauté for some time.
Add a cup of milk and a cup of water and mix them well; pressure cook them for 2-3 whistles.
Now add sugar and apple cubes to the ready porridge.
Serve it warm as a breakfast or as an evening snack.
[ Read: Easy Cooking Recipes For Kids ]
4. Apple And Date Sandwich:

Kids adore sandwich in any form. So make the best of their choice by adding apple to it.
Here you need to prepare an apple spread to apply on the bread.
Prepare apple spread by mixing apples, dates, cheese spread and fresh cream.
Make a fine paste and add salt to taste.
Now spread it on brown bread and serve with their favorite dip.
5. Apple Thick Shake:
When there is less time for preparation or less time to eat, you can always make this healthy apple thick shake.
Peel the skin of the apple and cut it into thin slices.
Now blend these slices with milk, sugar, lemon juice and vanilla essence in a blender.
If you don't want to add white sugar, add honey.
Let the shake chill, after that serve cold.
6. Cheese Apple Sandwich:
This wonderful combination of cheese along with apple is sure to make your child ask for more and more.
Take brown bread and apply butter on both sides.
Now, put one or two cheese slices on the bread.
On top of the slice, put 2 slices of apple. Now place another piece of bread on top of it.
Now cook them on a pan till the bread turns golden brown. Your yummy breakfast is ready.
[ Read: Yummy Sandwich Recipes For Kids ]
7. Apple And Banana Balls:
This munching recipe is going to be delighted by everyone in your family. It is simple and easy yet unique.
Cook apple along with some sugar and lemon juice in a pan with 2 cups of water. Let the water evaporate and apple become soft.
Now along with this cooked apple, mix banana crush, curd and lime juice.
Mix them well and place them in ice cube mould.
Let it get frozen in your refrigerator. You can also serve with ice cream.
8. Apple Custard:

This can serve as an excellent and easy apple dessert for kids or even the best sweet dish for a kid's party.
Cook the mixture of custard powder, milk, sugar in a pan with medium flame by continuously stirring.
Then prepare mixture of sliced apples with milk and cook till it becomes soft.
Now combine both the mixtures in a mould and bake them in oven at 200 centigrade.
Serve warm with honey syrup.
[ Read: Bread Recipes For Kids ]
9. Apple Muffins:

Here is one of the tastiest apple muffin recipes for kids that can be an excellent item to fill their boxes.
In a bowl, mix flour, grated apples, butter, cinnamon powder, sugar and milk.
Now put the mixture into preheated muffin moulds at 200 centigrade.
Bake for at least half an hour.
Your muffins are ready to be gorged upon!
10. Apple Toasts:
This can serve as a quickie breakfast both in eating and preparing.
Take bread slice and apply butter on both the sides.
Now grate cheese, carrot and apple on it.
Let it bake in a preheated oven for 5 to 7 minutes.
Serve the toasts hot.
There it is our top 10 healthy apple recipes for kids! We hope you like them and will try them in your kitchen as soon as possible!
If you have any great apple recipes, then do share with us.
References : 1
Recommended Articles:
The following two tabs change content below.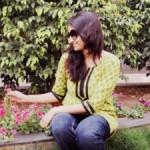 Latest posts by Palak Shah (see all)