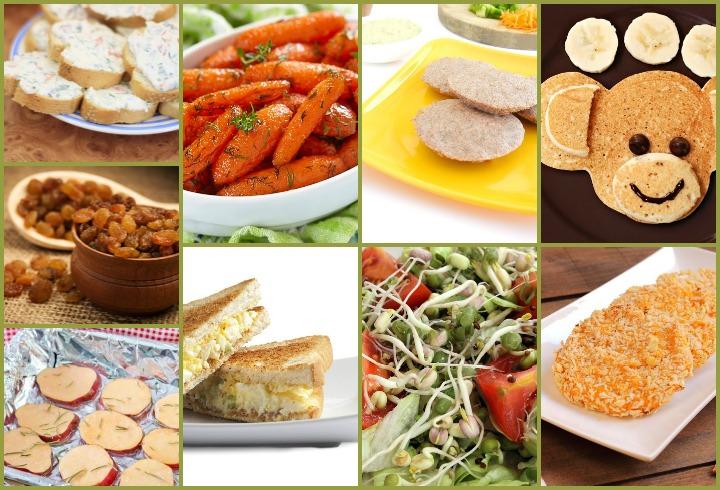 Your baby celebrated her first birthday. Looking at her, you cannot believe that just a year ago she was an infant – sleeping most of her time. Today, she runs and plays independently. She has entered the toddler phase that begins at one year and continues until three years.
At year one, your toddler is still in a phase of transition. As the growth rate slows down during the toddler years, good nutrition ensures healthy development of a child.
During the second year your little one becomes finicky about food she likes to eat. She is more assertive while choosing foods. She may also reject new kinds of food introduced at this juncture.
Energy Required For Your Toddler:
Though your toddler needs 1,000 to 1300 calories a day, she may not eat food enough to build the same amount every day. The best strategy is to create a nutritionally-balanced weekly menu rather than aiming for a balanced diet on daily basis. The aim is to tune and expose your little baby to various kinds of food.
Toddler years are about being more adventurous with eating and drinking. It is important to introduce new tastes, helping your baby to get exposed to a variety of foods.
Optimum Diet Plan For Your toddler:
Help your child to form healthy eating habits early by introducing a variety of foods to ensure optimum nutrition. A balanced diet for your toddler should contain these essential nutrients:
Carbohydrates:
Carbs provide energy and are essential for growth. Plan the meals with bread, rice, wheat, bread and pasta to get the required amount of carbohydrates. Your kid will love that yummy delicious pasta with cheese.
Proteins:
Proteins are the building blocks. They give strength to the body and form a crucial part of your toddler's diet. Good amount of protein is found in pulses, eggs, meat, fish, milk, cheese and yogurt. It is ideal to introduce foods like eggs and cheese as part of the breakfast along with milk.
Vitamins:
Vitamins are essential for proper functioning of organs. They also give immunity to fight diseases and infections. Deficiency of vitamins can result in malnutrition and deficiencies. All fruit and vegetables are great sources of vitamins and minerals. They are also rich in fibre, which is essential for assimilation and digestion.
Minerals:
The four essential minerals your toddler needs as listed below.
Calcium:
Calcium is essential for growth. It is necessary for strong bones and teeth. Calcium helps in brain function and is necessary for blood clotting.
Iron:
Iron is the vital element for the productionof hemoglobin in red blood cells. It provides immunity and is essential to maintain a healthy liver. Hence iron rich foods for toddlers are very essential.
Magnesium:
Magnesium helps muscles including the heart muscles to contract and relax. It boosts growth. A deficiency of magnesium can make kids hyperactive.
Zinc:
Zinc enhances growth, energy metabolism and immunity. It helps in making collagen in the body including the bones. Zinc is responsible for the metabolism and distribution of Vitamin A.
How To Tempt A Finicky Toddler?
Your toddler is bound to show resistance with food, with other things that keep her preoccupied, such as games. Here are some effective ways to create interest in your toddler to eat better:
Introduce one new food at a time.
Let your kid have snacks.
If your kid refuses to eat don't force.
Keep rotating the menu.
Make the food colourful and interesting.
Serve in attractive plates and cutlery.
Let her play with the food.
Ten Super Foods for Your Toddler
10 Yummy Food Ideas For Toddlers
Below is a list of ten super foods for toddlers that you should include in their diet plan:
1. Humpty Dumpty (Eggs):
When it comes to healthy food for toddlers, eggs strikes our head first. Eggs are a great source of protein. Boiled egg and omelette are common choices for toddlers. Try this grilled egg sandwich recipe.
Grilled Egg Sandwich:
Preparation Time: 10 minutes
Cooking Time: 10 minutes
Ingredients:
1 hard-boiled egg, shelled and julienned.
2 Bread Slices
Pinch of salt
1tsp of butter
Method:
Mix egg with salt.
Butter the bread slices on both the sides.
Place the egg mixture on one slice.
Cover with the other slice.
Grill the sandwich on high until golden brown.
Remove and cut into two pieces and serve.
[ Read: Egg Recipes For Kids ]
2. Crunchy Carrots:
As an excellent source of vitamin A and fibre carrot is often called a power food. It improves vision, skin texture and protects from the harmful radiation of sun. Carrot sticks are healthy and easy to make.
Carrot Sticks:
Preparation Time: 5 minutes
Cooking Time: 10 minutes
Ingredients:
2 carrots
1 egg
Pinch of salt
1 tbsp. butter
Method:
Wash, scrape and cut carrots in 2 inch long pieces.
Beat the egg.
Heat a nonstick pan.
Add a little butter to the pan.
Dip the carrot pieces in the egg mixture.
Place them on the pan and cook.
Turn them around to cook on all the sides.
When done sprinkle a little salt and serve.
3. Go Bananas:
Bananas are rich in iron and potassium. It should be the first solid food for babies.
Add mashed banana to plain flour, add sugar to taste and make pancakes.
A delicious and a complete meal is ready for your kid!
4. Milk & Milk Products:
Milk is rich in calcium and protein. It gives energy and ensures healthy bones and teeth. Cheese, paneer and yogurt are some healthy milk products most kids love. Yogurt is good for digestion. It can be made into a dip or a dressing or eaten with finger foods or sandwiches. Or try this healthy sandwich spread.
Spinach Sandwich Spread:
Preparation Time: 10 minutes
Cooking Time: 10 minutes
Ingredients
1 cup spinach blanched and shredded.
1 cup hung curd
4 slices of bread
Salt to taste
Pinch of Black pepper powder
Method
Mix spinach, hung curd, salt and pepper.
Apply this mixture on one slice and cover it with another.
Serve immediately.
5. Oatmeal:
Oats are rich in calcium and iron and are considered one of the best toddler foods. Prepare oats with warm milk a mashed banana and a little honey; your kid will love the taste. Oats can be combined with varied fruits and vegetable to enhance the nutritional value.
This Pumpkin Oats Recipe packs the goods of oatmeal and pumpkin together.
[ Read: Toddler Meal Plan ]
6. Potatoes:
Most kids, including yours, love the taste of a potato. Potatoes are rich in potassium, phosphorus, B-complex vitamins and vitamin C.
You can mash boiled potatoes; add salt, chopped coriander a ½ cup of bread crumbs.
Make small balls, flatten and bake after applying butter to both the sides.
7. Ragi:
Ragi is also called finger millet. Rich in calcium, it is an excellent source of natural iron. This wonder grain is completely free of gluten. Ragi flour is used to make a variety of dishes. You can add it to milk with sugar and give it to your kid.
Ragi idliis very easy to make and relished by kids.
[ Read: Finger Foods For Toddlers ]
8. Sprouts:
Sprouts are a great source of calcium, vitamins and minerals.
You can prepare sprouts at home.
Cook them in a pressure cooker.
Add a pinch of salt and let your kid eat.
Alternatively you could dry the sprouts in shade and dry roast it in an iron pan. Grind the roasted sprouts to a fine powder after it cools. This powder can be added to soups. When my daughter was small I mixed this powder with milk and sugar to make custard!
9. Raisins & Dates:
These are excellent sources of iron, calcium, magnesium and potassium. Raisins also contain vitamin B. Raisin and dates also help prevent constipation in babies. Make a playful regime, introducing tasty raisins as an evening snack to your child.
10. Sweet Potatoes:
They are one of the world's healthiest foods. Sweet potatoes, are extremely rich in beta carotene and therefore, excellent choice for your little ones. Baked sweet potatoes are delicious with butter.
Foods To Avoid:
Food habits formed at a young age often are for life. Help your kid develop a healthy eating habit that will make him a healthy adult. Avoid artificial and unnatural foods. Try to incorporate healthy cooking methods like steaming and baking. The following food items should be restricted or totally avoided if possible.
• Foods high in fat
• Foods high in sugar
• Artificial drinks
• Artificial food color
• Highly processed foods
• Tinned foods
• Ready made products
Toddlers hardly sit at one place for a long time. If your toddler tends to move a lot while eating, get a nice colorful high chair for your kid. Place the plate with bite sized food pieces and let him play with it. Toddlers like to explore the texture before they eat. He might make a mess but let him do it. It will enhance co-ordination skills and teach him to eat independently.
Mealtimes are great for bonding.
Put on some music and let your kid dance while he eats. Enjoy each stage, childhood passes away too soon.
Share with us your ideas for healthy food for toddlers!
Recommended Articles:
Comments are moderated by MomJunction editorial team to remove any personal, abusive, promotional, provocative or irrelevant observations. We may also remove the hyperlinks within comments.