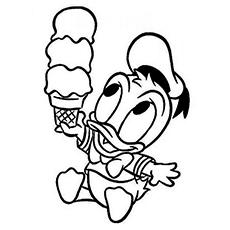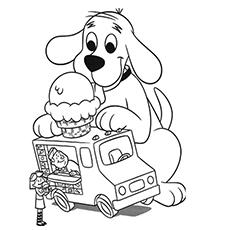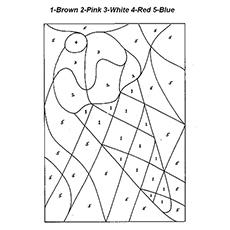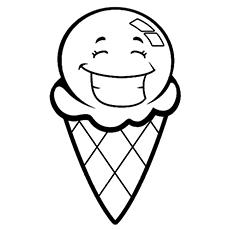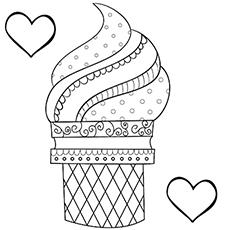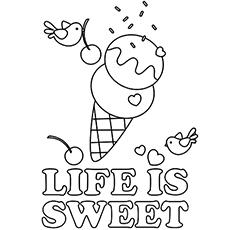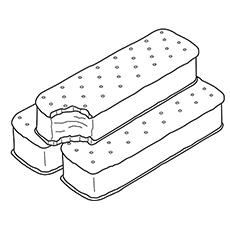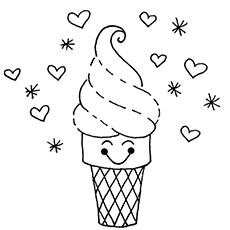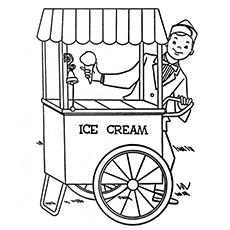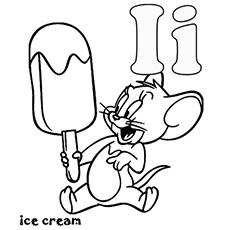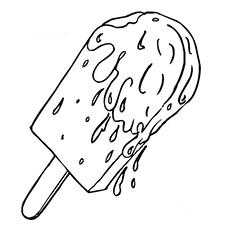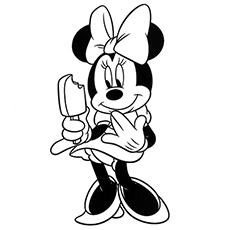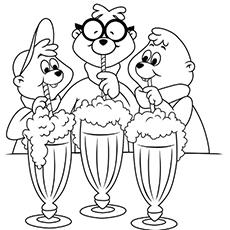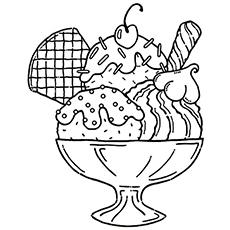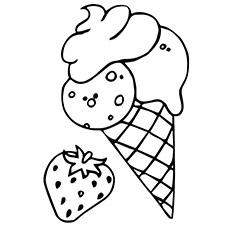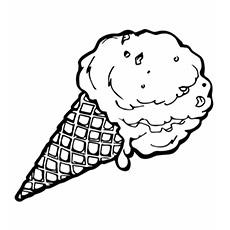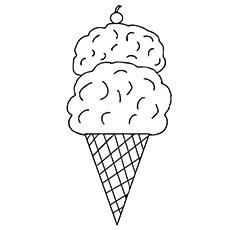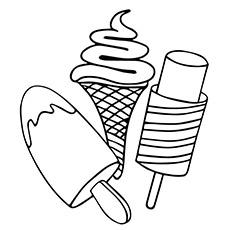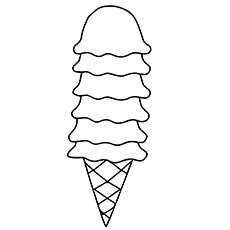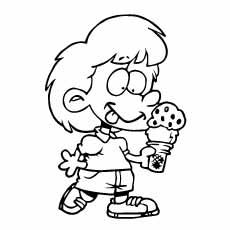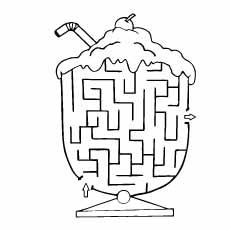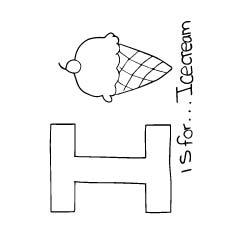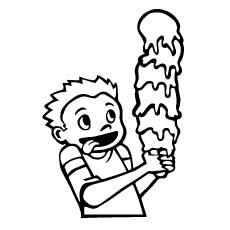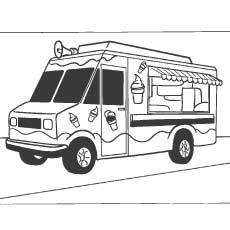 Recommended Articles:
Let us see how many of you will solve this puzzle: Kids love it. Teens love it. Mummies love it. Daddies love it. Yes, we all love it!
Any guesses? We are sure you all ringed in 'Ice-Cream' together. Truly, if there is one thing that almost everyone loves to the core, it has to be ice-cream. Kids especially are crazy for ice-creams.
You may not give ice-cream for kids always, but you can give them these coloring pages. Like how kids love them eating, they would enjoy coloring them. Here are top 10 ice cream coloring pages to print for your kids to enjoy in their spare time.
Top 20 Ice Cream Coloring Pages For Kids
Coloring makes for a good creative activity. It also can be a great educational tool. So it is always advised to club coloring and teaching together. Here is a scoop of ice-cream for your kid's coloring time.
1. Happy Girl With Ice-Cream:
Ice-Creams make us all happy. This picture simply proves how gleefully any kid enjoys the cone of ice-cream.
This picture can make for a great coloring option for your kid.
The cute girl in the picture can be fun to color because of her distinct styling.
2. Baby Donald With Ice-Cream:
Here is another ice-cream picture with one of the cutest cartoon characters of all times.
Use this picture to familiarize your kid with plural form.
This picture can be a good exercise for learning baby Donald's basic appearance.
[ Read: Beach Ball Coloring Pages ]
3. Ice-Cream Makes Life Sweet:
Ice-cream makes life fun and sweet. Isn't it?
This is a fun picture to color with a good message on it.
Your kid can learn about using words which are literal and situational too.
This picture can help your kid practice and learn words like life and sweet.
4. Ice-Cream Maze:
It is always fun solving a maze.
This picture can be a great way of challenging your kid's thinking process.
The coloring part plus the maze make this picture a thorough interesting option for coloring.
[ Read: Donald Duck Coloring Pages ]
5. Sundae:
Help your kid learn about varieties of ice-creams.
You can discuss about various flavors with your kid while he colors this picture.
Teach your kid about the various ingredients used to prepare a sundae.
6. 'I' Is For Ice-Cream:
Teach your kid about associating alphabet 'I' with 'Ice-Cream'.
This picture can be a good exercise for associating words with picture.
It can also help your kid learn to spell the word 'Ice-Cream'.
[ Read: Minnie mouse coloring pages ]
7. Ice-Cream Truck:
Nothing builds the excitement of having an ice-cream more than an ice-cream truck.
This lovely picture helps your kid associate real life events to the picture.
It can also help your kid associate people with profession; introduce him to the term 'ice-cream seller'.
[ Read: Clown Coloring Pages ]
8. Minnie With Ice-Cream:
Here is a cute picture of Minnie Mouse with ice-cream.
As we said, we all love ice-cream. Your kid will be thrilled to color Minnie enjoying her ice-cream.
This can be a good instrument for teaching your kid learn about Minnie's appearance.
9. Happy Ice-Cream:
Ice-cream makes everyone happy. So here is a happy ice-cream for coloring.
This picture is quite appealing for the cute animation.
It is simple to color and would be appropriate for younger kids who haven't developed small and close wrist movements as yet.
[ Read: Handy Manny Coloring Pages ]
10. Jerry Ice-Cream:
Here is another beautiful picture of ice-cream with cute Jerry.
Jerry is loved by all kids and so is ice-cream.
This picture can get your kid excited about coloring jerry.
It can help him learn writing and identifying capital and small 'I'.
[ Read: Happy Birthday Coloring Pages ]
11. Ice-Cream Truck:
Ice-cream truck brings back found memories of childhood. Whenever you hear jingling bells, you know an ice-cream truck must be nearby. You can share your memories of having ice-cream from a mobile ice-cream truck with your child. Your little one will be thrilled to hear your childhood adventures.
In this picture, we see an excited ice-cream man calling out to children. On the truck we see images of ice cream and a list of a variety of yummy flavors available. So the truck is bound to attract children by the dozens!
12. Ice Cream Float:
An ice-cream soda or float, also known as snowball and spider, is a beverage that comprises of ice cream and a soft drink. It can also be made with carbonated drink and flavored syrup.
There is an interesting anecdote behind ice cream soda. On a very hot day, Robert McCay Greene ran out of ice for his flavored soda. He used vanilla ice-cream instead of ice, and this he invented a new drink. So during Franklin Institute's Semi-centennial celebration in Philadelphia in 1874, he sold ice-cream with soda water and a choice of 16 flavored syrups. The new treat became a rage and soon other soda fountains began selling ice-cream sodas.
It is easy to make ice-cream soda at home. Give your little one a treat once he completes coloring this picture. Don't forget to pin it up in his candy themed room!
13. Ice-Cream Sandwich:
Have you ever tasted ice-cream sandwiches? Yes this name might sound strange, but it tastes really good. A slab of different flavored ice-cream is placed between two crisps biscuits or two soft breads. With each bite the ice-cream melts in your mouth and the unique taste lingers for a long time. You can't just stop at one ice-cream sandwich!
Let your child experiment with different colors and create his own ice-cream flavors as he colors the ice-cream sandwich.
14. Licking Lips:
This little boy is trying his best to balance the ice-cream cone in his hand. Can you see the hungry look in his eyes and he is licking his lips too! Your child can instantly connect with this picture of the little boy licking his lips at the mere sight of an ice-cream.
He will definitely color each scoop of ice-cream with different shades, and make it look even more delicious. You can guide him to draw a cherry on the top and some fragments of nuts and praline.
15. Melting Ice Lolly:
This ice lolly is melting fast and one needs to lick it off! The ice lollies come in different flavors like orange, litchi, raspberry, mango and strawberry to name a few. Your child will definitely color this ice-cream on a stick according to his favorite flavor.
16. Ice-Cream Swirl:
Presenting ice-cream is an art; some decorate ice-cream with fruits while others just use chocolate sauce. But have you seen an ice-cream swirl? There is a special machine that creates a swirl on the ice-cream cup. Children love having ice-cream swirls, for its creamy texture.
This picture shows a smiling ice-cream swirl. There are many hearts and stars on the background. This picture gives ample scope to use glitters and different colors. Your child's creativity will make this page even brighter!
17. Ice-Cream Cart and Clifford the Big Red Dog:
The ice-cream man is very happy to see, Clifford enjoying a giant sized ice-cream.
Clifford the Big Red Dog is an eponymously titled American Children's book series about a big red dog named Clifford. It was first published in 1963 and was written by Norman Bridwell. This series helped establish Scholastic Books as a premier publishing company, and Clifford is its official mascot.
Clifford was a birthday present and he was selected from a litter of puppies by a girl named Emily Elizabeth. No one expected that Clifford will grow, but Emily's love made Clifford grow dramatically. Clifford became 25 feet tall, and this compelled the Howard family to move to open spaces of Birdwell Island. In the new locality Clifford made new friends like Cleo, Mac and T-Bone.
Your child will definitely want to hear Clifford's story after seeing the picture, do read him one at bed time. Also make sure, that he colors Clifford red.
18. Sipping Ice-Cream Soda:
In this picture we see three Alvin Chipmunks are enjoying a glass of ice-cream soda. The ice-cream soda is frothy and yummy too. The face of the chipmunks reflects a feeling of deep satisfaction after having the ice-cream soda.
Alvin and the Chipmunks is a 2007 American Comedy film directed by Tim Hill. The story is based on the characters of the same name created by Ross Bagdasarian. The main characters of the film are chipmunks named Alvin, Simon and Theodore. They land up at the home of David Seville, a struggling songwriter and composer, when the tree where they resided was cut down and was driven to Los Angeles.
19. Create Your Own Ice-cream:
This coloring page will test your child's ability to understand simple instructions. It is also a great way to become familiar with numbers. Your little one has to complete coloring this picture by following the coloring instructions placed against each number. For instance, all the checks with number 1 will have brown colors, while the portions marked with number 2 should be colored pink. You need to guide your child while he colors this picture.
Through this coloring page you can check whether your child is familiar with the basic colors. There is a mystery hidden in this picture, which your child would like to unravel. So he will really enjoy coloring this picture!
20. Ice-Cream Art:
This is an ornate looking ice-cream, just perfect for Valentine's Day. Just give your loved one this ice cream and see how his face shines with delight.
This beautifully decorated ice-cream will make your child's imagination soar. He will like using different colors to make this ice-cream look bright and beautiful. You can also stick cutouts and make the background colorful to give the page a dreamy look.
Let your kid have fun with these free printable coloring pages of ice cream sundaes. You might also want to teach your kid a thing or two about having ice-cream in moderation and about cavities.
Share your kid's ice cream coloring sheets with us and tell us how you liked this article by leaving your comments below.

DISCLAIMER: All images found here are believed to be in the "public domain". We do not intend to infringe any legitimate intellectual right, artistic rights or copyright. All of the images displayed are of unknown origin. If you are the rightful owner of any of the pictures/wallpapers posted here, and you do not want it to be displayed or if you require a suitable credit, then please contact us and we will immediately do whatever is needed either for the image to be removed or provide credit where it is due. All the content of this site are free of charge and therefore we do not gain any financial benefit from the display or downloads of any images/wallpaper.
The following two tabs change content below.