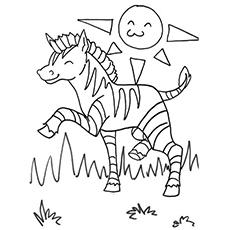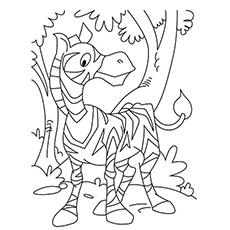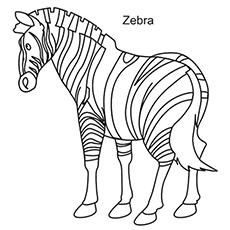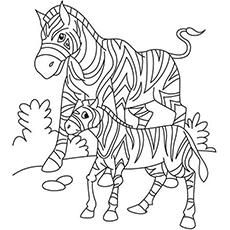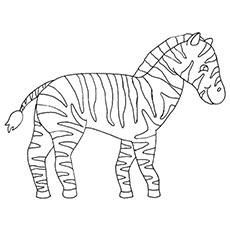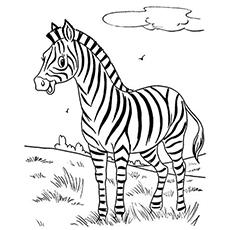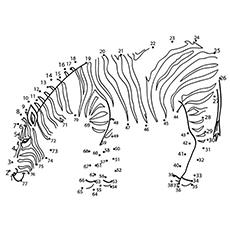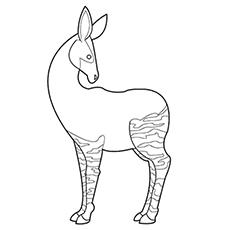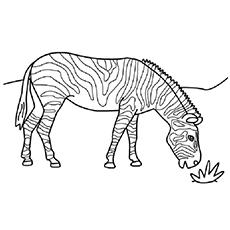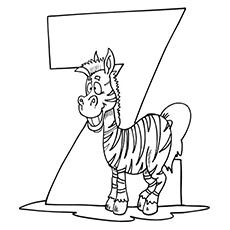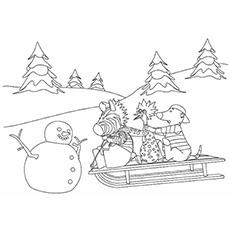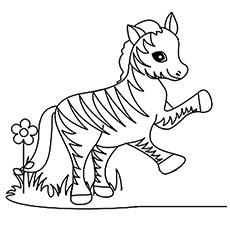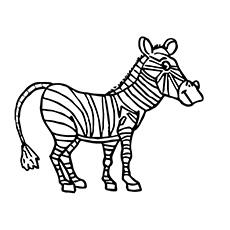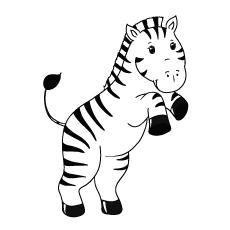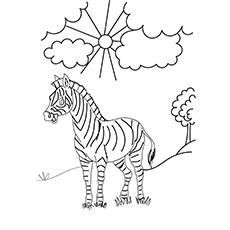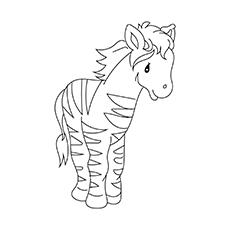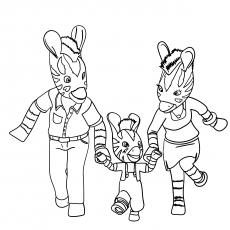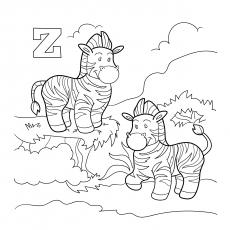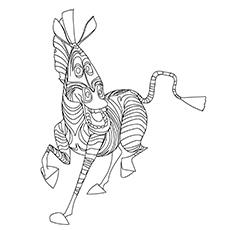 Recommended Articles:
Zebras are fast running mammals residing in the grassy plains of Eastern Africa, Kenya and parts of Southern Africa. They are closely related to horses and donkeys. A zebra can run as fast as 40 mph in order to escape from predators like hyenas and lion. They live up to 25 years in the wild and up to 40 years in captivity.
Zebras look very similar to horse, but have short, tufted mane and distinctive stripes. These serene and calm animals are usually found grazing in meadows and grasslands. They never fail to amaze the curious bystanders, especially children, in zoos and circus.
Zebra coloring pages printable are very popular with kids of all ages. They love filling colors in the unusual patterns of this animal. Here is our collection of twenty zebra coloring sheets for your child.
Top 20 Zebra Coloring Pages For Kids:

The collection includes cartoons and realistic forms of zebra coloring pages free to print. It also includes information about different species of zebra.
1. 'Z' For Zebra:
This fun alphabet-coloring sheet will have your child color a playful zebra while learning the shape and sound of the letter Z.
Z for Zebra coloring sheet also means that your child has made it to the end of the alphabets. Ask your child to reinforce all the letters that he has learnt until now.
After he is done tracing the letter, ask him to fill colors in the beautiful stripes of this zebra.
2. Dot To Dot:
Here is a fun zebra dot-to-dot coloring sheet for your kindergartener.
Ask your little one to join the numbers from 1 to 77 to complete the picture.
This coloring sheet will surely keep your child excited while he or she joins the dots to reveal the animal.
It will also help your child learn about number order.
[ Read: Letter Z Coloring Pages ]
3. Burchell's Zebra:
Here is a coloring sheet of Burchell's zebra, a southern subspecies of zebra. It is named after the British explorer William John Burchell.
Burchell's is the only breed of zebra that is legally farmed for human consumption in the United Kingdom.
These zebras have stripes on their head, neck, flanks and on the upper segments of the limbs. They are found in the Serengeti Park in Tanzania.
4. Grevy's Zebra:
This coloring sheet features the Grevy's Zebra, the largest and most endangered species of zebra in the world. They have narrow, vertical stripes, long mane and huge round ears.
The Grevy's zebra is the most domesticated zebra. Though it is large, it is much easier to train than other zebras.
It usually loves staying in semi-arid grassland where it feeds on legumes and grasses.
It can also survive without water for almost five days.
5. The Mountain Zebra:
The mountain zebra is a threatened species in the family of Equidae.
It is native to South-Western Angola, South Africa and Namibia region.
It is a small sized zebra and is recognized by a dewlap under the neck.
Like all the extant zebras, mountain zebras are boldly striped in black and dark brown. No two individuals look exactly alike. Their whole body is striped, except for the belly. Its stripes are thinner than most of the Burchell's zebra.
The mountain zebra has two subspecies – Cape mountain zebra and Hartmann mountain zebra.
6. Quagga:
Meet Quagga, the now extinct zebra closely related to the horses and zebras.
The Quaggas were originally half horse and half zebra. Ask your child to color the cheerful Quagga in this coloring sheet.
The Quaggas lived in South Africa until the nineteenth century.
The Quagga was native to the desert areas of the African continent until it was exterminated in the wild in the 1880s.
It was a yellowish brown zebra with stripes mainly on the front part of the body. The rear was brown and without stripes.
[ Read: Zoo Coloring Pages ]
7. Plains zebra:
The plains zebra, also known as common zebra, is the most widespread specie of zebra.
It is often used as harness animals. Plains zebras are believed to be more intelligent than mules or donkey.
Its habitat is generally grasslands and savanna woodlands. They generally avoid living in arid regions.
8. Kevin:
This is a coloring sheet of Kevin, a recurring character from the animated television series, "Phineas and Ferb".
He exists in the series as Candace's figment of imagination.
He has made brief appearances in several episodes of the series.
The zebra is supposedly Candace's animal "Spirit Guide" or an "Imaginary Friend".
9. Zou:
"Zou" is a French animated television series inspired by the books of Michel Gay.
The story revolves around Zou, a young and fun loving, nine year old Zebra.
Zou is always shown clad in white T-shirt under yellow overalls.
10. Marty:
Meet Marty, the deuteragonist of the "Madagascar" film series.
Marty is a zebra which lived a life of comfort in the Central Park Zoo.
He loves his job in the zoo but soon realizes that turning 10 is old in the Zebra years. Therefore, he sets out to find Connecticut with Alex, Melman and Gloria.
Marty is a hopeless optimist and always sees the brighter side of the things.
He has black and white stripes, a mane, a furry coat and a tufted tail.
[ Read: Zoo Animals Coloring Pages ]
11. Zigby The Zebra:
This coloring sheet shows Zigby sailing with his gang of friends.
The coloring sheet has beautiful scenery, which will allow your kids to display their artistic abilities.
Zigby is an anthropomorphic character created by Brian Paterson.
He has appeared in a series of picture book and 3D animated television series.
Zigby is a very creative zebra that creates anything that comes to his mind.
He is a well-rounded baby zebra with orange cheek marks on his face.
He lives in a tree house in Mudwater Creek, a lush tropical Island.
12. Simple Zebra:
Here is a simple zebra coloring sheet for your preschooler.
The diagram has very simple outline so your preschooler will face no difficulty while coloring this sheet.
Ask your child to review the shapes he sees in this coloring sheet.
This will help him understand the elementary shapes and structures.
13. Zebras In A Forest:
This coloring sheet shows a group of zebras grazing in the forest as the hippopotamus takes a dip in the water.
If your child loves animals or the jungle, then this coloring sheet is for her.
Zebras are very sociable animals and live in large groups that are led by females.
The male zebras watch the rear of the group to protect them from the predators.
Your child will go wild with her imagination while coloring this safari-coloring sheet.
[ Read: Wild Animals Coloring Pages ]
14. Young Zebra:
Here is an adorable baby Zebra coloring sheet for your little ones.
The zebra has tiny hearts made on his body.
Your child will surely have a fun time adding color in this cute Zebra.
Ask your child to make the zebra patterns stand out with some colors.
15. Okapi:
This coloring sheet features okapi, also known as forest giraffe or zebra giraffe.
This amazing animal looks little bit like a giraffe and a little bit like a zebra.
The okapi zebra is native to the Ituri Rainforest in Congo.
It is classified as an endangered species with less than 10,000 okapis remaining in the wild.
16. Zebra With Her Baby:
This is an adorable coloring sheet of Momma zebra with her baby. Both momma and kid are happily grazing the field in the forest.
While he colors the sheet, ask him who his friends at school are.
The small details in this coloring sheet will improve your kid's fine motor skills as well.
[ Read: Jungle Animals Coloring Pages ]
17. Happy Zebra:
Zebras are generally black and white, but that does not mean that your child cannot color them in any other color.
Ask your child to explore their imagination and color this happy Zebra is any color he or she wants.
The coloring sheet also has a beautiful background. So make sure your little one colors the smiling sun and lush trees.
18. Zebra Grazing:
Have your kids improve their artistic skills with this coloring sheet.
The diagram shows three zebras grazing in the jungle.
It looks like these zebras are taking a break after prowling through the African savanna all day.
Ask your child to create a story to go with this picture.
[ Read: Madagascar Coloring Pages ]
19. Cute Zebra:
This coloring sheet is sure to bring a smile on your kids face.
It features a beautiful female zebra enjoying a hot, sunny day in the savanna.
Zebras have black stripes that enable them to hide from the lions in the high grasses of Savanna. However, your child can color this zebra and its stripes in any color they want.
Make sure your child colors the beautiful background too.
20. Circus Zebra:
Do you want to take your child to the circus without leaving the house? Then hand him this circus zebra coloring sheet.
This zebra shows a circus zebra ready to show a stellar performance to the onlookers.
Ask your child to improve his performance by adding some color to him.
These free printable zebra coloring pages online are ideal for both home and class use. You can also use these zebra coloring sheets for your child's school projects. Download the sheets and create your own zebra coloring book.
Do not forget to share your children's experiences on coloring these zebra pictures to color with us in the below comment box.
DISCLAIMER: All images found here are believed to be in the "public domain". We do not intend to infringe any legitimate intellectual right, artistic rights or copyright. All of the images displayed are of unknown origin. If you are the rightful owner of any of the pictures/wallpapers posted here, and you do not want it to be displayed or if you require a suitable credit, then please contact us and we will immediately do whatever is needed either for the image to be removed or provide credit where it is due. All the content of this site are free of charge and therefore we do not gain any financial benefit from the display or downloads of any images/wallpaper.
The following two tabs change content below.